In 1895 dredging was first attempted in Montana on Grasshopper Creek near Bannack (Winchell, 1914a, p. 21). Dredges operated by electric power have been used since 1906. Since World War II very little placer mining has been done.
Although placer deposits were the first to be discovered in most districts, lode deposits were discovered soon afterward or even contemporaneously, and in the 1870's lode production became significant. Among the first rich lode discoveries in 1864 were the Whitlatch-Union in the Helena district (Knopf, 1913, p. 15), the Black Chief (Travona) lode in the Butte district (Weed, 1912, p. 18), and several lodes in the Blue Wing and Sheridan districts (Winchell, 1914a, p. 69, 133). Lodes were found in the Silver Star district in 1867 (Winchell, 1914a, p. 139-140).
Early development of the mines was impeded by lack of an adequate transportation system. By 1870 the placers had been largely exhausted, and a period of inactivity followed because lode mining was hindered by high freight charges (Knopf, 1913, p. 16). Mining supplies and equipment had to be brought in by wagon train in the early years; consequently, only the richest ore could be mined. Railroad transportation in the region became available in 1882 on completion of the Utah and Northern Railway, a part of the Union Pacific Railroad system, from Ogden, Utah, to Silver Bow, near Butte, Mont. (Winchell, 1914a, p. 20). In 1883 the main line of the Northern Pacific Railway was completed across the State, and a spur was built from Garrison through Silver Bow to Butte (Winchell, 1914a, p. 20).
The principal mining districts in Montana are scattered in the southwestern part of the State and are associated with the Boulder batholith and near¬by stocks and dikes of Late Cretaceous or early Tertiary age (Pardee and Schrader, 1933, pi. 1). The ore deposits are found in the margins of the granitic rocks or in the wallrocks.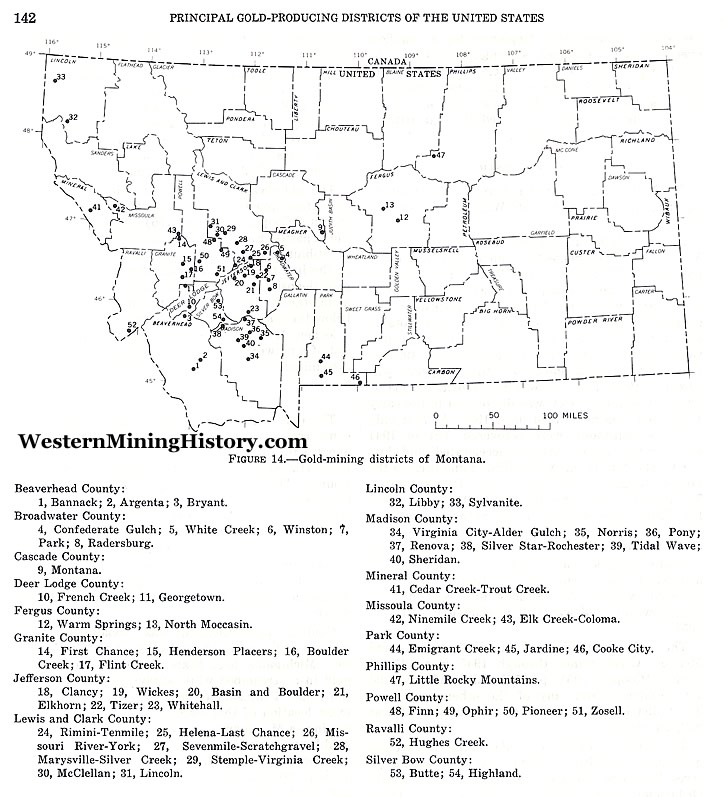 Page 2 of 2