By A. H. KOSCHMANN and M. H. BERGENDAHL - USGS 1968
Click here for the Principle Gold Producing Districts of the United States Index
Colorado ranks second among the States in total gold production, with an aggregate of about 40,776,-000 ounces through 1965.
Gold and other ore deposits are mostly in a northeast-trending belt, known as the Colorado mineral belt, in the mountainous western part of the State. From near Boulder on the northeast this belt extends southwest to the San Juan Mountains and beyond (fig. 10). The Cripple Creek district, the largest gold producer in Colorado, and several minor districts lie southeast of the mineral belt.
Before 1858 Colorado was explored by fur trappers and special expeditions, but apparently most of these early adventurers paid little or no attention to the mineral deposits in the area. According to C. W. Henderson (in Finch and others, 1933, p. 761), the existence of gold in South Park was recorded in a report delivered in secret to General Zebulon Pike in 1807 at Santa Fe, N. Mex., where he was being held prisoner by the Spaniards. Cherokee Indians of Oklahoma reportedly brought gold from the headwaters of the South Platte River to residents along the lower Missouri River from 1849 to 1857.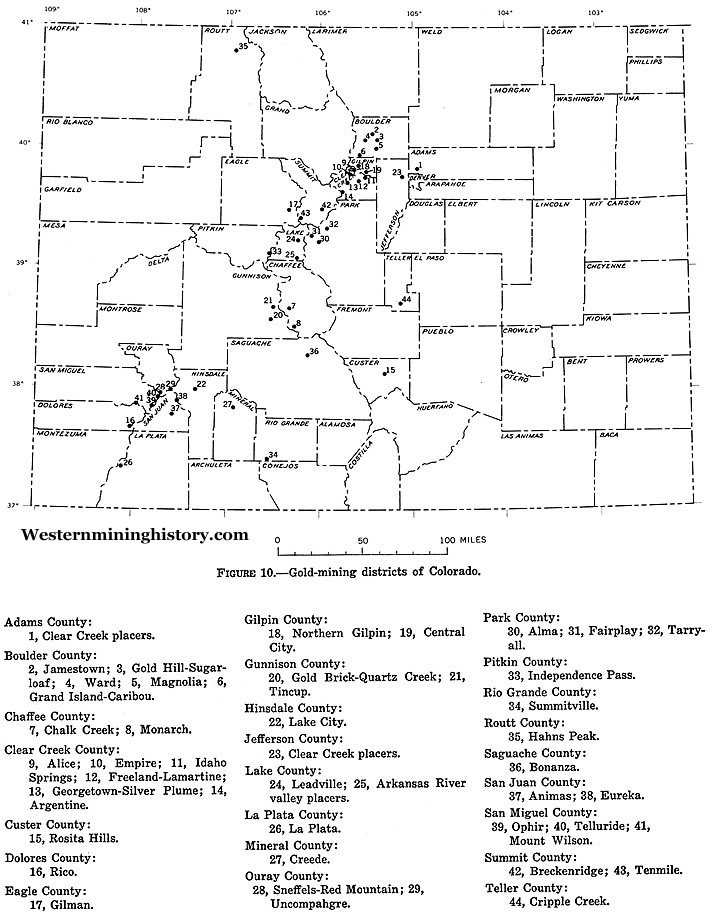 Page 1 of 3