By A. H. KOSCHMANN and M. H. BERGENDAHL - USGS 1968
Click here for the Principle Gold Producing Districts of the United States Index
Arizona, from 1860 through 1965, produced a total of about 13,321,000 ounces of gold and in 1965 ranked eighth among the gold-producing States. As in the other Western States, the first discoveries of gold were placer deposits. Shortly afterward lode deposits were discovered in most districts, and they furnished the bulk of the early gold output of the State. From 1900 through 1965, however, most of Arizona's annual gold production came as a byproduct from the large-scale mining of porphyry copper ores (fig. 6).
Unless stated to the contrary, throughout this chapter on Arizona, production data to 1932 are from Elsing and Heineman (1936) and for 1932-65 from U.S. Bureau of Mines (1933-66).
Deposits of silver and copper in Arizona were known to the Indians and Spaniards long before the Territory was acquired by the United States (S. R. E. Heineman, in Arizona Bureau of Mines, 1938, p. 26-27). Because of the inaccessibility of the area, lack of water, and Indian raids, only a small amount of prospecting was done by Americans in the 1850's, mostly near the old Mexican settlements of Tucson and Tubac, and in the Dome (Gila City) district where rich placers were discovered in 1858 (Wilson, 1952, p. 18). Little or no lode gold was mined in these early years. During the Civil War, prospectors among the California troops in Arizona organized parties to hunt for gold. In 1862 rich placer deposits were found near the Colorado River at La Paz in western Yuma County, and from 1862 to 1870 other placer deposits were found in Yavapai County. Included among these were the Weaver-Rich Hill, Lynx Creek-Walker, Hassayampa-Groom Creek, Big Bug, and several smaller deposits in the Bradshaw Mountains (Wilson, 1952, p. 15, 38). In 1863 also many gold lodes were discovered in the Bradshaw Mountains in Yavapai County and in the Oatman district in Mohave County. With the end of the Civil War, troops were withdrawn from the territory, and warfare between the white settlers and the Indians prevented much mining until 1872, when a truce was declared (Tenney, 1934, p. 16).
High prices for silver and copper in the 1870's and the completion of two transcontinental railroads—the Southern Pacific and the Atchison, Topeka and Santa Fe—across Arizona in 1881 stimulated exploration which resulted in the discovery of many major deposits. In the general depression of 1884-93 and after the demonitization of silver in 1893, copper and silver mining declined but gold mining increased. By the early 1900's commodity prices again became favorable, and several companies were organized to mine the large low-grade porphyry copper deposits that have been the principal source of gold in Arizona (Tenney, 1934, p. 17).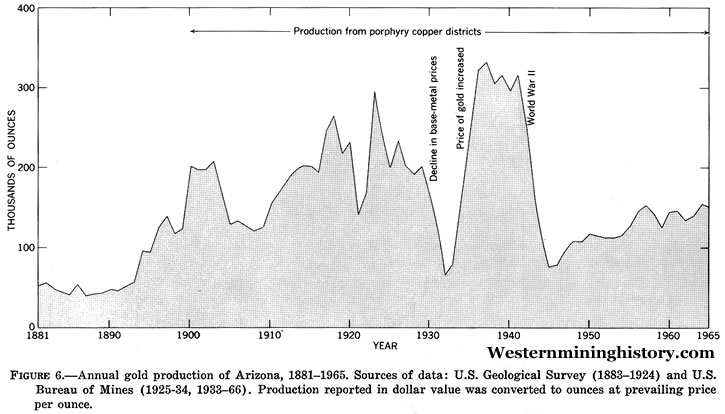 Page 1 of 2