Location
The Hornitos district is in the Sierra Nevada west gold belt in western Mariposa County about 15 miles west of the town of Mariposa (see fig. 4). The district contains a several-mile wide belt of lode-gold mines that extends from the vicinity of the Exchequer Reservoir south-southeast through Hornitos to the Indian Gulch area.
History
The streams in the area were first worked in 1849, and lode mining began in 1850 at the Washington mine. The town was first settled by Mexicans who had been driven out of nearby Quartzburg. The name Hornitos is a diminutive of "homo" or small bake oven, from the Spanish. Mining activity was great from the 1860s through the 1880s, lesser from the 1890s to the 1920s. The Mt. Gaines mine was worked on a major scale during the 1930s. Since World War II the area has been prospected, but there has been very little recorded production. Historically, this is the most productive district of the Sierra Nevada west gold belt.
Geology
The district is underlain by greenstone and green schist in the west portion and slate in the east. Also present are smaller amounts of amphibolite, mica schist, and hornfels. A number of small granodiorite intrusions are exposed, along the margins of which chiastolite-mica schist has developed.
Ore Deposits
A number of north-trending quartz veins and stringers containing free gold and varying amounts of sulfides, chiefly pyrite, are present, as well as several large bodies of mineralized greenstone or "gray ore". Some of the veins have very flat dips. The ore shoots vary considerably in size with stoping lengths ranging from a few to as much as 400 feet. Some of the veins have been mined to inclined depths of more than 1500 feet. Milling-grade ore commonly contains from 1/5 to more than 1/2 ounce per ton in gold.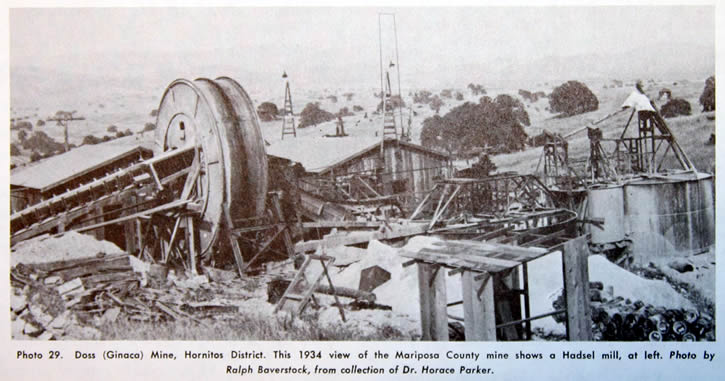 Mines
Badger $80,000+. Doss $100,000, Duncan, Lost Douglas, Martinez, Mt. Gaines $3.59 million, Numbers 1, 5, 8, and 9, Ruth Pierce $600,000, Washington $2,377,000.
Bibliogrirphy
Bowen, O.E., 1957, Mariposa County, gold: California Jour. Mines and Geology, vol. 53, pp. 69-187.
Costello, W.O., 1921, Mariposa County, Hornitos district: California Min. Bur. Rept. 17, p. 94.
Lowell, F.L., 1916, Mariposa County, gold: California Min. Bur. Rept. 14, pp. 575-600.