Gold Memberships at Western Mining History provide the following benefits:
Browse the website free of ads
Access to members-only content
Quarterly Member's Journal (see details below)
10% discount on all custom prints from the WMH Store
Monthly newsletter for members highlights the latest premium content
Access to the Mines Explorer Pro
Your support makes this work possible, THANK YOU!
Gold Memberships
There is just one membership type, the Gold Membership, but two options for how you would like to pay:
Gold Membership – monthly recurring payments
This option starts at $5 per month and renews automatically each month. You can turn off auto-renewal in your account at any time. Note that $5 is the minimum payment, you can choose to pay more per month if you would like to provide additional support to WMH.
Click here to purchase a WMH Gold Membership – monthly plan
Gold Membership purchased annually – non-recurring
This option starts at $50 per year and does not automatically renew. Note that $50 is the minimum payment, you can choose to pay more if you would like to provide additional support to WMH.
Click here to purchase a WMH Gold Membership – annual plan
Premium Content
Western Mining History will be prioritizing the creation of premium content for subscribers. Historical articles will be researched, restored, formatted for the internet, and made relevant again. In some cases a collection of articles will be presented together that tells a larger story about a particular subject, person, or mine.
With your support, a new kind of treasure will flow from the western mines – the amazing stories that were created there.
Member content is displayed on the Member's Only Articles page, the Library page, on the Latest Updates page, and is linked at the bottom of relevant pages like mining towns and state pages.
Western Mining History Members` Journal
The WMH Members` Journal is a new feature for premium members. These articles do a deep dive on a particular topic.
Volume 3 of the Member's Journal was published July 2022.
Click here to see all currently available WMH Member's Journal volumes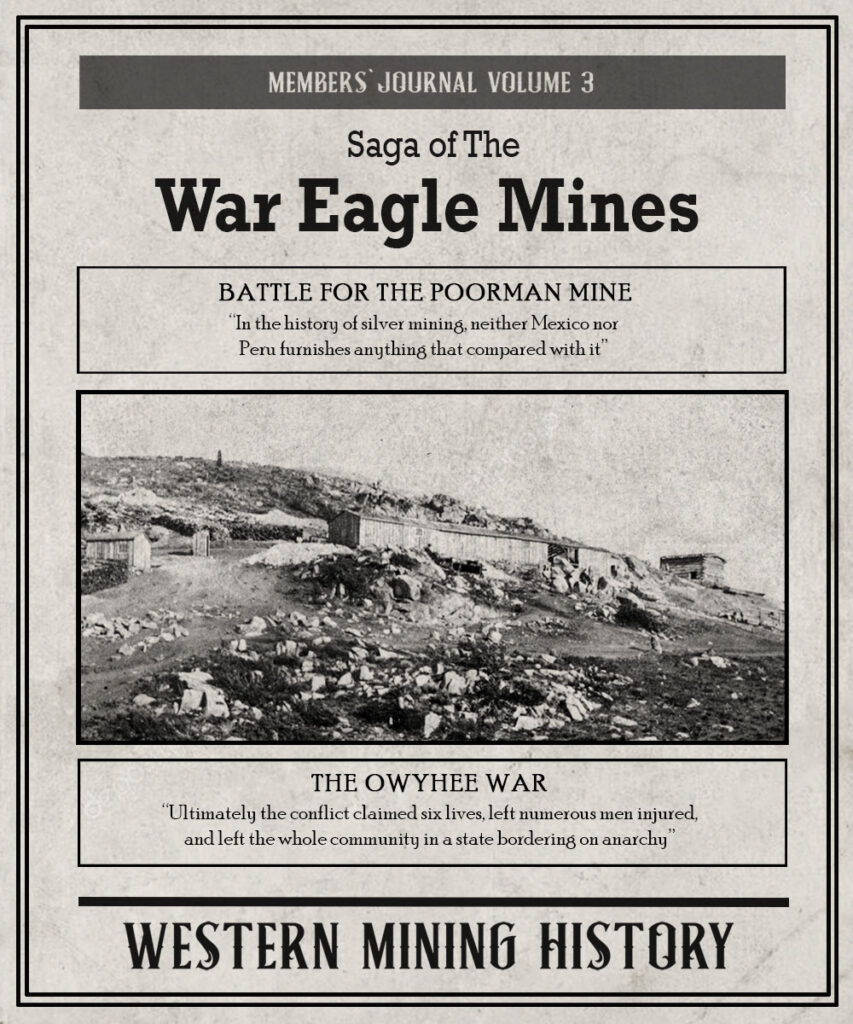 Western Mining is an Amazing Topic
The history of mining in the western United States is an amazing topic. Hundreds of thousands of people entered what was a vast wilderness in search of riches. Some made fabulous strikes while many did not survive the ordeal. Hundreds of mining camps were established, many only lasted a few months while some evolved into great cities that still endure today.
As knowledge grew of the riches hidden in the western frontier, the nation's imagination became fixated on the quest for precious metals. Lone prospectors, captains of industry, outlaws, scientists, and everyday people in search of a better life all flocked to these new lands. Incredible feats of engineering were accomplished in the most impossible terrains and often in the harshest climates imaginable. The science and equipment of mining evolved at a rapid pace to meet the challenges of ever-deepening mines.
Fortunately much of this history was recorded in detail through many institutions, both public and private. Local newspapers captured life in the hundreds of mining camps, towns, and cities throughout the west. The United States Geological Survey (USGS), and state mining bureaus recorded the progress of mining districts and studied the geology of the mines. Private publications like the Engineering and Mining Journal reported the details of mines and districts from a commercial perspective, and are a treasure trove of detailed information on the mines, companies, and men that built and operated the western mines.
With your support, Western Mining History will work to make these historical materials relevant and accessible.
THANK YOU FOR YOUR SUPPORT!