Mine Discovery Tools for Google Earth Pro are collections of data files, high-resolution quad maps from the Forest Service and USGS, and research guides. The files are distributed in packages that focus on particular geographic areas, usually counties.
Mine Discovery Tools are available with Gold level memberships
The data files consist of two KMZ files with mine locations – one for gold mines and another for non-gold mines. Also included is a KMZ file that locates active placer and lode claims by PLSS section.
These tools can be used to do detailed research on mine and claim locations, save and print topo maps, and measure distances.
Mine Data
The USGS mine data has been edited to remove the many duplicate mine records that make mapping MRDS data problematic. Mines with obviously bad coordinates have also been removed.
Mines are divided into two types – those that have gold listed as a primary commodity, and those that do not. (note that the non-gold mines may have gold listed as a secondary commodity in the USGS database).
Mining Claim Data
Note: The claim data is now bundled separately with the Mining Claim Research Tools, which are also included with Gold Memberships.
Each PLSS section that contains active mining claims has a marker that can be clicked to open an info window that contains useful information, including the number of claims and MTRS value.
Claim values are formatted like "L1-P4", which means that there is 1 lode claim and 4 placer claims in that section. MTRS value for that section is "21 0200N 0100E 008". MTRS means Meridian Township Range Section, and is the location value for the particular section the claims are in.
This MTRS value can be copied and pasted right into the BLM's LR2000 search form, eliminating several cumbersome steps and removing the guesswork from locating claims in particular sections.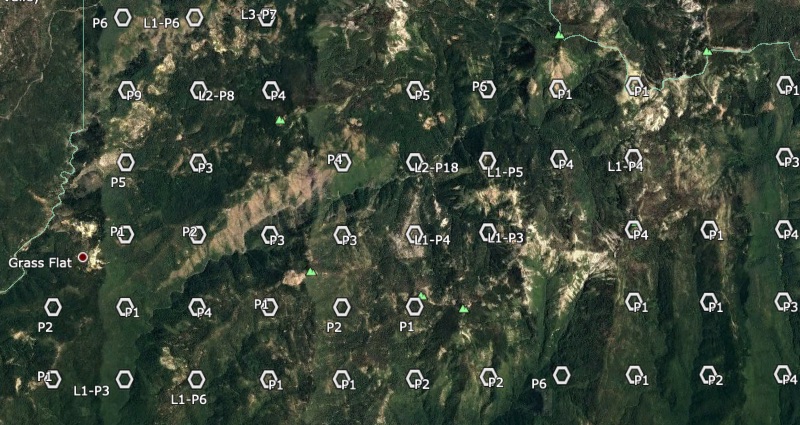 The Mine Discovery Tools for Google Earth Pro include a six-page guide on how to use the included claim data to research mining claims in the LR2000 application.
USGS and Forest Service Quad Maps
The Mine Discovery Tools contain both USGS and Forest Service 1:24,000 scale quad maps. There are several reasons that both map types have been included.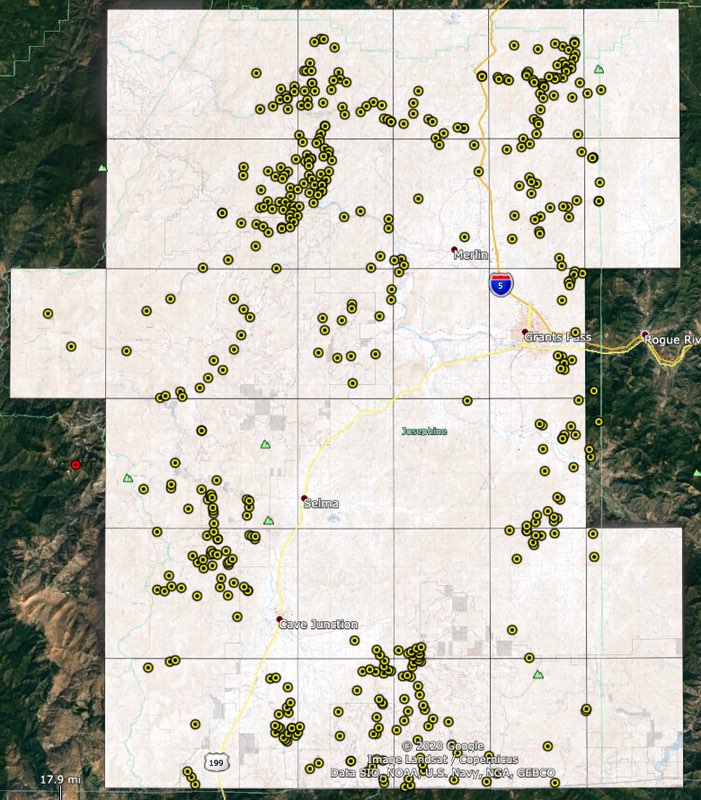 1. The USGS and Forest Service maps vary in the details they contain. Each map could have unique information that will be useful for mine and claim research. An example is that the Forest Service maps contain locations of mine features like adits and mine dumps that are missing on the USGS maps.
2. The USGS and FS maps are distributed in different formats and resolutions:
The USGS maps are distributed as image maps displayed with KMZ files. This has the advantage of the maps being ready to use immediately in Google Earth Pro. A disadvantage is that the map images use a lot of memory, and only a limited number of them can be open at one time before Google Earth Pro begins to perform poorly.
The Forest Service maps are distributed as high-resolution TIFF images that need to be converted into super overlays before they can be used. While this takes time to set up at first, the result is extremely detailed maps that perform very well in Google Earth Pro. With super overlays, you will likely be able to have all the maps for an entire county open while doing mine and claim research.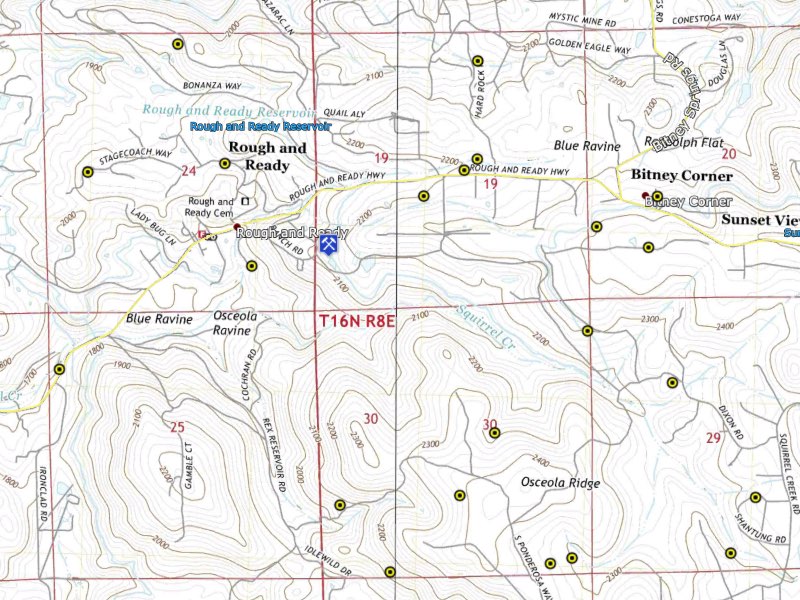 Measuring Distances
Google Earth Pro has a feature that allows you to draw routes between any two points and measure the distance between those points, even on winding mountain roads. The routes you draw can be saved for later reference.
Creating High-Resolution Map Images
A useful feature of Google Earth Pro is the ability to save high-resolution images of the maps or data you are viewing. These images can be referenced later or printed to take in the field.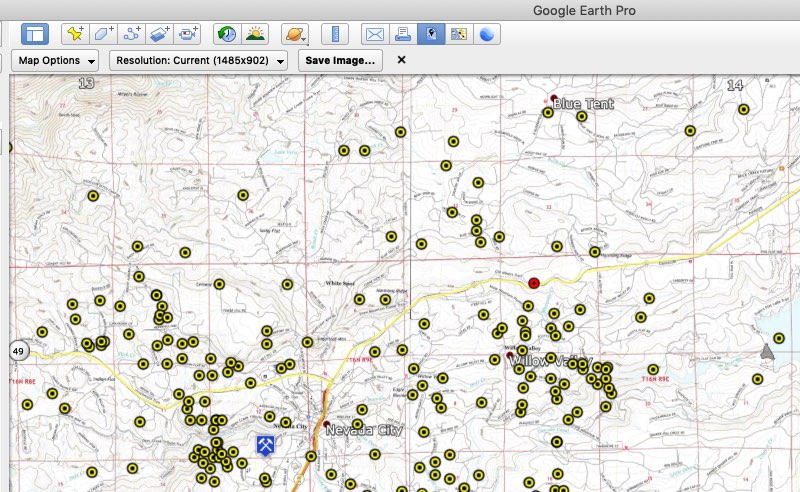 Note: while Google Earth Pro exports the base maps at high quality, the map labels don't scale well in high-resolution images. Mine marker labels are off by default but instructions are included to turn them on if desired.
You will want to only display the data points you are interested in if you intend export high-resolution images for print.
Map Package Contents
Mines and Claims Discovery Tools contain data files, quad maps, and user guides. This is a general list of the items that come with each package (details on how many maps etc can be viewed on each locations details page):
Custom index of gold mine locations based on USGS data (mines with gold listed as a primary commodity)
Custom index of non-gold mine locations based on USGS data (mines with gold not listed as a primary commodity)
Active lode and placer claim data located by PLSS section
Mining district locations (not available in all packages see sales page for details)
USGS quad maps
Forest Service quad maps where available (these maps are only published for lands administered by the Forest Service)
18 page guide on how to use Google Earth Pro to do your mine and claim research (don't worry, the quick start guide is only three pages long, getting started is quick and easy)
6 page guide on doing claims research with the BLM's LR2000
An "Extras" folder is included with data that might be of use:
Unedited full list of USGS mine locations. This file contains many duplicates and mines with bad locations, but it may be useful to view them anyway if you are researching particular mines and need all the info
A six-page guid on doing claims research with the BLM LR2000 application
Note that the following video uses Mine Discovery Tools version 1. The functionality for the current version 2 is the same but the map marker styles have changed (see images on this page for current styles).
Available Locations
New packages for additional geographic areas will be added on a regular basis. The currently available WMH Mine Discovery Tools for Google Earth Pro are listed here.
California
Oregon
Mine Discovery Tools are available with Gold level memberships