The rugged individuals that opened the frontier West were prospecting, mining, and attempting to survive in what was a vast wilderness at the time. Many of the basics of survival had to be sourced directly from the miner's immediate surroundings, and shelter was one of the first necessities of life that had to be addressed.
The most common form of shelter for early miners in many states was the log cabin. In forested regions, logs were readily available and enabled miners to build reliable shelter in relatively short time.
Note: High-resolution digital copies are available of selected images from this page. See the Premium Images page for more information.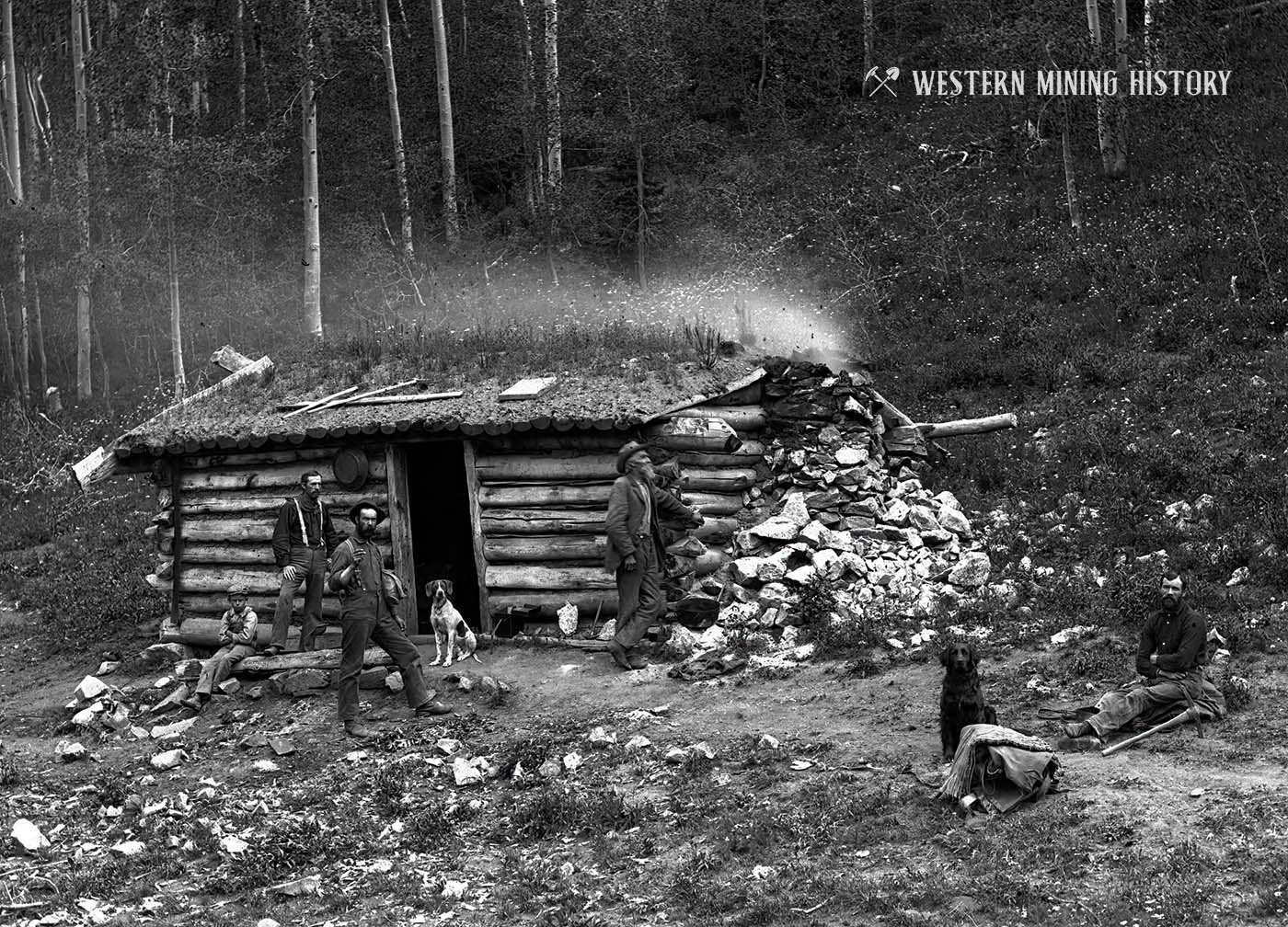 The following photos show many examples of these early cabins and the proud miners that built them.
Colorado Miner's Cabin 1898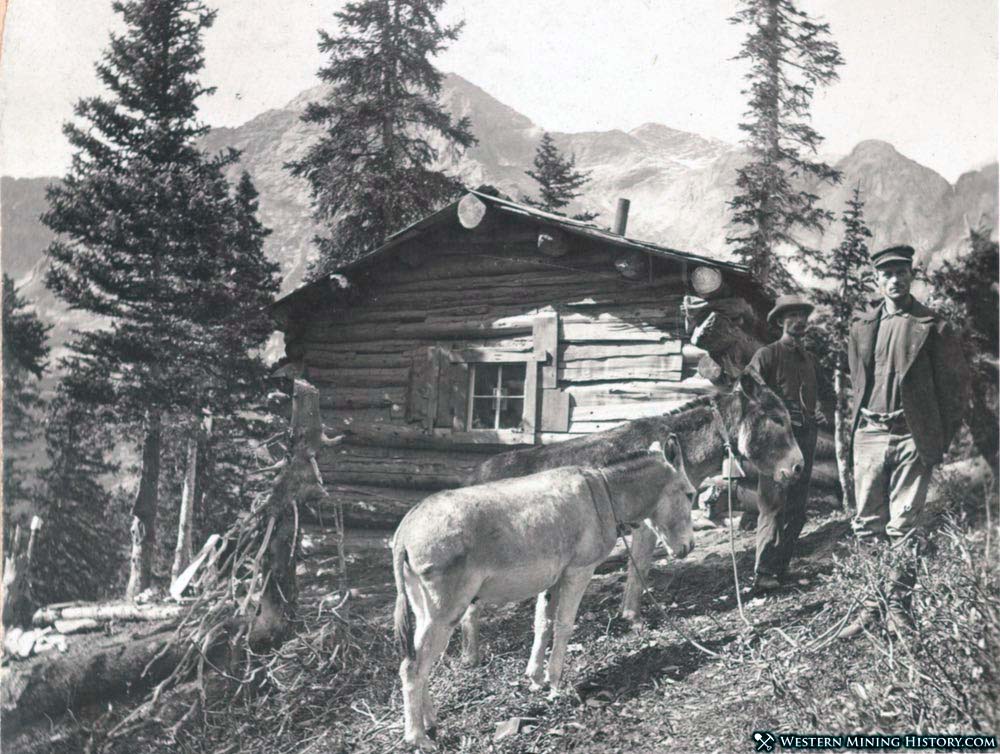 These miners built their cabin in a a spectacular location with amazing mountain views. Despite the difficulties of life at the time, they no doubt were still in awe of the spectacular Colorado terrain.
The 1918 publication History of the State of Idaho describes the miner's cabin:
The typical miner's cabin was a small, rude structure and was made out of the timber which grew so plentifully near the camps. A striking feature of the miner's furnishings were the bunks. These were built against one end of the cabin, and were placed one above the other.
The vacant space beneath the lower bunk was often utilized as a storage-point for provisions. The mattresses often consisted of fir-boughs covered with several pairs of blankets. A dry-goods box, nailed to the wall, served as a cupboard, and was filled with cooking utensils or "traps." Near the fire-place stood a crudely made table, on which were cluttered books, papers, and numerous small articles. A few cheap pictures and prints usually looked down
from these log walls. In the cabin of a Union man, a visitor would be quite sure to find pictures of Abraham Lincoln, his cabinet, generals, and the like. If, however, the owner happened to be a Southern sympathizer, as was often the case, especially in the "Basin," pictures of Jefferson Davis and Robert E. Lee would be almost as certain to decorate his walls.
Miner's Cabin – Nevada County, California 1852
The photo above depicts a very early cabin near Nevada City, California in 1852. Of interest in this photo is the massive size of the logs used to build the cabin and the half barrel used as a stand for the sluice the men are working.
California '49er William Swain, in a letter he wrote to family back home, described the miner's cabin he shared with his fellow miners:
You may have some curiosity to know something about our location and dwelling. Our house is a log cabin, sixteen by twenty feet. It is covered with boughs of cedar and is made of nut pine logs from one to two feet in diameter, so that it is quite a blockhouse. It has a good door made of cedar boards hewn our of cedar logs, but no window. It faces the south and is on the north side of the river. In the east end is a family fireplace, in which large backlogs are burning night and day. At the west end is a bedstead framed into the logs of the cabin and running from side to side.
The cords of the bedstead are strips of rawhide, crossing at every three inches, thus forming a bottom tight enough to hold large armfuls of dry breaks gathered from the sides of the mountains, which make a substitute for feather beds. On these are our blankets and buffalo skins. Altogether it makes a comfortable bed. Moore has a bunk in one of the other corners. Over the fireplace are our rifles, which are ever ready, cocked and primed, and frequently yield us good venison.
In the other corner may be seen our cupboard with its contents, which consist of a few wooden and tin dishes, bottles, knives and forks and spoons, tin frying pan, boiler, and coffee pot. Around the sides of the cabin at various points are the few articles of clothing belonging to the different members of the company. Under the bed are five cakes of tallow, under the bunk are three or four large bags of flour. Along the point of the roof is a line of dried beef and sixty or seventy pounds of suet. And out at the corner of the house in a large trough made of pine may be found salt beef in the pickle, in abundance.
At ten in the evening you might see in this cabin, while everything is still, a fire blazing up from the mass of fuel in the large fireplace, myself and Hutchinson on one end of bedstead, Lt. Cannon on the other, and Moore in his bunk. On the roof the incessant rain keeps up its perpetual patter, while the foaming stream howls out a requiem of the rushing torrent as it dashes on its way to the valley. And here, wakeful and listless, are the members of other circles too. But often the mind is far away, filled with other scenes, far distant homes, and relatives.
Cabin of S. J. Roberts – Cripple Creek Colorado 1893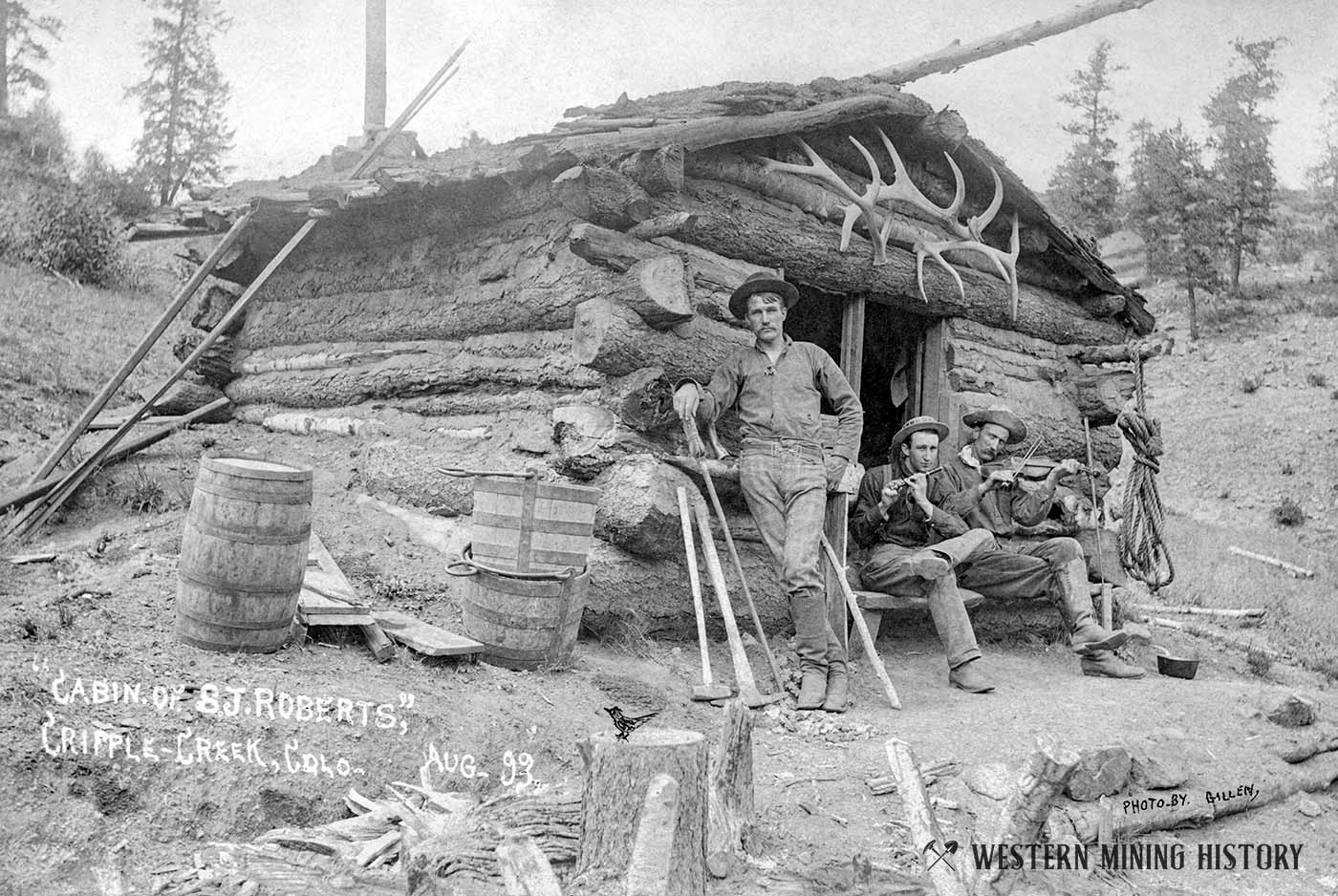 Many incredible photos of miner's cabin have been preserved and capture what life was like in the late 1800s for these early pioneers. The photo above depicts several of the earliest settlers of the Cripple Creek district of Colorado. Note the two seated men are posing with musical instruments.
Another interesting detail is the little bird that the photographer drew on the tree stump, proving that it was OK to have a little fun while working.
A Miner at His Palace – Rosita, Colorado ca. 1870s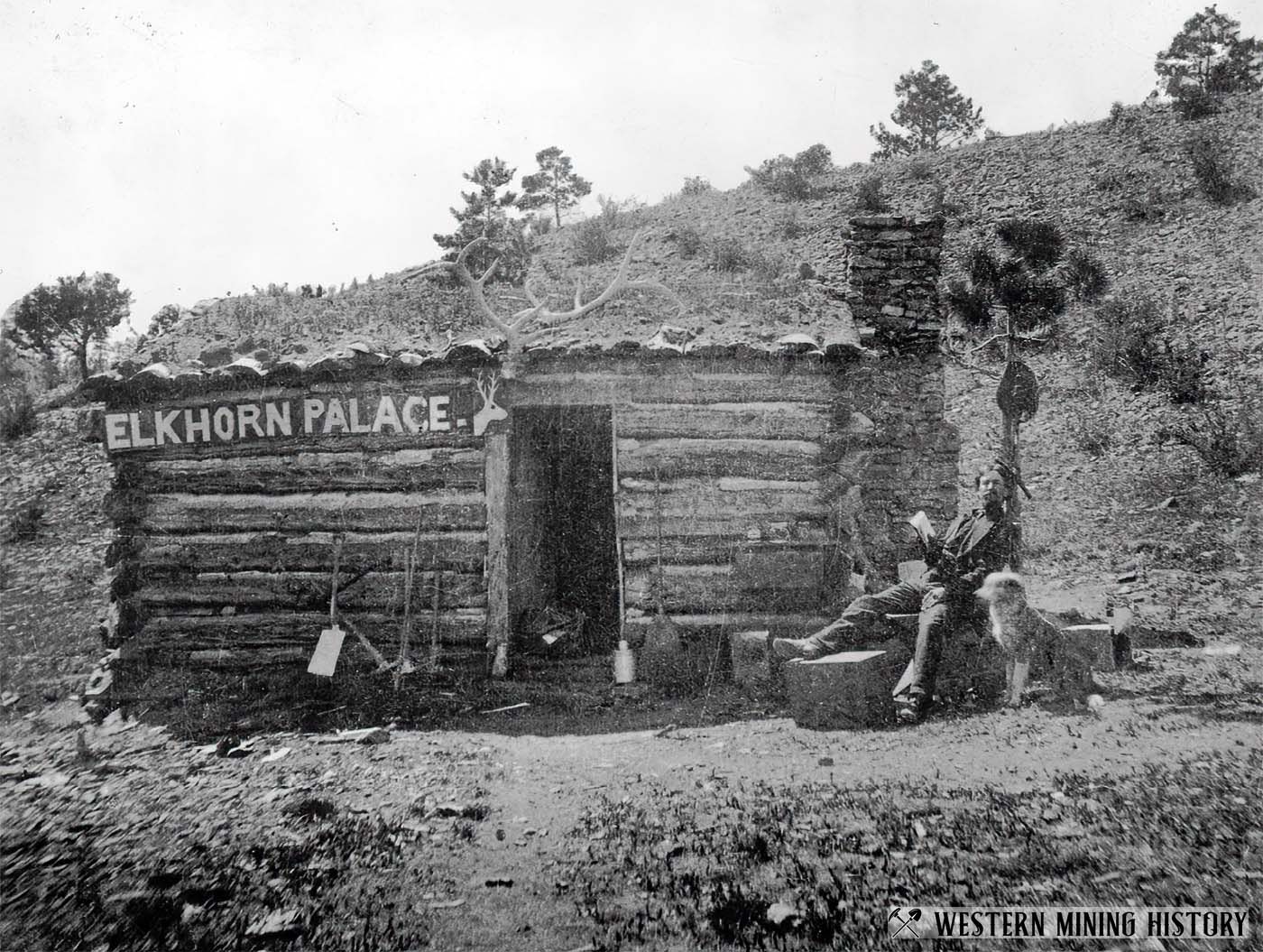 This 1870s image from Rosita, Colorado reveals a man with a high opinion of his humble cabin. Undoubtedly many people these days would enthusiastically trade their current daily lives for a few days in the Elkhorn Palace. Dogs where a required accessory for any proper cabin.
Miners at Their Jasper, Colorado Cabin 1897
A new rush occurred at Jasper, Colorado in 1897 and the following image shows one of the first cabins built at the time. These miners are ready to find some gold. The dog, as usual, is an enthusiastic sidekick.
The 1885 publication Mining Camps – A Study in American Frontier Government by Charles Howard Shinn states:
The miners needed no criminal code. It is simply and literally true, that there was a short time in California, in 1848, when crime was almost absolutely unknown, when pounds and pints of gold were left unguarded in tents and cabins, or thrown down on the hillside, or handed about through a crowd for inspection. An old pioneer writes me, that "in 1848 a man could go into a miner's cabin, cut a slice of bacon, cook a meal, roll up in a blanket, and go to sleep, certain to be welcomed kindly when the owner returned."
Miners at Home in Colorado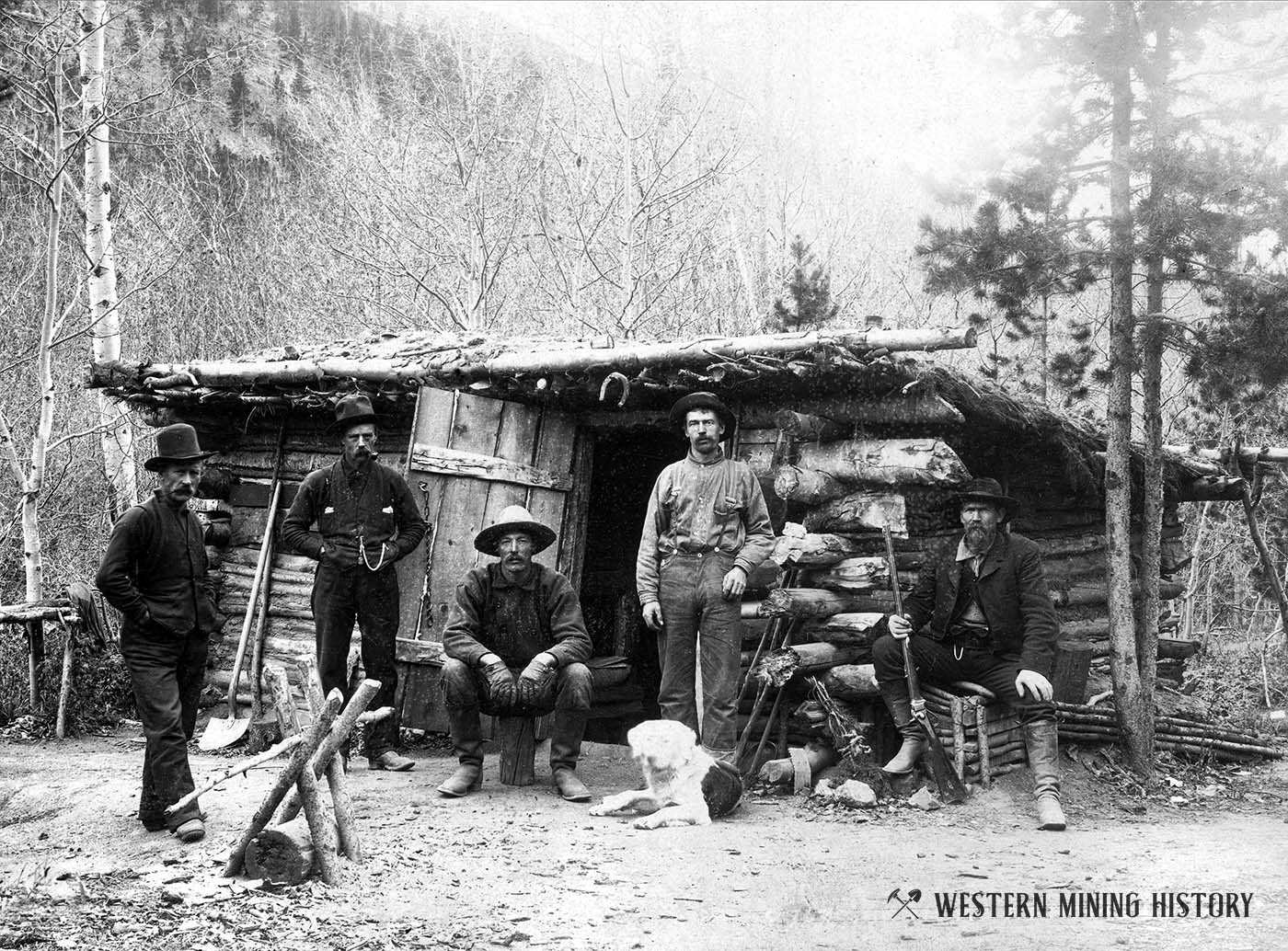 This group of prospectors mean business outside of their Colorado log cabin. In addition to being companions, dogs often had the job of guarding the cabins while the miners were working the mines.
A September, 1884 edition of the Lake City Mining Register laments the increase in thefts from miner's cabins:
In his charge to the Ouray grand jury Judge Gerry called particular attention to the infamous practice of robbing miners' cabins. The judge said:
In early days a miner's cabin was held sacred. It was not necessary to have locks and bolts and bars to protect the property of men of this vocation from their fellowman. Every miner's cabin was open to every man who passed, and whether the owner was at home or away the traveler was welcome to tarry and rest, to help himself to what he needed.
There is scarcely a mining county in the district in which, in the last six months, the attention of the court has not been called to larceny from miners' cabins, which have been broken into and the tools or provisions stolen or destroyed. From one end of the country to the other this complaint has been made, and it appears to be a growing evil, which it is well to crush out in its inception.
A Miner and Family at Their Colorado Cabin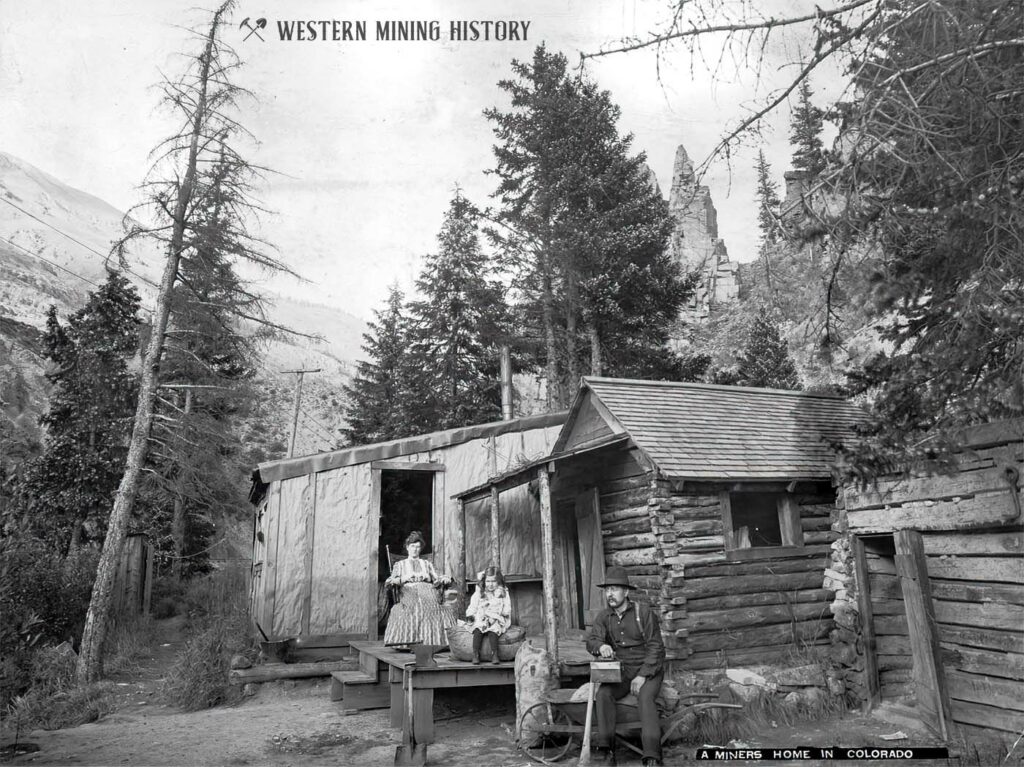 The above image shows a miner at home with his family at a Colorado cabin. Power lines in the background reveal that this was near a major mine – some mines in Colorado were electrified prior to 1900. This man is likely a laborer at a mine rather than in independent prospector or miner.
Yukon Miners Sift Paydirt in Their Cabin ca. 1898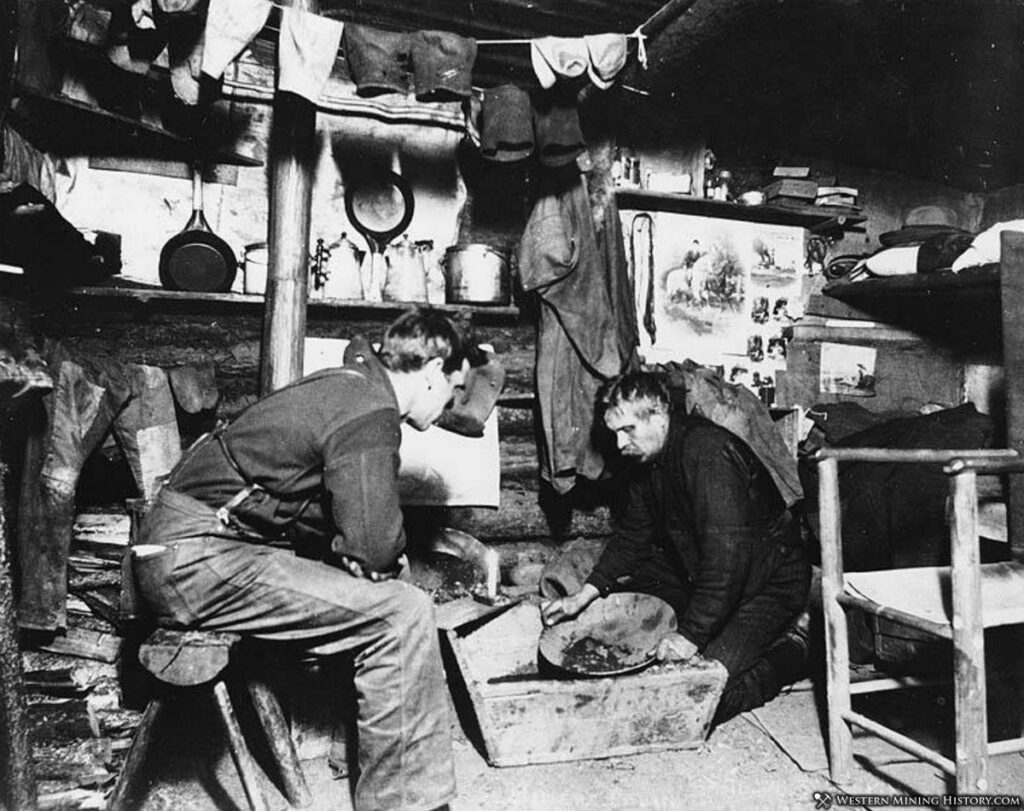 In the far north, a cabin wasn't just a place to get some sleep, it was essential to daily survival. The photo above depicts two miners drying clothes next to the stove, and sifting gold paydirt by candlelight.
Miners often hid their gold in their cabins. One 1899 newspaper article describes an incident of theft at Nome, Alaska:
Arrivals from Dawson bring news of a reported lynching at Cape Nome. A German whose name is not given stole $3,000 in gold dust from a miner's cabin. He was arrested by a committee of miners to whom he confessed the robbery. The committee hanged him.
Interior View of a Miner's Cabin in Colorado ca. 1890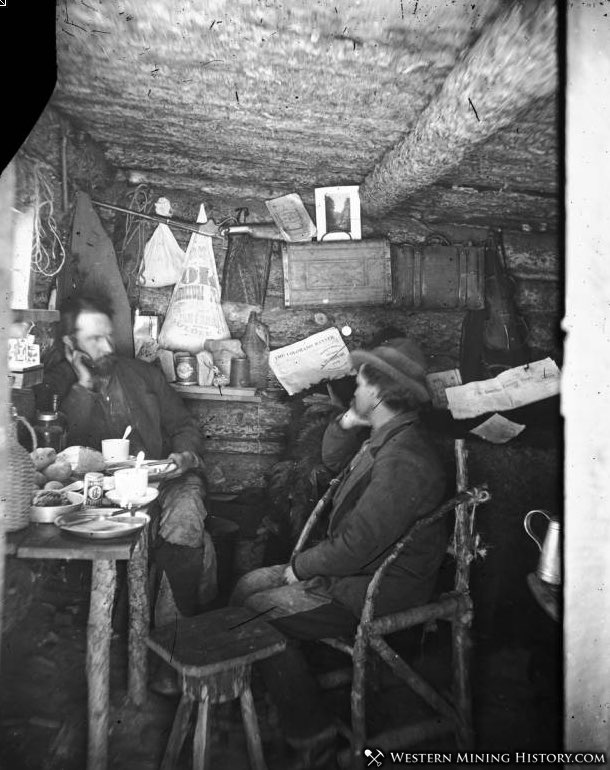 This late 1800s photo is a rare view of two miners in their cabin. Note the bags and supplies hanging from the wall and the furniture made from tree limbs.
If you wonder how miners were able to share such small spaces over long periods of time, a 1913 newspaper article reveals that sometimes they certainly did not get along:
Colorado Springs – A mysterious duel in a coal miner's cabin will cost the lives of two men here. Kojo Ruic is dead and Mac Roster is dying at St. Francis hospital from gunshot wounds.
Working a Claim From Front Door of Cabin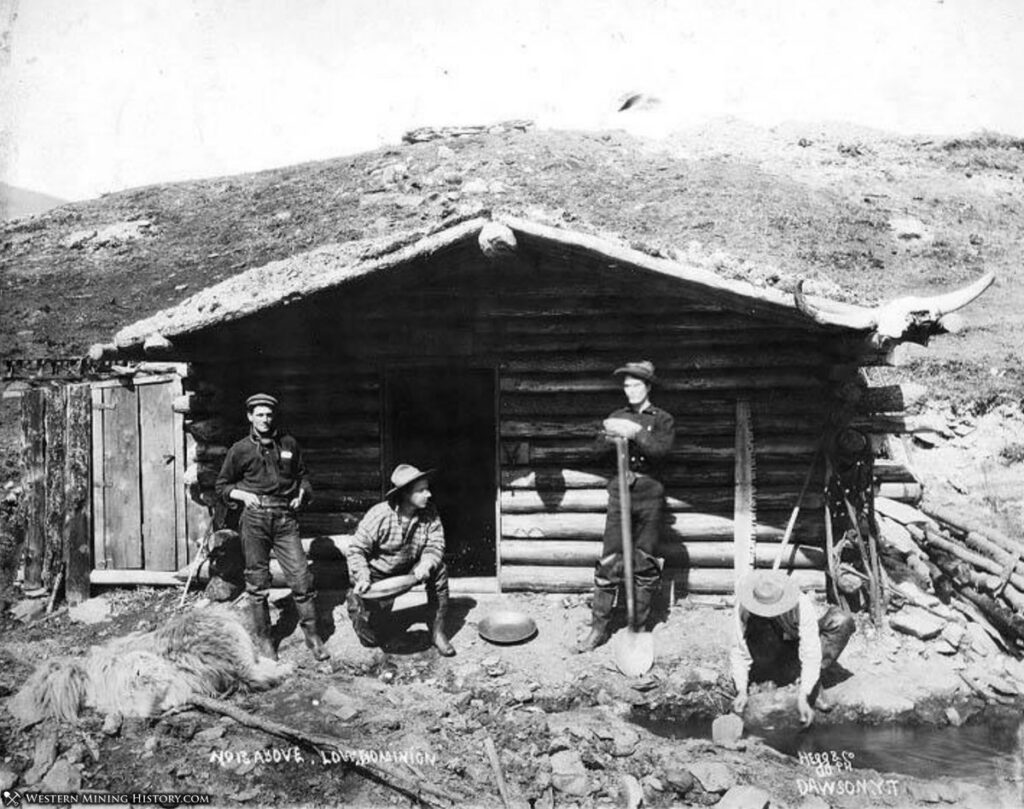 This ca. 1898 photo from Dawson, Yukon Territory, illustrates how miners built cabins right on their claims. These miners are panning for gold right outside the front door of the cabin.
A Prospector at His Cabin in the Pike Peak Region ca. 1890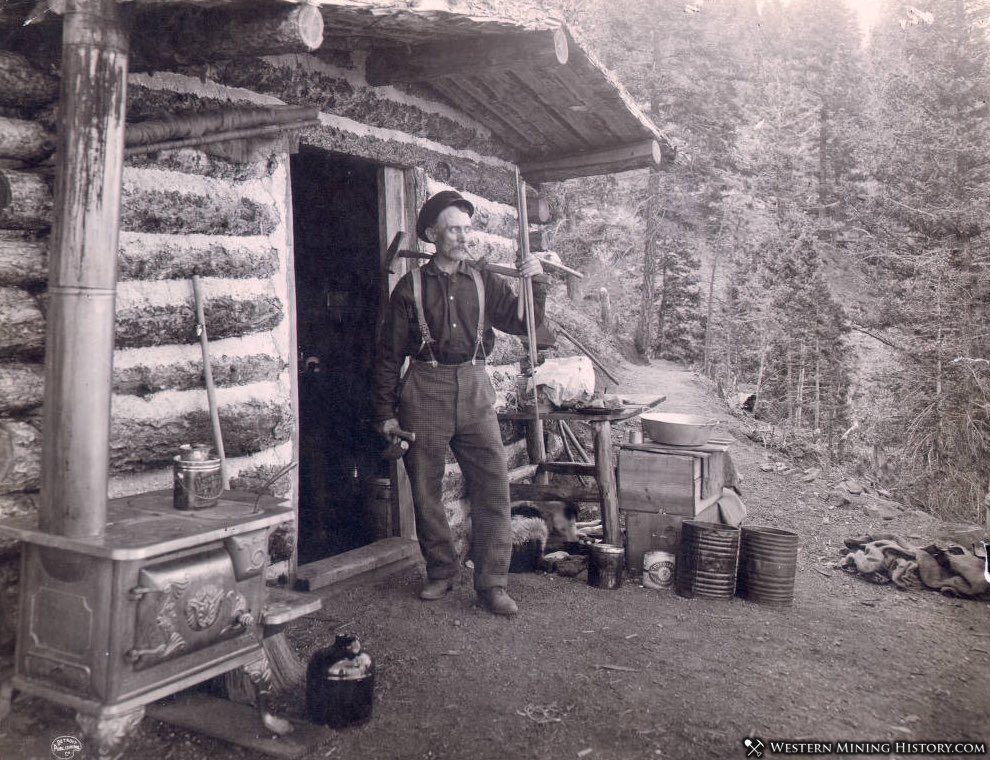 This William Henry Jackson photo depicts "St. Peter – Guide and Prospector" at his Colorado cabin around 1890.
In 1924 the American Mining Congress described the miner's cabin:
The average miner's cabin was a log affair with the crevices chinked with mud and with dirt floors. A few boards nailed together for a bunk, pine needles for a mattress, a plank for a table, a couple of three-legged stools, a big open fireplace, an iron kettle and coffee pot, a dutch oven, a frying pan and some tin cups and plates completed their equipment.
Miners at Utah Cabin ca. 1890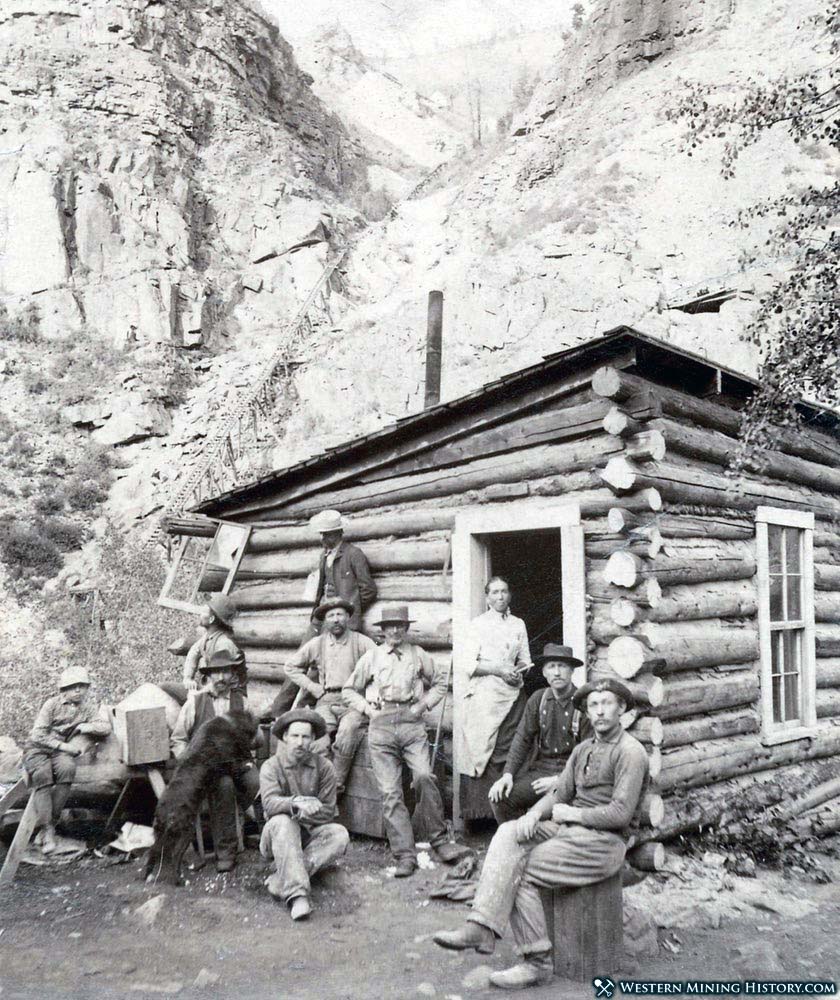 This crew of miners may be serious, but they weren't too serious to get the camp dog in the shot. Note the precariously steep incline on the mountain behind the cabin.
Doc Susie's Cabin at Cripple Creek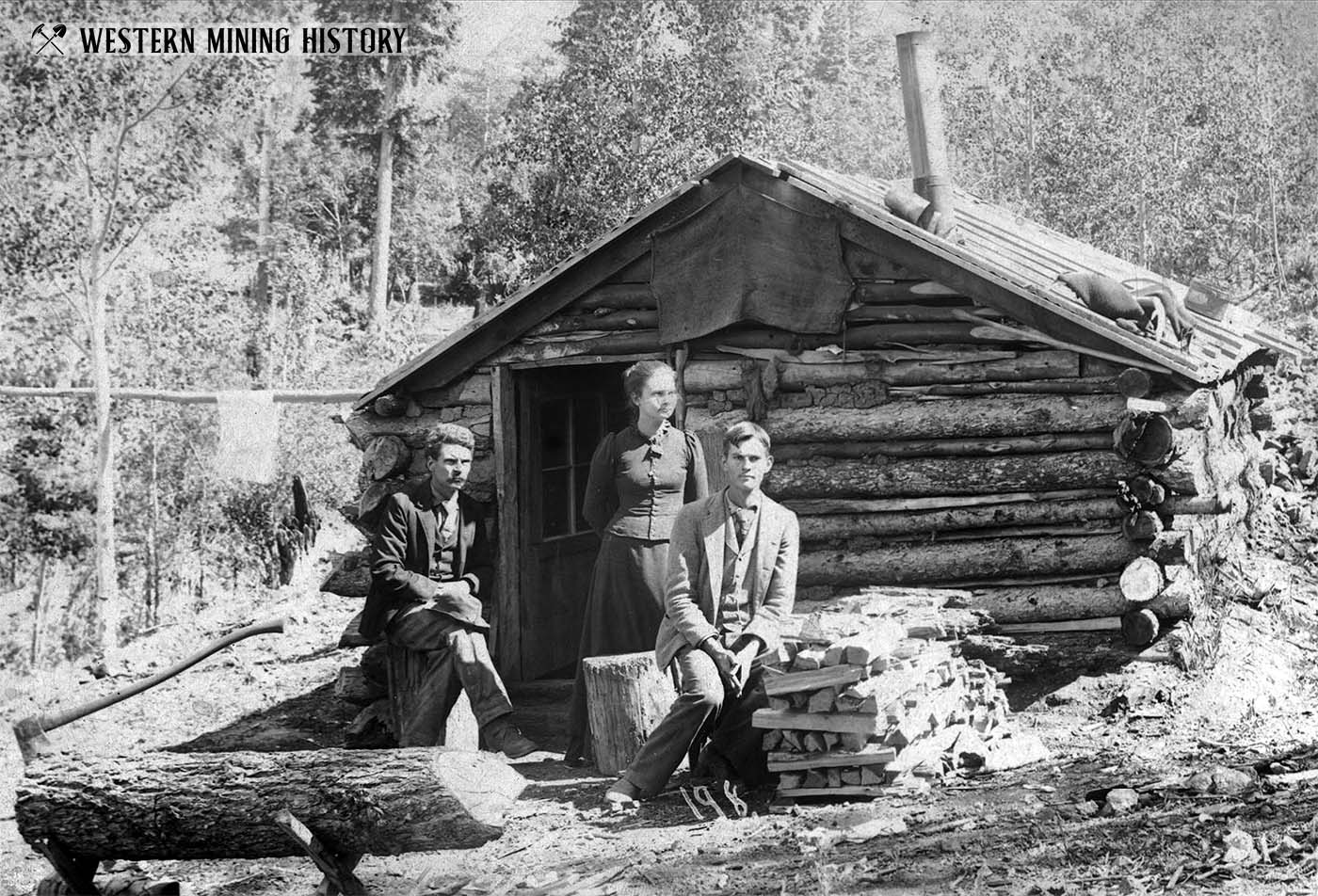 Susan Anderson, or "Doc Susie" was one of Colorado's first women doctors. Anderson graduated high school in Kansas in 1891, and the following year her family moved to Cripple Creek at the start of the gold rush there. In 1893 she started attending medical school in Michigan.
Returning to Cripple Creek, Doc Susie made a name for herself as a talented physician. In subsequent years she practiced medicine in Denver and Greeley. After becoming ill with tuberculosis, she moved to the mountain town of Fraser where she started her own practice, and eventually became the County Coroner. She lived the rest of her life in Fraser, passing away at the age of 90.
Miner and Dogs at His Colorado Cabin
This Colorado miner sits outside his cabin with the required quota of dogs. Note the contrast between the major mining operation on the mountain behind the cabin, and the simple gold pan to the right of the miner.
Miners at a Dawson Cabin ca. 1899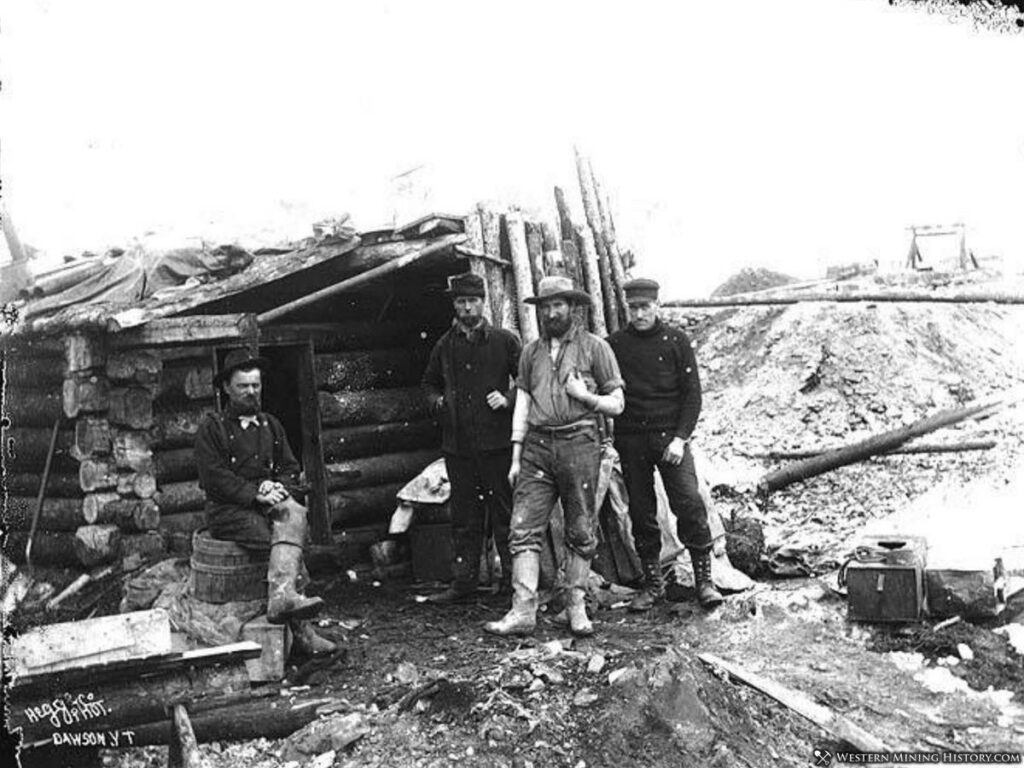 This ca. 1899 photo from Dawson, Yukon Territory, illustrates the crude conditions most miners experienced at their claims. Joseph Ladue's book Klondyke Nuggets (1897) gave the following description of a typical miner's cabin in the Yukon:
The regulation miner's cabin is 12 by 14, with walls six feet high and gables eight feet in height. The roof is heavily earthed and the cabin Is generally kept very warm. Two, or sometimes three or four men will live in a house of this size. The ventilation is usually bad, the windows being very small.
Those miners who do not work their claims during the winter confine themselves to these small huts most of the time. Very often they become indolent and careless, only eating those things which are most easily cooked or prepared. During the busy time in summer, when they are shoveling in, they work hard and for long hours, sparing little time for eating and much less for cooking.
This manner of living is quite common amongst beginners, and soon leads to debility and sometimes to scurvy. Old miners have learned from experience to value health more than gold, and they therefore spare no expense in procuring the best and most varied outfit of food that can be obtained.
Sierra Nevada Miner's Cabin – California 1866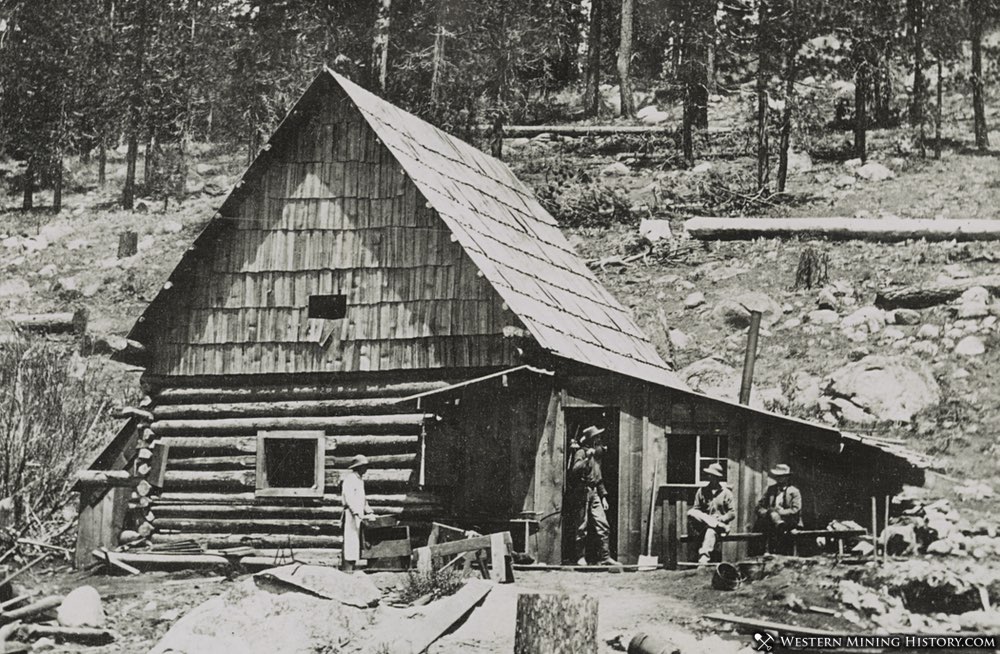 The above image is an early view of a cabin in California's Sierra Nevada Range in 1866. Note the very steep roof – an indication that this location received heavy winter snow accumulation.
In 1924 the American Mining Congress described what miners typically ate at their cabins:
The principal culinary work of the average miner would consist of cooking up sufficient bread and beans on Sunday to last him the entire week. And as a matter of variety during the week he would fry a piece of greasy salt pork. This menu, beans, fried pork, bread and a pot of tea, was his chief diet. The thought of staying alone in the cabin naturally made the gambling houses and saloons very alluring…..
First Cabin in Silverton, Colorado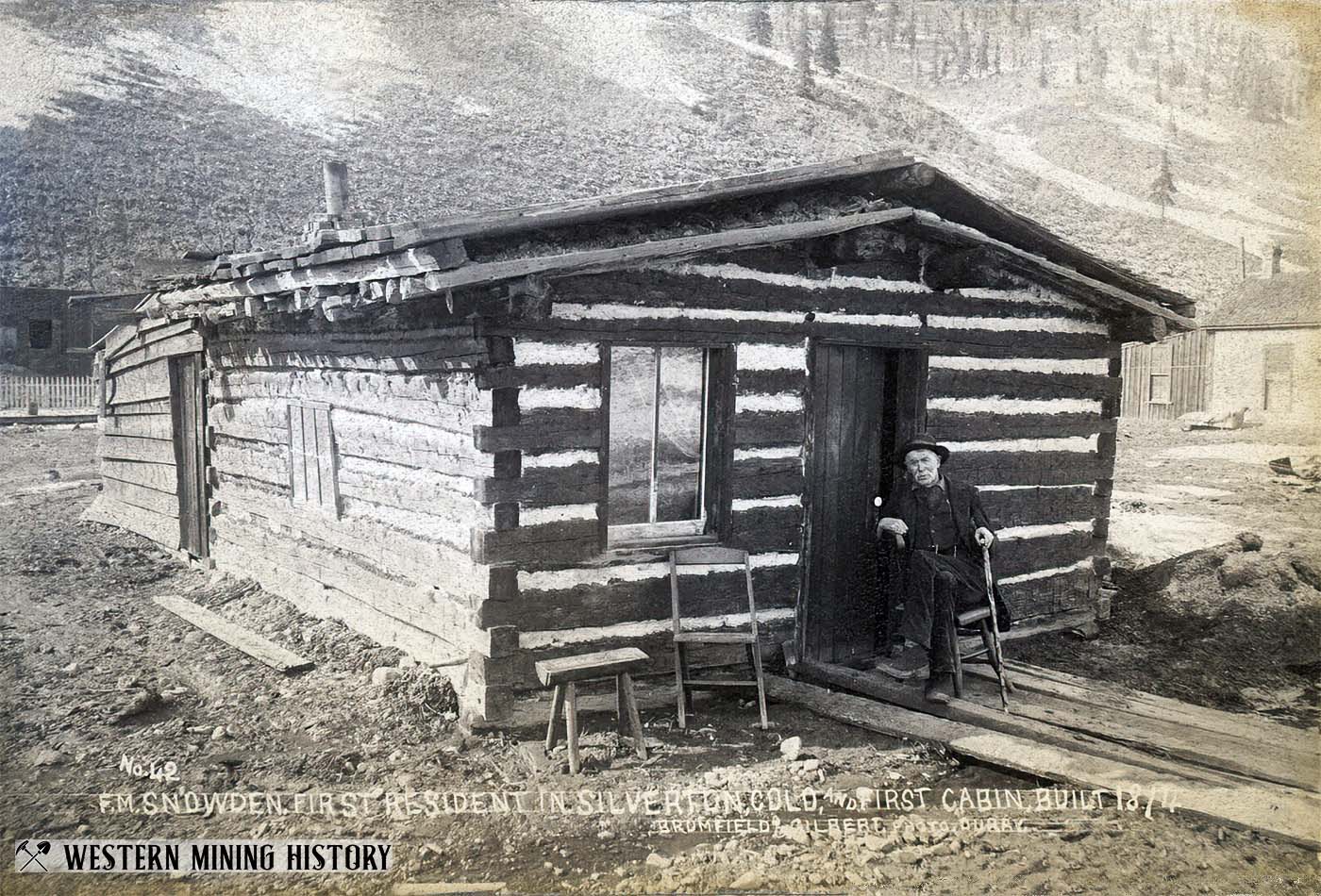 F.M. Snowden poses at his cabin in Silverton, Colorado. The photo caption claims this was Silverton's first structure, a rare glimpse at an important piece of history from one of America's most iconic mining towns.
Driftwood Cabin – Nome, Alaska ca. 1905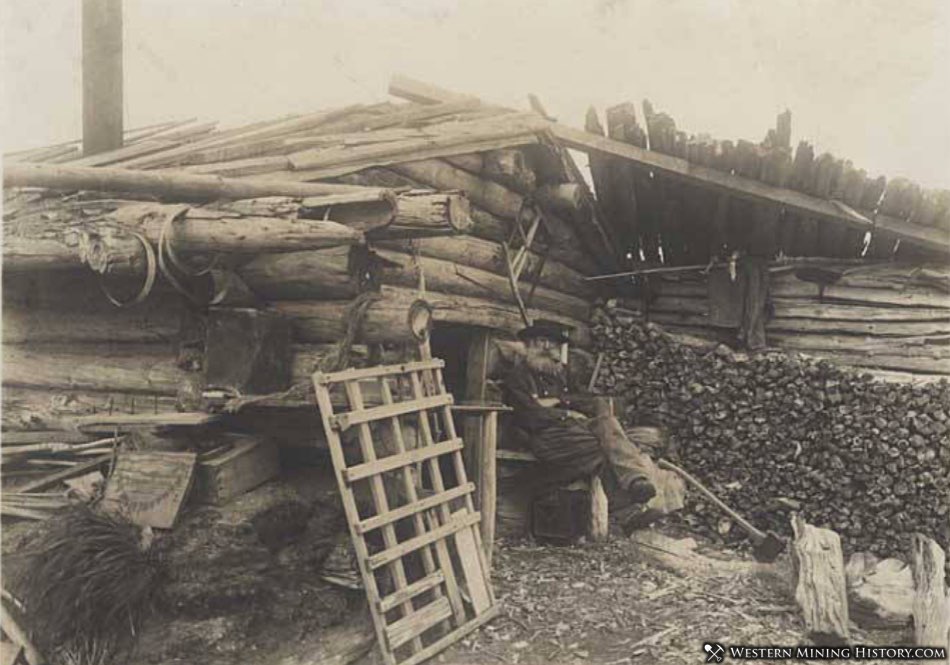 The gold rush at Nome, Alaska presented new challenges to miners struggling to survive in a very severe climate. No trees grow at Nome, so materials for shelter had to be brought in at great expense, or scavenged from wherever they could be found.
The photo above captures an old-time miner at his cabin built of driftwood at Nome ca. 1905.
The First Log Cabin in Cripple Creek ca. 1891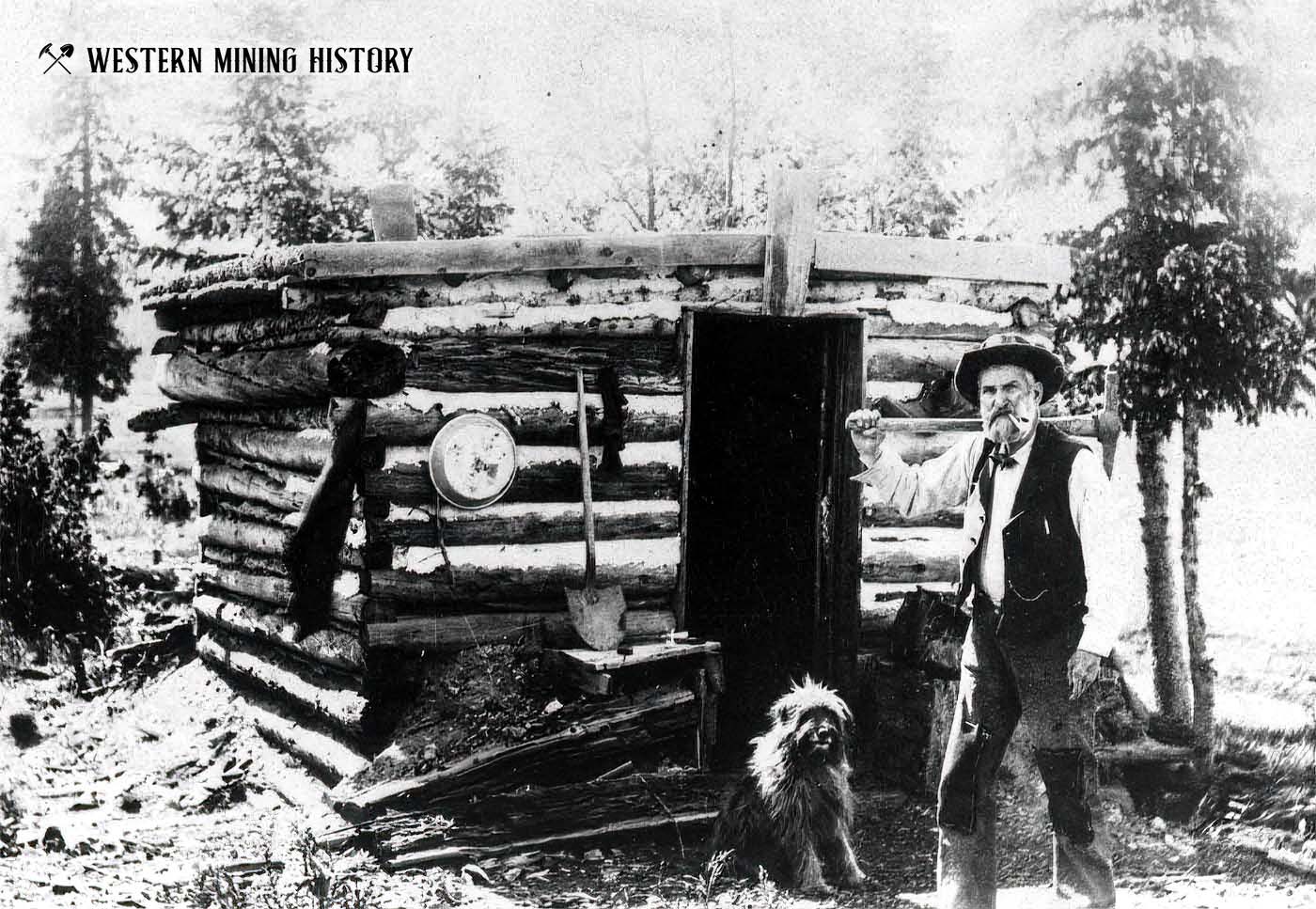 Sometimes a humble miner's cabin was the first structure in what would become a great city. The photo above shows what is described as Old Man Topping at the "first log cabin in Cripple Creek". Cripple Creek would go on to be one of the nation's richest gold centers.
Cabin and Second Hand Store at Cripple Creek ca. 1892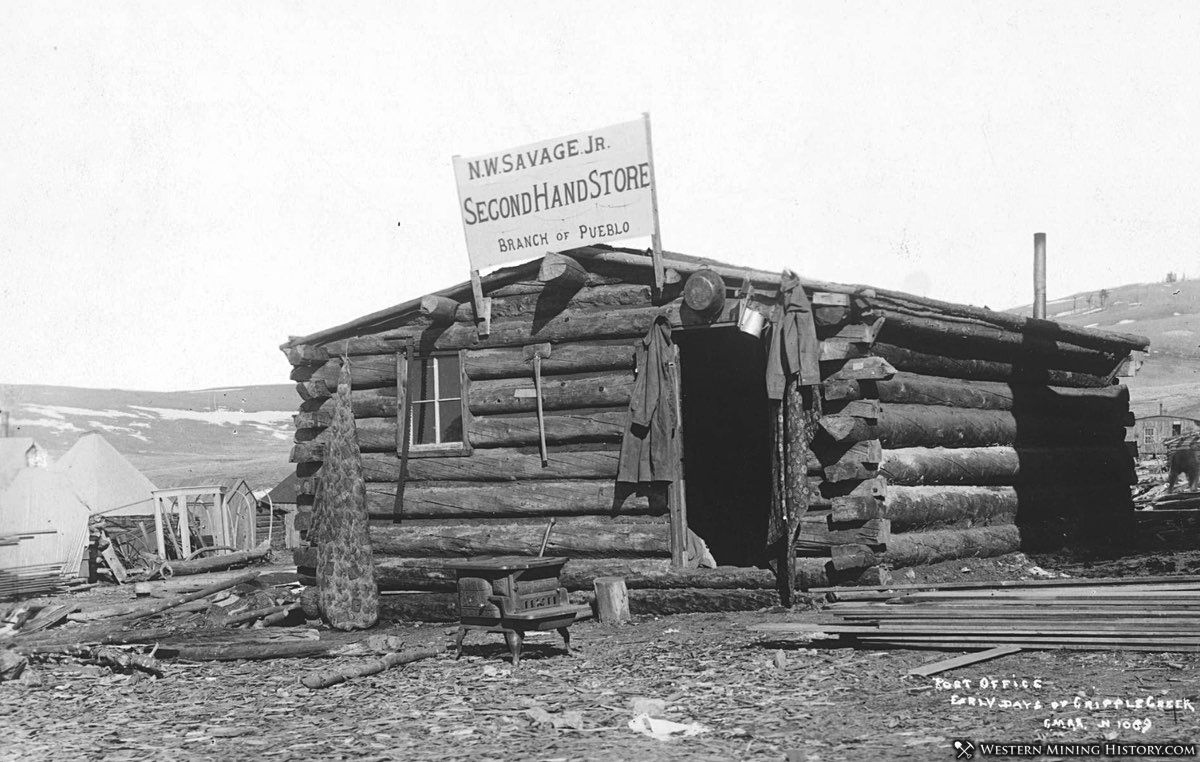 Sometimes a pioneer's cabin would double as a business. The photo above shows the "N.W. Savage Jr. Second Hand Store – Branch of Pueblo" during the early days of the Cripple Creek gold rush. The caption indicates this cabin was also serving as the post office.
Miners Cabin Buried in Snow ca. 1890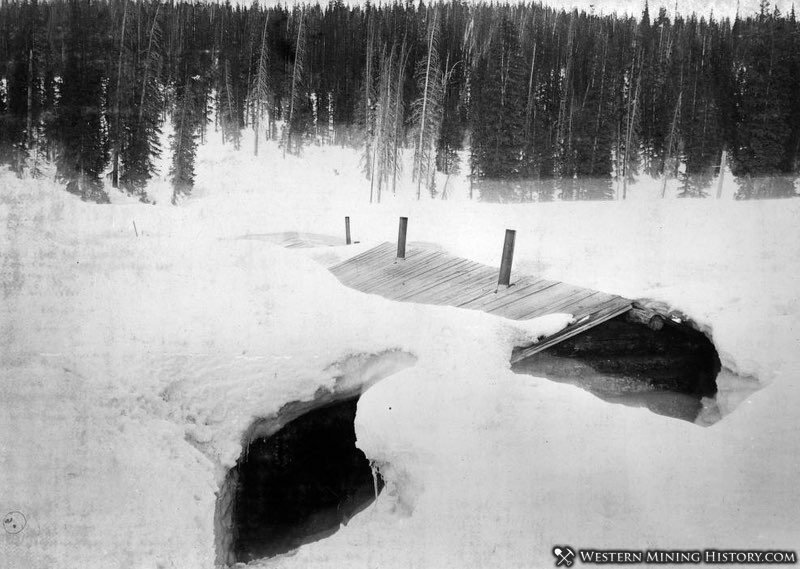 While the relatively simple life of a miner might appeal to many people today, after spending a winter scavenging materials for shelter in Alaska, or spending a winter in this Colorado cabin, they may want to instead spend their time at the cabin below…..
Miners Cabin Saloon – Baker City, Oregon 1890s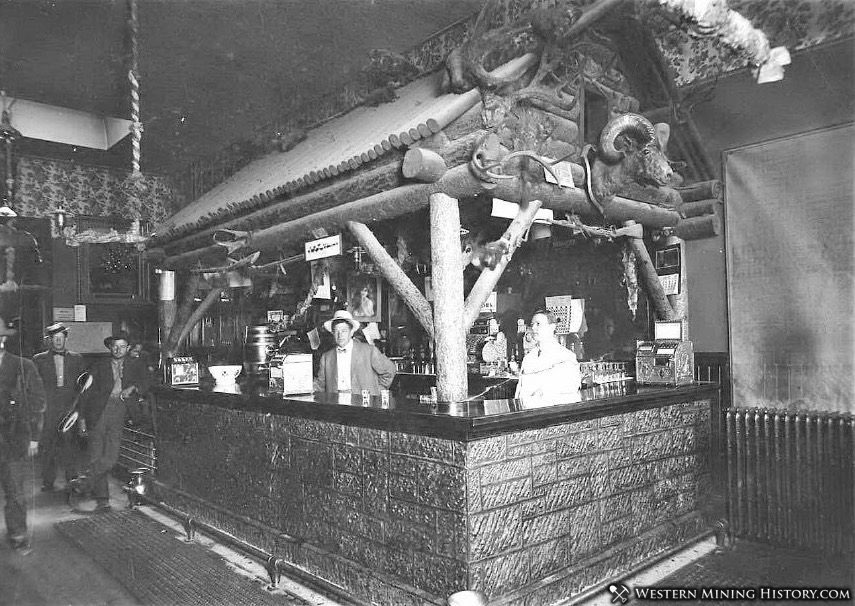 This 1890s photo of the Miner's Cabin Saloon at Baker City Oregon illustrates that the miner's cabin captured the imagination of the public at a time when miners were still building cabins in newer districts.
This particular establishment was the scene of a robbery in August 1903 which was reported in a newspaper article:
Three masked men entered the Miners Cabin saloon tonight and robbed the gaming tables In the back room and the cash register in the front room of $350 cash. There were about forty people in the saloon and gambling room at the time.
Log Churches of the Far North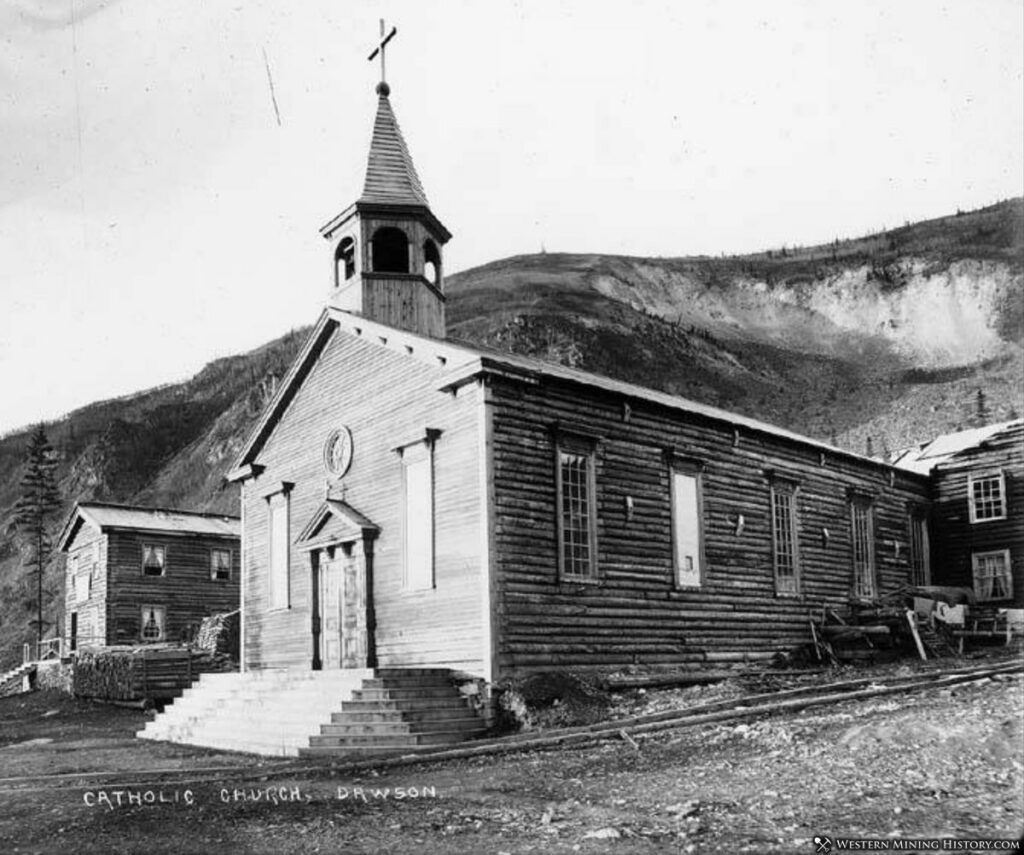 Once you are done at the Miners Cabin Saloon, you may need to spend some time in the structure shown above. This Catholic church at Dawson, Yukon Territory (Canada) was built with the most abundant material available, likely spruce logs of small diameter. It wasn't just cabins that were built out of logs in remote mining camps.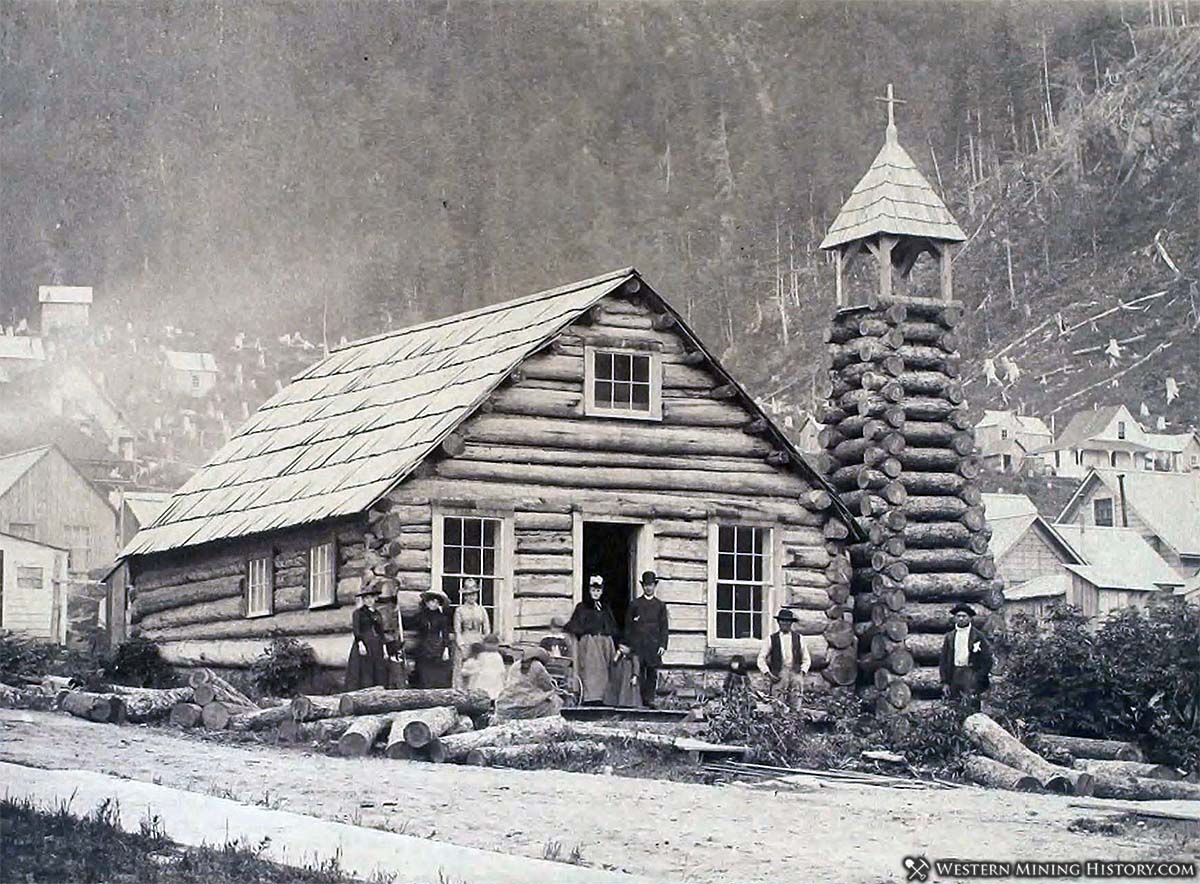 The photo above shows a Presbyterian church made of logs at Juneau Alaska. Juneau was settled after gold discoveries in 1880, the photo was likely taken in the late 1880s.
Epilogue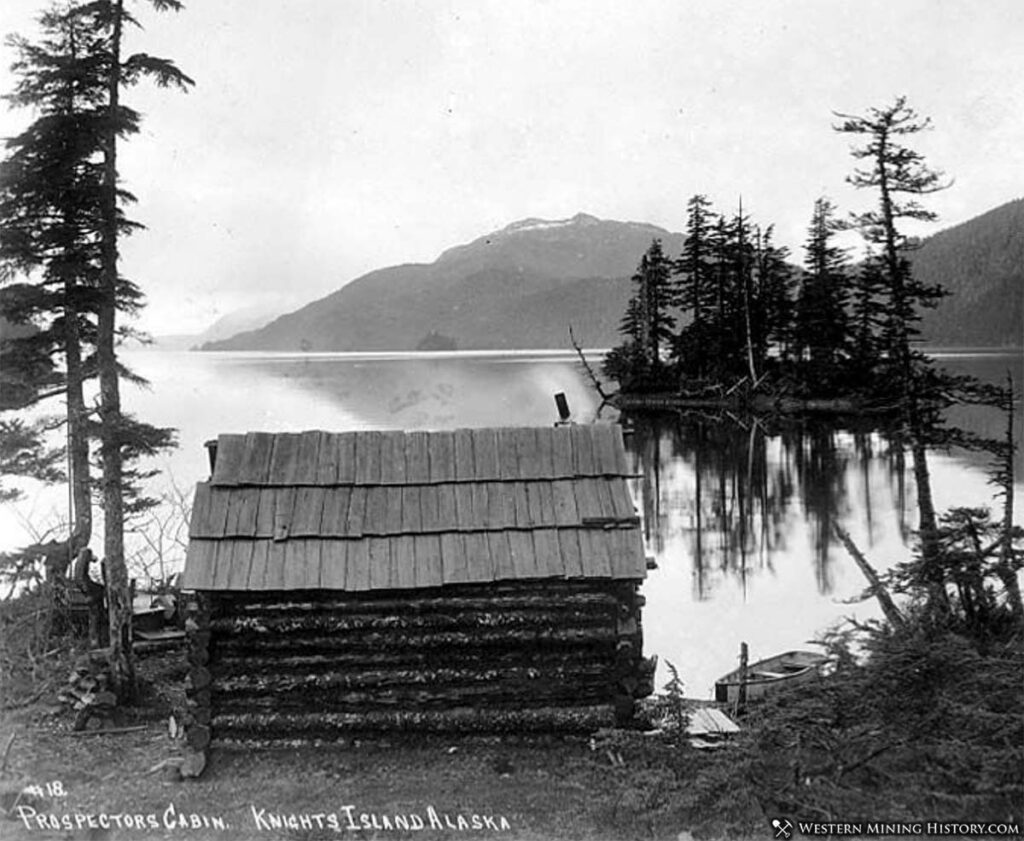 While most miner's cabins have been lost to weather, fire, vandalism, and the relentless march of time, we can still enjoy photos of these fascinating structures, the miners that built them, and the dogs that kept them warm thanks to the following institutions.
Denver Public Library Digital Collections
UC Berkeley, Bancroft Library
University of Washington Digital Collections
Library of Congress
Baker County Library