Gold Maps for Google Earth Pro
Purchase Gold Maps at the WMH store
WMH Gold Maps for Google Earth Pro are designed to locate areas with high potential for finding placer gold. The following files are included in each state-based package:
Locations of all mines in the USGS MRDS database that have gold as a primary commodity
Locations of all PLSS sections that contain active placer mining claims
Analysis layer that summarizes data for mines and claims by township
Ranking layer that identifies the top townships by density of placer claims and gold mines
Some state packages will have additional data layers like locations of mining districts.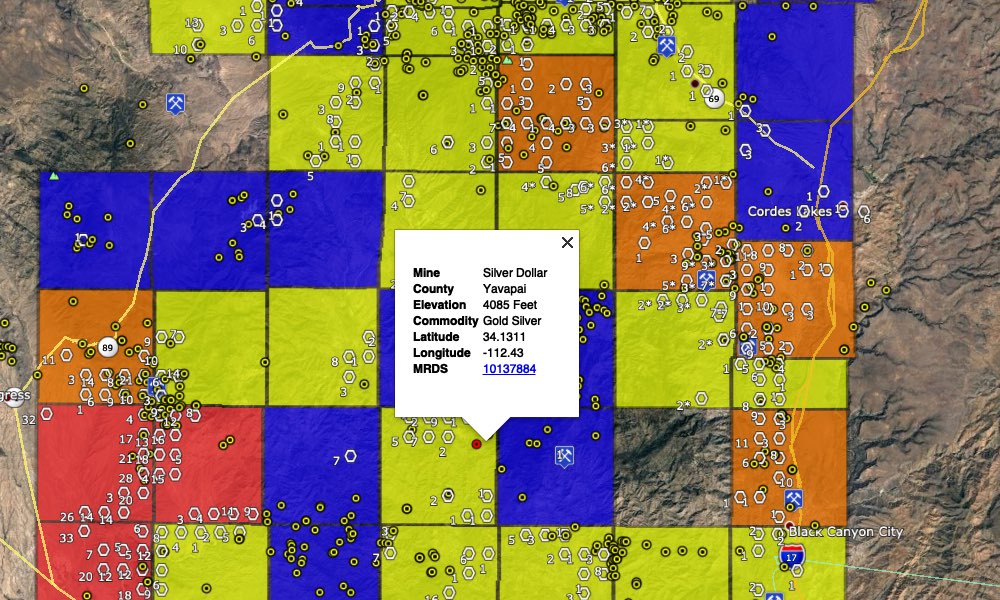 These data packages can be used in Google Earth Pro or GIS applications to research areas with gold discovery potential. Using the same methodology as the WMH Gold Explorer, these mapping tools visualize related data sets that together identify areas of high gold potential by looking at where historical gold mines are located, and where placer mining is still occurring today.
Gold Mine Data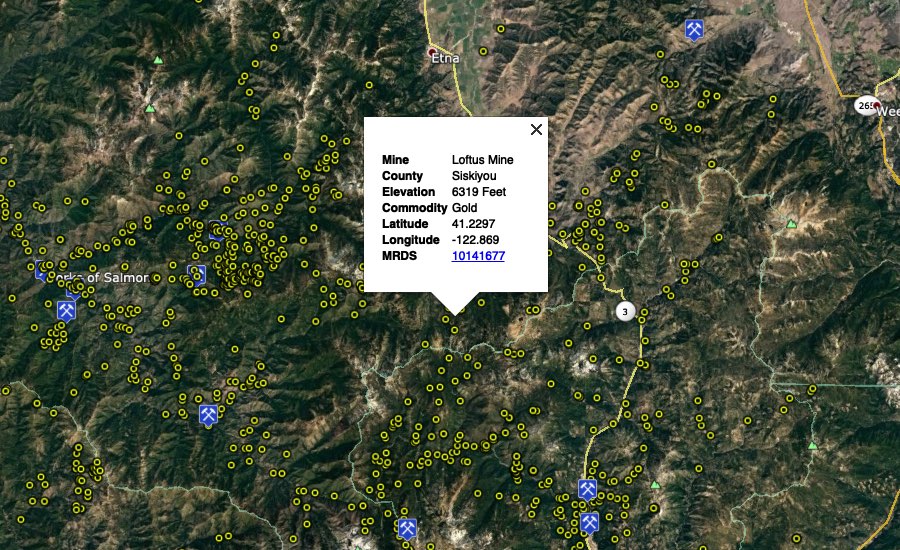 Gold mine data is included in two file formats – CSV and KMZ. 
The CSV file contains all gold mines in the state and can be used in GIS, database, or spreadsheet applications. This data can also be imported into Google Earth to create your own custom views.
The KMZ files are ready to use in Google Earth, simply open them and activate the layer and the mines will be displayed. Some states will have the gold mines divided into several KMZ files to avoid performance problems in Google Earth Pro.
Placer Claim Data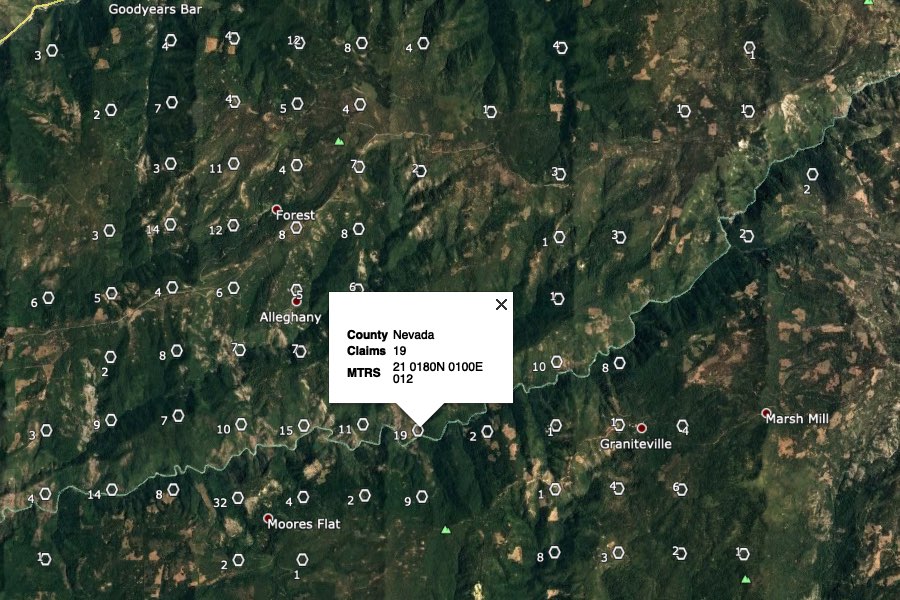 The CSV file contains all PLSS sections that contain placer claims in the state and can be used in GIS, database, or spreadsheet applications. This data can also be imported into Google Earth to create your own custom views.
The KMZ files are ready to use in Google Earth, simply open them and activate the layer and the claim data will be displayed.
The info windows display the number of claims and the MTRS value of the PLSS section that the claims are located in. MTRS is the acronym for Meridian, Township, Range, Section, and represents the grid system used to survey public lands. The MTRS value for each claim marker can be used to shortcut the BLM LR2000 claims index search form, saving a lot of time in what is generally a very slow and cumbersome system to use.
Gold Region Analysis by Township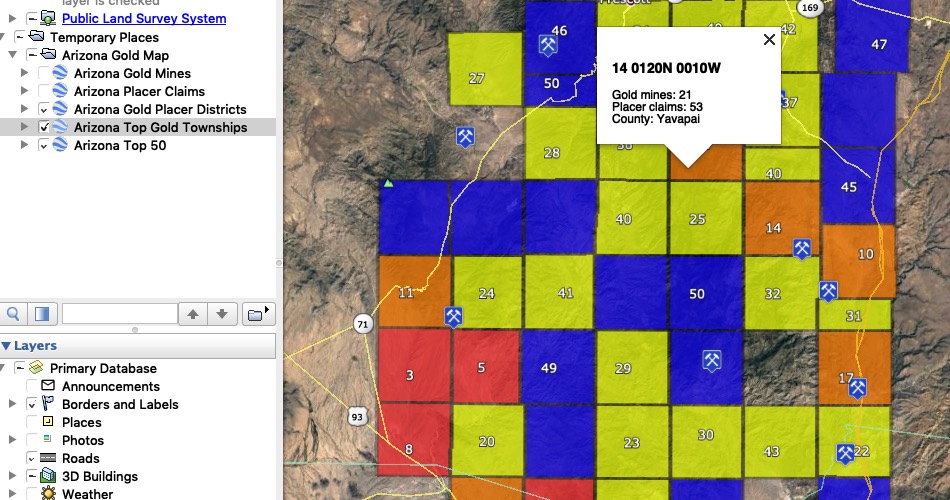 This layer identifies which PLSS townships have both active placer claims and historical gold mines. This correlation is valuable for two reasons – first it identifies areas where placer claims are maintained for the purpose of gold mining rather than mining of other surface commodities like gypsum or potash. Second it allows a quick view of the density and distribution of gold mining areas across a state.
Townships that contain both active placer claims and historical gold mine records will be shaded in one of the following colors based on how many active placer claims are in the township:
1 – 10 claims: blue; 10 – 50 claims: yellow; 50 – 100 claims: orange; More than 100 claims: red
Also included is a layer that ranks the top 50 gold-bearing township by the total number of claims in them.
Mining District Locations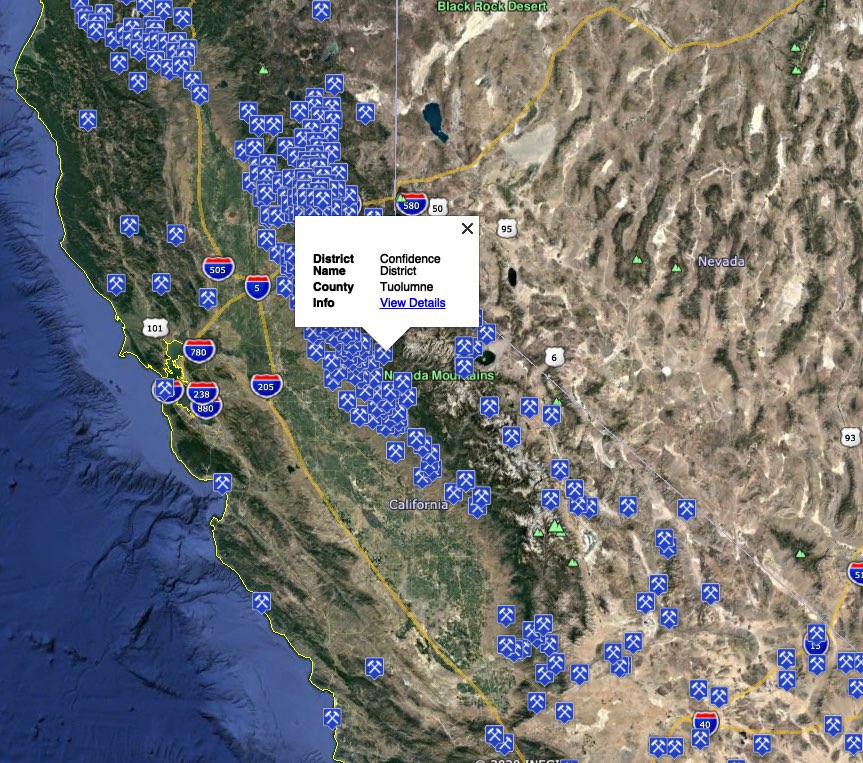 Some states include locations of historical mining districts. See the state sales page for information on extra data layers.
Purchase Gold Maps at the WMH store
High Resolution Topo Maps
WMH Gold Maps are high-resolution map images that are created from Forest Service topo maps. USGS mine data for both gold and non-gold mines has been plotted on the maps and BLM mining claim data has been located by PLSS section.
Purchase Gold Maps at the WMH store
Note: There is a full WMH Gold Map sample for download at the bottom of this page.
The maps are ultra-high resolution PNG files that are generally 20-30 megabytes in file size with dimensions over 10,000 pixels. The following example coverage map for Josephine, County Oregon demonstrates both the coverage area and size of each map in the package.
Mine Data
The USGS mine data has been edited to remove the many duplicate mine records that make mapping MRDS data problematic. Mines with obviously bad coordinates have also been removed.

Mines are divided into two types – those that have gold listed as a primary commodity, and those that do not. (note that the non-gold mines may have gold listed as a secondary commodity in the USGS database). Gold mines are located with red dots, non-gold mines with green dots.
Researching Mining Claims
The blue claim numbers start with a reference number and then list the number of lode and/or placer claims in that PLSS section. As an example "7-L10" means that there are 10 lode claims in that section, and the reference number is 7.
The reference number corresponds to a row number in a file distributed with the WMH Gold Maps that contain the full MTRS value for that section. In the case of the "7-L10" value, the MTRS is "33 0330S 0050W 022". This MTRS value can be copied and pasted right into the LR2000 search form, eliminating several cumbersome steps and removing the guesswork from locating claims in particular sections.
The WMH Gold Maps include a six-page guide on how to use the included claim data to research mining claims on the Bureau of Land Management's LR2000 application.
Gold Maps For Print
The WMH Gold Maps are ultra-high resolution png images (the sample download map at the bottom of this page is 21 megabytes and 14,173 x 14,173 pixels in dimension). These images are intended to be opened in image viewers or image editors on desktop computers or appropriate devices with larger screens.
We recommend making copies of the original images and editing the copies as needed in an image editor. Areas of interest can be cropped out and printed, or reduced in size for better performance on smart phones or smaller devices.
Map Packages
The WMH Gold Map archives contain the following files:

Map coverage JPG image that shows the geographic locations of each map in the archive
Numbered high-resolution PNG map images
Claim research guide
Claims data file to assist in claims research
Sample Gold Map Download
The following file is a full WMH Gold Map file from the Josephine County, Oregon package. The file is 27 megabytes file size and 14,881 x 14,881 pixels in dimenstion.
Download "WMH Gold Discovery Topo Sample - Full Map" Map1-Josephine-OR-sample.png – Downloaded 425 times – 29 MB
Available Gold Map Packages
New map packages for additional geographic areas will be added on a regular basis. The currently available WMH Gold Maps are listed here.
Note: many of the map packages can be purchased as a discounted bundle with the corresponding WMH Mine Discovery Tools for Google Earth Pro.
California
Nevada County
Placer County
Plumas County
Sierra County
Oregon