The Western Mining History Mines Explorer Pro is an interactive map that displays over 116,000 mines from the USGS MRDS database, lode and placer claims by PLSS section centers, mining towns, and mining district information. The Mines Explorer Pro is available to WMH members.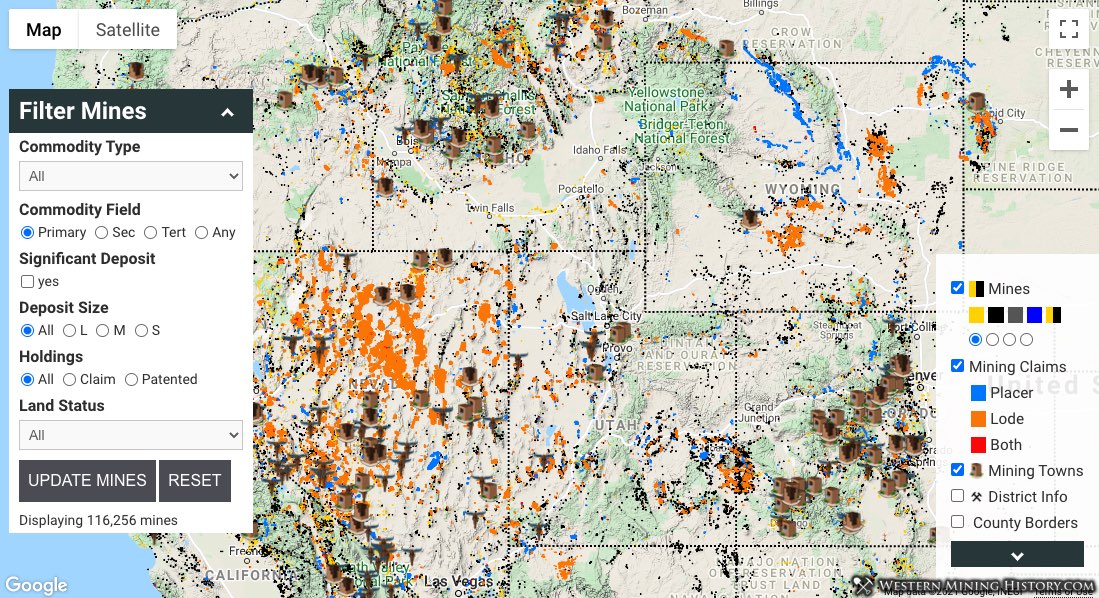 Note: The Mines Explorer Pro loads approximately 45 megabytes of data. It is designed for devices with large screens and with reasonably fast internet connections. This tool is not optimized for mobile devices.
Data layers can be hidden or activated with the checkboxes in the map legend at the lower right part of the map.
USGS MRDS Mine Records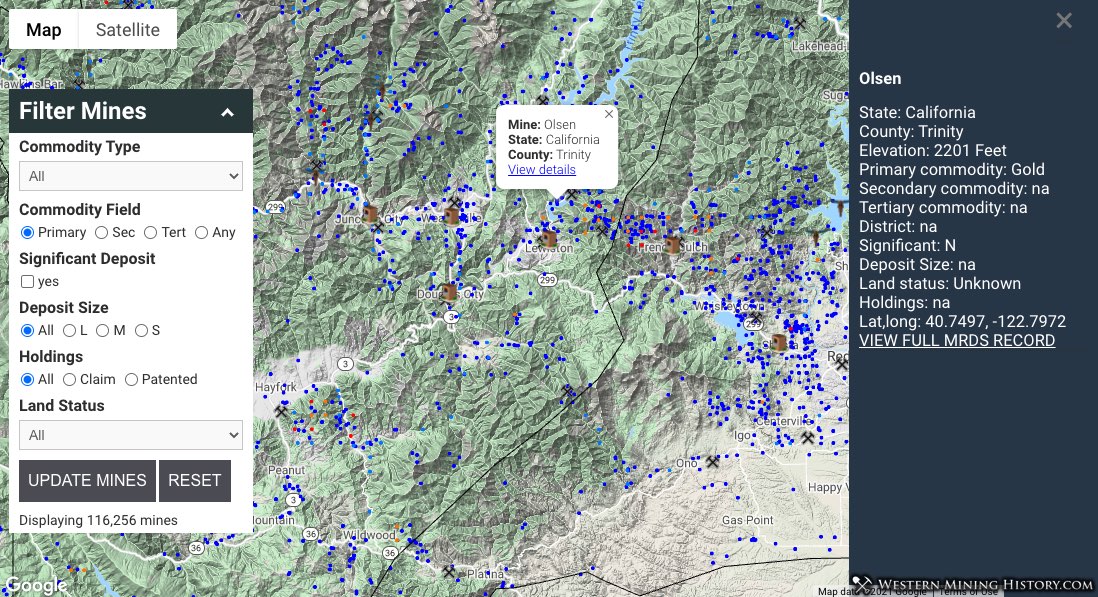 The Mines Explorer Pro has over 116,000 mines from the USGS MRDS database. Mines can be filtered by commodity, land status, holdings, significance, and deposit size.
The values for commodity that can be used to filter map results are: Aluminum, Antimony, Arsenic, Asbestos, Barium, Beryllium, Bismuth, Boron, Chromium, Cobalt, Copper, Feldspar, Flourine, Gallium, Geothermal, Gold, Iron, Lead, Lithium, Magnesite, Manganese, Mercury, Mica, Molybdenum, Nickel, Phosphorous, Platinum, Potassium, Radium, REE, Rhenium, Rhodium, Scandium, Selenium, Silver, Thorium, Tungsten, Uranium, Vanadium, Vermiculite, Zinc, Zirconium
Commodity values can be searched by the primary, secondary, or tertiary fields that are included in MRDS mine records, or all three.
Mining Claims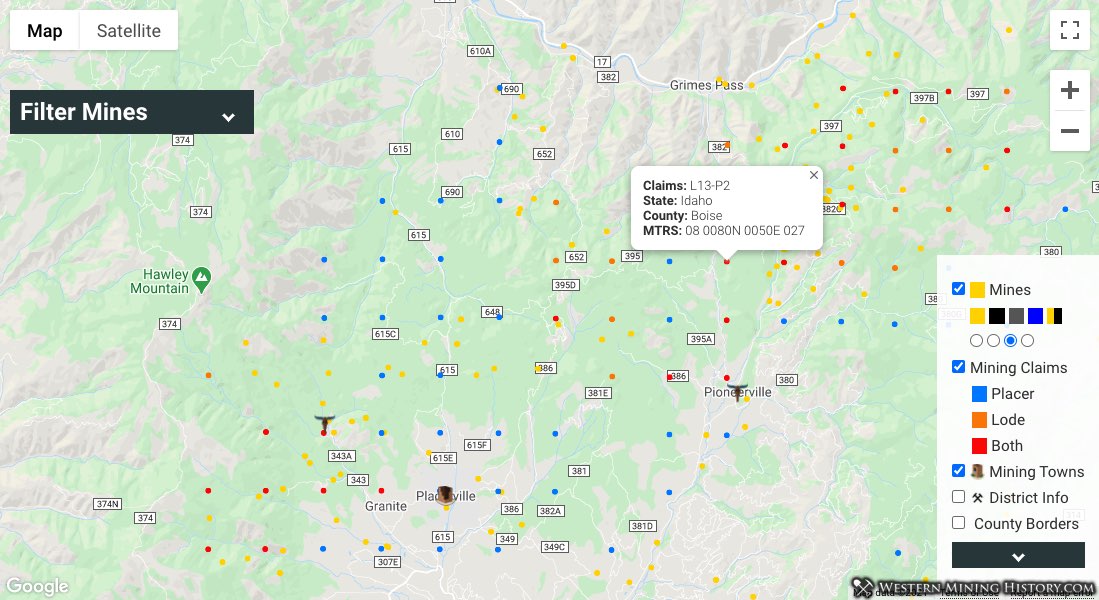 Mining claims are located by PLSS center section, and each claim marker is color coded by type: placer, lode, or both. Values in the claim info windows show how many claims are in that section. For example "L5-P5" means that there are 5 placer claims and 5 lode claims in that section.
The MTRS values are formatted for use in the BLM MLRS and can be copied into the search form directly to speed up claim research. This view also demonstrates the mine search form minimized to increase viewable area on the map.
Mining Towns & Districts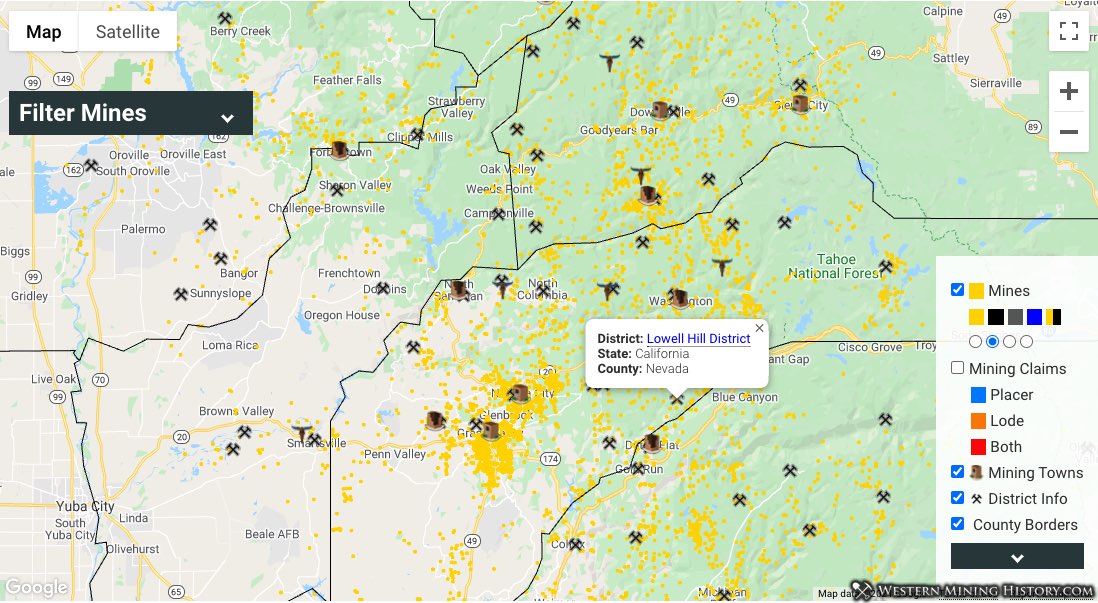 Locations of mining towns and historical gold districts is included. Currently over 400 towns and over 1,100 districts (currently for Arizona, California, Idaho, Nevada, Oregon, and Washington) are included, with more being added in the future.
Each district info window contains a link to a page with more information on the district or town.
Mines Explorer Pro Usage & Notes
Please review the following notes to get the most out of the Mines Explorer Pro.
Mine Data Field Notes
Land Status: General category of land ownership. Note that just over half of the mines in the MRDS database have a value for land status.
Holdings: Type of mineral-rights ownership. Note that less than 10% of mines in the MRDS database have a value for this field so this should be used for reference only and not considered a complete record of holding types.
Size: Deposit size: Large, Medium, or Small. The tonnage of the deposit including all production, reserves, and resources. Note that only about a third of mines in the MRDS database have a value for deposit size.
Significant: Indicates whether the deposit has world-class significance. The criteria is total endowment of contained commodity, which includes all past production and reserves.
Claims Notes
Claim data is from November of 2020.
The claims data presented here is only the number of active claims in a section, it does not plot the exact locations of each claim nor does it provide details on any individual claim. Additional details can be obtained from the BLM MLRS system using the MTRS value for each section.
The claim data displayed in this tool is considered a reference data set, only the BLM LR2000 will have the absolute up-to-date record of all mining claims. This tool is a great resource for visualizing where active claims are, but final research should always be done at the MLRS.
Click here for our guide on doing mining claim research with the BLM MLRS
PLSS section values like "21 0330N 0520E 016" can be copied directly into the LR2000 search form, speeding up claims research significantly.