This page gives an overview of mining claim distribution, and introduces some of the tools WMH produces to aid in claim research.
Click here for WMH Mining Claim Research Tools
According to the BLM, a mining claim is "a parcel of land for which the claimant has asserted a right of possession and the right to develop and extract a discovered, valuable, mineral deposit. This right does not include exclusive surface rights." Click here to read more about mining claims at the BLM.
Types of Mining Claims
As of January 1st, 2020, there were over 562,183 active mining claims distributed among the the following states – Arizona, California, Colorado, Idaho, Montana, Nevada, New Mexico, Oregon, South Dakota, Utah, Washington, and Wyoming.
Mining claims are of four different types – Lode, Placer, Millsite, and Tunnel, with the following breakdown for the overall number of claims and percentages of each type.
Lode claims – 481,484
Placer claims – 65,240
Millsite claims – 14,877
Tunnel site claims – 206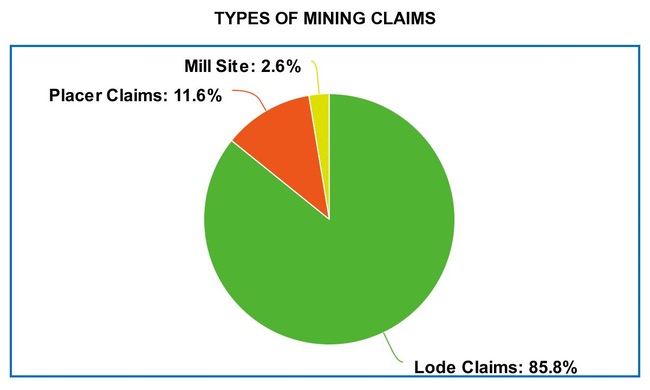 The claims analysis on this page will focus on Lode and Placer claim types.
Distribution of Active Mining Claims
The 560,000+ mining claims active at the start of 2020 are distributed across twelve western states in the following totals:
Arizona 64,466 (Lode 54,017 – Placer 5,699)
California 31,129 (Lode 14,565 – Placer 14,007)
Colorado 16,585 (Lode 13,150 – Placer 2,584)
Idaho 35,449 (Lode 31,934 – Placer 3,078)
Montana 20,750 (Lode 15,860 – Placer 3,143)
Nevada 297,063 (Lode 273,697 – Placer 19,576)
New Mexico 12,941 (Lode 11,793 – Placer 994)
Oregon 9,699 (Lode 6,115 – Placer 3,527)
South Dakota 5,962 (Lode 5,186 – Placer 705)
Utah 27,970 (Lode 22,078 – Placer 5,389)
Washington 2,843 (Lode 2,474 – Placer 364)
Wyoming 37,301 (Lode 30,601 – Placer 6,163)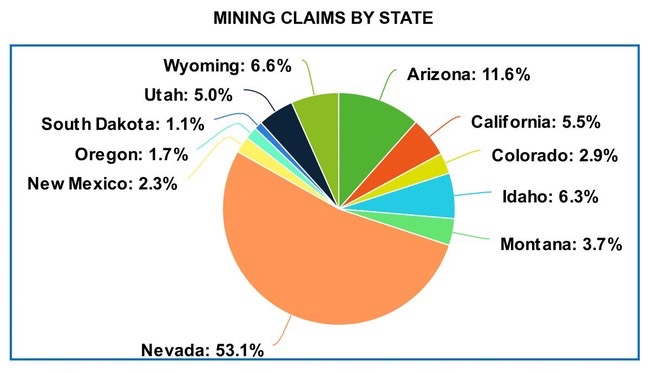 Gaining Insights from Claim Data
While it is usually not possible to ascertain exactly what commodity is being mined at a specific claim location, often times it can be deduced with some accuracy by looking at additional data on the claim location.
A large number of claims, especially placer claims, are for the purpose of gold mining. Where these gold claims are located can be inferred by their proximity to historical gold mines.
Placer claims located among gold mines in historical gold districts are almost certainly gold mining claims. Looking at these things together allows us to make an important conclusion – this is where modern prospectors and miners are finding gold.
WMH Gold Maps display both placer claim data by PLSS section and the locations of historical gold mines together.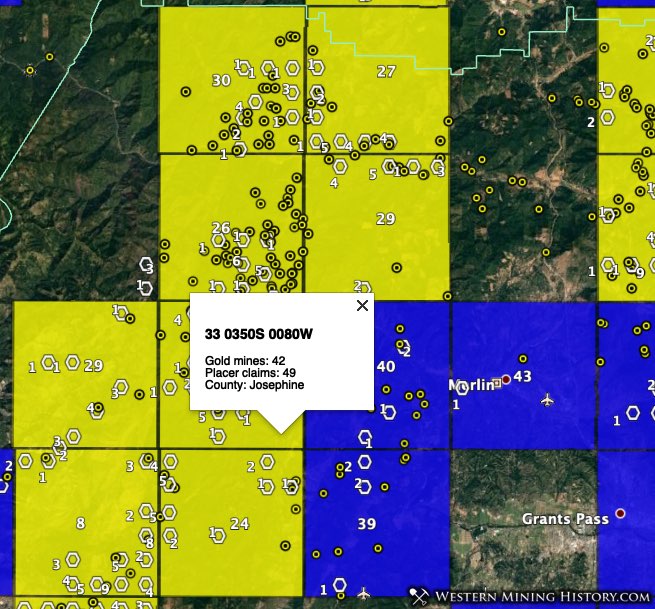 In some areas placer claims are for industrial surface mining operations for commodities like gypsum, bentonite, lithium, and potash. These can be easily identified on the map as clusters of red dots or large concentrations of claims that are not near significant gold mining areas.
Nevada, Utah, and northern Wyoming are areas where large concentrations of non-gold claims occur.
Researching Mining Claims
Active claim records are stored in a BLM application called the Mineral & Land Record System (MLRS), formerly known as the LR2000. This application is notoriously slow and difficult to use. WMH sells several data products that will aid your mining claim research.
The active mining claim information included in the WMH Mines Explorer Pro and Mining Claims Research Tools for Google Earth Pro allow you to discover where claims are located on maps, and then enter the MTRS location info directly into LR2000 to see the latest claims info.
For details on how to do claims research, see the article Researching Mining Claims with the BLM MLRS
Information on the WMH Mining Claim Research Tools can be found here.
The mining claim data contained in the Mining Claim Research Tools is available at the county level as part of the WMH Mine Discovery Tools.