According to the BLM, a mining claim is "a parcel of land for which the claimant has asserted a right of possession and the right to develop and extract a discovered, valuable, mineral deposit. This right does not include exclusive surface rights." Click here to read more about mining claims at the BLM.
Types of Mining Claims
As of January 1st, 2020, there were over 562,183 active mining claims distributed among the the following states – Arizona, California, Colorado, Idaho, Montana, Nevada, New Mexico, Oregon, South Dakota, Utah, Washington, and Wyoming.
Mining claims are of four different types – Lode, Placer, Millsite, and Tunnel, with the following breakdown for the overall number of claims and percentages of each type.
Lode claims – 481,484
Placer claims – 65,240
Millsite claims – 14,877
Tunnel site claims – 206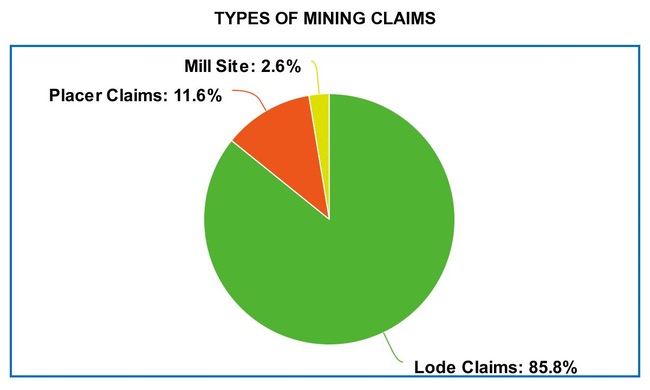 The claims analysis on this page will focus on Lode and Placer claim types.
Distribution of Active Mining Claims
The 560,000+ mining claims active at the start of 2020 are distributed across twelve western states in the following totals:
Arizona 64,466 (Lode 54,017 – Placer 5,699)
California 31,129 (Lode 14,565 – Placer 14,007)
Colorado 16,585 (Lode 13,150 – Placer 2,584)
Idaho 35,449 (Lode 31,934 – Placer 3,078)
Montana 20,750 (Lode 15,860 – Placer 3,143)
Nevada 297,063 (Lode 273,697 – Placer 19,576)
New Mexico 12,941 (Lode 11,793 – Placer 994)
Oregon 9,699 (Lode 6,115 – Placer 3,527)
South Dakota 5,962 (Lode 5,186 – Placer 705)
Utah 27,970 (Lode 22,078 – Placer 5,389)
Washington 2,843 (Lode 2,474 – Placer 364)
Wyoming 37,301 (Lode 30,601 – Placer 6,163)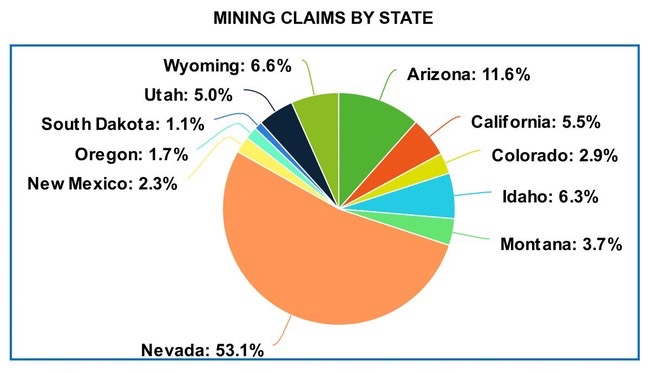 Gaining Insights from Claim Data
While it is usually not possible to ascertain exactly what commodity is being mined at a specific claim location, often times it can be deduced with some accuracy by looking at additional data on the claim location.
A large number of claims, especially placer claims, are for the purpose of gold mining. Where these gold claims are located can be inferred by their proximity to historical gold mines. The WMH Gold Explorer displays both placer claim data by PLSS section and the locations of historical gold mines together.
Placer claims located among gold mines in historical gold districts are almost certainly gold mining claims. Looking at these things together allows us to make an important conclusion – this is where modern prospectors and miners are finding gold.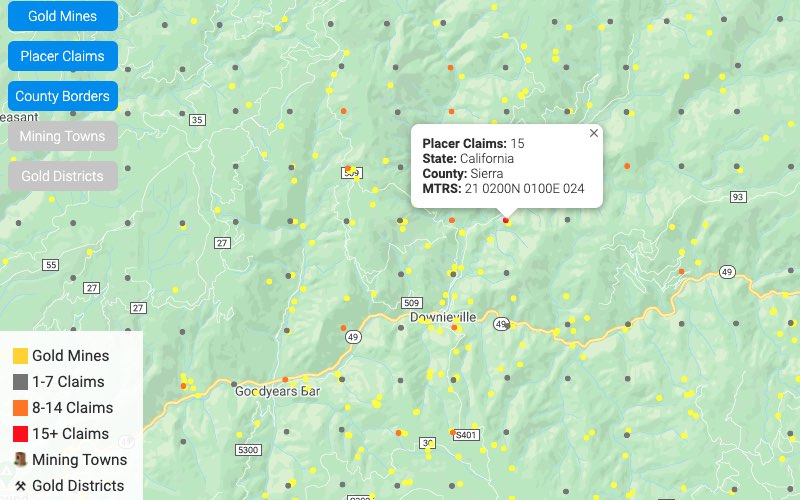 In some areas placer claims are for industrial surface mining operations for commodities like gypsum, bentonite, lithium, and potash. These can be easily identified on the map as clusters of red dots or large concentrations of claims that are not near significant gold mining areas.
Nevada, Utah, and northern Wyoming are areas where large concentrations of non-gold claims occur.
Analysis of Claim Distribution and Density
Western Mining History has created several tools for both locating mining claims on the ground, and analyzing mining claim density to gain insights as to areas with potential for gold discovery.
The WMH Gold Explorer
If you are looking for areas that have good gold potential for placer mining or metal detecting, the best indicator as to where the good ground is comes from the professionals that know where the gold is. Where these pros operate can be determined by looking at where active placer claims are located.
The WMH Gold Explorer is designed to display both active placer claims by PLSS section along with historical gold mines, providing valuable insight as to where modern placer mining is occurring and where gold may still be discovered by individuals and small-scale miners. Click here to read more about the WMH Gold Explorer
Mine Discovery Tools for Google Earth Pro
WMH Mine Discovery Tools for Google Earth Pro includes USGS mine locations, mining claim locations by PLSS section, and high-resolution topo maps from the USGS and Forest Service. These packages are sold and distributed by geographic location, usually at the county level. Click here to learn more.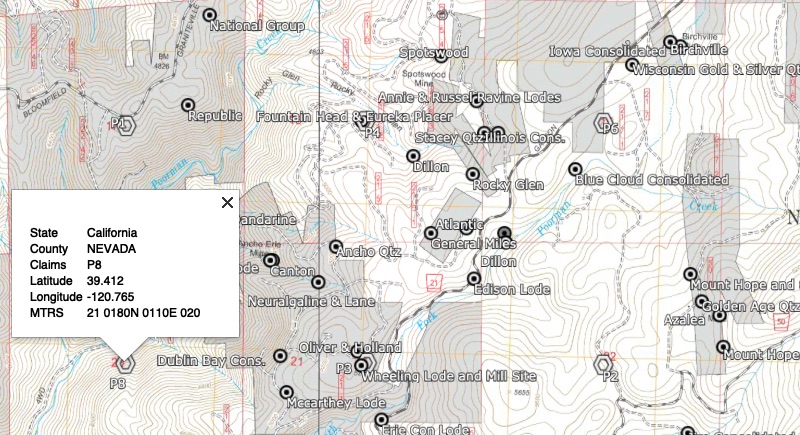 Active Mining Claim Data Full Index
Western Mining History distributes the full mining claims index of active claims based on BLM LR2000 data.
***Note: this section is being updated. This claims index is now part of the Mining Claims by PLSS Section Custom Data package
This file contains over 500,000 records and is not suitable for spreadsheets. It is best imported into a database application, or it can be viewed in a text editor.
The currently available active claims index file was created from data retrieved from the BLM LR2000 on June 1, 2020.
Researching Mining Claims
Active claim records are stored in a BLM application called LR2000. This application is notoriously slow and difficult to use.
The active mining claim information included in the WMH Gold Maps and Mine Discovery Tools for Google Earth Pro allow you to discover where claims are located on maps, and then enter the MTRS location info directly into LR2000 to see the latest claims info.
Locating Claims with WMH Mine Discovery Tools for Google Earth Pro
With the WMH Mine Discovery Tools for Google Earth Pro, claims can be viewed by PLSS section and the MTRS value can be accessed directly through the marker's info window.
Like in the WMH Gold Discovery Topo Maps example above, the MTRS value can be used to quickly search PLSS sections for the latest claim information.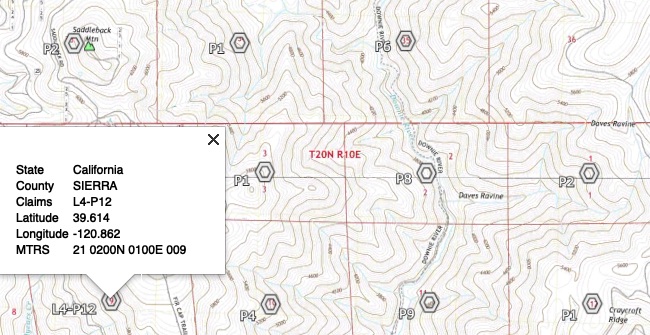 In this example "L4-P12" indicates that there are 4 lode claims and 12 placer claims in this section.
Important note: if you want to locate the exact boundaries of a particular claim, you need to go to the county recorder's office where the claim is located to retrieve full location notice. Mining claims can't be precisely located with the data available from the BLM's LR2000.
Conclusion
While mining claim research can be difficult and precisely identifying claim boundaries can't be done with data available online, it is possible to gain important insights by examining claim density and distribution.
WMH will continue to develop tools and resources to aid in mining claim research and analysis.