The Western Mining History Gold Explorer is an interactive map designed to assist in the location of both historic and modern gold districts in the Western United States.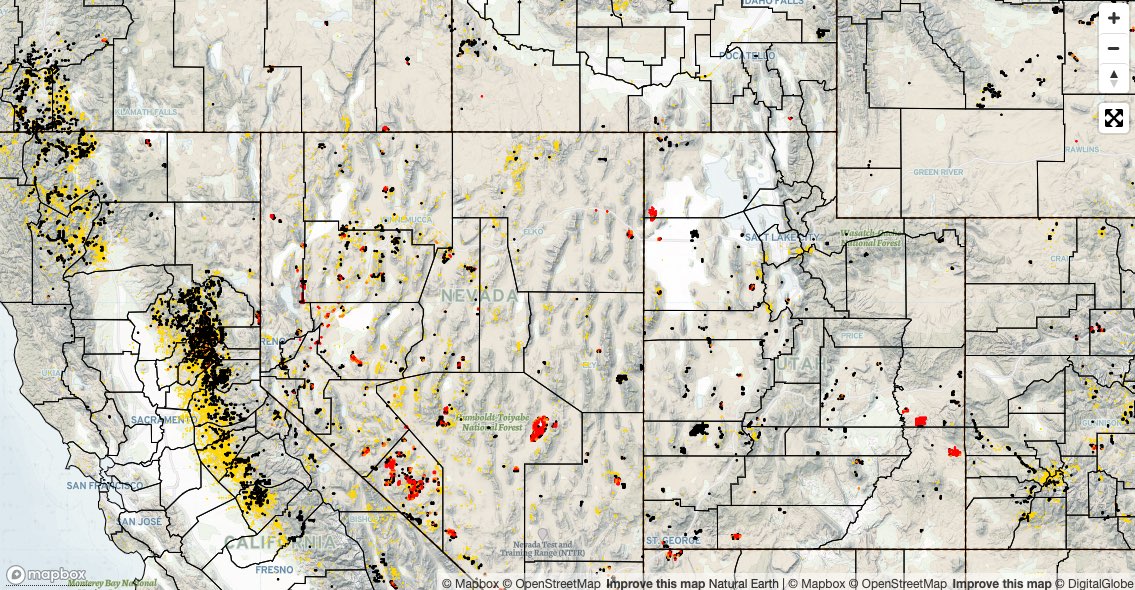 The Gold Explorer is available to both Supporting Members and Business Members.
Members: Access the WMH Gold Explorer
The Gold Explorer locates all the mines from the USGS MRDS database that have gold listed as a primary commodity. It also locates PLSS section center points for sections that contain active placer mines.
Find Good Spots for Gold Prospecting or Metal Detecting
If you are looking for areas that have good gold potential for placer mining or metal detecting, the best indicator as to where the good ground is comes from the professionals that know where the gold is. Where these pros operate can be determined by looking at where active placer claims are located.
Important note: it is illegal to prospect for, or mine minerals on a claim held by someone else. Gold claims rarely cover entire sections, so there are plenty of places where the public can still prospect for gold, however it is up to the individual to determine what areas are open for mining.
The WMH Gold Explorer displays over 50,000 mines in the western United States that have been historic gold producers. These mine location not only aid research in gold locations, but they also serve as indicators as to what active placer claims are likely to be gold claims.
Gold Explorer Usage & Notes
Black, Orange, and Red dots are center points for PLSS sections that contain active placer claims. Gold dots are mines from the USGS MRDS database that include gold as a primary commodity.
Black dots: 1-7 claims
Orange dots: 8-14 claims
Red dots: 15 or more claims
Notes on claim data:
Claim data is from May of 2019. Approximately 4% of PLSS sections with active claims are not represented on this map because we were unable to retrieve the center points. We hope to resolve this in the future.
The claims data presented here is only the number of active claims in a section, it does not plot the exact locations of each claim nor does it provide details on any individual claim. Additional details can be obtained from the BLM LR2000 system using the MTRS value for each section.
While claims in most areas are for the purpose of placer gold mining, in some areas placer claims are for industrial surface mining operations for commodities like gypsum, bentonite, lithium, and potash. These can be easily identified on the map as clusters of red dots or large concentrations of claims that are not near significant gold mining areas. Nevada, Utah, and northern Wyoming are areas where large concentrations of non-gold claims occur.
The info window for each PLSS section contains the MTRS value as a link. You can either copy and paste that value to aid in your claims research in the BLM LR2000 system, or you can click the link to open that PLSS section in Google Maps.
Methodology and Use
The purpose of this map is to visualize related data sets that together illustrate both where historical gold mines are located, and where placer mining is still occurring today. If you are hoping to find gold either by gold panning or other placer mining techniques, or by the use of a metal detector, this map indicates where gold is likely to be found.
This map will not regularly update the active placer claim counts in each section. Providing the exact number of claims on an ongoing basis is not the purpose of this map, the purpose is to illustrate where modern placer mining is occurring to provide a general indication of where gold can be found.