WMH Gold Maps for Google Earth Pro are designed to locate areas with high potential for finding placer gold. A core feature of these maps is the highlighting of townships that contain both active placer mining claims and historical gold mines.
The screenshot below is from the Arizona Gold Map and shows gold-bearing PLSS townships roughly trending from the northwest to the southeast part of the state, with the highest concentration being at the center of the map in Yavapai County.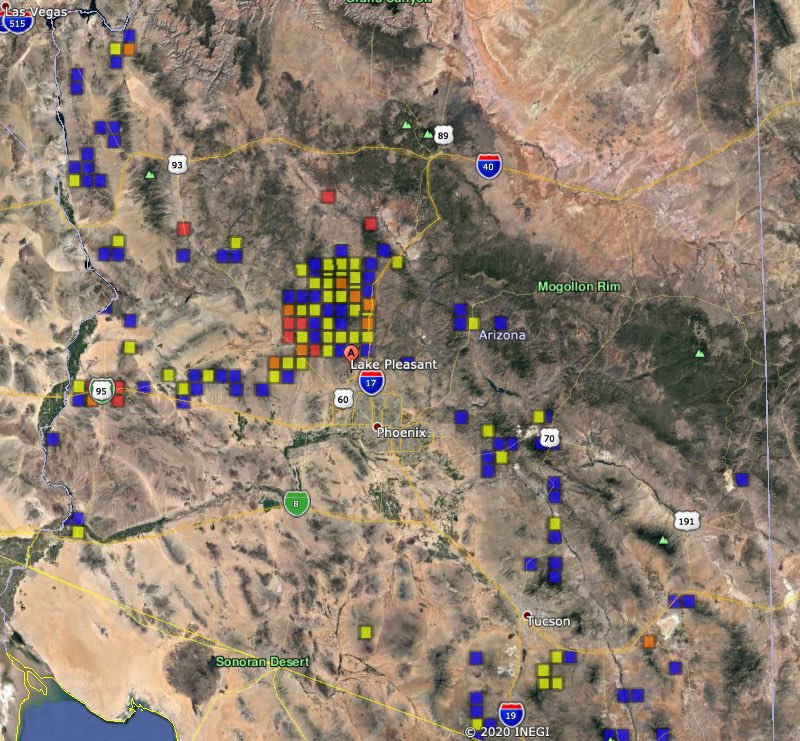 Townships that contain both active placer claims and historical gold mine records will be shaded in one of the following colors based on how many active placer claims are in the township: 1 – 10 claims: blue; 10 – 50 claims: yellow; 50 – 100 claims: orange; More than 100 claims: red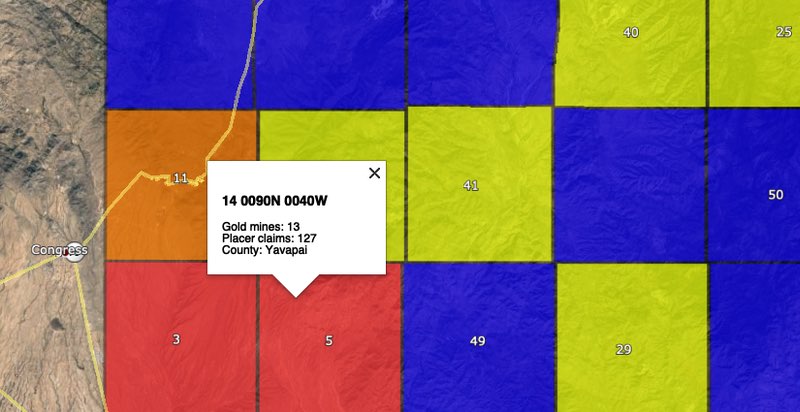 Additional images in this article will contain more data points. Yellow circles are gold mines, hexagonal markers are PLSS sections that contain active placer mining claims, and blue markers with pick axes are district locations.
In this analysis we will be looking at the gold townships highlighted by the WMH Arizona Gold Map and identifying which have the highest potential for gold discovery.
Notes on the Data Used in this Analysis
While the methods used here allow for a quick overview of all potential gold areas in the state, they are not perfect. Desert areas often have claims associated with large industrial surface mining operations for evaporites or other commodities. Occasionaly some historical gold mines will be located at the edge of these operations, and the the correlation between active placer claims and the adjacent historical gold mines are coincidental only and do not indicate an area with strong gold potential.
Township PLSS numbers cited in this article are in the same format used in the BLM MLRS application, and can be copied and pasted directly into the MLRS search form.
Related: Researching Mining Claims with the BLM MLRS
Claim counts were created using BLM active placer claim data distributed on August 1, 2020.
Gold mine numbers cited for each township are the number of USGS records, some of which will be duplicates.
Top Arizona Townships for Gold Discovery
The following list summarizes the top gold townships in Arizona as ranked by the WMH Arizona Gold Map.
1. Quartzsite Area
A surprising result that the Arizona Gold Map data provided was that some of the most active placer gold townships in the state, including the top township in this list, are not in Yavapai County, but rather in La Paz and Yuma Counties around the town of Quartzsite. The area around Quartzsite has three of the state's top-ten gold townships.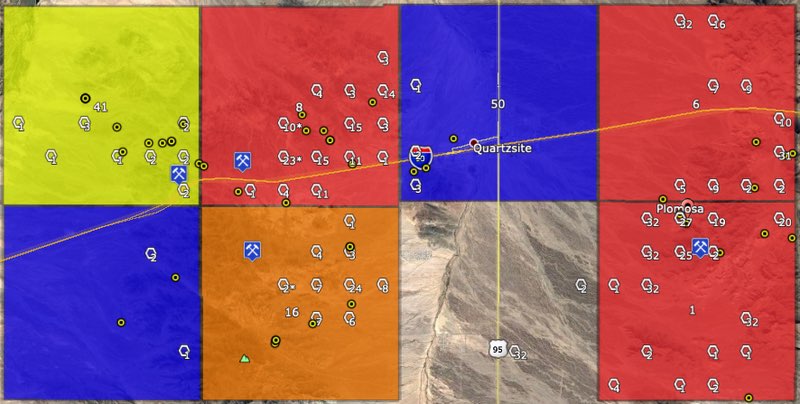 Plomosa Mountains
The Plomosa district was mined as early as the 1860s and while production from this period is unknown, it is considered to be significant. Around 1910 large-scale drywash mining occurred in but records indicate it was not a commercial success.
Despite limited success of these later mining endeavors, the area has remained a popular with placer miners. Township 14 0030N 0180W is the location of of the ghost town of Plomosa and has the highest density of gold-related placer claims in the state with 233 active claims.
Just to the north, township 14 0040N 0180W ranks 6th in the state with 123 active placer claims.
La Cholla, Middle Camp, And Oro Fino Placers
To the west of the town of Quartzsite, the historical mining districts of La Cholla, Middle Camp, and Oro Fino remain some of the most active mining areas in Arizona.
Similar to the Plomosa district, these districts were first worked in the 1860s and had various periods of activity into the 1900s. The La Cholla district was worked extensively during the Great Depression years.
Today township 14 0040N 0200W, location of the Middle Camp and Oro Fino placers, is the eighth most active placer mining area in the state with 118 placer claims.
Township 14 0030N 0200W, location of the La Cholla placer district, ranks 16th in the state with 62 placer claims.
2. Yavapai County – Rich Hill
The Weaver – Rich Hill district is located near the intersection of four townships, each one being one of Arizona's top gold areas.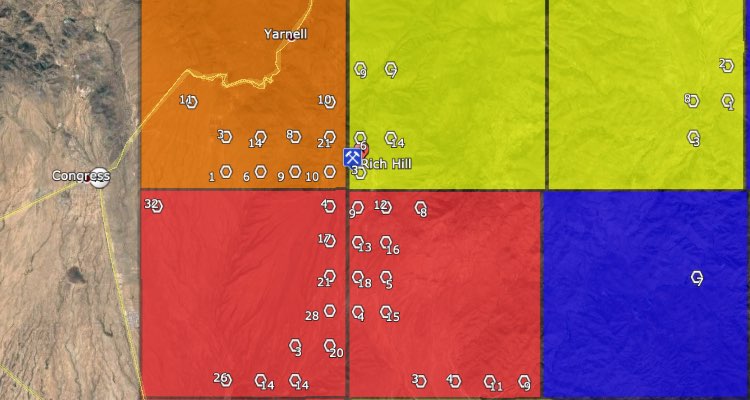 Township 14 0090N 0050W ranks third in the state with 179 placer claims. Township 14 0090N 0040W ranks fifth with 127 placer claims, 14 0100N 0050W ranks eleventh with 93 placer claims, and 14 0100N 0040W ranks 24th with 39 placer claims.
Rich Hill was first mined in the 1860s, and by 1883 around a million dollars in gold had been produced. The following excerpt from the USGS publication Placer Gold Deposits of Arizona gives some clues as to where gold may be found today in this area:
At the top of Rich Hill, gold was found under boulders and in crevices in the granite bedrock, where it was quickly gathered by prospectors during the early years after the discovery of the placers. Below Rich Hill, in Antelope and Weaver Creeks, the gold was found in reconcentrated stream gravels, a few feet thick to more than 50 feet thick, that contained numerous large holders.
This placer mining area covers 40 square miles and is known to be a place where many large gold nuggets have been discovered.
3. Wickenburg Area
Much of the active placer gold mining in Arizona is around the town of Wickenburg. Areas of high gold potential are located north of Wickenburg in Yavapai county, and south-southwest in Maricopa county.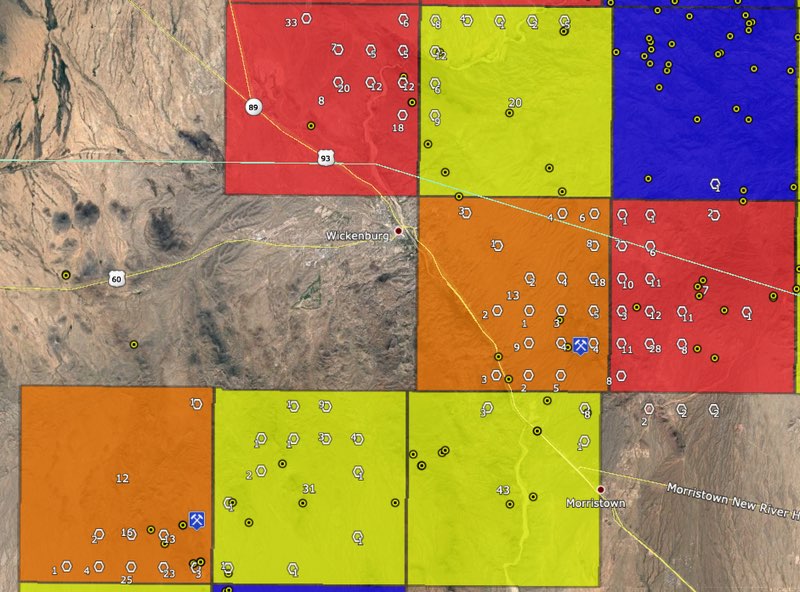 San Domingo District
Southwest of Wickenburg is the San Domingo placer mining district. Township 14 0070N 0030W ranks 7th in the state for placer claim density with 120 claims and township 14 0070N 0040W ranks 13th with 84 claims.
The San Domingo district has the largest recorded placer gold production in Maricopa County and produced continuously (although on a small scale) from 1905 to 1951. During the early 1960's gold was recovered as a byproduct of gravel operations and by large-scale operations of a mobile dryland dredge.
Vulture District
South of Wickenburg is the Vulture district, site of the famous Vulture lode gold mine. This district was first worked for placer gold starting in the 1860s. Placer production in the area was overshadowed by the production of the Vulture mine and little is known about early placer yield.
The Vulture placer mining area is described as "3 miles square in Red Top Basin". The center of activity in this district now is township 14 0060N 0060W which ranks 9th in Arizona for placer claim density with 88 claims. Adjacent townships 14 0060N 0050W and 14 0050N 0060W also rank well at spots 31 and 36, respectively.
Black Rock District
The area north of Wickenburg is the location of the Black Rock district. This area is known for lode mining, but it still has one of the highest concentrations of placer mining claims in the state. Township 14 0080N 0050W ranks 8th in the state with 118 claims and 14 0080N 0040W ranks 20th with 47 claims.
These Black Rock district townships are directly south of the townships identified in the Weaver – Rich Hill district description.
4. Yavapai County – Black Canyon and Turkey Creek Drainage Areas
To the south and west of Spring Valley, Arizona are the Black Canyon and Turkey Creek Drainage Areas. Although production histories of this area do not contain much detail, the high density of placer claims indicate good gold potential.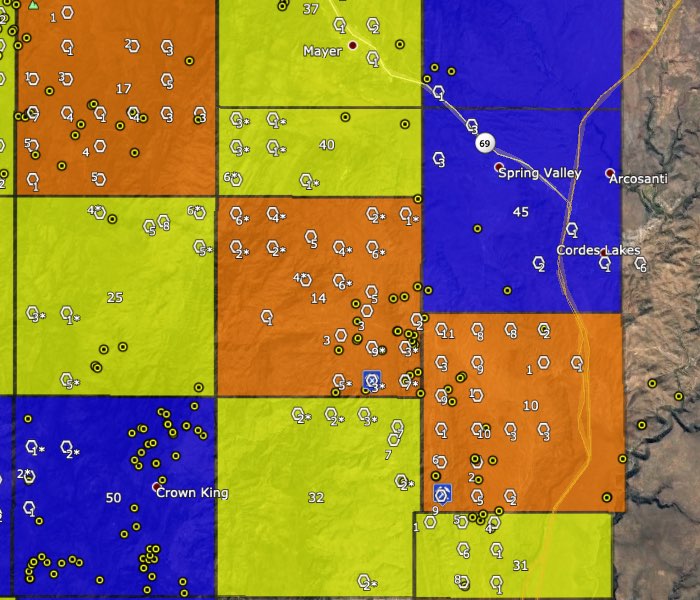 In the Black Canyon area south of Spring Valley, township 14 0100N 0020E ranks 10th in Arizona for placer claim density with 94 claims. To the west of Spring Valley in the Turkey Creek area, township 14 0110N 0010E ranks 14th with 83 placer claims and township 14 0120N 0010W ranks 17th with 53 claims.
As seen in the image above, this area has many townships that contain significant numbers of placer claims so the area of gold potential certainly extends beyond the few townships mentioned. This area is contiguous with other top gold districts to the north which will be described later in this article.
5. Mohave County – Lost Basin and Gold Basin
The Lost Basin and Gold Basin placers are located in a very rugged and remote part of northwest Arizona. Likely due to the remoteness of the area, no significant placer production was recorded until the 1930s.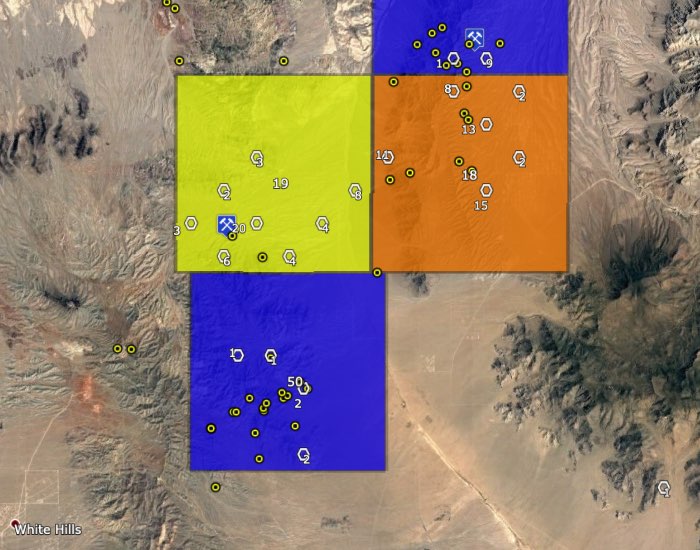 The King Tut placers of the Lost Basin area was the largest producer of gold during the 1930s. This mine is located in township 14 0290N 0170W which ranks 18th for placer claim density with 51 claims.
The Lost Basin area is located in township 14 0290N 0180W which ranks 19th in Arizona with 50 placer claims.
6. Yavapai County – Squaw Creek, Aqua Fria, and Humbug Creek
North and south of Black Canyon City are the Squaw Creek and Aqua Fria districts in townships 14 0090N 0020E and 14 0080N 0020E. The historical records of these districts describes them as minor placer areas with little recorded production. However, with 53 and 44 active placer claims these townships land at 17th (tie) and 22nd among Arizona placer gold townships.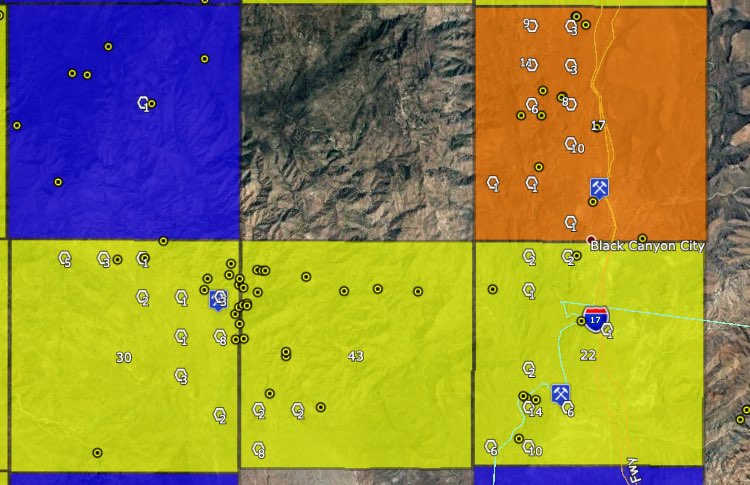 The Humbug Creek drainage area is a large area that includes the Humbug, Tip Top, Tiger, Silver Mountain, Castle Creek, and White Picacho districts. Numerous tributary creeks and gulches have been placer mined in this area starting in the 1800s.
The placers are concentrated in townships 14 0080N 0010W (rank 30 with 29 placer claims) and 14 0080N 0010E (rank 42 with 12 placer claims).
7. Yavapai County – Hassayampa River, Lynx Creek, and Big Bug Creek
The gold mining areas south and southeast of Prescott have a long history of production starting in the 1860s. This is one of the longest active and most productive gold regions in Arizona.
The 1975 publication Placer Gold Deposits of Arizona by the USGS summarizes these areas by grouping the numerous smaller districts into three larger geographic areas – Hassayampa River, Lynx Creek, and Big Bug Creek drainage areas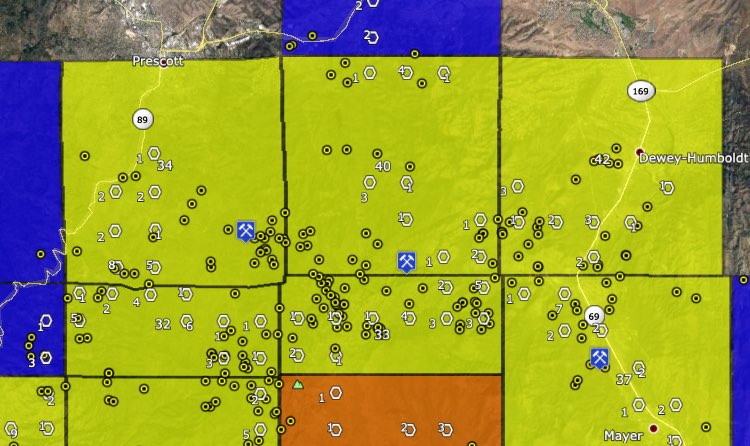 The Hassayampa River and Lynx Creek drainage areas were some of the only districts in Arizona where hydraulic mining and even dredging was attempted. Historical placer gold production for these areas is estimated to be in the millions.
Today this remains an active placer gold mining region. Townships 14 0122N 0020W and 14 0122N 0010W rank 32nd and 33rd in the state for placer claim density. Note that these two townships are irregular in shape, and how they are numbered or displayed on maps could vary.
Townships 14 0130N 0020W, 14 0130N 0010W, 14 0130N 0010E, and 14 0120N 0010E all rank in the 30s and 40s.
While the individual townships here may not have the high placer claim density seen on other parts of the state, this is a large area that historically was one of the states most productive gold producers.
Conclusion
While it is illegal to mine or prospect for gold on an established mining claims, there is still a lot of unclaimed ground, even in historically important mining areas.
Using the Arizona Gold Map, areas with high gold potential can be quickly identified and used as the basis for additional research. Prospectors can focus on the most active placer gold areas and attempt to discover their own claim, or they can look at those areas on the map that have many historical gold mines and few claims in an attempt to stake a claim in an area with less competition.
Note that the township rankings in this article are useful as a relative measure of where placer activity is highest in the state, but not every ranked township has high gold potential. Occasionally a township will have a lot of placer claims for some other commodity like gypsum or other evaporites, and a few gold mines are also located in that township, resulting in a "false positive" by the methodology used with this data.
An example of this is township 14 0180N 0020W in Yavapai County which ranks 4th for placer claim density. This appears to be an area with a high concentration of claims related to industrial surface mining of evaporites and contains just one historical gold mine record. This is unlikely to be an area with high gold discovery potential.
While the WMH gold maps assist in the identification of gold producing regions, additional research should always be done before heading out on a prospecting trip.