By Gary Carter
Author's Note
Many mining history devotees recognize place names such as "The Comstock, Bingham Canyon, Butte, and Bisbee" but do not know the giants in the industry. William Phipps Blake was one who deserves a read.
I first became acquainted with his exploits while doing reference work for the Arizona Historical Society. Blake, over a span of 50 years, left behind a collection of papers, letters, drawings, and 319 detailed field diaries. The diaries, each 5.5 x 3.5 inches, all hand written on both sides of at least 12 pages per volume.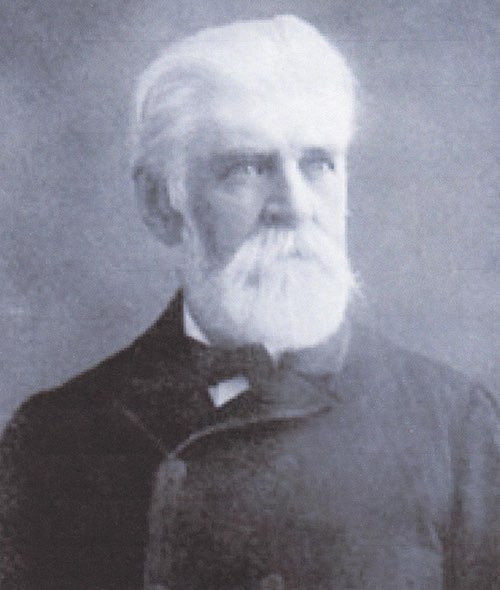 Specific dates, firsthand information, clippings, carefully detailed expense accounts, distance travelled, and sketches outline a career that seemingly covered every major mining district from 1860's until near his death in 1910.  Blake referred to his writings as notebooks and on October 11, 1847 he wrote "One of the first of my notebooks." 
 He represented the United States at many expositions, both here and abroad and in the 1867 Paris Exhibition the papers carried a long column, "In the disposition of awards at the Paris Exhibition, the collection of ores to illustrate the mining resources of the United States, was especially honored with a grand prize for the exhibit as a whole.
Five gold medals were awarded, one silver and a bronze. Anaconda mining received the gold, Ontario Company the silver and the Alice Mine a bronze. The collection was gathered, shipped to Paris under the personal efforts and direction of Prof. Wm. P. Blake who was put in charge by the US Commission." He had made a year long tour of the principal mines of the West in preparation for the Exhibit.
 In 1876 the first World's Fair to be held in the United States(in Philadelphia) featured a large and fine mineral and ore exhibit. The Smithsonian and Blake were responsible for its huge success.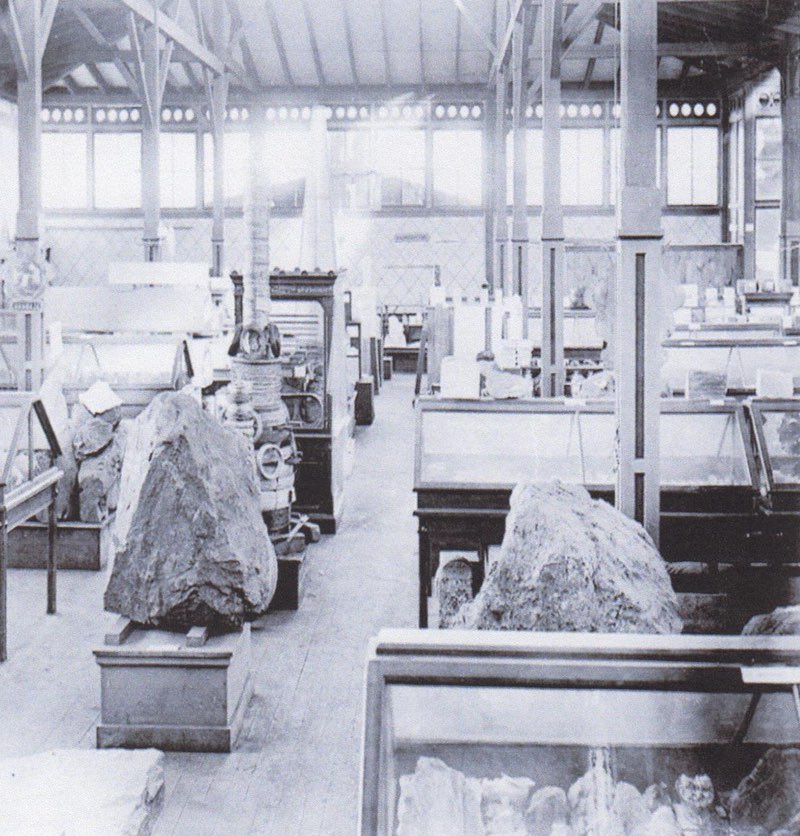 Blake was known was known in Washington political and society circles, associated with prominent educators, museums, and published many a manuscript and scholarly article. Near the end of his career Blake was instrumental in establishing the University of Arizona Geology program.
Blake Travels to the West as a Young Man
Blake was 26 in 1853, when he was recommended by the Smithsonian to be the geologist/mineralogist to travel with an US Army Survey Group led by Lt. Robert Williamson. Their mission was to explore and find a suitable pass for the Pacific Railroad to traverse the Sierras into California.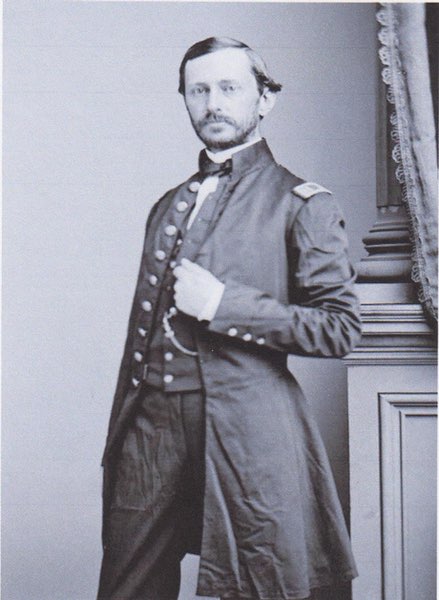 On that expedition was young Lieutenant George Stoneman, who later became a General and was active in the Globe and Superior regions of Arizona fighting Apaches. It was during one of these missions that a soldier in his command, named Mason, found rich silver ore which later proved to become the fabulously rich Silver King Mine, which in 25 years produced $40 million worth of silver (and which Blake visited several times).
After a month long boat trip and rail ride from his home near New Haven, Ct., Blake joined the remainder of the seven-eight person group in mid-July, at Benicia (north bay region of San Francisco Bay area), then the capital of California, where they made their first of many open air camps.
Blake`s charge was to observe, document, collect, and report on the minerals, fossils, soils, elevations, strata, and general geology of California from the San Francisco area south to San Diego and east to the Sierra's. Often his observations and notes included human and cultural scenes, especially once the party had moved into the gold country. Along the San Joaquin River he wrote the following:
"Gold is found in the bed of the river in considerable quantity. It is mostly found a fine scale gold and difficult to separate from the black sand which is abundant and heavy. Groups of gold washers and Chinamen were engaged all along the banks either washing out the gold in a common pan or using a "cradle". A pan of sand or gravel taken up anywhere along the bank, when washed would show color. "

"One of the miners was working his claim with a cradle and employed two Indians to dig and bring the earth and gravel to his cradle and he was obtaining about an ounce a day. Some of the officers of the army stationed at Fort Miller had established a canal to divert the river when it was low so they could get at the dirt and rock under the water and along the bank." 
A memorable picture of the difficulties of the group can be imagined from Blakes description of the area through San Francisquito Canyon, a route now occupied by Interstate 5 in the Saugus/Newhall/Valencia area:
"We met with considerable difficulty in portions of the pass from the growth of timbers and willows along the creek which occupied the entire valley bottom from ridge to ridge. We were obliged to cut our way through to make way for our wagon and with such a small number this was a serious undertaking and took three days to go less than one mile as we had but one axe, sheaf knives, and heavy clubs with which we leveled the brush and vines."
They stopped at San Fernando Mission and partook of the excellent red wine, saw herds of cattle and lush fields producing crops. The Williamson party reached Los Angeles on October 31st and headed southeast toward the Colorado River, then to Fort Yuma (which was in California) with Blake keeping his daily notebook, collecting samples of rocks, minerals and fossils. 
The survey findings concluded that a route to Los Angeles and San Francisco, from East was best to go through San Gorgonia Pass, in the latter, a pass in the Tehachapi Mountains. 
A Storied Career as Geologist and Mining Consultant
In 1855, Blake married and subsequently he and his wife, Charlotte Hayes, had six children and maintained a family home in Mill Rock, near New Haven, Connecticut. Blake`s reputation as a mining man, combined with global growth of the industry, kept him away from home much of the time. He visited and consulted in every major mining district in the U.S., Russia, Japan, and England.
After his visits to major mining areas in 1867 he was well known and in demand by major mining concerns to evaluate their properties and offer his insight. He also pulled down nice sums of money acting as authority and witness during many mining litigation trials. 
Butte, The Comstock Lode, Sterling Hill, New Almaden, Bisbee, Tombstone, Leadville, Missouri lead and zinc mines, Mexican mines, gold in California, North Carolina and Georgia, Bingham Canyon are all famous mining regions and topics that Blake created notebooks full of observations on. Sketches and often clippings were affixed in the notebooks.
Later in his career he was appointed Territorial Geologist for Arizona and specialized in mine evaluations there. Somehow in his long career Blake managed to go on lecture tours, taught at the South Dakota School of Mines, at what was to become U. of California at Berkeley, at Yale, and of course at the U. of Arizona where Blake had set up a second home.
In his notebooks, Blake frequently mentions being given or purchasing mineral specimens, especially gold and silver. He had them stored in a warehouse next to his home in Connecticut and they were lost in a fire that destroyed the building. One can only imagine the variety and quality of those specimens as they came from a time when hard rock mining was at it speak.
Postscript
One blot on Blakes career was his advisement in the construction of the Walnut Grove Dam. Built in a canyon on the Upper Hassayampa River , above the town of Wickenburg, Arizona, the earthen dam failed in 1890, causing a large loss of life and the destruction of many homes and ranches in the Wickenburg area. The old mining towns of Seymour and Smith's Mill which had processed Vulture Mine ore were completely destroyed.
Blake managed to escape liability for the disaster but the water company which owned the dam was successfully sued by many.
Following a short illness, in 1910, William Phipps Blake died in Berkeley, California where he recently had received an honorary degree from the University,
Sources
Blake Collection-MS 78 – Az. Historical Society
Arizona Daily Star
Arizona Journal Miner
Tombstone Epitaph
Geological Survey Bulletin 180
Az. Pioneer Historical Society-Tucson
Journal of Arizona History-Dill, D. ,Vol 32 (4)