By A. H. KOSCHMANN and M. H. BERGENDAHL - USGS 1968
Click here for the Principle Gold Producing Districts of the United States Index
Gold, the lure that drew settlers across the wide prairies and into the most remote mountain gullies in our Western States, proved also to be the dominant factor in the settlement of Alaska. This most important mineral commodity of the State was known in Alaska as early as 1848, long before the territory was acquired from Russia by the United States in 1867. P. P. Doroshin, a Russian mining engineer, made the discovery in the gravels of the Kenai River on the Kenai Peninsula, but there was no great excitement and apparently no gold was mined (Martin and others, 1915, p. 181-182). A second discovery of placer gold in 1865-66 on the Seward Peninsula by a party exploring for a telegraph route similarly failed to arouse much interest (Collier and others, 1908, p. 13-14).
Alaskan gold mining began in southeast Alaska. In 1869 miners who had been disappointed in the Cassiar gold district in British Columbia discovered gold placers at Windham Bay and Sumdum Bay southeast of Juneau. In 1870-71 the first gold produced in Alaska, reported to be worth $40,000, was extracted from these placers (Wright, 1906, p. 2). At about this time the first attempts to mine lode gold were made near Sitka (Knopf, 1912, p. 8). In the early 1870's extensive copper deposits were found on Prince of Wales Island, but because of the remoteness of the area from transportation facilities, these were not developed for many years. The major lode gold deposits of Alaska were found in 1880 at Juneau, and by 1883 Juneau was the mining center of the territory (Wright, 1906, p. 3). Encouraged by the successes at Juneau, the prospectors spread through southern Alaska and made important gold discoveries at Berners Bay and Eagle River on the mainland near Juneau, at Klag Bay on Chichagof Island, at Willow Creek near Anchorage, and even on far-off Unga Island, 1,000 miles to the west.
Numerous gold districts, the most important of which are Nome, Council, and Fairhaven, are on the Seward Peninsula. This region was prospected first by gold seekers drawn north by the great Klondike (Yukon Territory, Canada) rush of 1897-98. By 1898 the discovery of the rich Nome placers triggered a stampede to the new area and led to the rapid development of the entire peninsula. Nome, the second largest gold-producing district in Alaska, was active until 1962.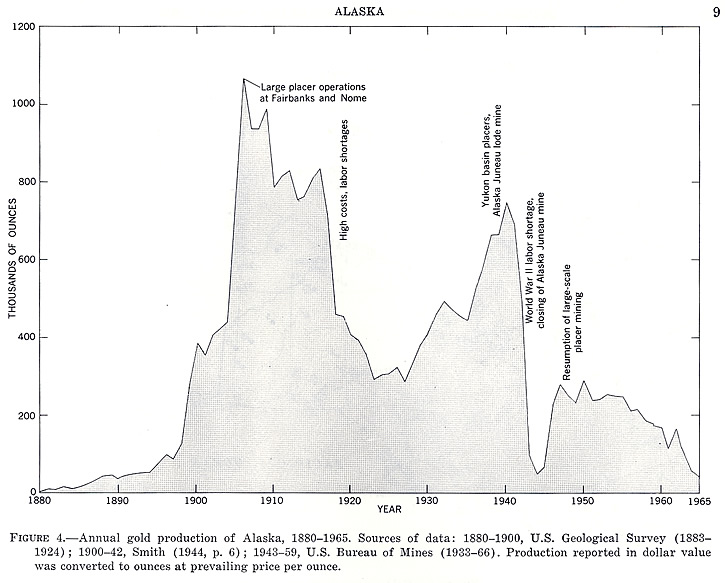 Page 1 of 3