Publication Info:
Gold Districts of California
Bulletin 193 California Division of Mines and Geology 1976
Table of Contents
The district locations from this book have been added to the
WMH Gold Explorer
Placer Deposits
The alluvial or placer deposits of the western Sierra Nevada have contributed more than 40 percent of California's total gold output. They are divisible into the Tertiary (older) deposits, which consist predominantly of quartzitic gravels, and the Quaternary (younger), which are in and adjacent to the present stream channels. The Tertiary channel deposits have been mined by hydraulic and drift mining, while the greatest yield from the Quaternary deposits has been from dredging. The flush production of the gold rush was from Recent surface placers that were mined by small-scale methods. These surface placers have largely been exhausted.
The most productive Tertiary channel deposits have been in the Magalia, Cherokee, and Bangor-Wyandotte districts of Butte County; the La Porte and Sawpit Flat districts of Plumas County; the Smartsville district of Yuba County; the Gibsonville, Downieville, Poverty Hill, Poker Flat, Brandy City, and Alleghany districts in Sierra County; the North Bloomfield, North Columbia, North San Juan, French Corral, Scotts Flat, You Bet and Washington districts, Nevada County; Dutch Flat, Gold Run, Forest Hill, Iowa Hill, Damascus, Last Chance and Michigan Bluff districts, Placer County; Placerville district, EI Dorado County; Fiddletown and Volcano districts, Amador County; Mokelumne Hill and Vallecito districts, Calaveras County, and the Columbia district of Tuolumne County.
All of the major streams and their tributaries that flow across the gold-bearing areas have been placermined, many of them several times. The rivers that have yielded the most gold have been the Feather, Yuba, and American Rivers, but large quantities have been recovered from the Bear, Cosumnes, Mokelumne, Stanislaus, Tuolumne, Merced, and Kern Rivers and some from the Chowchilla, Fresno, Kings, White, and San Joaquin Rivers. The two greatest dredging fields are the Hammonton district on the lower Yuba River, Yuba County, and the Folsom district adjacent to and south of the Lower American River in Sacramento County. Other major dredging fields were on Butte and Honcut Creeks and the lower Feather River at Oroville in Butte County; Lincoln, Placer County; Michigan Bar, Sacramento County; Camanche in Calaveras and San Joaquin Counties, La Grange in Stanislaus County and Snelling in Merced County.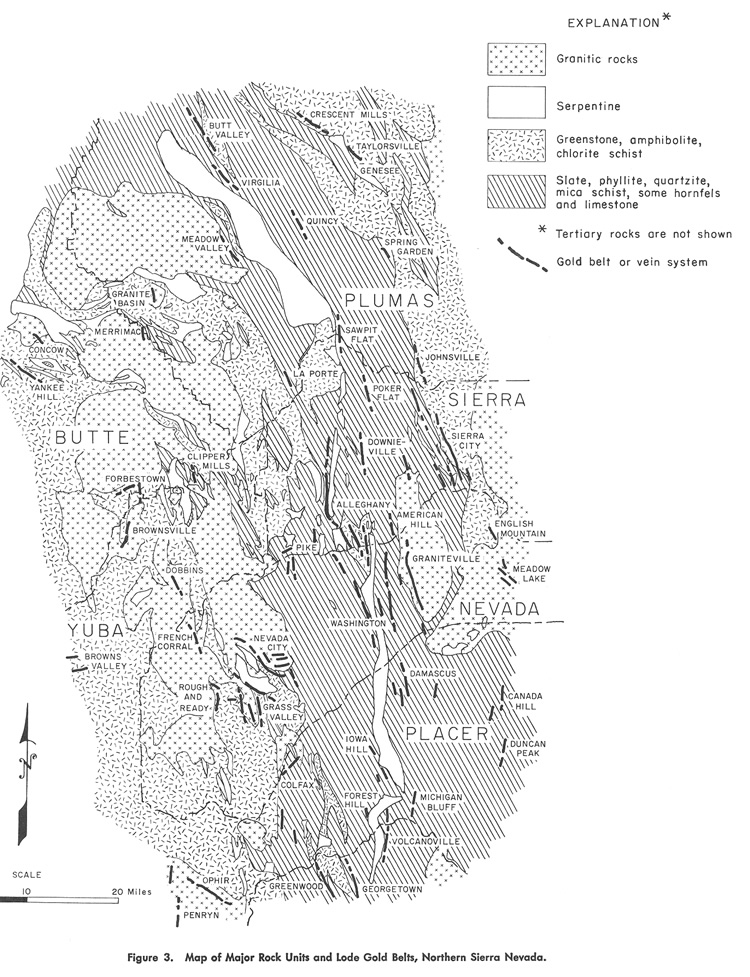 Page 2 of 4