Location
This district is in southwestern Placer County in the vicinity of the old town of Ophir. It extends east to Auburn and west to Gold Hill and includes the area known as the Duncan Hill mining district.
History
Gold-bearing surface gravels were discovered at Ophir and Auburn in 1848 and for several years yielded substantial amounts of the mineral. The quartz veins were then developed, and the Ophir and Duncan Hill districts were organized. Appreciable amounts of high-grade gold ore were recovered during the 1860s, 1870s, and 1880s, but mining activity in the district declined after that. The mines were active again from the early 1900s through the 1930s with substantial production, but little has been done since. The value of the total output of the district is estimated at more than $5 million.
Geology
The mineralized zone is on the northeast flank of a granodiorite and quartz-diorite stock that is intrusive into amphibolite schist (fig. 20). A series of west-northwest-striking and south-dipping quartz veins occur in the granitic rocks or along the granitic rock-amphibolite schist contact. A few veins are in the amphibolite. The ore contains free gold in places with often abundant pyrite, galena, and chalcopyrite; much of the ore is base. Milling ore ranged from y. to one ounce of gold per ton. Considerable high-grade ore was taken close to the surface during the early days. The veins range from one to five feet in thickness, and several were mined to depths of more than 1000 feet. The ore shoots had stoping lengths of up to 250 feet.
Mines
Belmont, BlackLedge, Centenial $150,000+, Conrad $50,000, Crater $750,000, Doig, Eclipse $100,000+, Gold Blossom $216,000+, Grass Ravine, Green $150,000+, Green Emigrant $150,000+, Hathaway $336,000, Julian, Mina Rica $55,000, Moore $180,000, Oro Fino $500,000+, Pine Tree, Rock Creek $200,000?, St. Lawrence, St. Patrick $148,000+, Three Stars $415,000.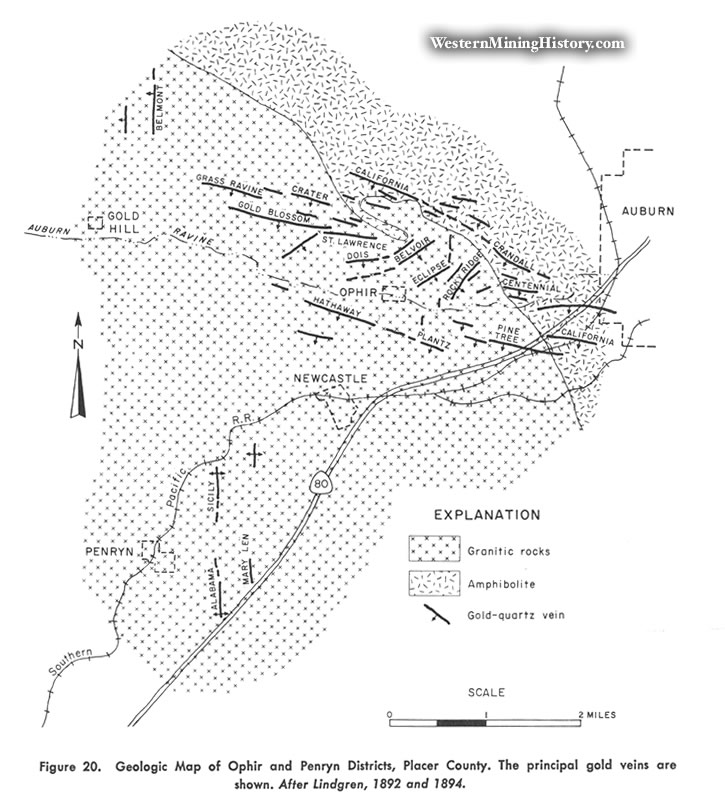 Bibliography
Hobson, J.B., 1890, Ophir mining district: California Min. Bur. Rept. 10, pp. 427-433.
Irelan, William, Jr., 1888, Auburn district: California Min. Bur. Rept. 8, pp. 460-462.
Lindgren, Waldemar, 1892, Gold-silver veins at Ophir: U. S. Geol. Survey 14th Annual. Rept., pt. 2, pp. 249-284.
Lindgren, Waldemar, 1894, Sacramento folio: U. S. Geol. Survey Geol. Atlas of the U. S., folio 5, 3 pp.
Logon, C.A., 1936, Gold mines of Placer County, Ophir district: California Div. Mines Rept. 32, pp. 28-31.
Lydon, P.A., 1959, Geology along U.S. Highway 40: California Div. Mines Mineral Information Service, Vol. 12, no. 8. pp. 1-9.
Waring, C. A., 1919. Placer County, Ophir district: California Min. Bur. Rept. 15, p. 319.