FRYER HILL
Fryer Hill is easily the most famous of the early lead-silver bonanzas. Orebodies were found in the anticline under the hill, and in the syncline under adjacent Fairview Hill. Mineralization was so intense that virtually all of the upper Leadville limestone became replaced by sulfides.
The oxidized lead-silver ores on Fryer Hill consisted predominantly of remnant galena with cerussite and minor anglesite and pyromorphite, chlorargyrite and iodargyrite (Emmons, 1886).
The first secondary zinc ore (smithsonite) produced in all of Leadville came from the Robert E. Lee mine on Fryer Hill; though no detailed description of the ore has come down to us, it was probably similar to Carbonate Hill material.
The Matchless Mine
According to Gordon L. Hall in his Two Lives of Baby Doe, the Matchless was discovered on Fryer Hill in July, 1878, by seven poor prospectors and named for Lorillard's chewing tobacco. A year later a survey was granted to Tim Foley, A. P. Moore and T. B. Wilgus. Although they extracted a considerable amount of ore from the mine, they had no idea of the riches it contained (Dill, 1881).
The mine was patented in 1879 (Colorado State Mining Directory, 1898), and H. A. W. Tabor in September of that year "claimed he wanted a mine to call his own," after being involved very profitably in a number of other mining ventures, "and spent $117,000 to clean up the various lawsuits against the property" (Blair, 1980).
Of three shafts on the property, only one with a small vein of galena ore showed promise. The shaft was sunk to a depth of 77 meters (250 feet) when it became flooded and work was soon halted (Dill, 1881). Lou Leonard took over as Mr. Tabor's manager in July, 1880, and reopened the mine (Blair, 1980). A new shaft was sunk to "a depth of 148 feet, and from this a drift 42 feet long has been run. . . . (L)ater yesterday afternoon a fine body of (silver) chlorides . . . was struck. It is 8 feet high and 10 feet were passed through. The chlorides were mixed with flint and iron, and will run high in the thousands. An assay was made from some of the ore late this afternoon resulting in 1,434 ounces in silver to the ton" (The Denver Tribune, November 25, 1880).
Mr. Tabor was realizing a net profit from the Matchless mine of over $2000 per day by 1881 (Dill, 1881).
United States Mint Reports for 1882 stated of the Matchless: "The ore is for the most part chloride, crystalline particles of which are studded all through the masses of ore, and sometimes specimens are obtained which assay many thousands of ounces."
In 1888 another rich vein was struck, assaying 125 ounces of silver per ton (Colorado Graphic, n.d.).
"It was leased about 1918 by Dr. Bailey; again in 1937 by Tom Palmer," who turned it into "Leadville's major attraction. It is the Mecca which is daily attracting tourists, scores of cars carrying visitors from every state in the Union to the cabin that has now become almost a shrine. . . . (T)he visitor can select his specimen of argentiferous iron," and Tom "impressed the visitors with the belief that a fortune, coy and concealed, still lurked within the depths of the old mine." Tom arrived in town with a lease from the Shorego Mining Company "just when the cabin was becoming the prey to the pillagers" and restored the place. "It seems to be Tom Palmer's ambition to make a mine out of the Matchless. He has at least made it Leadville's most popular showplace" (Carbonate Weekly Chronicle, August 16, 1937).
"In 1964 the owner was (still) Shorego Mining Company, Denver" (Gilfillan, 1964), "which is in turn owned by the heirs of J. K. Mullen, who was a contemporary of the Tabors" (The Rocky Mountain News, May 28, 1969).
This mine, situated on Fryer Hill in Little Stray Horse Gulch, adjoining the Robert E. Lee, California district (Colorado State Mining Directory, 1883; Burchard, 1883), produced some very fine wire silver with pink rhodochrosite (Miller, 1971). Pyrite, galena, sphalerite, cerussite and siderite have also been reported (Muntyan, 1979).
One of the Matchless silver orebodies had the peculiar distinction of being almost entire lead-free, and consisted of finely disseminated chlorargyrite in a sandy-textured ocherous mass.
BREECE HILL
Breece Hill is the center of the main intrusive complex at Leadville. Both vein deposits and replacement orebodies exhibit some zoning concentric to Breece Hill. Over 100 precious metal-pyritequartz veins have been discovered extending outward from the complex. Pyrite-gold ores occur in fault breccias, and tungsten mineralization is also present (Behre, 1953; Loughlin and Behre, 1947).
Contact-related magnetite-serpentine-carbonate skarns formed during the intrusion of the Breece Hill stock, and magnetite was mined from these in the 1880s to the 1920s as a smelter flux. Most of this production came from the Penn mines and carried small values of gold and silver in zones where pyrite and chalcopyrite had replaced magnetite (Thompson et al., 1984).
Lead isotope studies suggest that convection cells of circulating meteoric water leached metals and sulfur from the Breece Hill stock and redeposited them in faults and as replacements in limestone (Thompson et al., 1984).
The Little Jonny/Ibex Mine
The Little Jonny is another mine of the California district whose beginnings are somewhat uncertain.
One story is that in the winter of 1879 three young men - John Curran, Thomas Kelly and James H. Donovan - left Galena, Illinois, and went to Leadville, where they dug away 2 meters of snow on Breece Hill to put up a cabin. In this they lived and starved all winter. Kelly died from illness brought on by exposure and privation, and was soon followed by Curran, after whom the mine was named. They knew nothing about mining and had located their claim in haphazard fashion. Kelly's heirs are said to have sold their interest for $1000 and the Currans for $2500. The amount Donovan received is unknown (The Denver Times, February 19, 1899; Blair, 1980).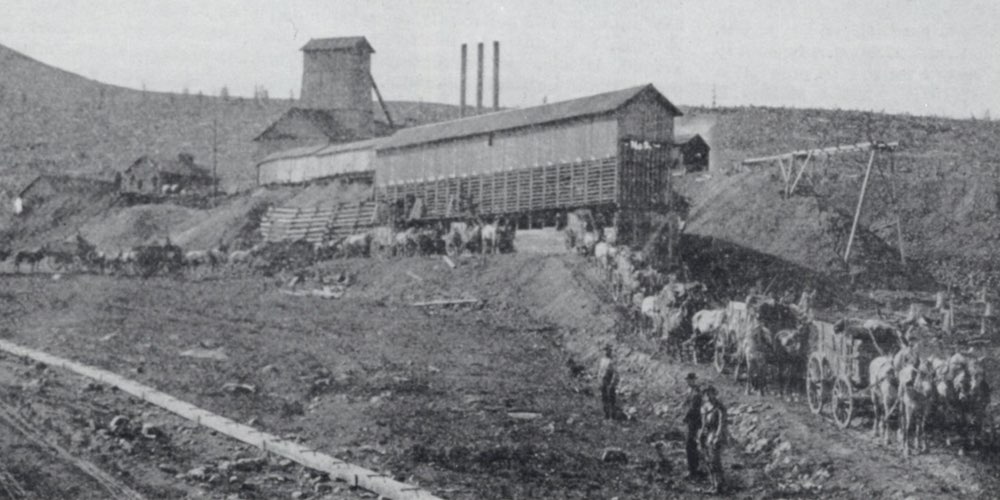 The Little Jonny mine, ca. 1899. Courtesy Colorado Historical Society.
Another source indicated the Little Jonny was surveyed August 21, 1879, for A. F. Ozmond et al. (Bureau of Land Management files).
Of course, Hollywood has erroneously insisted that Leadville Johnny Brown located it for his wife, the Unsinkable Molly Brown.
John Campion, who was so prominent in developing the Ibex properties, came to Leadville in 1879 and did quite well buying and selling claims. After a short period of time, he had amassed enough capital to begin working the properties, instead of continuing to trade them. This enabled him to organize the Elk Consolidated Mining Company, when he inaugurated his practice of naming properties for cloven-hoofed animals, and shortly thereafter he "took a lease on the Little Jonny, which had been abandoned after Captain Jack McCarthy had sunk 159 feet to the sulfides, which were then worthless" (Dawson Scrapbooks; Blair, 1980).
Eventually Campion and his associates were able to purchase the Little Jonny and a number of adjacent claims. In 1891 the Ibex Mining Company was formed under Colorado laws as a closelyheld corporation. It owned 150 acres of land on Breece Hill and was comprised of a consolidation of the Little Jonny, Uncle Sam, Archer and Titan claims, and the old Glengarry and Queen consolidations (Canfield, 1893; Manning, 1895).
Soon after Campion's arrival in Leadville, James Joseph Brown reached Colorado. Following a short stay in Denver and a period of working the mines in Aspen, Alma, Fairplay and other camps, Brown moved to Leadville and got a job at the Maid and Henriett mines. By 1893 he had gained enough experience that he was made superintendent of the Ibex properties. Because of Brown's assistance in solving the problem of caving dolomite sand and his general work as superintendent, the owners gave him 12,500 shares of Ibex stock (Blair, 1980), which may have amounted to as much as three-sixteenths interest in the Ibex Company (Coquoz, 1965).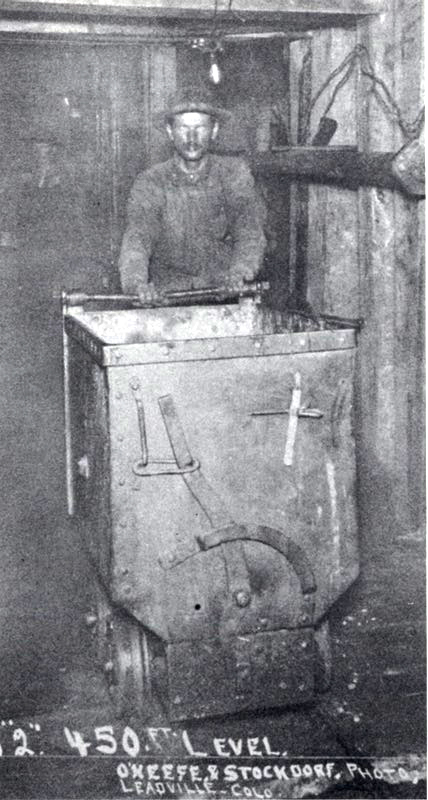 Tramming ore on the 450-foot level of the Ibex mine. 1894-1897. Courtesy Amon Carter Museum, Fort Worth, Texas.
"During Campion's days, miners found the 'golden stairs' and 'millionaire's chamber on the third level between Numbers 1 and 2 shafts of the Ibex (Number 1 was the Little Jonny). The stairs – a step fault – had wire and sheet gold; the chamber - a cave – was similarly inlaid. "It (the gold) could be pried off with a chisel or screwdriver,' said one observer" (Gilfillan, 1964).
Emmons (1927) describes another find as follows: "Wire and leaf gold occurred very abundantly in a seam of sulfide which was found on the sixth level of the Ibex about 200 feet south of the Big Four shaft and which was associated with certain highly siliceous ores interbedded with black 'Weber shales.' Some of the richest ore found in the Ibex mine was taken from this locality. The oxidized siliceous ore in one of the stopes above the third level of the same mine contained a small but remarkably rich seam of leaf and wire gold mingled with decomposed silicified porphyry. Sixteen sacks mined from this seam carried more than 50 percent of gold. In a specimen from this locality, seen in the office of the Ibex Mining Co., the gold occurs in a seam of compact jasperoid between limestone and porphyry. The jasperoid is stained deep brown by iron, has a conchoidal fracture, and contains sheets of gold in the joints. Some of these sheets are from 1 to 2 inches across. The gold is pure yellow and 860 fine. Another specimen in the company's office, from the sixth level of the Ibex mine, shows a large cluster of zinc blende and pyrite crystals which form a coating half an inch thick on a quartz seam. The quartz, partly stained by oxidation, shows many irregular openings which contain free gold, mostly in long wires but partly in leaf-like plates."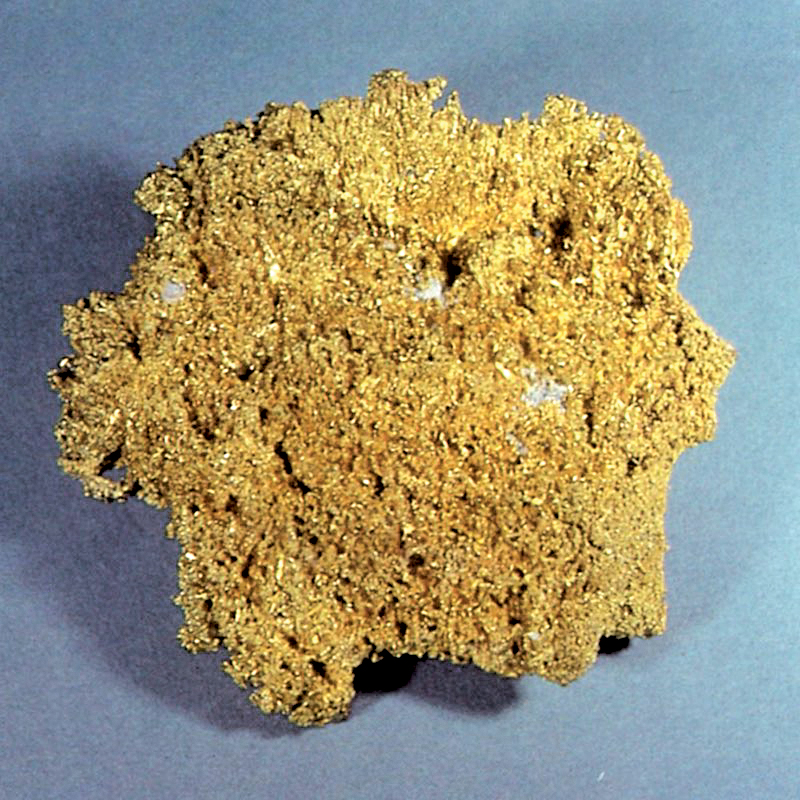 Gold, 7cm across (23.5 oz.), from the Little Jonny mine. Richard Bowman specimen originally collected by a Mr. Madron in 1892; J. M. Shannon photo.
Native gold was also found in the oxidized zone in some of the lodes penetrating porphyry. In the Number 7 vein of the Ibex mine, on the tenth level, at the junction of the oxidized and the sulfide ores, it was discovered as thin leaves on sheeting planes in the porphyry (Emmons et al., 1927).
In the ornate prose of Arthur Lakes (1895), writing on the collection of the Colorado State Mining Bureau exhibited in the Capitol building: "A specimen from the Little Johnnie [sic] mine, Leadville, is like a number of golden caterpillars or snakes crawling out from a mass of brown moss of iron oxide. This free gold is not always a pure, bright, golden yellow. Sometimes it is so tarnished or covered with rust that it might readily be taken for blotches of yellow ochre or common mud."
Gold was also reported to have occurred in much of the ore containing considerable sphalerite. In the early days a specimen of ore in the office of the Ibex Company contained crystals of sphalerite coated with films of gold (Emmons et al., 1927).
It was also during Campion's time that a solid mass of copper ore 3.7 meters (12 feet) in thickness was found (Dill, 1881). This yielded some large, well-crystallized sprays from the fifth level (Emmons et al., 1927).
In 1914 and 1915 another type of orebody was recognized and studied by the U.S. Geological Survey. It was one of gold-bearing quartz-pyrite veins containing the tungsten minerals wolframite and scheelite. This ore was primarily from Ibex properties and adjoining properties on the south and east sides of Breece Hill (Fitch, 1916).
Between 1894 and 1922 the Little Jonny produced close to $50,000,000, with a net profit of $12,000,000. Ore ran from $15 per ton in gold and copper values, to $60 per pound in the gold vugs (unknown newspaper, December 3, 1922). In 1925, Ibex workings aggregated 80 km (50 miles) and in 1938 they produced about 300 tons per month (Gilfillan, 1964).
On the south side of the Ibex properties quartz occurred mostly in typical colorless crystals up to 5 cm in length, which lined cavities and also penetrated pyrite crystals. Pyrite was well-distributed throughout the veins, occurring mostly in groups of rather large crystals. Single crystals of cube form were found with edges 12.7 cm long. An interesting phase of the pyrite crystals was the repeated development of narrow pyritohedron faces on a large cube face giving, especially where corroded, a "Gothic window" shape of marking (Fitch, 1916; Emmons et al., 1927).
In addition to the aforementioned gold and scheelite specimens the Ibex group has also produced good black sphalerite crystals. Fine specimens of vivianite have also been found; one specimen which can be seen in the Denver Museum of Natural History consists of 5-cm blue-purple vivianite crystals on matrix. Emmons et al. (1927) note vivianite also occurred as solid aggregates, single crystals and crystalline druses lining cavities on masses embedded in loose infiltrated clay.
Dull brownish black masses of wolframite occurred in the South Ibex stockwork. "These masses contain many small cavities, where some faces and angles of wolframite crystals have developed, but these are generally so corroded that no adequate idea of the crystal form can be gained. In one specimen, however, there is an isolated crystal over half an inch long, projecting into a small vug" (Emmons et al., 1927).
In addition to those mentioned above, several other interesting species were found in the Ibex mine. Jackstraw cerussite, chlorargyrite, minium intergrown with cerussite, hemimorphite, vivianite in fine prismatic crystals (some to 8 cm), pyromorphite, and Leadville's only occurrence of aurichalcite.
The central portion of the No. 4 vein was the location of huge pyrite cubes measuring 15 to 25 cm on an edge (Holmes and Kennedy, 1983). Many fine gold wires and leaves were also found there.
All of the Ibex veins connect with sulfide replacement bodies and were most likely the solution channels which fed the replacements (Emmons et al., 1927).
Scheelite crystals to 2.5 cm, from the Garbutt shaft on the Ibex mine property. Ed Raines specimen and photo.
Garbutt Mine
The Garbutt vein fills the Garbutt fault, with intrusive porphyry on one wall and Cambrian shale on the other; no limestone or dolomite are intersected. Also within the mine is the South Ibex stockwork, found on the second level about 8 meters from the Ibex No. 4 vein. Here quartz has been found in crystals to 5 cm, along with large pyrite cubes to 12 cm on an edge. Wolframite and scheelite occur irregularly scattered in vugs. Crystals of scheelite are deep red-orange dipyramids occasionally reaching 1 cm on an edge (ER collection). Wolframite and pyrite have been observed as pseudomorphs after scheelite (Emmons et al., 1927).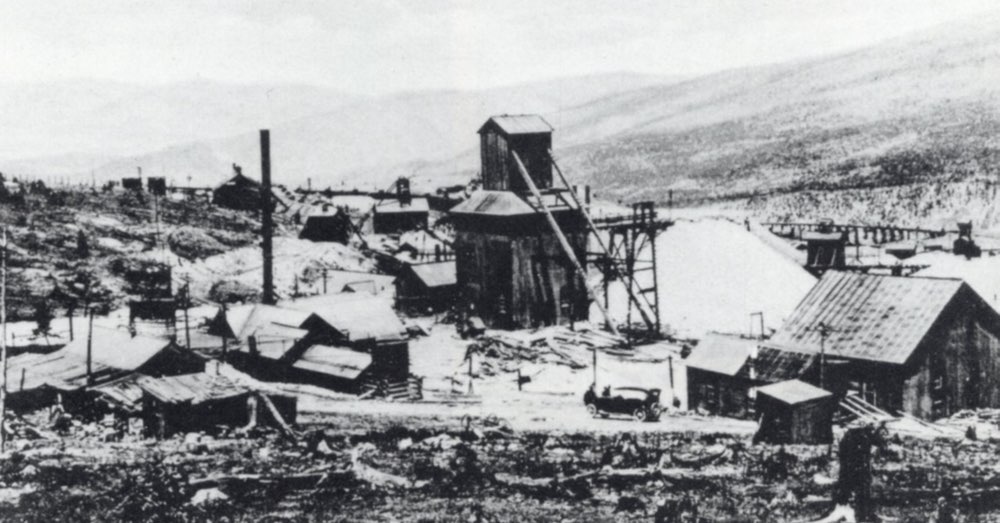 Garbutt shaft on the Ibex property. Courtesy American Heritage Center, University of Wyoming.
IOWA GULCH
The Black Cloud Shaft
The Black Cloud shaft on the north side of Iowa Gulch that most know of today takes its name from the original Black Cloud lode claim. Smith (1983) indicates this original lode claim was staked by R. D. Elder, while Silversparre (1882) points out that claim survey number 903, Black Cloud, was granted to R. W. Officer, et al. in 1880 (Bureau of Land Management files).
In 1880 a Philadelphia merchant and tailor spent $5000 in meeting notes of a friend and business associate. In this fashion Meyer Guggenheim became half owner of the A. Y. mine, and subsequently he and his partner bought the Minnie mine. This modest beginning eventually led to the Guggenheims' involvement in the American Smelting and Refining Company (now ASARCO, Inc.), which in time came to own the Black Cloud mine (Blair, 1980).
As early as 1927, Emmons, Irving and Loughlin had alluded to the possibility that replacement ore might be found in a downdropped block of ground bordered by the Ball Mountain, Weston and Garbutt faults. From this date extensive evaluation was carried on in this area.
In 1942 W. R. Landwehr reviewed the Leadville district for geologically favorable ground which might be leasable. Findings in 1968 revealed an ore reserve of 2,080,410 tons averaging 0.089 ounces gold, 2.48 ounces silver, 5.05% lead, 9.42% zinc and 0.19% copper.
As a result a new shaft was sunk on R. D. Elder's old Black Cloud lode and it became a producing mine in April, 1971 (Smith, 1983).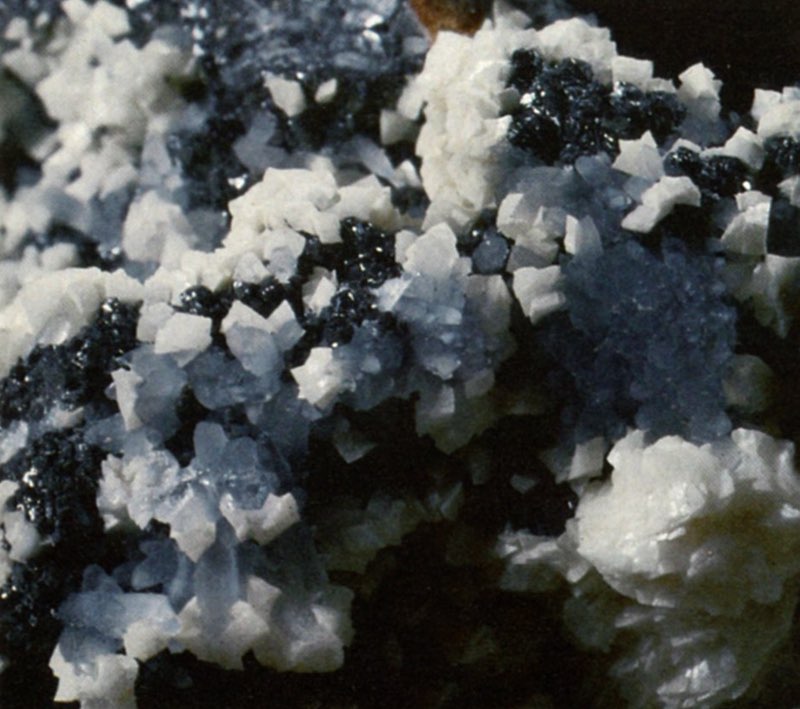 Dolomite on blue quartz crystals from the Black Cloud mine. The view is 3.5 cm across. Ed Raines specimen and photo.
"In 1973, the Black Cloud shaft produced 11,350 ounces of gold, ranking third in the state for gold production. It was second in lead production and sixth in silver production" (Holmes, 1983).
The Black Cloud has produced nice specimens of splendent black sphalerite crystals sprinkled with 6-mm galena cubes, other galena crystals to 2.5 cm, white dolomite crystals on black sphalerite, wurtzite on stalactitic dolomite, golden barite, galena, and Japanlaw twinned quartz crystals (Kosnar and Miller, 1976; Muntyan, 1979; Holmes and Kennedy, 1983). Also reported from the Black Cloud are pyrite, siderite, cerussite, small blue (!) quartz crystals to 4 mm, and rare greenish barite crystals to over 3 cm.
The Julia-Fisk Mine
The Jim Fisk claim was located in 1880 and patented in 1881 by Raphael Marcott (Bureau of Land Management files; Corregan, 1883), and the Little Julia was patented by Joseph Frazer et al. in 1881 (Bureau of Land Management files).
It is unclear just how it came about, but it was decided to locate the first shaft of the Julia-Fisk mine at the southernmost tip of the Fisk claim, on the north slope of Iowa Gulch and the east slope of Printer Boy Hill, about 150 meters from a shaft near the north end of the adjacent First National claim. Eventually the claims became part of the First National Gold Mining and Leasing Company, which was formed to sink the shafts deeper in order to locate a second and richer contact. Mining in the Julia-Fisk was carried on chiefly between 1900 and 1910, when the shaft was sunk to 185 meters (Manning, 1895; Behre, 1953).
At a depth of 126 meters a small bedding plane deposit of silverbearing galena was found between quartzite and Dyer dolomite, and ore valued at $20 a ton was mined; "near the bottom of the shaft a gold-bearing fissure was discovered, assaying 1.0 ounce gold and 40 to 50 ounces silver to the ton, but organizational difficulties and heavy pumping costs compelled the company to stop operations" (Behre, 1953). Although the shaft was reopened in 1957, a decline in metal prices curtailed most activity (Holmes and Kennedy, 1983).
Most of the recent activity in this area centers around the Black Cloud shaft, which has intersected some of the Julia-Fisk orebody, as well as other orebodies in the general area.
"The large dump in 1932 yielded many specimens of primary minerals, including galena, dark brown sphalerite, a little chalcopyrite and considerable manganoan siderite. Most of this siderite occurs as very thin rhombohedrons forming rosettes, under which arsenopyrite commonly appears in short prisms up to 1 mm in length" (Behre, 1953). Also "pale pink (rhodochrosite) scalenohedra about one-quarter inch long" have been found (Miller, 1971).
HORSESHOE AREA
The Horseshoe area, sometimes called East Leadville, is on the eastern frontier of the Leadville district about 11 km (7 miles) from the town of Leadville. Although the area is separated from Leadville by a high range of peaks, the geology was long thought to be identical (Leadville Lead Corporation, 1947). Thompson et al. (1984) point out, however, that the circumstances are quite distinctive; the orebodies appear to be confined to sediment filled karst paleotopographic features underlying shale beds in the Leadville limestone, and also to a few small faults. Silver values come from tetrahedrite and minor acanthite.
Sherman tunnel/Hilltop Mine
Although the Hilltop mine is actually in Park County, many, if not all, of its mineral specimens arrived through the Sherman tunnel in Lake County.
The Hilltop mine actually saw its beginnings with the staking of the Last Chance claim in 1869. Progress on the claim continued during the ensuing years and in 1877 the Last Chance was supplying ore to a new smelter erected at the town of Horseshoe, about 9.6 km to the east. The mill was apparently unsuccessful; in 1884 the Last Chance began shipping ore to Fairplay and construction was started on a mill at a site that was later to become the town of Leavick (Leadville Lead Corporation, 1947).
In 1886 a mine cook, discharged by Last Chance operators, located three claims – the Hilltop, the Ptarmigan and the Leslie De; these were just north of the Last Chance endline and represented the beginning of the Hilltop mine. The Hilltop Incline shaft, sunk to a depth of 37 meters, resulted in highly profitable production (Leadville Lead Corporation, 1947).
"The Hilltop produced heavily and profitably from 1886 to the silver decline of 1893" (Leadville Lead Corporation, 1947). Felix Leavick and associates acquired control in 1892. Immediately they built a narrow gauge railway spur from Fairplay to Leavick and constructed a 5-km aerial tramway from Leavick to the main Hilltop shaft. In light of these large expenditures, the silver price drop of 1893 was disastrous to the Leavick group and operations were suspended.
A number of different lessees operated the mine from 1893 to 1923 with varying degrees of success. "A drop in the price of silver occurred in 1923 with the expiration of the Pittman Silver Purchase Act, and essentially all mining activity in the Horseshoe district was terminated for a period of around twenty years" (Bloom, 1965).
The Horseshoe Zinc Company started work in the area when in 1943 it leased the mine claims of the Hilltop group and in 1945, after consolidating properties in the Four Mile Amphitheater, the company was reorganized to form the Leadville Lead Corporation.
In 1946 this corporation started driving the Sherman tunnel on the side of Mount Sherman and planned to go under the old Hilltop workings to evaluate lower level veins (Leadville Lead Corporation, 1947). From this tunnel and the Hilltop workings have come a variety of fine collectible mineral specimens.
Plates of small hemimorphite crystals, crystalline quartz and white mamillary smithsonite have come from the Hilltop.
The Sherman tunnel has produced large, thick, golden barite crystals up to 5 cm on an edge, hemimorphtie, crystalline azurite and malachite, calcite, smithsonite and native silver.