Location and History
This well-known high-grade district is in west-central El Dorado County in the vicinity of the old mining town of Spanish Flat. It is about 10 miles north of Placerville and 3 miles northeast of Kelsey. The district was placer-mined soon after the beginning of the gold rush, and there has been intermittent mining ever since. Many of the early-day miners in this area, from South America, Mexico, and Portugal, were that time collectively known as "Spanish". The Alhambra mine, the largest source of gold in the district with a total output of $1.25 million, was active in the 1930s and 1940s and yielded much high-grade ore. Other mines in this district include the Brust, Shumway, and Timm mines.
Geology
The gold-bearing veins in this district are in a northwest-trending belt or zone about two miles east of the Mother Lode belt (see fig .. 5). The deposits consist of northwest-striking quatrz veins with numerous parallel stringers that occur in shear zones with gouge. Country rock is amphibolite, chlorite, and graphite-quartz schist and slate. The ore shoots are not usually too extensive, but some have been extremely rich. A high-grade pocket discovered in the Alhambra mine in 1939 yielded $550,000. This pocket was a mass of native gold in quartz nearly 5 feet wide. The greatest depth of development is about 500 feet.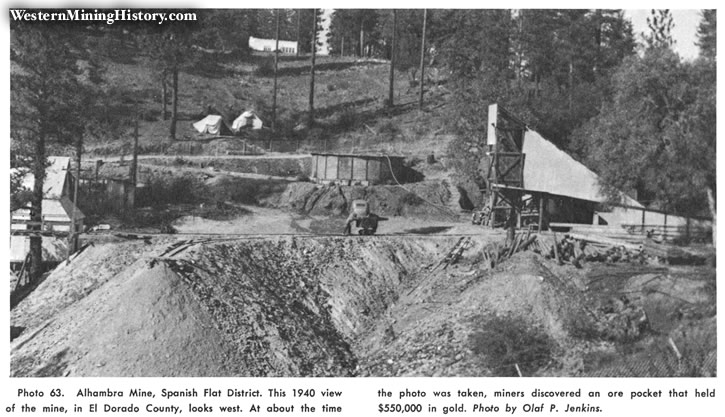 Bibliography
Clark, W. B., and Carllon, D. W., 1956, El Dorado County, lode gold: California Jour. Mines and Geology, vol. 52, pp. 401-429.
Lindgren, Waldemar, and Turner, H. W., 1894, Placerville folio, Colifornio: U. S. Geol. Survey Geol. Atlas of the U.S., folio 3, 3 pp.
Logan, C. A., 1938. El Dorado County, gold: California Div. Mines Rept. 34, pp. 215--272.