Location
This district, in north-central Amador County, is in the vicinity of the old mining town of Volcano, 15 miles northeast of Jackson.
History
The creeks were first mined during the gold rush, and the rown was setrled by soldiers from Stevenson's 1st New York Volunteer Regiment. The town received its name in 1850, as it was believed then that the limestone caves were related to a volcano. During the 1850s this was one of the richer placer-mining districts in the state. Since the 1930s there has been a small output from dragline dredging in some of the creeks, and some of the channel gravels have been prospected in recent years. Many of the buildings in the old town are well-preserved, and the town is now a well-known tourist attraction.
Geology
The central portion of the district is underlain by crystalline limestone of the Calaveras Formation (Carboniferous to Permian), which has many potholes and crevices that contained much rich gravel. The rest of the area is underlain by graphitic slate and schist. To the north and eaSt several deposits of early Tertiary quartz-rich gravels were mined by hydraulicking and drifting. Those to the north are parts of the deposits of the ancestral Cosumnes River that extended west through the area and west-north-west towards the Fiddlerown district. In places the gravels are capped by andesite. A few narrow gold-quartz veins are found in the district.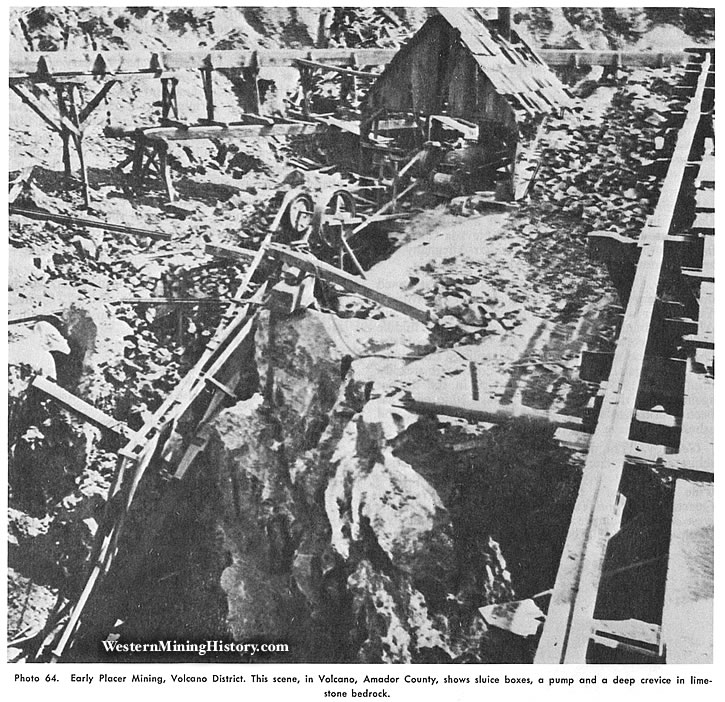 Bibliography
Carlson, D.W., and Clark, W. B., 1954, Amador County, placer gold: California Jour. Mines and Geology, vol. 50, pp. 197-200.
Haley, C. S., 1923, Gold placers of California: California Min. Bur. Bull. 92, pp. 146-147.
Lindgren, Waldemar, 1911, Tertiary gravels of the Sierra Nevada: U.S. Geol. Survey Prof. Paper 73, p. 199.