Premium content
Audio presentation
Show only free content
Show only audio content
A Tour through the Mining District (1859 The Rocky Mountain News)
This 1859 article provides interesting details on the various mines and camps that were the first established in Colorado–locations like Gold Hill, Russels, and Mountain City.
The Old-Time Prospector Is Being Crowded off the Globe (1923 The Salt Lake Mining Review)
"Here and there about the states may be found ex-prospectors, men who can still make "sourdough" bread, turn a hot cake, a pair of eggs or a rasher of bacon by merely flipping the skillet, "an' without losin' a drop o' grease," are still to be met, but they have no successors."
The Prospector and His Burro - The Tenderfoot (1916 Salt Lake Mining Review)
"It is a wonderful thing," said the prospector to his burro, "what strange ideas the masses of the people have regarding the source of gold and silver. I have conversed with eastern tenderfeet on this subject, and, according to their way of thinking, all that was necessary to get away with a big jackpot was to go west, almost anywhere, select some easy spot to dig, and rake in gold nuggets about the same way that a farmer would gather in his potatoes in the fall, the nuggets being about the same, in size, as a good Irish spud."
Taming of Sam Brown (1892 Newspaper)
"He was a strapping six-footer, toughened by a life of exposure and peril. He reveled in an atmosphere of reckless debauchery. He was at one time the creature and the creator of the uncurbed license of the early camp. It flattered his vanity to be hailed as a gang leader, foremost of the toughs in the foremost mining camp."
The Prospector and His Burro - The Swindle That Wasn't (1915 Salt Lake Mining Review)
"The buyers began active work at once, in the operation and development of their new acquisition, and those who were 'on' began to wait for the day when they would come to a realization of how they had been soaked on a salted mine. But the day never came, and within two weeks shipments began pouring down the canyon from the new producer, and for ten years the mine has been a regular producer and dividend-payer."
A Flourishing Camp (Candelaria, Nevada) (1890 Newspaper)
Newspaper article discusses the state of the mining industry in the Candelaria district in 1890.
Letters From California #3 - S. R. Smith (1849 Newspaper)
"We lived principally upon bacon, hard bread and coffee. I have not taken off my clothes at night since I left Independence; nor do I expect to so long as I remain here. I am glad, (since I got through alive,) that I came across the Plains, for I now consider myself capable of enduring anything, so far as hardships are concerned."
The Prospector and His Burro - A Private Bonanza (1910 Salt Lake Mining Review)
"You ask why I do not try and sell my mine? ...for why should a man try and sell a $20-gold piece? What I have I can take out, little by little, by myself, and what is left is as good as having a substantial bank account, for I can draw upon it whenever I wish."
Letters From California #2 - William Swain (1850)
Letter written by a '49er from California describes life of the miners in detail, and conditions in the gold fields.
Letter From Humboldt County (1867 Newspaper)
Article describes stagecoach travel in Nevada in the 1860s, and the works at Oreana.
The Old-Time Prospector (1889 Chamber's Journal of Popular Literature)
A description of the American Prospector by the Chamber's Journal of Edinburgh, Scotland.
Letters From California #1 (1850 Newspaper)
"Large numbers are coming down daily from the mines, some with a pretty good quantity of "dust," but the greater number without any. It is very sickly up there, and most of the operatives are coming down to spend the rainy season. The sickness and privation here is appalling, and I have about come to the conclusion that this is the greatest humbug that was ever started."
The Discovery of Silver (Comstock Lode) (1895 New England Magazine)
This incredible story describes the first discovery of the fabulous silver veins of the Comstock Lode by Allen and Hosea Grosh, a tale that ends in tragedy for the brothers. The location of the veins was lost with the brothers, and the Comstock riches would remain hidden for another two years after this initial discovery.
The Prospector and His Burro - Gold is Where You Find It (1906 Salt Lake Mining Review)
"I want to tell you, old long-ears, that the trouble with the majority of prospectors is that they are too set in their ideas. They have formed opinions which they stick to, whether they are right or wrong. They attempt to dictate to nature and refuse to see anything good in the mineral line unless it exists according to their preconceived ideas."
The Prospector and His Burro - Bonanzas of the Early Days (1906 Salt Lake Mining Review)
"In looking at what is left of this old camp the veil of the past seem to be raised for me. To the tenderfoot this discovery would seem to take one back to prehistoric times, and yet it is not more than twenty-five or thirty years ago since these hills were full of life, and since these old mines were actively operated; on a primitive scale, to be sure, and yet with profit."
The Prospector and His Burro - Wrecking a District (1906 Salt Lake Mining Review)
"I want to tell you, old long ears," continued the prospector, "that it is too bad to wreck a promising district in this fashion. One or two things have happened here. The mining men who built the hoist and these mills were either ignorant of actual conditions, and erected reduction works with the expectation that they would have plenty of ore to treat, or they were put up by boomers and fakers for stock-selling purposes. In either event, the district has been given a black eye, and it will be years before it will recover."
The Prospector and His Burro - Grubstake (1907 The Salt Lake Mining Review)
"In mining parlance 'grubstake' means that one man or more has agreed to furnish some other man with provisions and supplies, and a certain amount of money to be used on a prospecting expedition; the man furnishing the 'grubstake' to share with the prospector in anything that the latter may find."
Colorado Gold Regions (1869 Newspaper)
This 1869 article from the
Chicago Evening Post
describes the mines and communities of Colorado's premier mining district a decade after its initial discovery.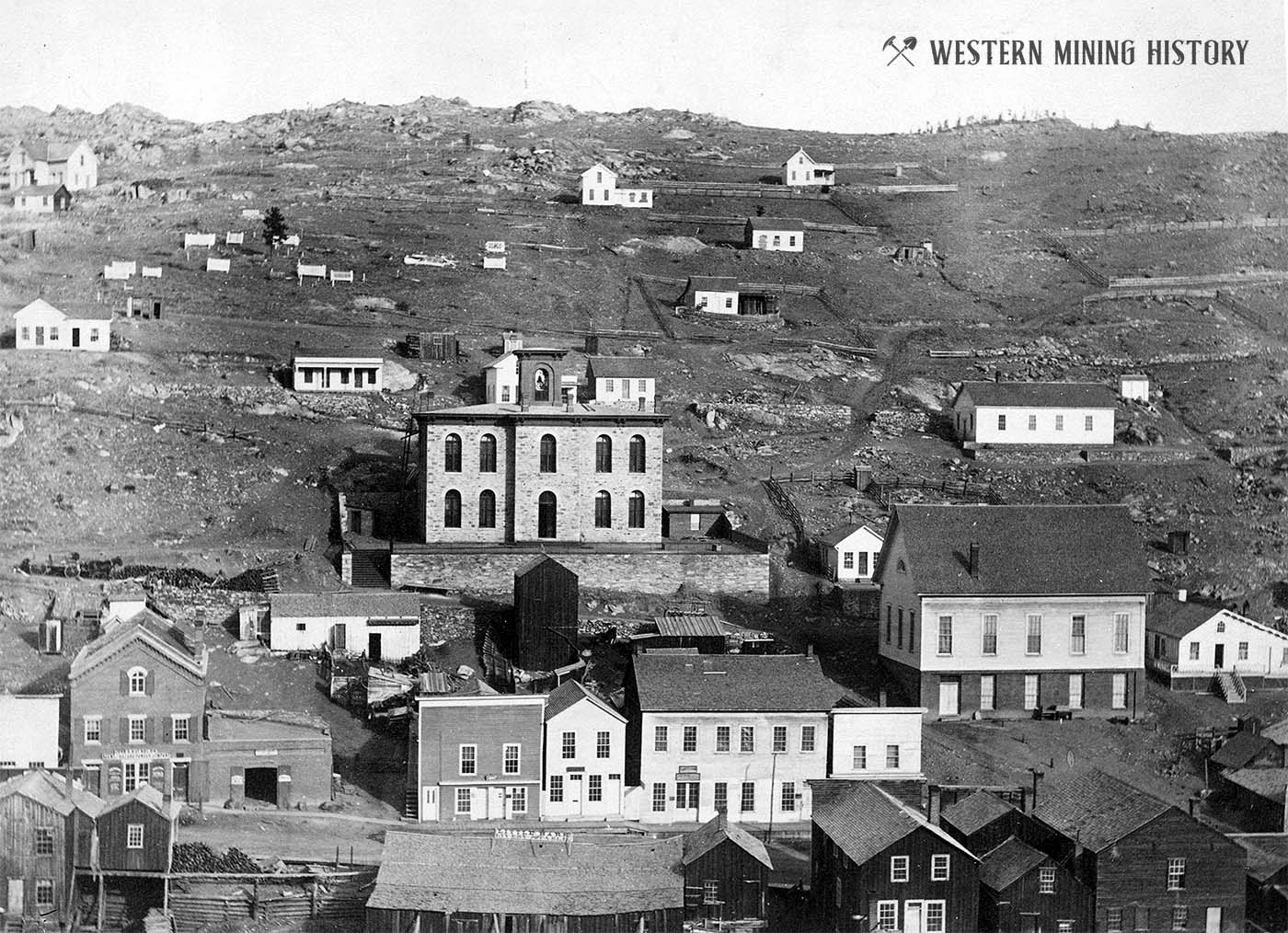 Conditions at White Pine (1869 Newspaper)
Article describes conditions at the 1869 White Pine mining boom in Nevada: "Gambling saloons, hurdy-gurdies and other amusements are in full blast, day and night, recalling the palmy days of '49, in Frisco"
The Prospector and His Burro - Mine Salting (1906 The Salt Lake Mining Review)
"In our last conversation," said the prospector to his burro, "I gave you the outline of a case of mine-salting in southern Utah. Even since then, judging from your speaking countenance, it is evident that you have a desire to listen to more yarns on the same subject. Well, if you insist upon another recital along the same lines, I think I can accommodate you."