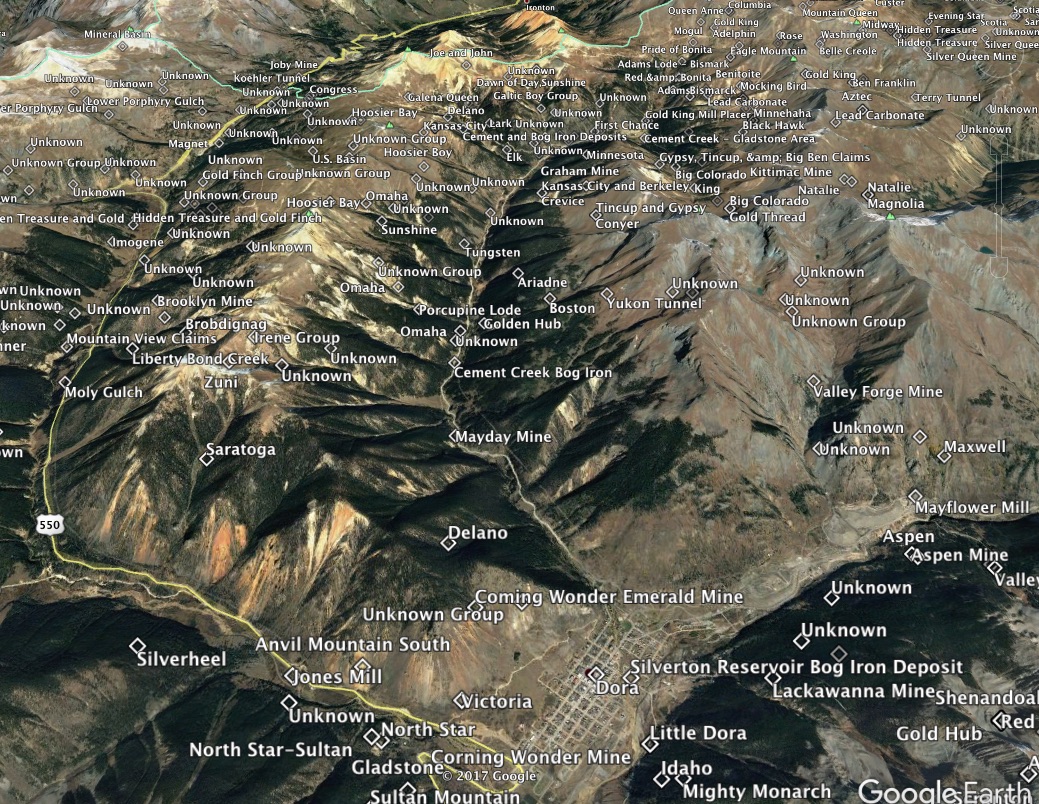 Now available are downloadable data sets for use with navigation devices, Google Earth, or for research purposes. The data source is the USGS MRDS database and contains records for mines of type "metallic" (does not include "non-metallic" mines). It should be assumed that all mines are on private property.
The data is organized into individual KML and CSV files for each county in the state. It is recommended that you use Google Earth Pro (the desktop version) rather than the browser-based Chrome version of Google Earth due to performance issues with large data sets.
There are now two different data sets – the Standard Index for Supporting Members, and the Expanded Index for Mines Members.
Standard Mines Index
The Standard Index contains the following files:
CSV and KML files containing data for all mines in each county of your selected state: mine name, district (if available), elevation (if available), primary commodity (if available), latitude, longitude, county, MRDS mine ID.
Expanded Mines Index
The Expanded Index contains same files as listed for the Standard Index, but with the addition of the following fields:
secondary commodity, tertiary commodity, land status, holdings, significant, deposit size
Notes on some of the additional fields that come with the Expanded Index:
Land Status: General category of land ownership. Note that just over half of the mines in the MRDS database have a value for land status.
Holdings: Type of mineral-rights ownership. Note that less than 10% of mines in the MRDS database have a value for this field so this should be used for reference only and not considered a complete record of holding types.
Size: Deposit size: Large, Medium, or Small. The tonnage of the deposit including all production, reserves, and resources. Note that only about a third of mines in the MRDS database have a value for deposit size.
Significant: Indicates whether the deposit has world-class significance. The criteria is total endowment of contained commodity, which includes all past production and reserves.
Instructions on how to purchase these files:
1. Purchase a membership by visiting our memberships page, or login if you are already a member.
2. Download the Standard Index (all members) or download the Expanded Index (Mines level Members)
The files contain the following data:
Arizona Mines (10,227 Mines)
California Mines (34,956 Mines)
Colorado Mines (13,388 Mines)
Idaho Mines (8,197 Mines)
Montana Mines (8,392 Mines)
Nevada Mines (13,258 Mines)
New Mexico Mines (4,122 Mines)
Oregon Mines (7,991 Mines)
South Dakota Mines (1,286 Mines)
Utah Mines (8,309 Mines)
Washington Mines (6,481 Mines)
Wyoming Mines (3,325 Mines)
Data Samples