Roubaix History
Gold was first discovered at this location in 1876, but like many early settlements, it was abandoned upon news of the gold discoveries at Deadwood Gulch. In subsequent years prospectors returned to the area, and in 1878 the Uncle Sam mine was located.
Other sources state that the early settlement here, first called Lewisville, was abandoned after the Uncle Sam mine closed in 1880. However, newspaper articles indicate that only assessment work had been done up to this point, and only by two miners. The assessment work was paused in 1880, resumed in 1881, but was slowed by water in the mine.
It is likely that the early settlement here ever amounted to more than a collection of cabins housing the miners that were doing assessment work at the Uncle Sam mine, or prospecting in the area.
It was not until the fall of 1885, with the Uncle Sam mine finally ready for production, that a permanent settlement was established. The town was called Perry, and a post office was established that year.
The Uncle Sam mine was the only significant producer in the area, and the town's fortunes were closely tied to it. Ongoing problems with water idled the mine in the 1890s, and the town was almost abandoned. That changed starting in 1898 when the Clover Leaf Gold Mining Company purchased the mine and upgraded the facilities, including a 60-stamp mill that had previously operated at the site.
The upgrades to the mine, which included electrification, employed many men, and in 1899 the town of Perry peaked with around 500 residents. The owner of the Clover Leaf Gold Mining Company, Pierre Wibaux, renamed the town to Roubaix in 1901, after his home in France.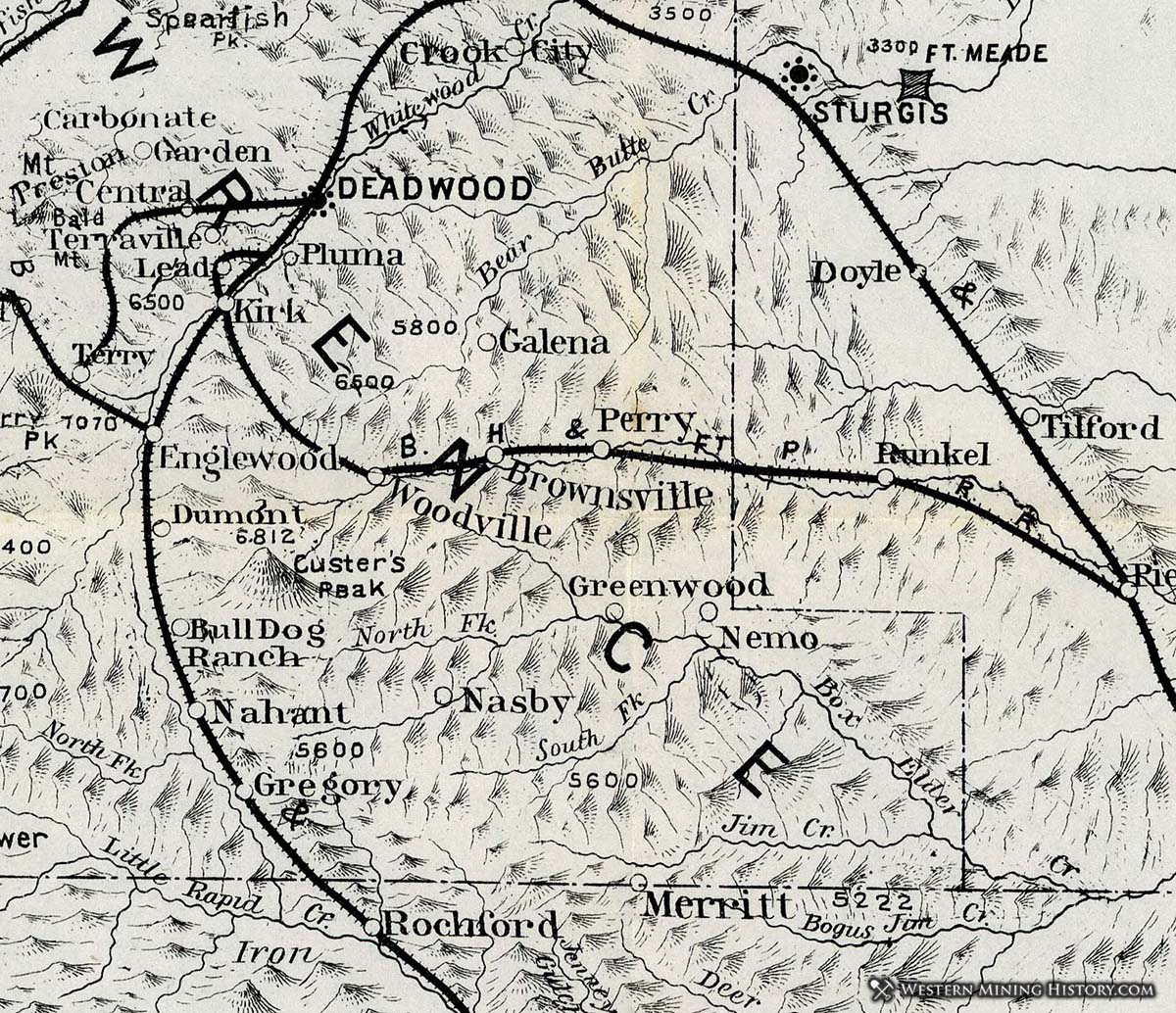 1897 illustrated map shows the location of Perry (Roubaix), South Dakota
The Clover Leaf successfully operated the property until 1905, when extensive underground flooding resulted in the permanent closure of the mine. The town declined after this but was not completely abandoned. The Anaconda Gold Mining and Milling Company opened the mine for a brief time in the 1930s, but the venture was not successful.
The Roubaix post office closed in 1943.
Deadwood: The Ultimate Photo Collection
The Black Hills Gold Rush was one of the most significant historical events in the western United States. Deadwood: The Ultimate Photo Collection contains over 50 images capturing the early history of this famous gold region.