Publication Info:
Gold Districts of California
Bulletin 193 California Division of Mines and Geology 1976
Table of Contents
Location
Alleghany is in southwestern Sierra County. This district is in a belt of gold mineralization that extends from Goodyear'S Bar, south and southeast through Forest, Alleghany, Chip's Flat, and Minnesota. This gold-bearing belt continues south to the Washington district in Nevada County. The Downieville and American Hill districts are to the east, and the Pike district is to the west.
History
The streams in the area were placer-mined soon after the beginning of the gold rush, and the Forest diggings were discovered in the summer of 1852 by some sailors. Some of these sailors were "Kanakas" or Hawaiians who also had deserted their ships in San Francisco. Forest, first known as Brownsville and then Elizaville, got its present name in 1853. The Bald Mountain and other drift mines were highly productive from then until around 1885. Hydraulic mining was done at Minnesota and Chip's Flat during these years. The town of Alleghany was named for Alleghany, Pennsylvania.
Quartz mining was reported to have begun in the district in 1853 at the German Bar and Irelan mines. Although the quartz mines were moderately productive until the 1870s, drift mining was the principal source of gold then. The rediscovery of the Tightner vein in 1904 by H. F. Johnson (erroneously given as 1907 in many reports) led to the revival of lode mining, which continued until 1965.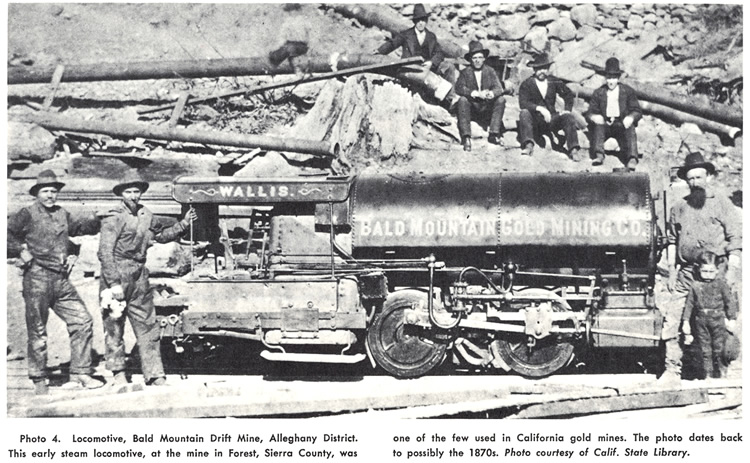 Page 1 of 5