Ruby History
From a Ruby Tour Brochure:

The history of Ruby is shared equally by mining exploitations and the development of its mercantile and post office. In the early years, processing of the rich ore body was hampered by poor extraction methods and lack of adequate water. A dam was built to collect runoff, and several small operators worked the ore body, but it wasn't until 1926, when the Eagle Picher Lead Company bought the patent rights, that the full-scale mining took place.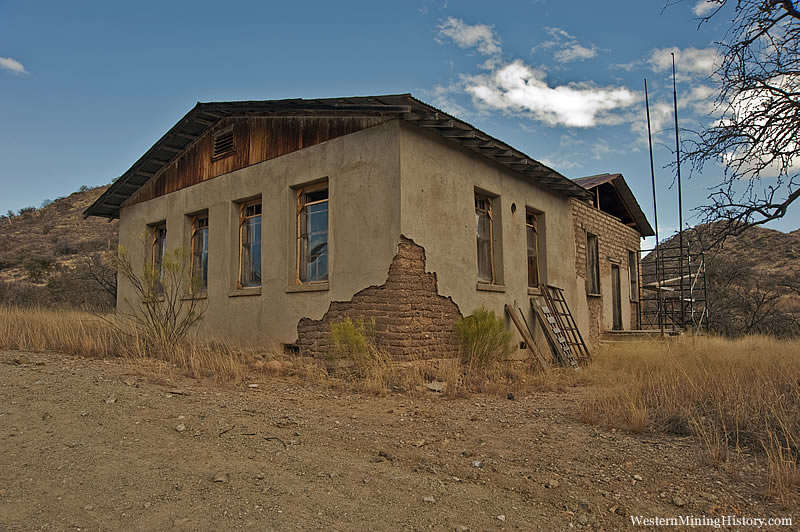 School at Ruby, Arizona
Eagle Picher erected more dams and, when that failed to collect enough water, built a 15-mile pipeline from the Santa Cruz River across the mountains to Ruby. A 400-ton concentrator was installed and from 1934 until closure in 1940, the mine produced over $10,000,000 in lead, zinc, and copper (with lesser amounts of gold and silver being extracted). After Eagle Picher, several groups attempted to rework the old mine with varying degrees of success.
Today, all that remains of the ore body is the large pile of tailings sand (some 600,000 tons) on the southside of the dam.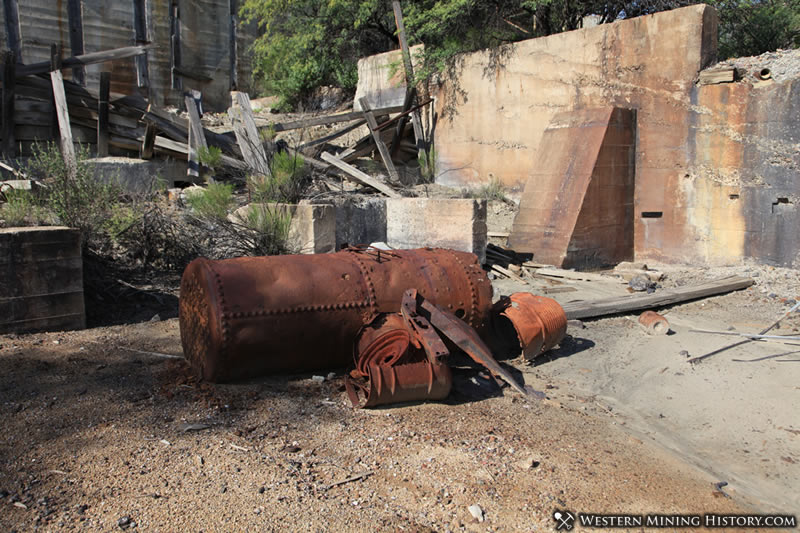 Boiler at Mill Site - Ruby Arizona
Along with those early miners were groups of people who supplied them and the nearby ranchers with food and durable goods. The Mercantile was begun in the late 1880's by George Cheney. In 1897 it was purchased by Julius Andrews who ran it until 1914. It was his wife who gave her maiden name, Ruby, to the new post office in 1910.
The Andrew's eventually sold out to Phil Clarke who ran the mercantile until 1920 (and amassed a large holding in land and cattle along the way); he sold the store to John and Alex Fraser who were killed by bandits within a month of opening for business. Seven months later, the new store owner was a man named Worthington who apparently operated for a few years.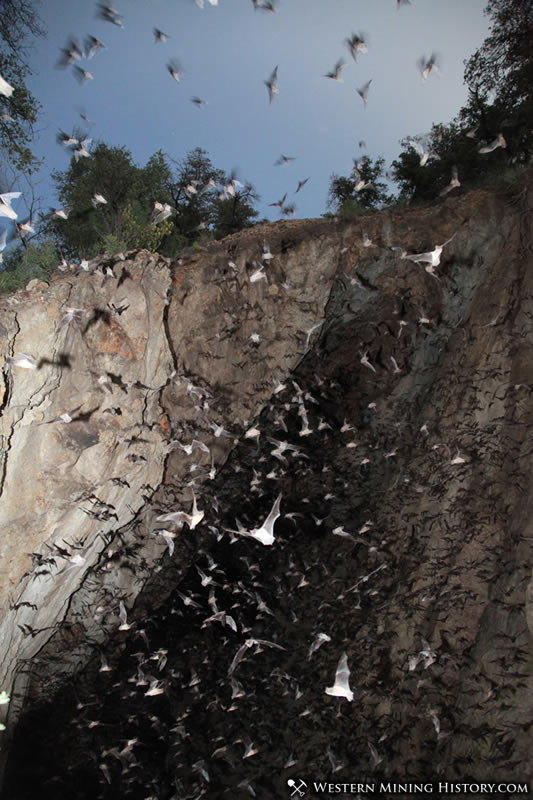 Bats swarm out of mine at Ruby Arizona
All this took place before Eagle Picher re-opened the mine in 1926, bringing with it company stores, a school, infirmary, and a jail. In it's Heyday, Ruby employed more than 350 miners (working round-the-clock shifts) and there were probably 2,000 people living in the town, mostly in tents on the hillsides. Today, Ruby is owned by a group of families that is interested in both restoring the town and processing the tailings.
Webmasters notes:

Although some restoration efforts were started in the 1990's, visitors report that no restoration has been done in recent years and the condition of the town is deteriorating. Reports on the founding date of the town and peak population vary widely, which can be typical for these remote mining towns. All Ruby photos courtesy of Dave Leach and Bill Norman.