Knights Ferry History
The 1921 publication History of Stanislaus County gives a brief early history of Knights Ferry:
"Knights Ferry, directly cast of Stockton and about forty miles distant, was founded in 1849 by William Knight, a hunter and trapper. He came to California in 1844 as a guide to the Fremont expedition. He was familiar with the contour of the country and the mountain passes and he foresaw that Knights Ferry was Nature's pathway through the mountains."
"Locating there, he established a ferry across the Stanislaus River, built a hotel and store, and commenced business. The tide of travel turned his way and thousands of anxious gold seekers crossed the ferry, and lodged over night in the hotel. It was the midway stopping point between the valley town and Sonora, "the queen of all the mines," and then, as we remember, the county seat of Tuolumne County."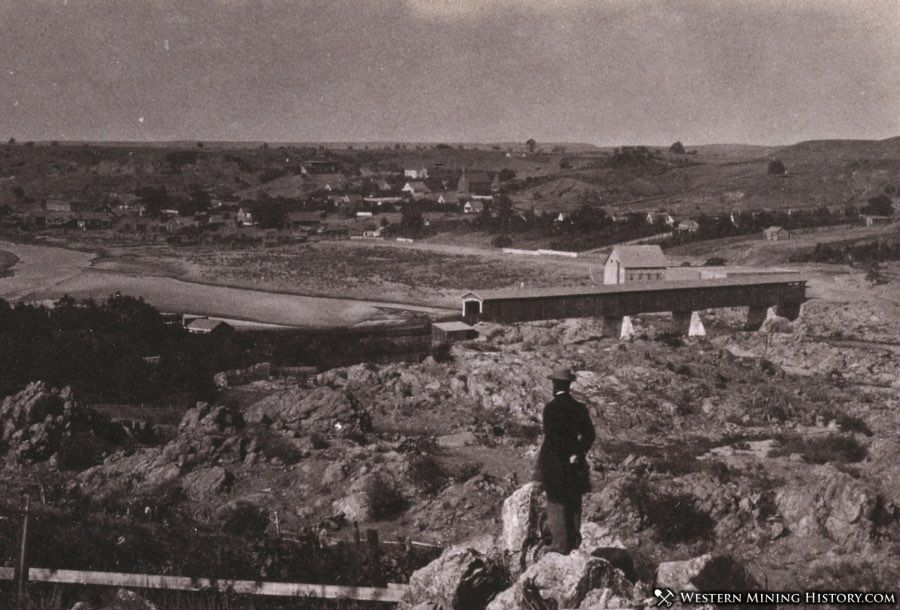 Knights Ferry ca. 1860s
"In the early days of the town the Captain died and in the little cemetery on the summit of the hill, his burial was the first."
The book also relates details about Knight's Ferry taking the Stanislaus County seat from the town of La Grange:
"La Grange then had no fear of a rival in Knights Ferry, the little mining town to the north, because it was in an adjoining county, San Joaquin. It was both a mining and an agricultural town. It contained many men of wealth and enterprise, considerable of a population and had considerable taxable property."
"The citizens were not particularly interested in county seats until 1861. At that time Knights Ferry had been removed into Stanislaus County and they began seeking official recognition. The election for county seat took place at the time of the presidential election, in November, 1860. La Grange made a hard fight for the honors but Knights Ferry out voted them, 422 to 383. The county seat remained at Knights Ferry until 1871, when it was again moved back to the valley, with Modesto as its home."
Knights Ferry is still an active town with structures preserved from the mid-1800s. The general store is said to be the oldest continually operated general store in California. The 330-foot long covered bridge, built in 1863, still stands and is the longest covered bridge east of the Mississippi.
It All Started With The Gold Rush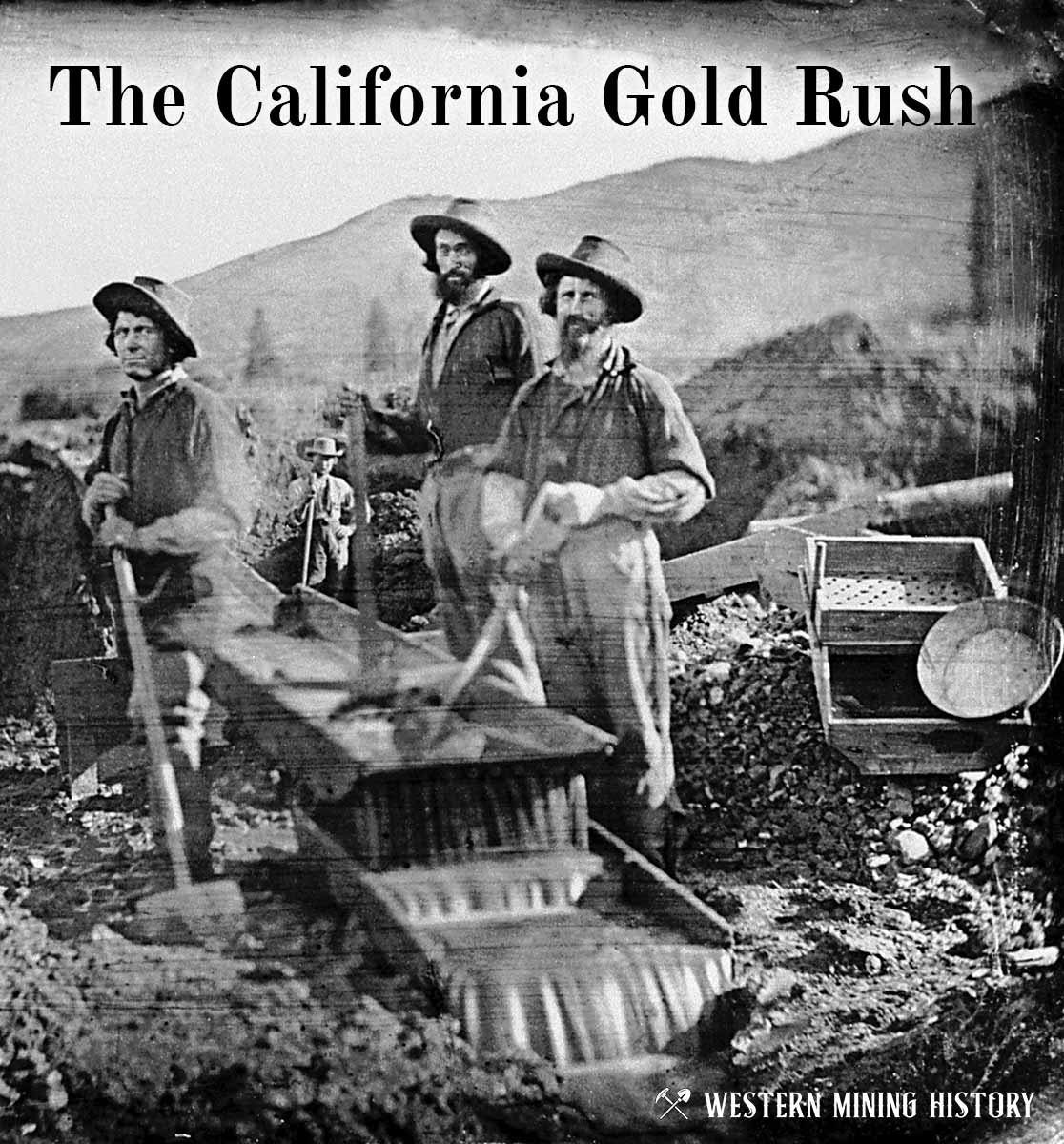 The great California Gold Rush kicked off the entire saga of western mining. Read about it at The California Gold Rush.
California Gold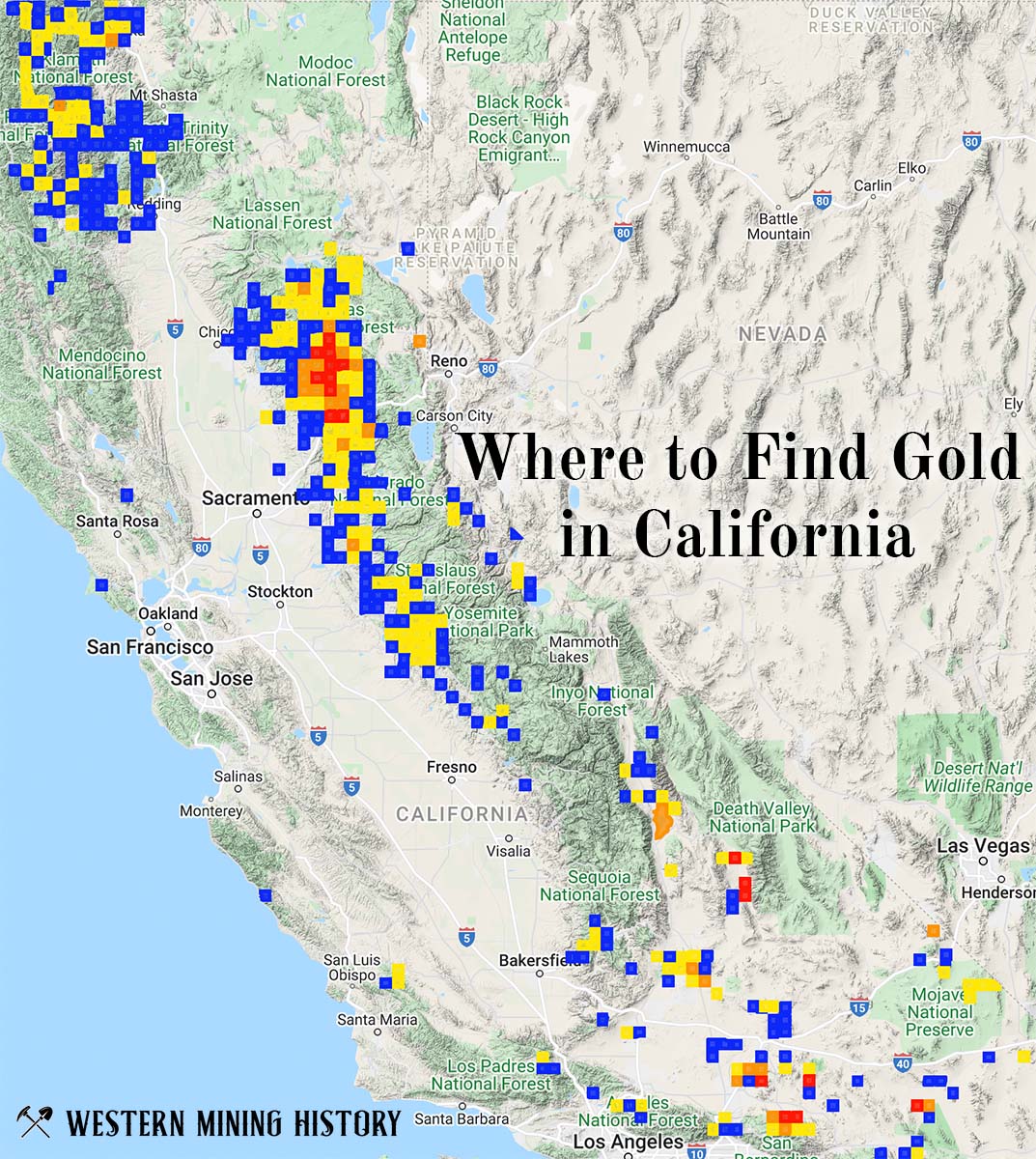 "Where to Find Gold in California" looks at the density of modern placer mining claims along with historical gold mining locations and mining district descriptions to determine areas of high gold discovery potential in California. Read more at Where to Find Gold in California.