Yreka History
Yreka was born when gold was discovered on the flats near a ravine called Black Gulch in March of 1851 by Abraham Thompson, a member of a mule train party enroute to Scott Valley from southern Oregon. Six weeks after the discovery 2,000 miners had arrived in "Thompson's Dry Diggings" to test their luck. By May, the gold rush "boomtown" was composed of tents, shanties and a few rough cabins.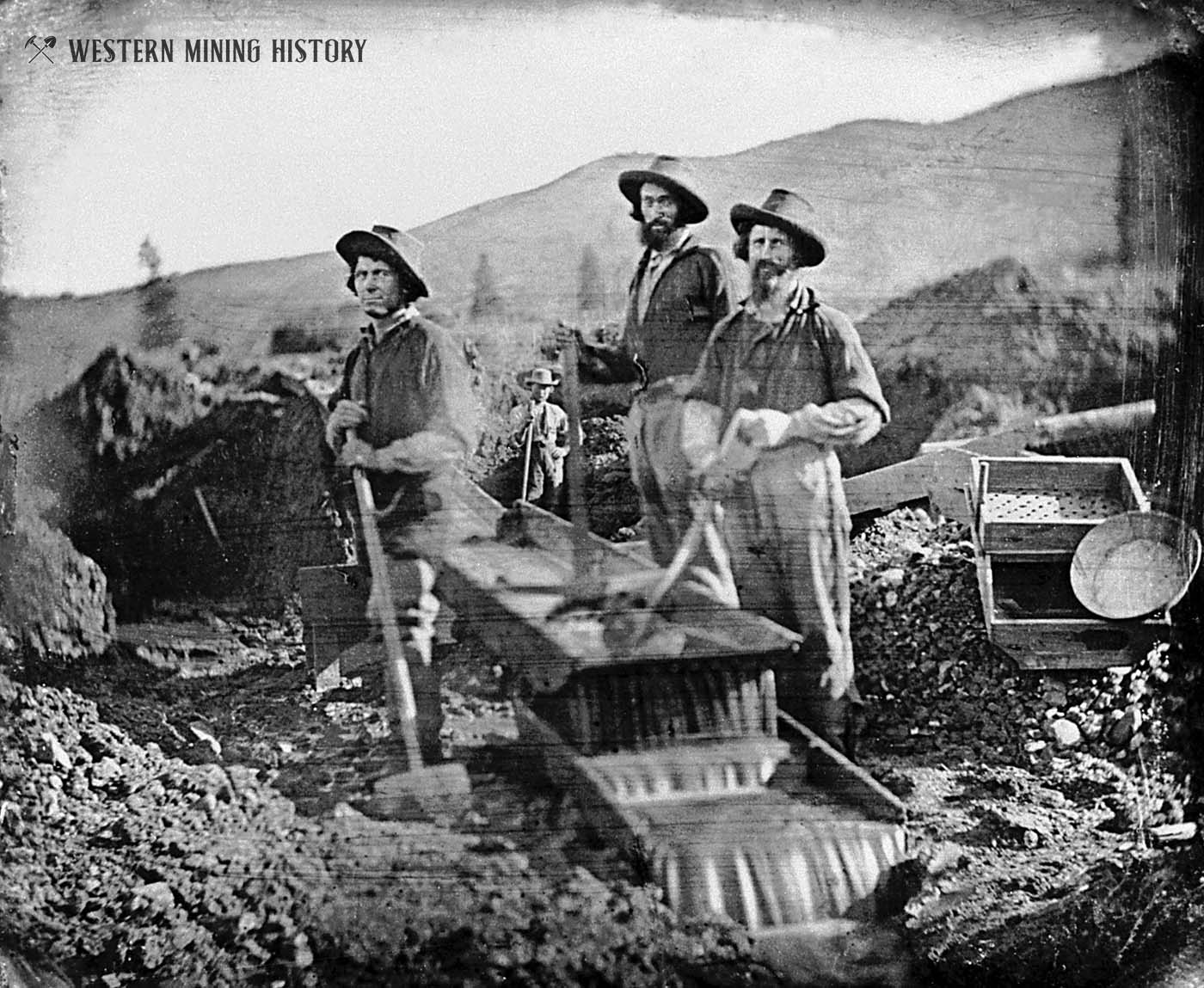 Abraham Thompson (on left) and partners using a long tom at Thompsons Dry Diggings on Yreka Flats 1851
Several name changes occurred until the little city was called Yreka, apparently a Shasta Indian word meaning "north mountain." Incorporation proceedings were completed on April 21, 1857.
Joaquin Miller described Yreka during 1853-54 as a bustling place with "...a tide of people up and down and across other streets, as strong as if in New York". More stage lines used the town for a stage stop than any other community in the state. Two sizable Chinatowns existed on Miner Street and in 1889 a shortline railroad connected the city with the Southern Pacific's westcoast line.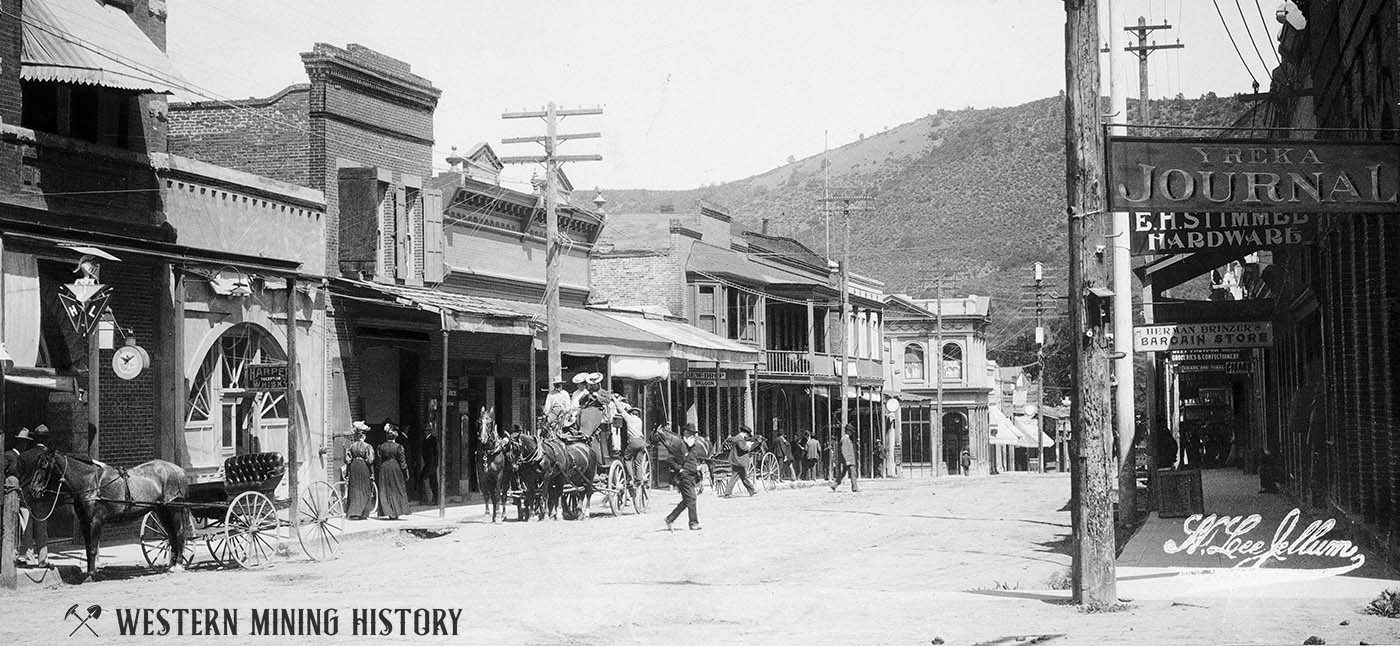 Early view of Yreka
The heart of the community, then and now, was Miner Street--named appropriately enough after those hardworking individuals who built the town.

The above text was previously retrieved from the Yreka Chamber of Commerce website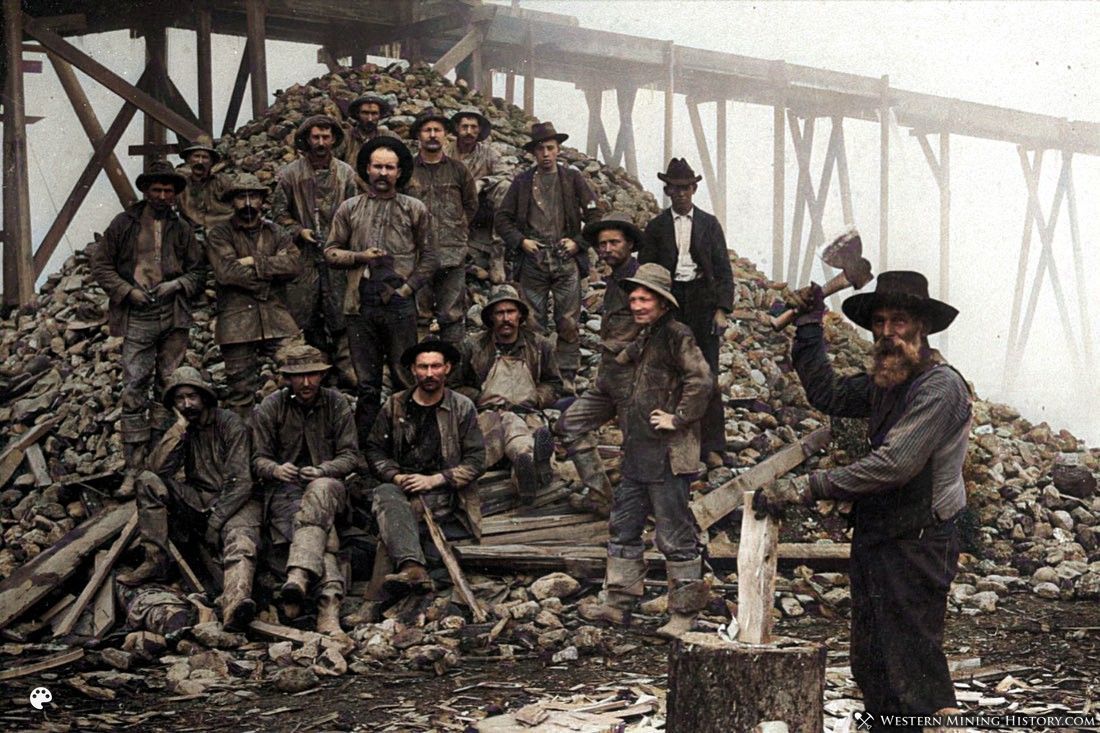 Miners at the Blue Gravel Mine - Yreka, California ca. 1890 (colorized image)
Yreka's Unusual Name is Shrouded in Mystery
While the most commonly acknowledged explanation of Yreka's unusual name is that it originated from a Native American word, the full story seems to be more complicated. In Mark Twain's autobiography the name is explained by confusion around a bakery's sign at Yreka:
It was Mr. Swain, Superintendent of the Mint, who discovered Bret Harte. Harte had arrived in California in the fifties, twenty-three or twenty-four years old, and had wandered up into the surface diggings of the camp at Yreka, a place which had acquired its curious name — when in its first days it much needed a name — through an accident. There was a bakeshop with a canvas sign which had not yet been put up but had been painted and stretched to dry in such a way that the word BAKERY, all but the B, showed through and was reversed. A stranger read it wrong end first, YREKA, and supposed that that was the name of the camp. The campers were satisfied with it and adopted it.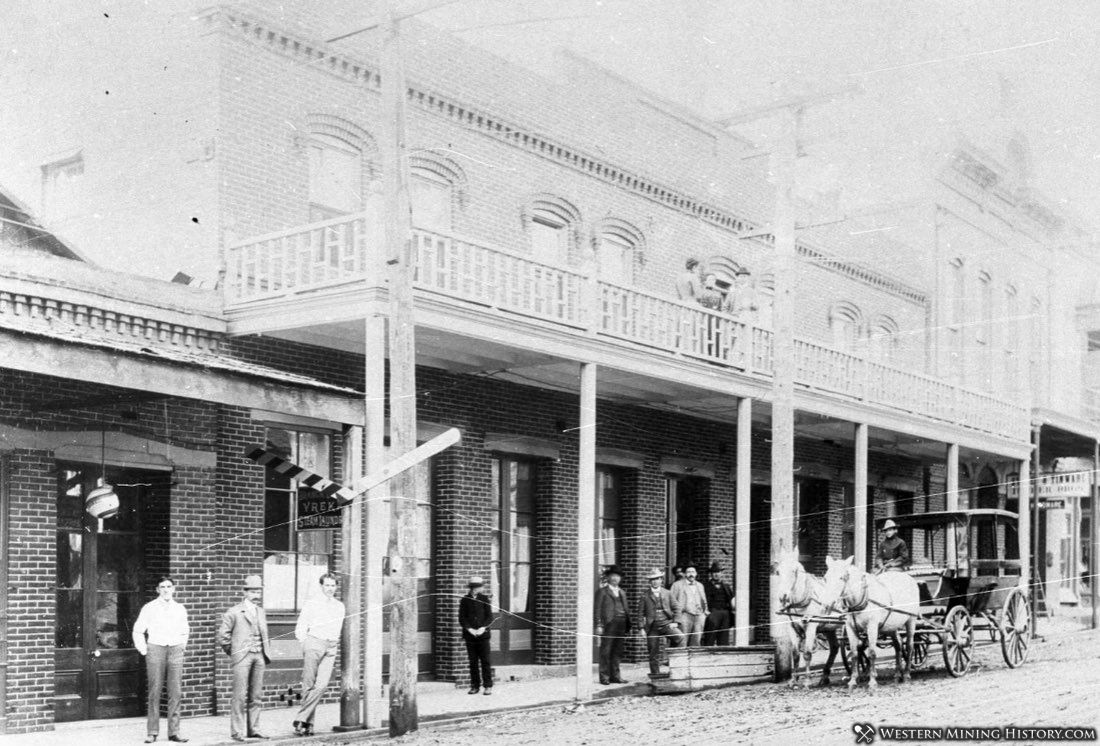 Clarendon Hotel - Yreka ca. 1897
An 1876 article from the Yreka Journal states that the name was caused by a spelling mistake:
It was intended the county seat should bear the name of Ieka, the Indian name of Mount Shasta, but by mistake the name of Wyreka was substituted and the error continued, with the exception of dropping the letter W, thought to be superfluous.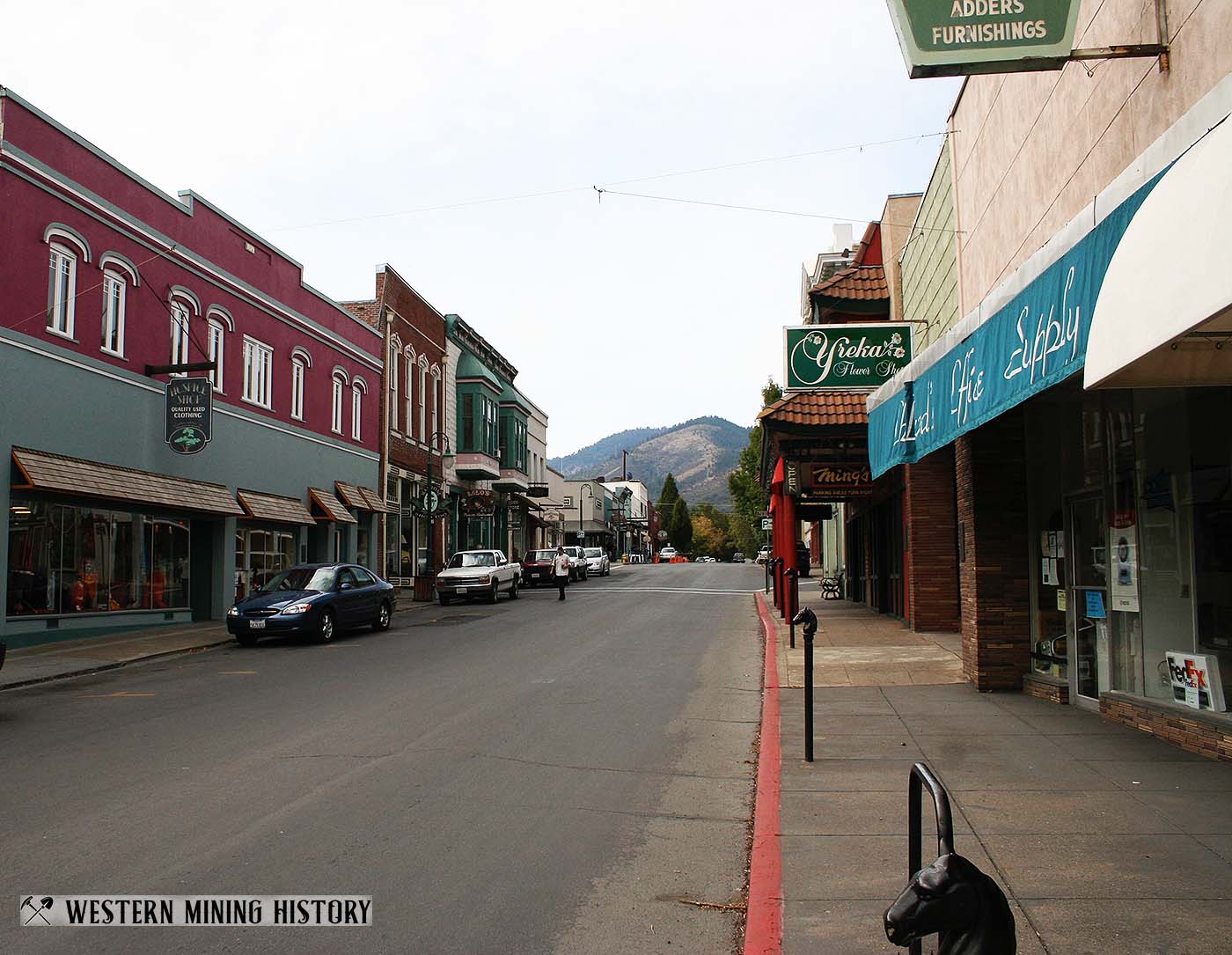 Modern view of downtown Yreka. Note the Clarendon Hotel on the left (compare with 1897 view above).
In April of 1897 the Mayor of Yreka wrote an article for a California paper where he describes the confusion with the name:
Long, long ago, as we measure time in our young State, when the surface ground was full of gold, there came miners to the valleys of Siskiyou who saw a good site for a camp in our little vale, then green with oaks and pines, and here they stayed. The gold panned out well, and the camp grew into a thriving town named Yreka; and what the odd name means and how we came to get it is not known. Whether it is of Indian origin or the result of a man's bad handwriting makes no difference — it is a good name.
It All Started With The Gold Rush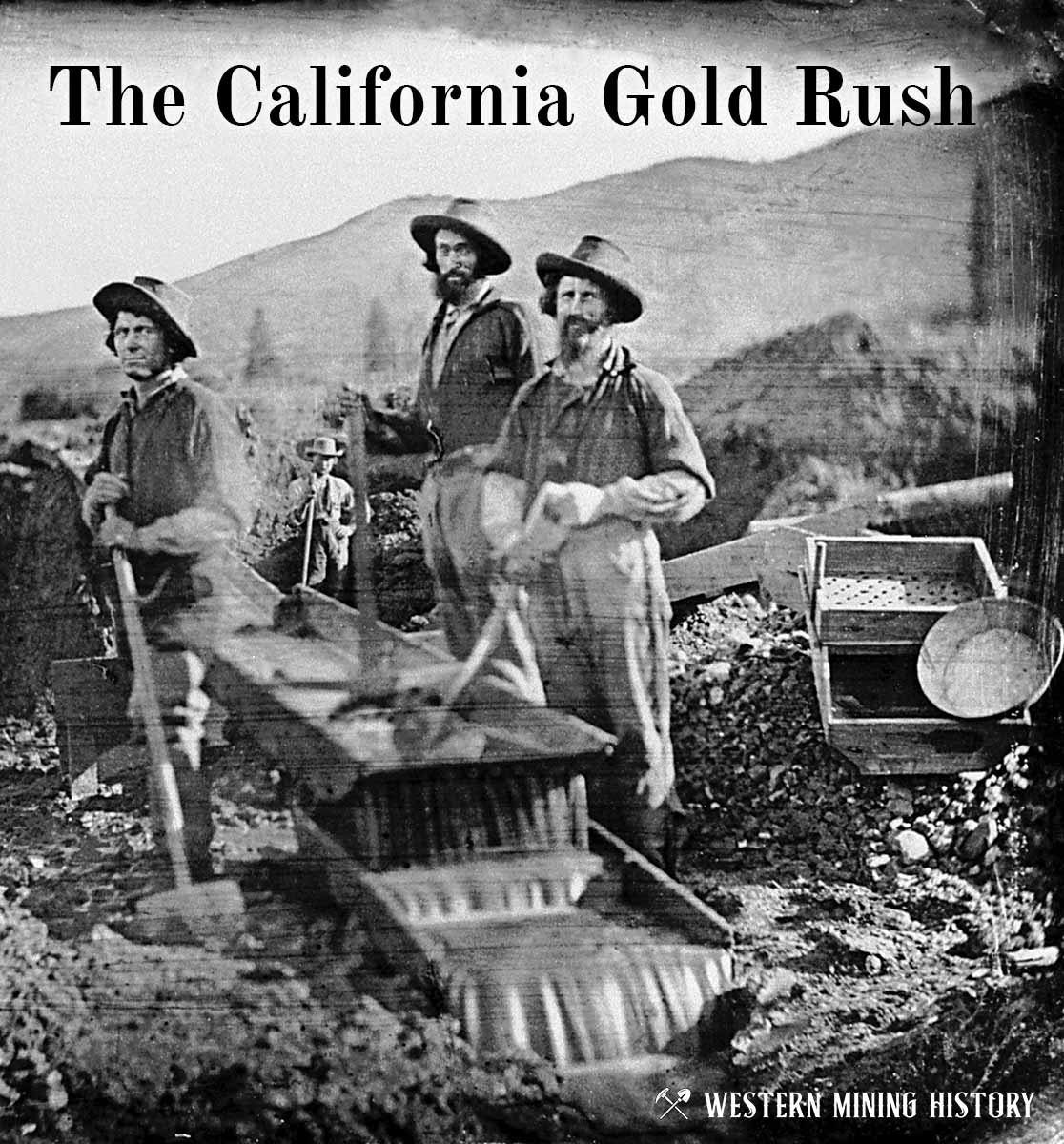 The great California Gold Rush kicked off the entire saga of western mining. Read about it at The California Gold Rush.
California Gold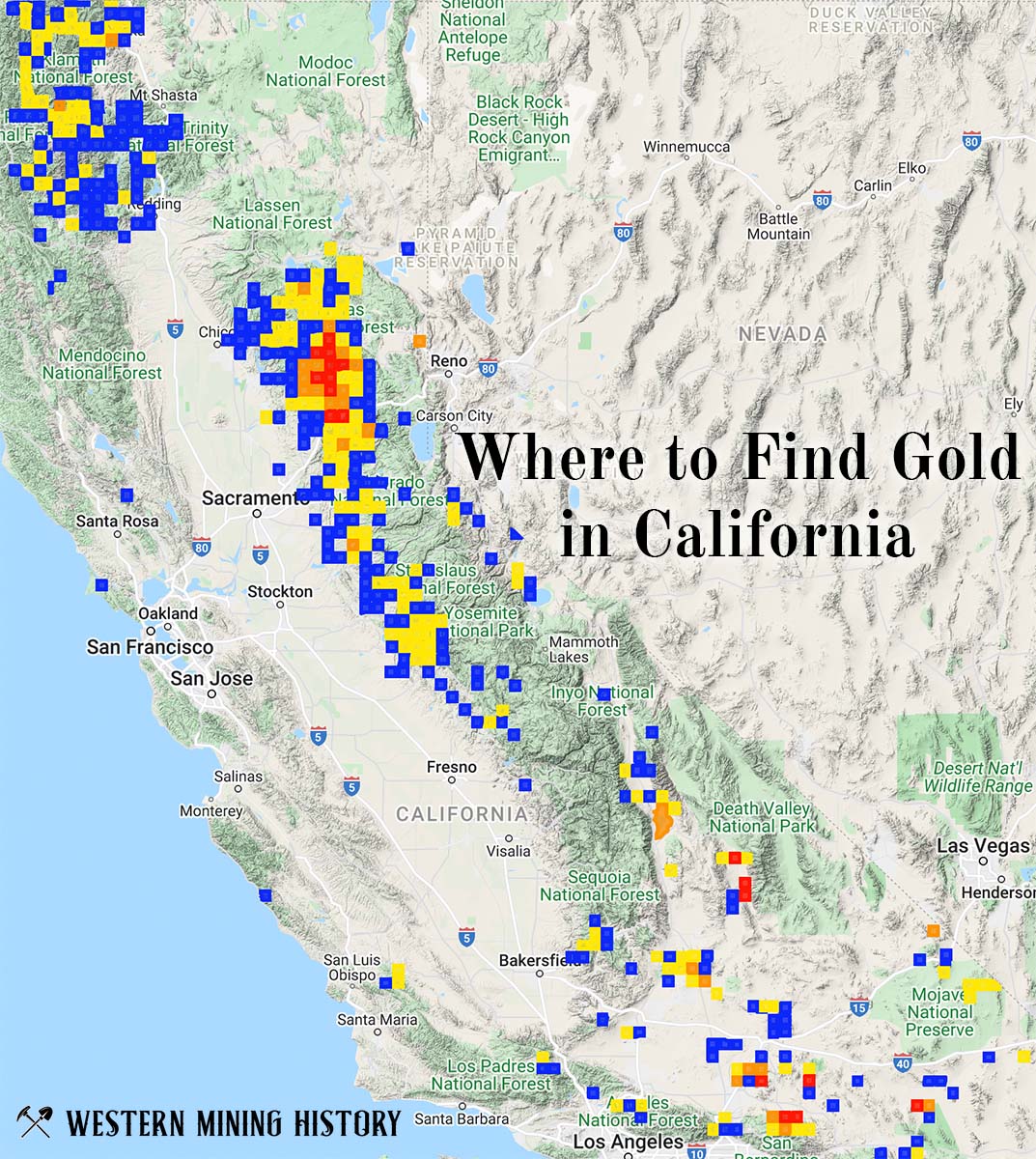 "Where to Find Gold in California" looks at the density of modern placer mining claims along with historical gold mining locations and mining district descriptions to determine areas of high gold discovery potential in California. Read more at Where to Find Gold in California.