Altman History
Altman was one of many towns that formed around the rich mines of the Cripple Creek District. The town was situated at the highest point in the district and covered most of the hill.
Altman had a central role in the Cripple Creek miners' strike of 1894. The Western Federation of Miners Local 19 was based in Altman during the strike. This resulted in many violent incidents in and around Altman as deputies hired by the mine owners made their camp above the town on Bull Hill.
Miners in Altman responded to the threat by barricading the entire town and announcing they had seceded from the country. They were said to have made a catapult that would hurl dynamite bombs at the deputies camp. Colorado state militia would be brought in to restore order. The strike ended after five months, with the miners scoring a major victory over the mine owners.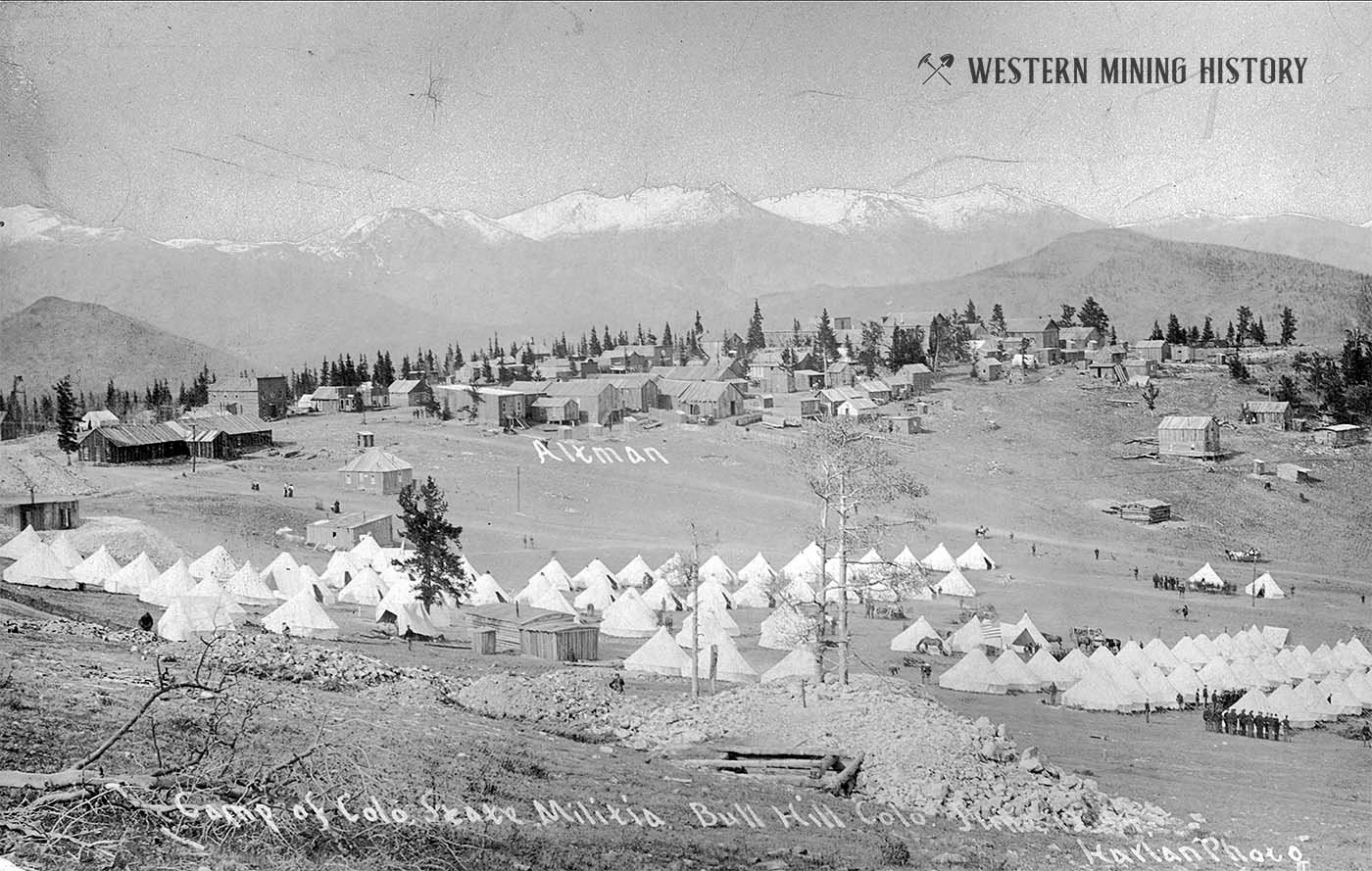 Camp of the Colorado State Militia - Altman Colorado 1894
At over 10,000 feet, Altman was one of the highest towns in the country. When not embroiled in labor conflicts, the town was said to be prosperous. The district was fabulously rich and miner's enjoyed four dollars a day for eight hours work. With at least nine saloons, the entrepreneurs of Altman were all too ready to cater to the miners in their time off.
Much of the town burned in a 1903 fire that was the result of arson. The perpetrators were said to have been attempting an insurance scam when they tampered with the city water supply and then started a fire in the Altman Hotel. Being on a windy hilltop, the blaze quickly got out of control and no water was available to fight it.
The fire burned the entire business district and most of the homes in the town. Losses were estimated to be $75,000 while insurance would only cover $10,000 of the losses. Five men were arrested for the crime.
Altman's post office was established in January, 1894 and discontinued May 20, 1911