La Plata History
La Plata, or La Plata City, had a brief period of prosperity in the 1880s, after which it seems the town held on for at least several decades but a complete history of the settlement is difficult to piece together. A historical sign at the town site has the following information:
La Plata City was originally established as a staging area for mining camps in the mid-1870s. Soon the community bustled with activity as placer mining and hard rock mining for gold began to pay off in La Plata Canyon. From 1878 to 1883, La Plata City pulsed with activity as the ramshackled settlement began to take shape in one of the only level areas in La Plata Canyon.
During the great boom of 1884, Bessie Rivers arrived in La Plata City with six young maidens in search of a location for a 'palace of pleasure'. A large log cabin was hastily constructed and business commenced immediately. As the story goes, the women were terrifed of bears and would not step outside the cabin. As a result, the men called the establishment 'Bessie's Convent' and later just 'the Convent'.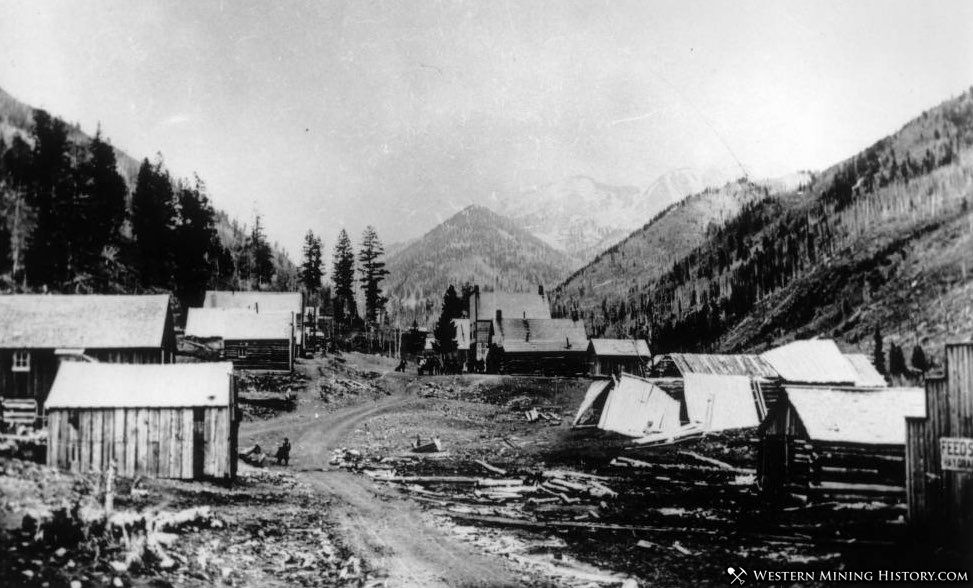 La Plata, Colorado ca. 1890s
Most of the family men lived in La Plata City, in boarding houses close to the mines. The bachelors often came into town for supplies or to attend dances on Saturday nights. Deep snow in winter required the miners to use snowshoes or homemade skis to travel to the mines or to town.
La Plata reportedly only had a post office from 1882 to 1885, during the years of its early boom. Interestingly, the town seems to have had multiple subsequent periods of increased activity, but the post office was never restored.
An 1894 newspaper article reports that "A great building boom is developing at La Plata City, the new gold camp near Durango. Contracts for eight buildings were let last week, and during the next thirty days a number of other buildings planned and for which material for construction is daily arriving, will be erected or begun." The fact that La Plata was referred to as "the new gold camp" must have meant that there wasn't much left of the town prior to this new period of activity.
A November 1, 1900 edition of the Durango Wage Earner describes a fire at La Plata that destroyed the Commercial Hotel, two saloons, and several other buildings.
A September 1911 article describes an active local mining scene with over 250 miners employed.
That all this activity was reported during the two decades following the 1880s boom, but it seems that the post office was never re-established, is a noteworthy and unusual circumstance for a mining town of this era.
Mentions of La Plata in historical newspapers stop by the mid-1920s, suggesting that the town finally became a ghost town four decades after it's initial period of prosperity.
A Tour of Colorado Mining Towns
Check out many more Colorado mining towns at A tour of Colorado Mining Towns.