Goldfield History
Goldfield was the site of a rare post 1900 major gold discovery in Nevada. The ore initially was very rich, spurring rapid growth of the town from 1904 to 1908. Goldfield became Nevada's largest city with over 20,000 people. Virgil Earp was made sheriff here in 1904 and Wyatt Earp also called Goldfield home.
Goldfield experienced one of the most dramatic rises and subsequent crashes of all the mining towns of the West. By the 1910s ore production was already in steep decline. The ore deposits were discovered to be very rich near the surface, but very shallow as well.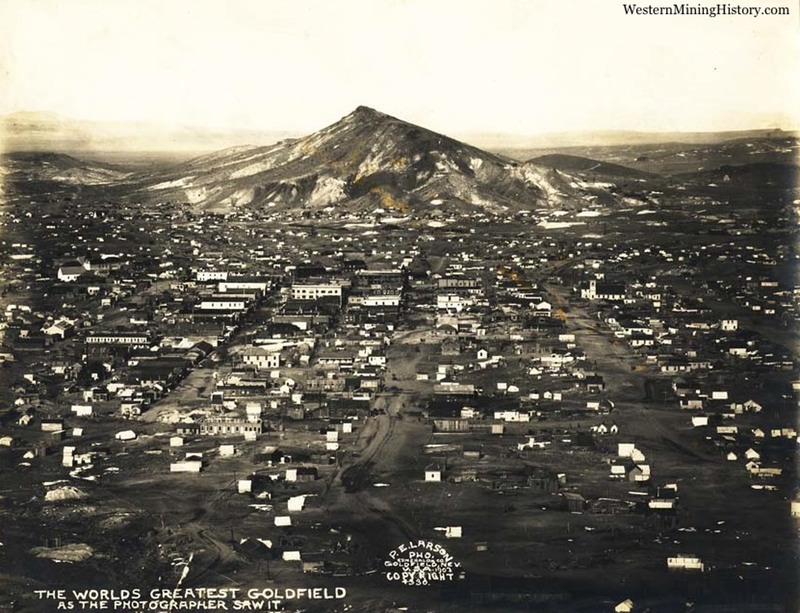 View of Goldfield, Nevada in 1907
By 1910, the population of Goldfield dropped below 5,000. In 1923, a catastrophic fire burned most of the town to the ground. Goldfield was never again a city of any significance.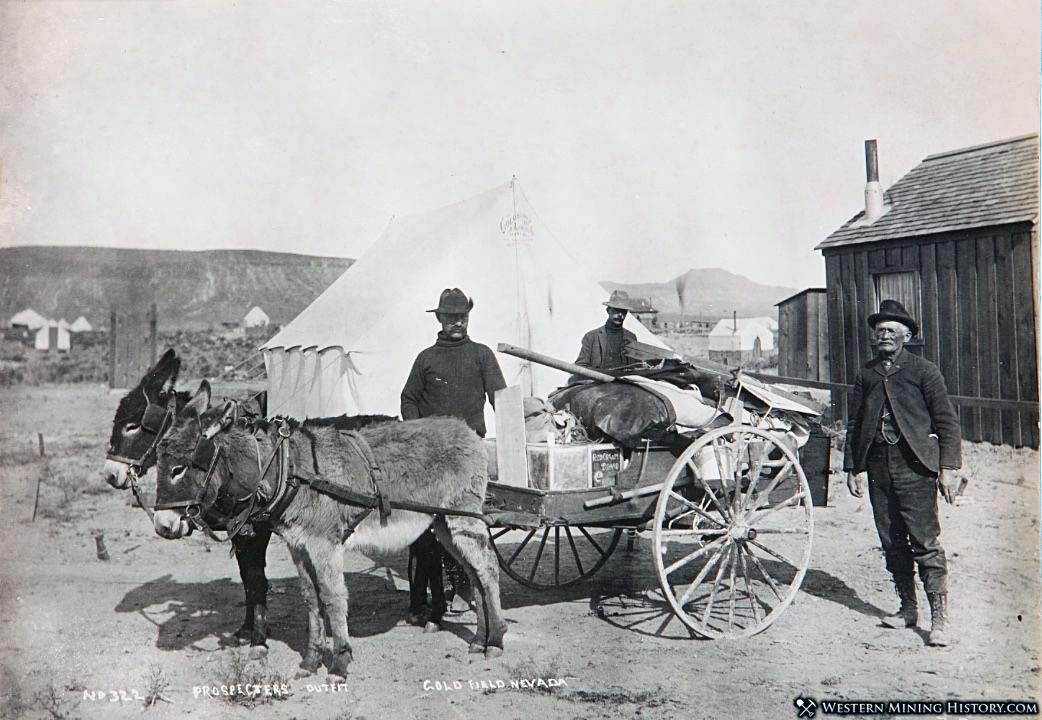 Prospectors Outfit - Goldfield Nevada
Initial Discoveries
In 1902 a Native American prospector by the name of Tom Fisherman brought gold samples to Tonopah. Two young propsectors got word of Fisherman's find and decided to investigate the source of the samples at Rabbit Springs. These young men, Billy Marsh and Henry Stimler, would make the discovery that would result in the greatest mining rush in Nevada since the Comstock four decades earlier.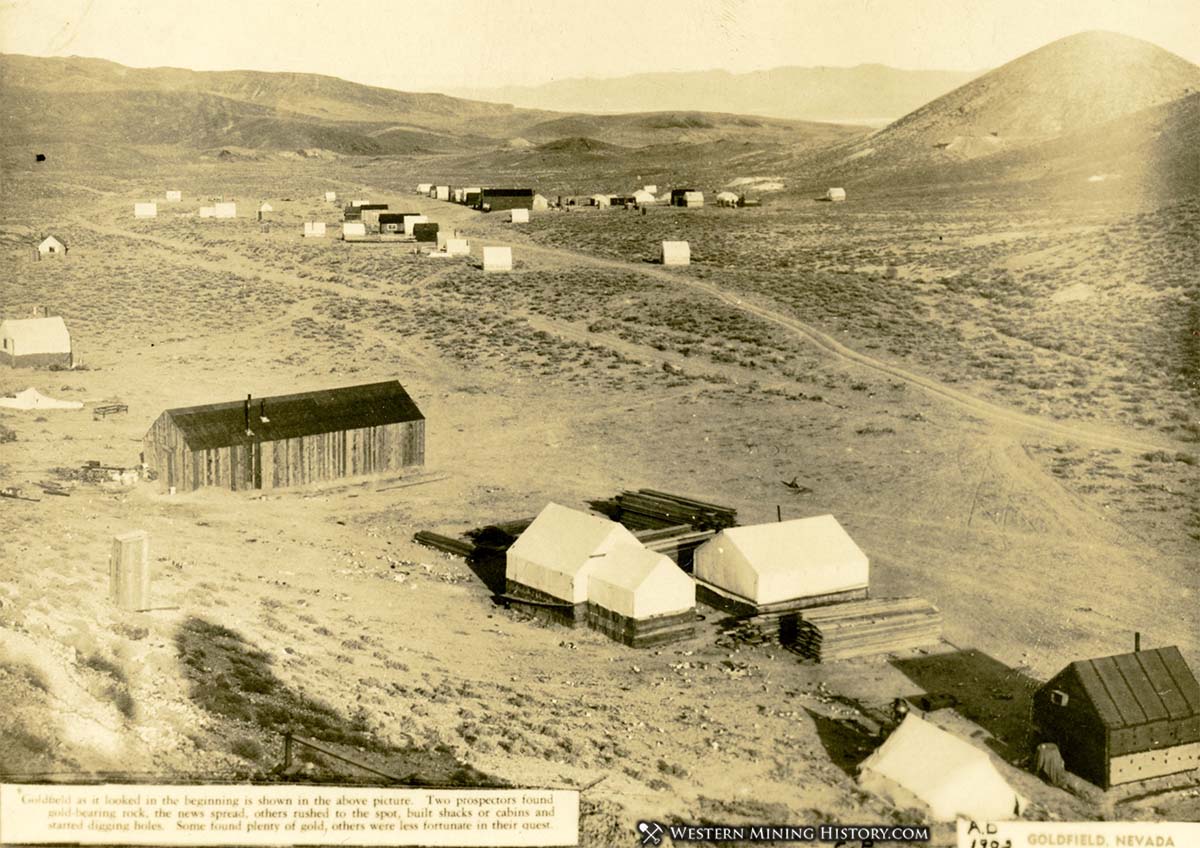 The early settlement of Goldfield, Nevada in 1903
Marsh and Stimler traveled to the area in a fierce windstorm thick with dust. They discovered gold on Columbia Mountain, naming their claim the Sandstorm after the harsh conditions they were forced to prospect in.
Initial Assays of the Sandstorm ore came back with values up to $97 dollars per ton. Once word of this got around, a minor rush to the area started in spring of 1903. In May of that year the district was named Goldfield.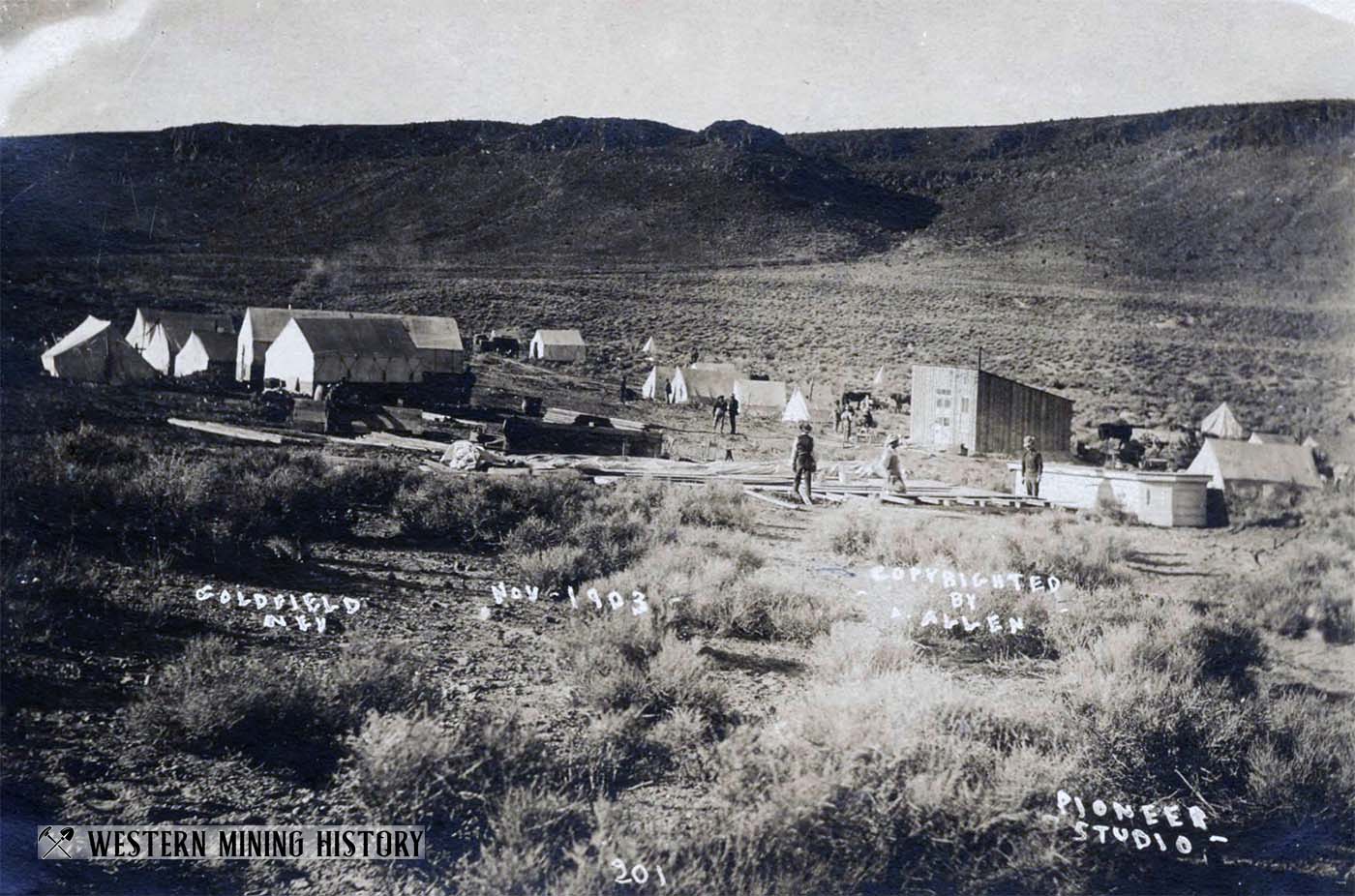 The early settlement of Goldfield, Nevada in 1903
Development of the district in 1903 was somewhat slow, primarily with capitalists attempting to open the mines on leased claims. These initial efforts had mixed success, and the camp did not see a major boom until the following year.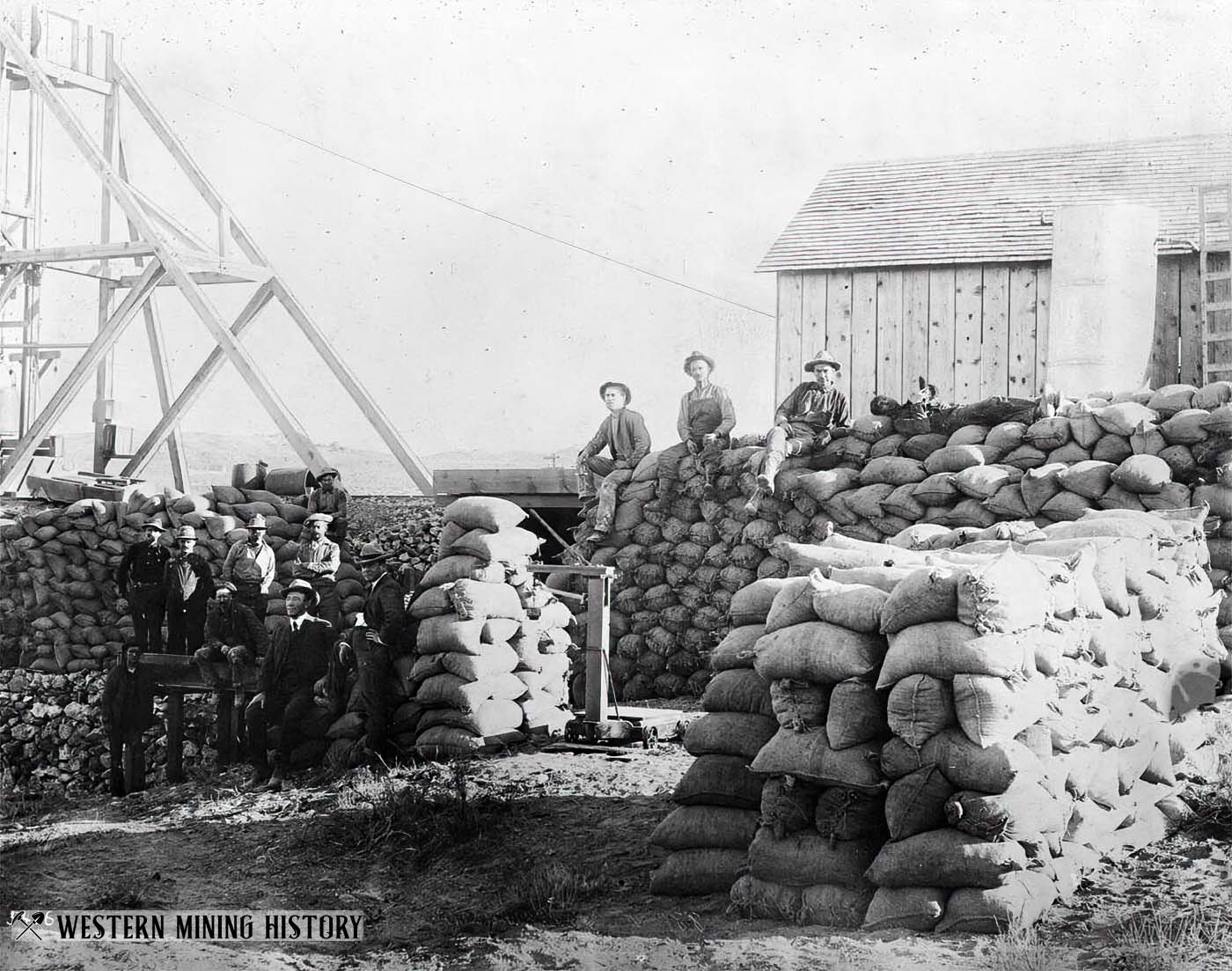 Miners and ore sacks at the Red Top mine
1904 was the year that defined Goldfield as a boom town. The mines were starting to produce rich returns and thousands of men arrived in the camp to work at the mines or try their own luck at prospecting. By August the mines were producing over $10,000 in gold ore every day.
Goldfield Becomes a City
By 1905 the hastily built town of Goldfield was transforming into a proper city with buildings constructed of brick and stone. Miners homes were generally built of wood, and construction occurred 24 hours a day to keep up with the demand. The arrival of the Tonopah and Goldfield Railroad in September further increased the camp's fortunes.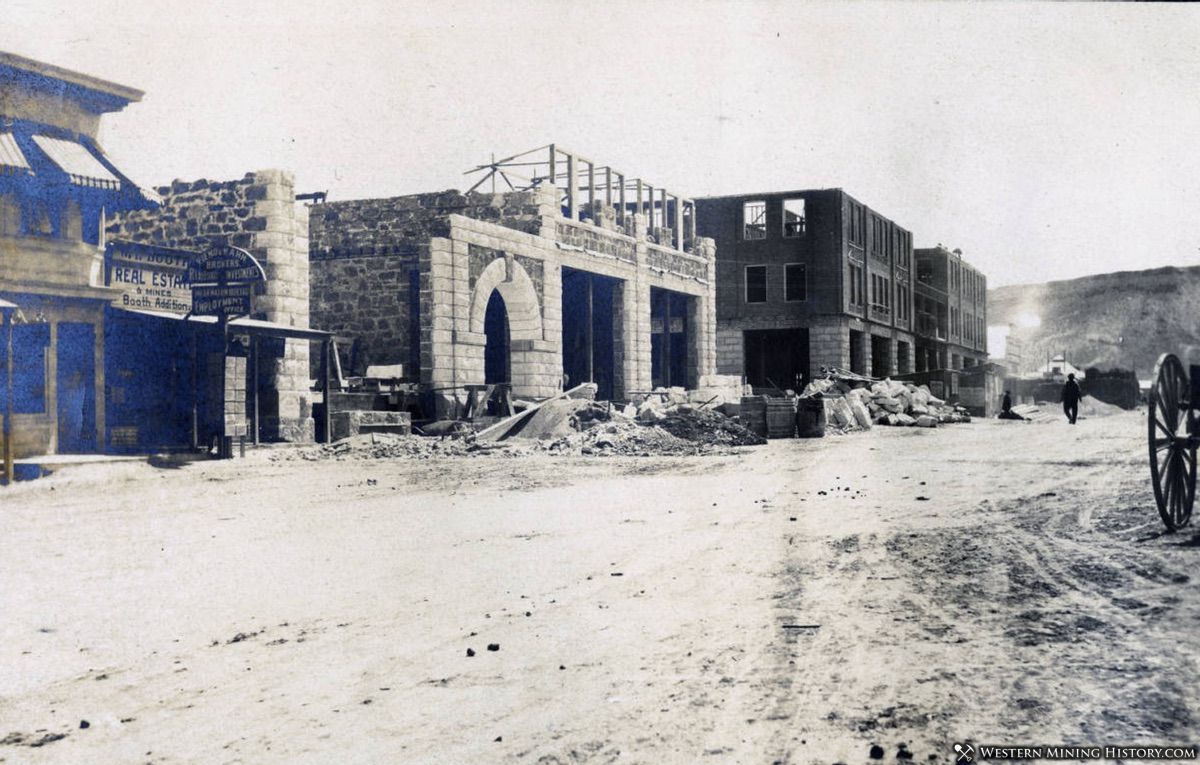 Construction of Goldfield News building and Goldfield Hotel ca. 1907
New discoveries in 1906 intensified the excitement at Goldfield. No expense was spared constructing impressive commercial buildings that rivaled any in the state in size and amenities. A 1906 newspaper article stated that Goldfield had "250 incorporated mining companies, and instead of the barren desert of four years ago, is a hustling, bustling up-to-date city of 8,000 inhabitants."
Early in 1907 the county seat was moved from Hawthorne to Goldfield.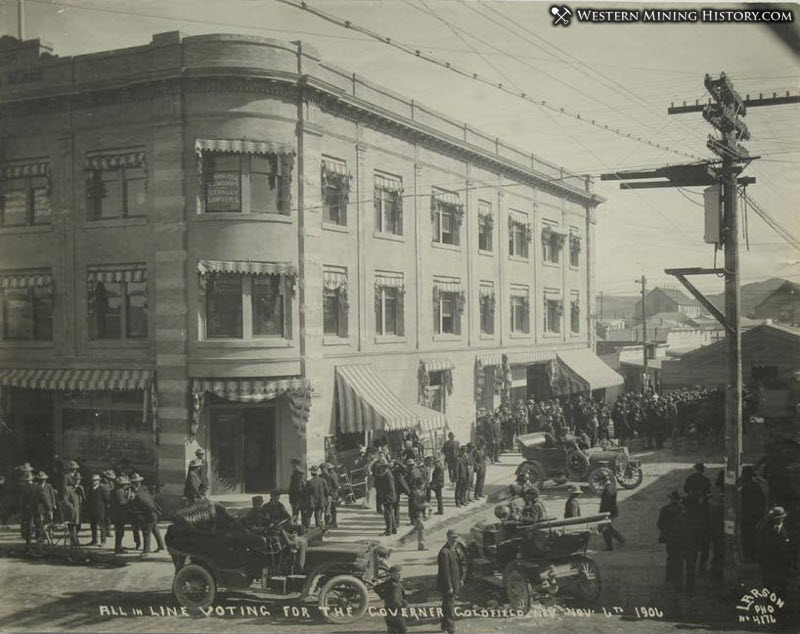 Men standing in line to vote for governor - Goldfield Nevada November 6 1906
The years of 1907 and 1908 were Goldfield's peak years. This modern city of over 20,000 people had three railroads, five banks, five newspapers, two mining stock exchanges, four schools, and dozens of saloons.
A 1907 report from the United States Geological Service described the boom town: "Since January, 1905, the town, together with its sister, Columbia, has "boomed" and quieted, and been "born again" to a steady, healthy growth. The demands of business are such as to warrant the erection of substantial buildings of wood and stone; there is at least one church, an ice plant, a swimming pool, a brewery, a club; pipelines bring water from distant springs, and there are the numerous sources of amusement common to all new mining camps; every bar and hotel has its roulette wheel and corps of players, "cappers," etc.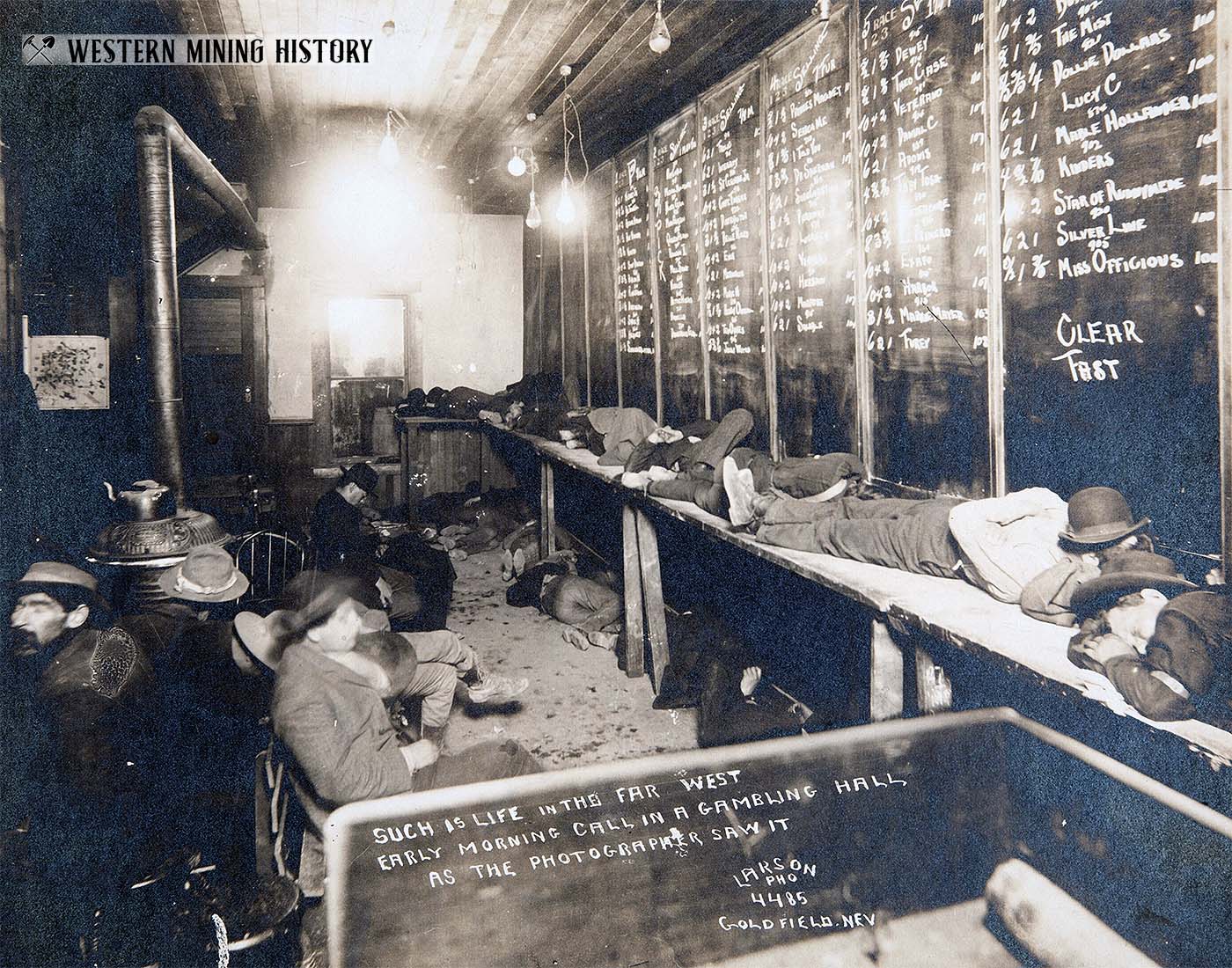 Early morning call in a gambling hall - Goldfield, Nevada
"Here one may eat most of the dainties of the season—fruits from California, vegetables from Utah, fresh meat from Chicago; he may drink almost any brand of wine or any mixture of liquors to be found anywhere, while selections from the latest operas are rendered on violins and piano. One meets men from every part of the globe—prospectors from Alaska, mining engineers from London and Africa, businessmen from every large city, and the burros, "angels" of the desert, are universally present."
The USGS report also included another interesting detail: "On a windy day in July 1905, a fire was started which destroyed several blocks of tents and buildings. It is a matter of interest that at least one building was saved by using beer to prevent its igniting; the bottles were thrown against the building as modern grenades are used."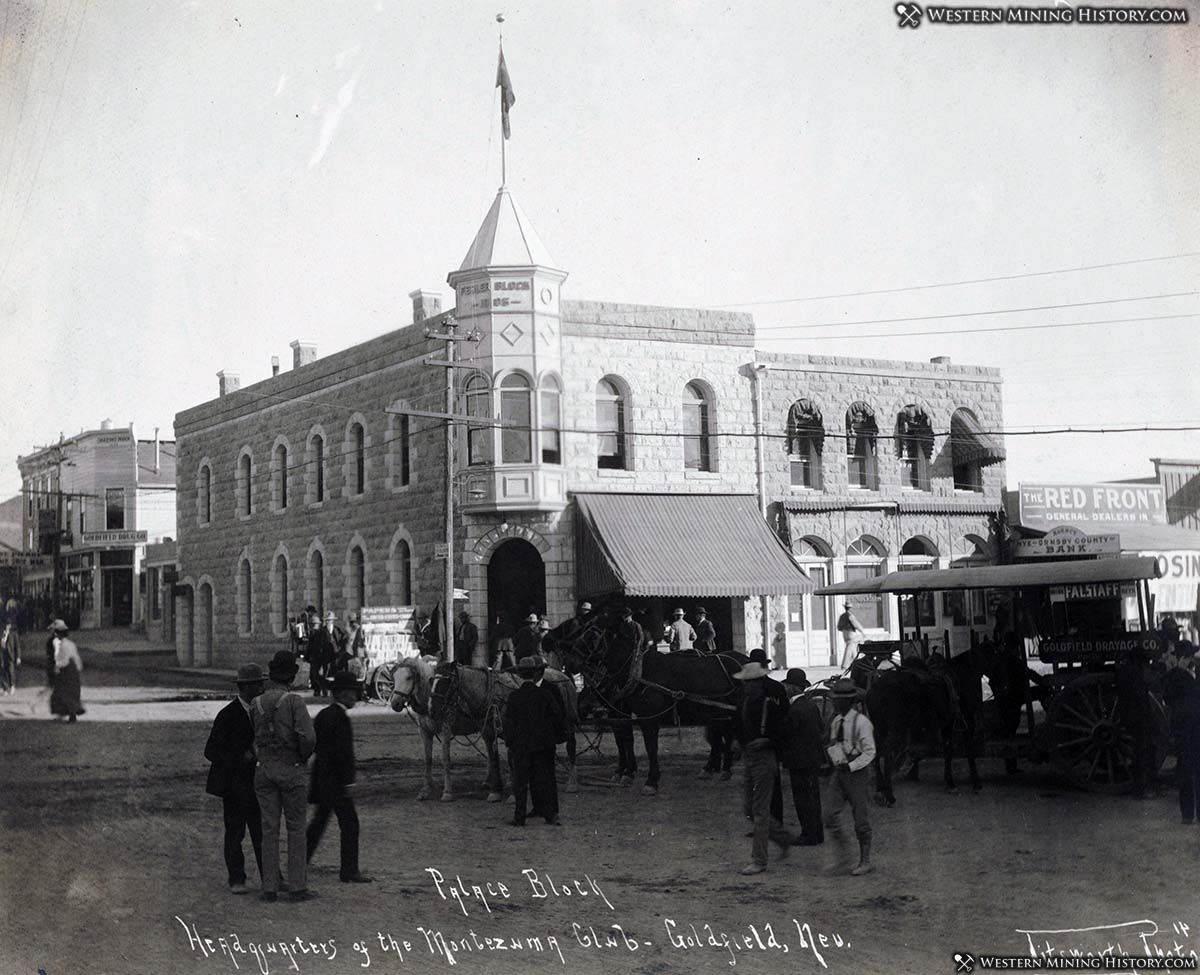 Palace Block - Goldfield, Nevada 1905
Starting in 1906, fierce labor disputes hit Goldfield as a result of the Industrial Workers of the World and the Western Federation of Miners efforts to control labor in the district. These events culminated with federal troops being brought in to restore order in December of 1907.
In 1908 many of the district's mines that had been operated on a leasing system were consolidated by the Goldfield Consolidated Mining Company, which built a hundred-stamp mill northeast of town. This consolidation started the era of large-scale industrial mining in the district, which boosted ore production but also reduced the need for labor.
Goldfield, Nevada 1907
With most the mines now consolidated, and no new discoveries were being made, Goldfield's boom years were over. By 1910 Goldfield has settled into the role of important mining center, but the city was already in decline from the peak just a few years earlier.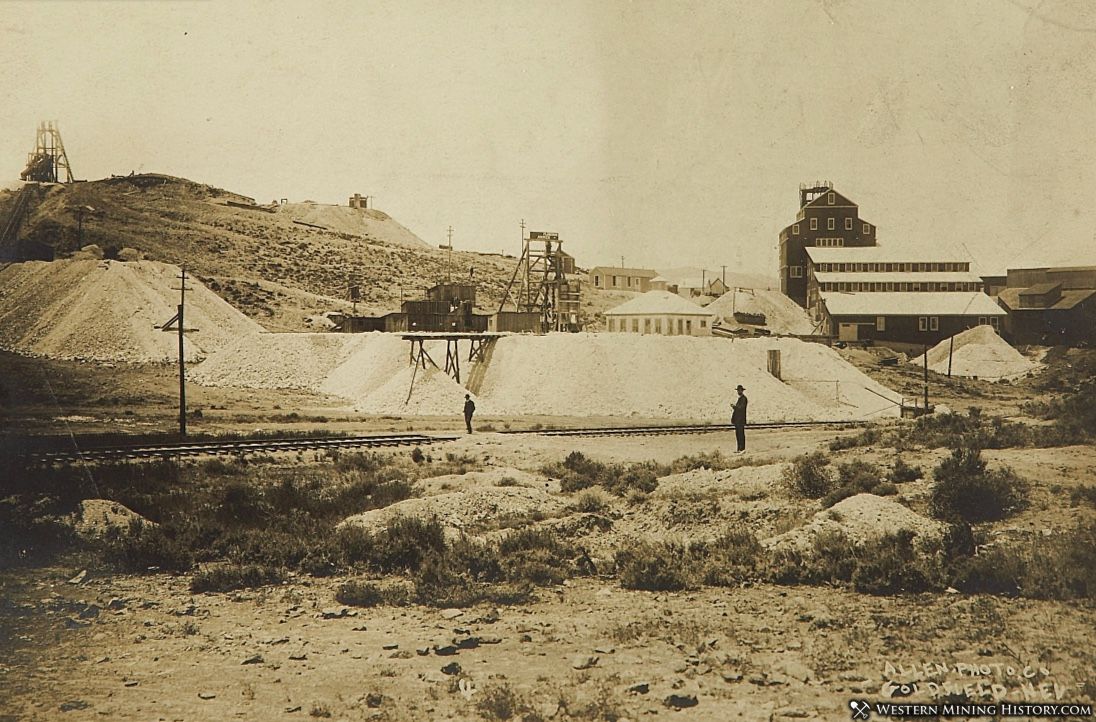 Combination Mine - Goldfield, Nevada
The Fall of Goldfield
Goldfield is one of the most dramatic tales of boom and bust in the West. While the city did not decline as fast and as spectacularly as nearby Rhyolite, ultimately its demise was larger in scale more impactful on the region.
Consolidation of the mining industry in 1910 kept ore production up, but required less labor. No new discoveries were being made and smaller mines had played out. Despite the mines producing record amounts of ore, the city of Goldfield had declined to around 5,000 residents.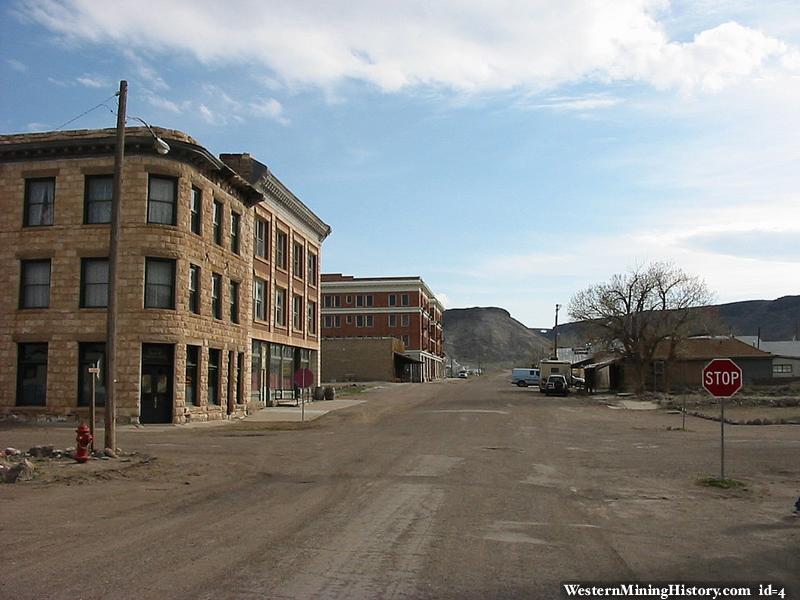 Goldfield, Nevada

A major flood in 1913 damaged many of the buildings in town. By 1918 Goldfield Consolidated ceased operations, and Goldfield's mining industry was all but dead. In 1923 a fire swept the city, destroying 53 square blocks. Most of Goldfield's notable commercial buildings were destroyed.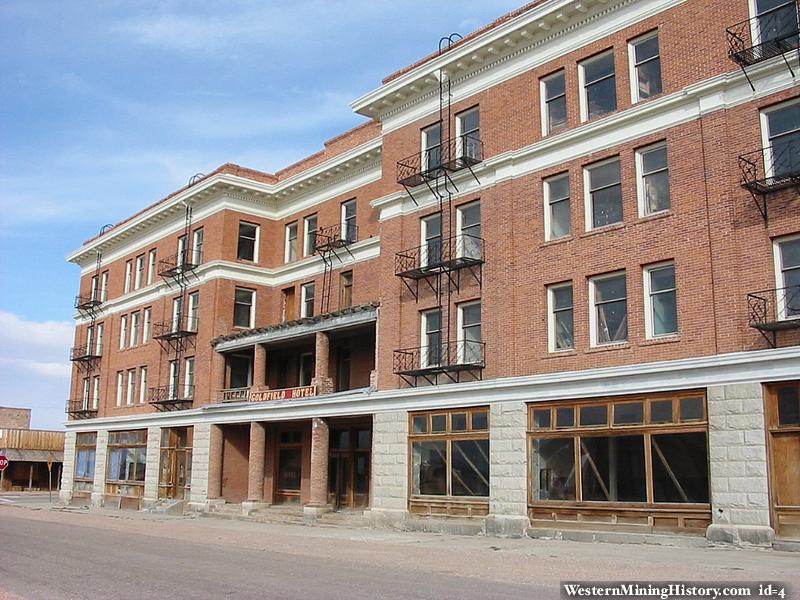 Goldfield Hotel
In the years following the devastating fire, the mining industry at Goldfield had various periods activity that kept the town from dying out completely. However, the days of being Nevada's largest city, and one of the West's richest mining towns, were over.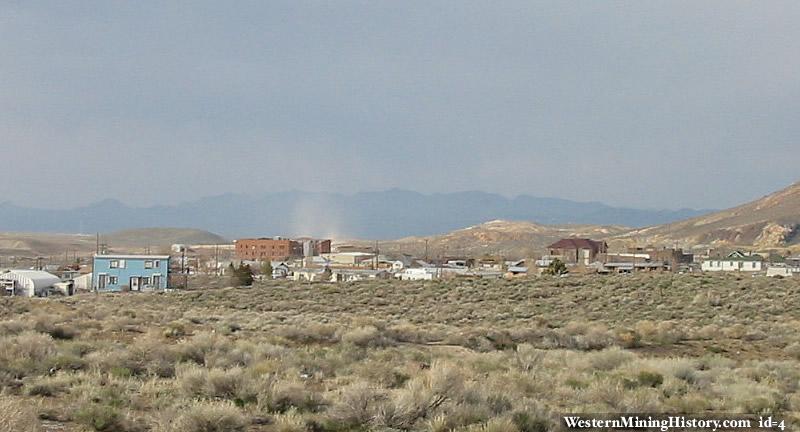 Goldfield, Nevada
Today Goldfield still has a few hundred residents and some commercial buildings remain. The enormous brick building that was the Goldfield Hotel still stands, although it is not open for business. The hotel was built starting in 1907 at the enormous sum of around $400,000. The hotel is one of the largest and most notable "ghost buildings" in the West.
Headframes, mill foundations, and mine dumps still surround this historic mining town. Goldfield is a must-see destination for any history enthusiast.
Nevada Mining Photos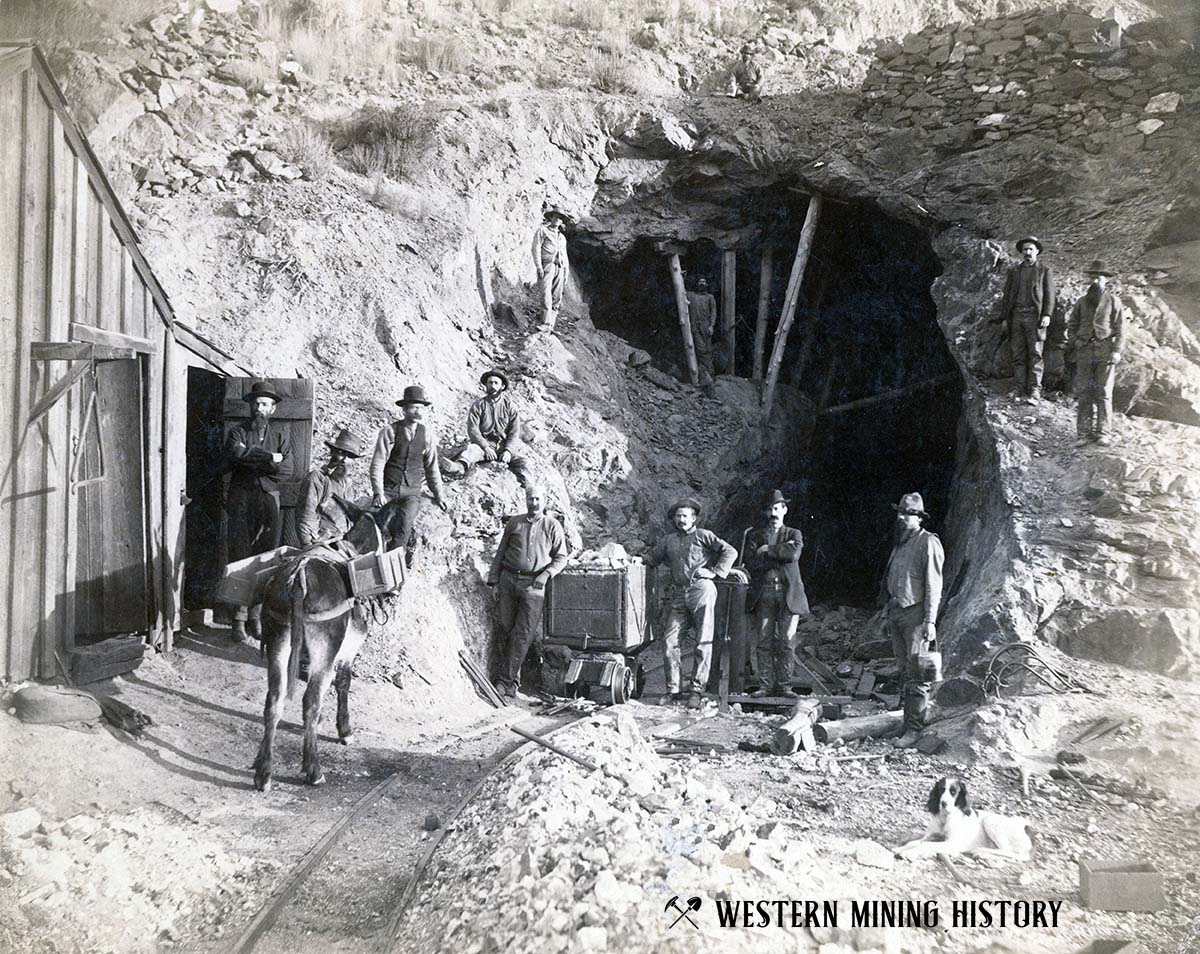 Check out this collection of some of Nevada's best historic mining scenes at A Collection of Nevada Mining Photos.