The first decade of the 1900s was an exciting time for the state of Nevada. Most mining rushes were over in the West, but Nevada had numerous new discoveries during this time. Mining booms occurred that resembled the great excitements of the 1860s and 1870s, and mining camps quickly developed into fantastic cities.
The greatest of these rushes were at Goldfield, Tonopah, Rawhide, and Rhyolite. The following are some before and after photos that illustrate the dramatic rise and fall of these great camps.
Goldfield, Nevada ca. 1907
Goldfield, Nevada was founded in 1902 after rich gold discoveries. The town grew from a tent camp to Nevada's largest city in just a few years. The following photo illustrates the explosive growth that Goldfield experienced by 1907.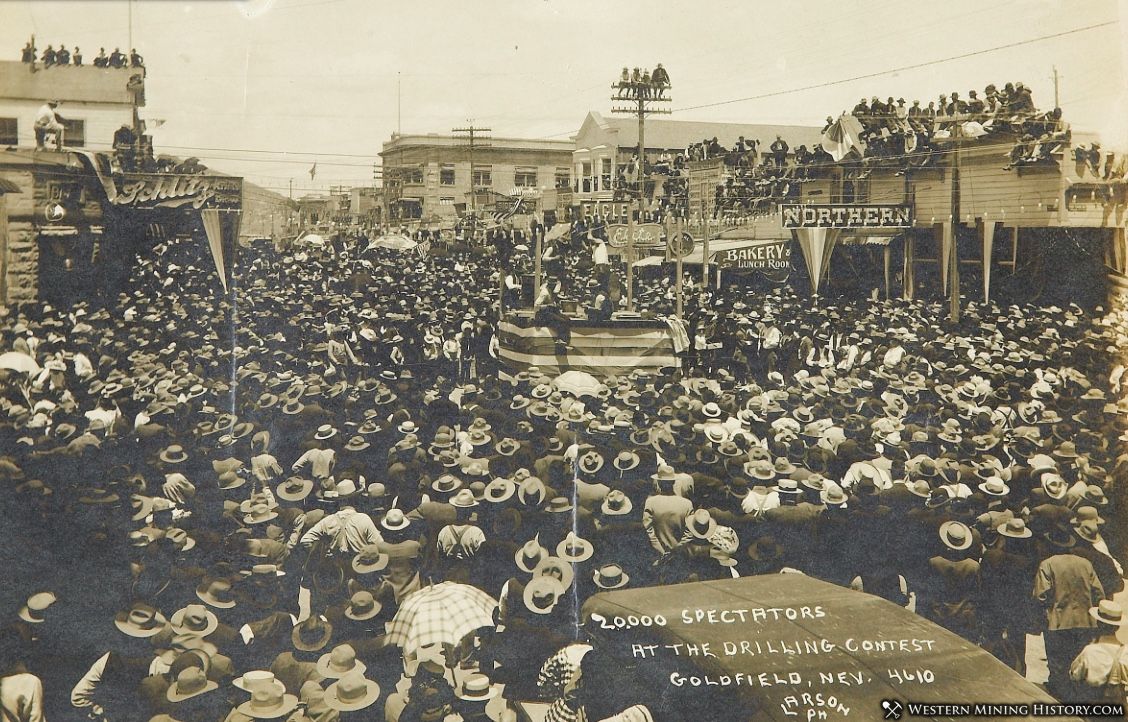 The next photo shows what Goldfield looked like just four years earlier in 1903. What was built in just a few years is almost impossible to believe.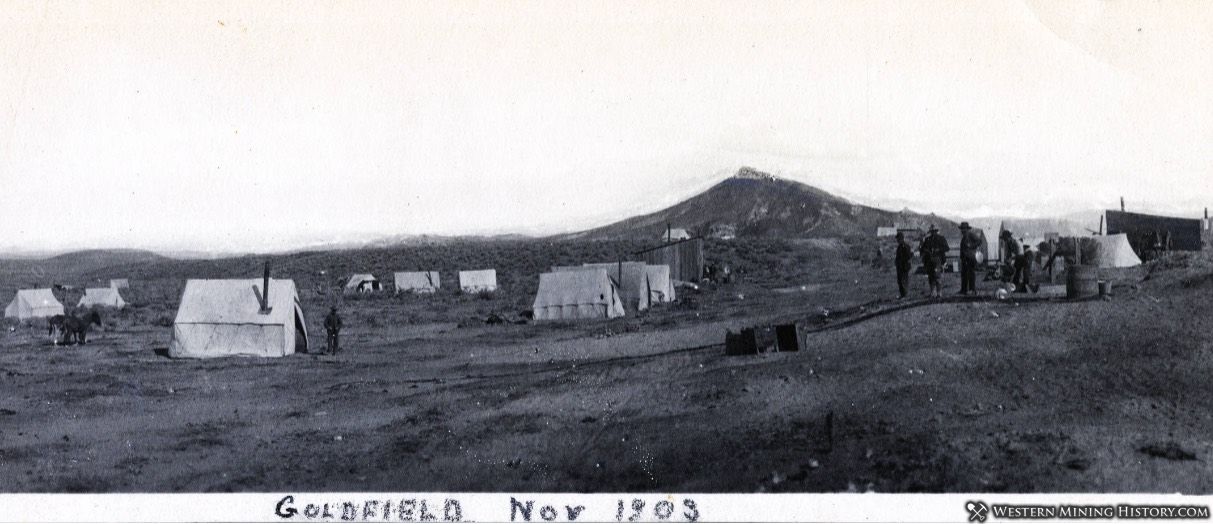 Tonopah, Nevada 1903
Tonopah, Nevada was the site of a major silver discovery in 1900. The town became Nevada's largest silver producer in the first decade of the 1900s. Thousands of people poured into the area in the first few years, making Tonopah Nevada's first boom town of the new century.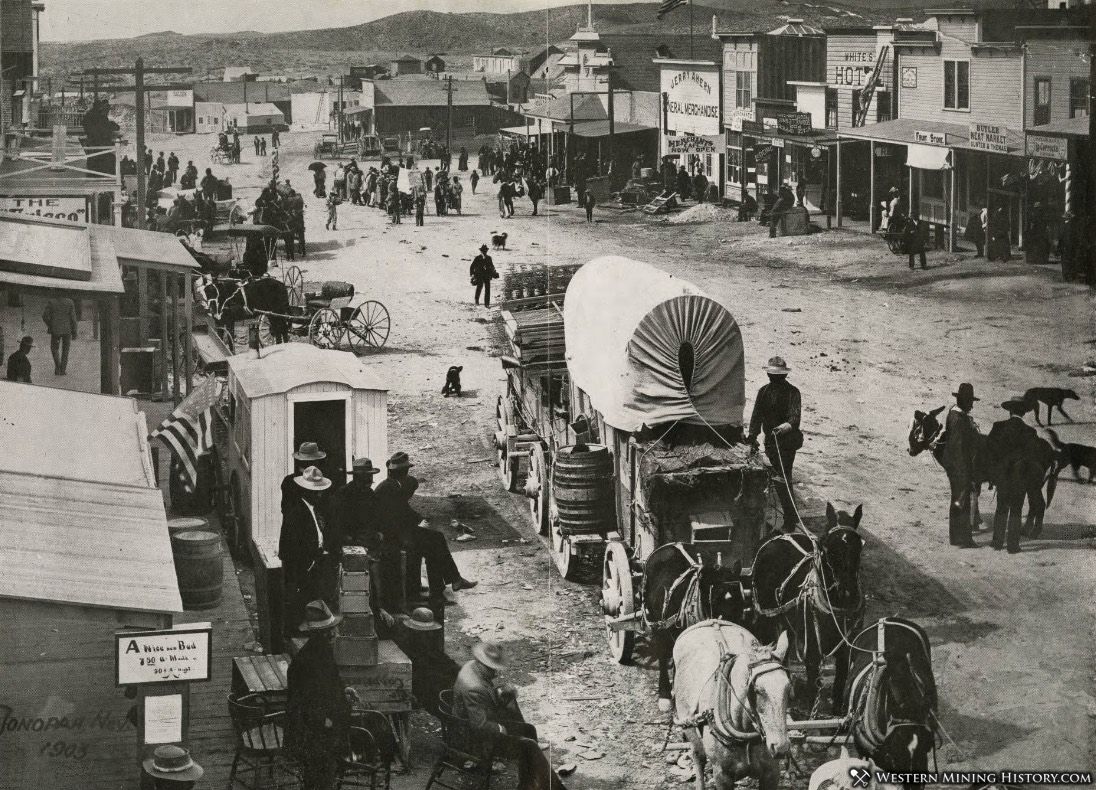 Just a couple years earlier, Tonopah was a modest tent camp as shown in the following photo.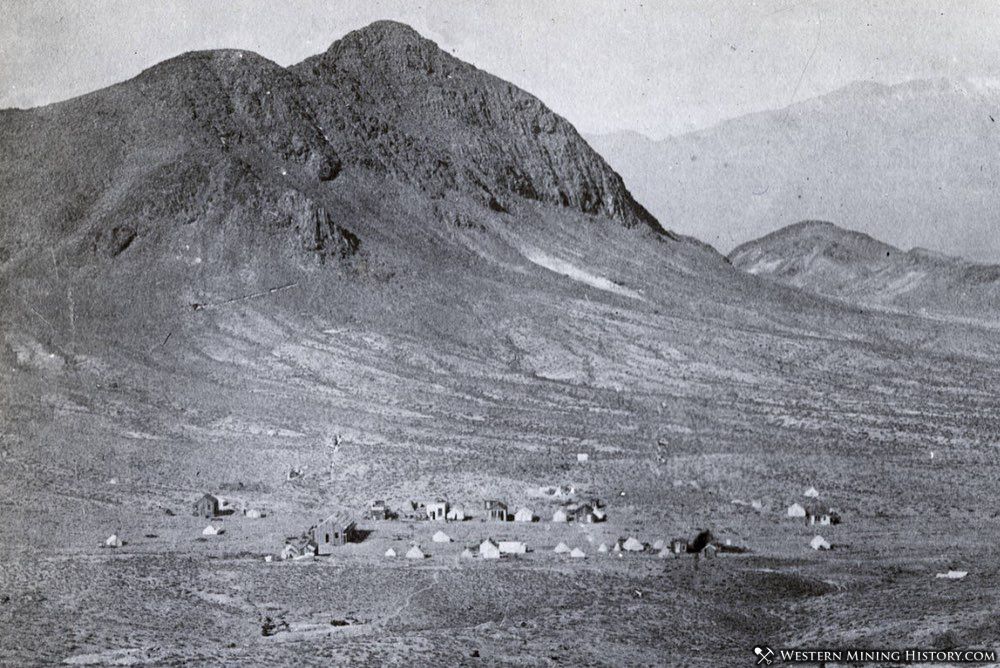 Rawhide, Nevada 1908
Discovery of gold in 1907 resulted in a mad rush to the new town of Rawhide, Nevada. The following photo was sent to us by William Redak who included the following text with the image:
"The inscription on the upper left was put there by my great uncle Arthur Sweet. Uncle Arch was a mining engineer who spent most of his life in mining towns in Nevada and Colorado, with a little time in Arizona and Mexico for good measure"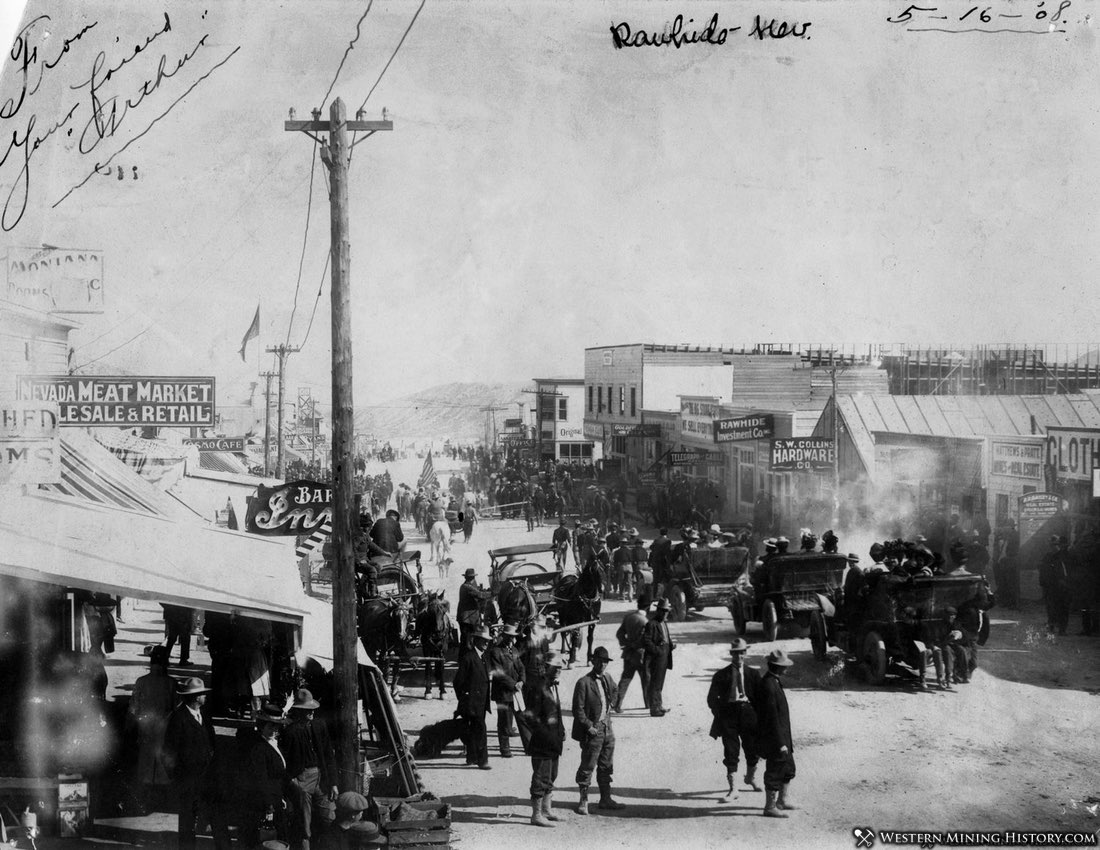 Not long after the photo above was taken, a fire devastated Rawhide.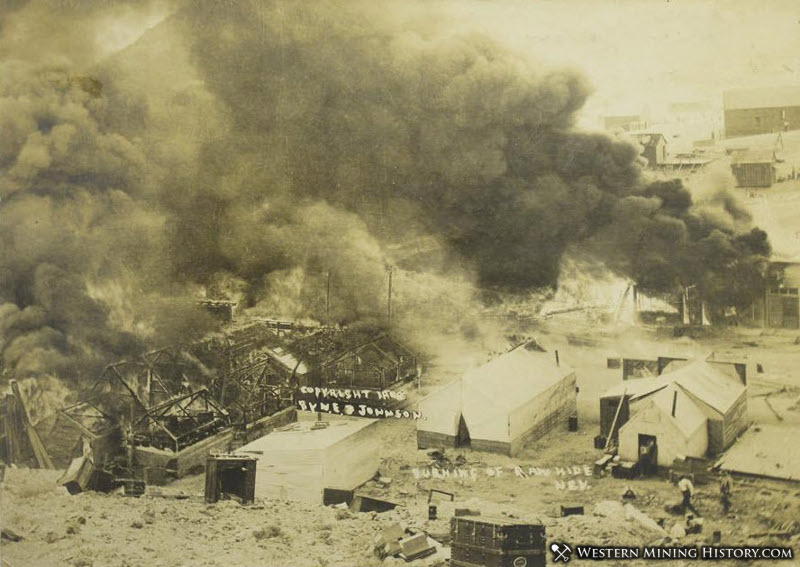 As with most mining boom towns, fire was merely a temporary setback and Rawhide was quickly rebuilt.
Rhyolite, Nevada 1908
Rhyolite, Nevada was the location of a gold rush starting in 1905. By 1908, when the following photo was taken, Rhyolite had become a city of several thousand people.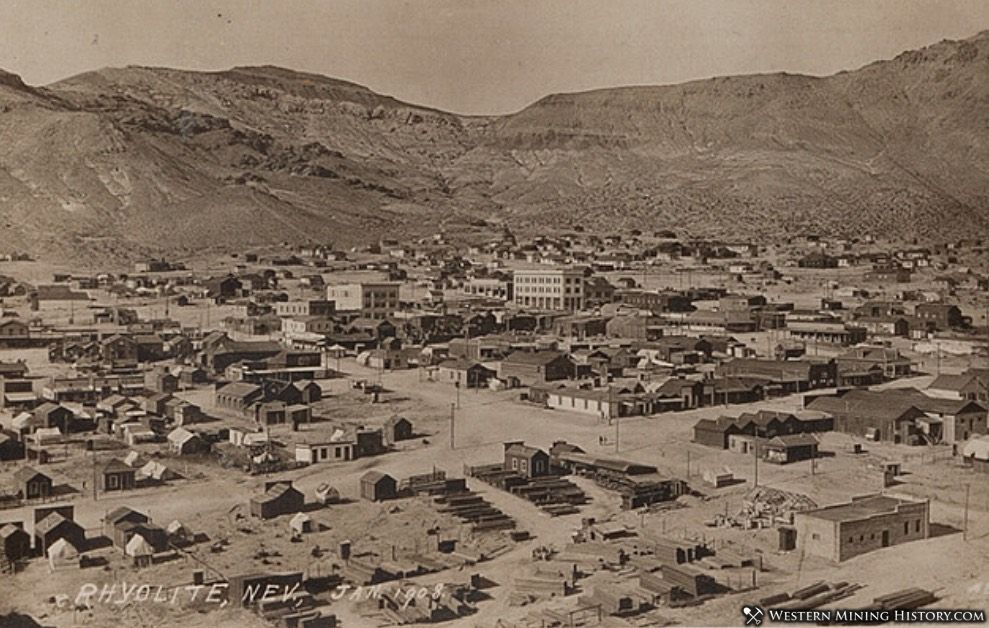 Prosperity was short-lived for Rhyolite and by 1920 it was a ghost town. This 1923 photo shows the ruin of the Cook Bank building, Rhyolite's most prominent structure (seen in the center of the photo above).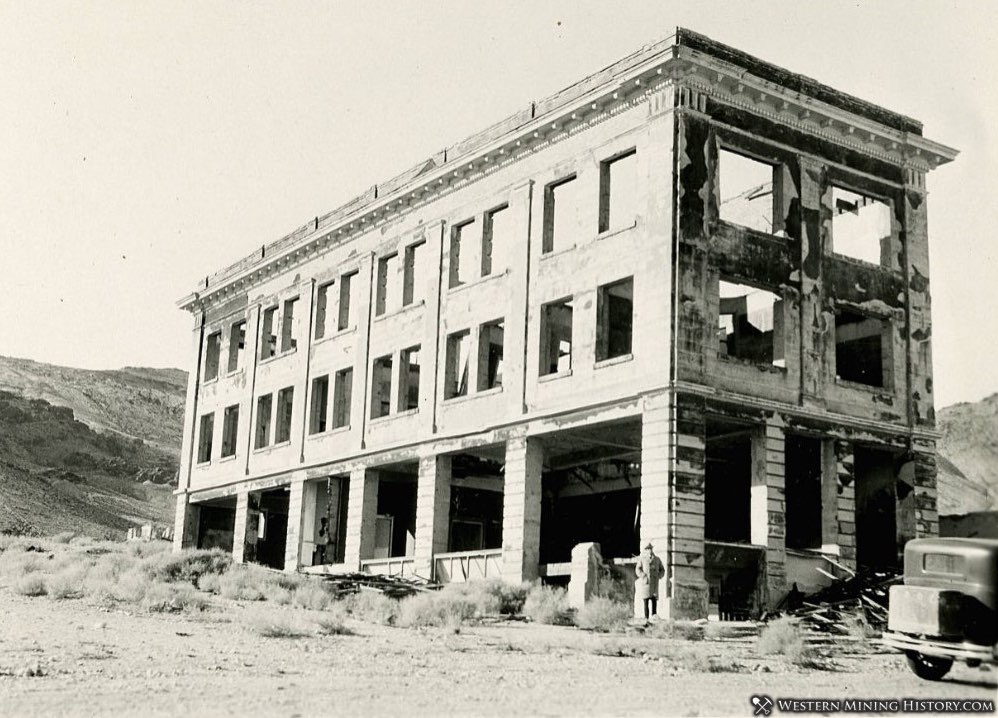 The Cook Bank building is one of the West's most photographed ghost town structures. The following photo is a rare view of what the bank interior looked like during the boom years.
Today a few empty buildings and many ruins are all that is left of Rhyolite. The ghost town is a popular tourist destination.