Tonopah History
Jim Butler discovered silver at Tonopah on May 19, 1900. Butler was traveling from his ranch near Belmont to visit friends at Klondike when he made camp at a spring known by local Indians as Tonopah. The story goes that during the night his mules got loose, and when he found them the next morning they were standing next to an outcropping of rock that was rich in silver ore.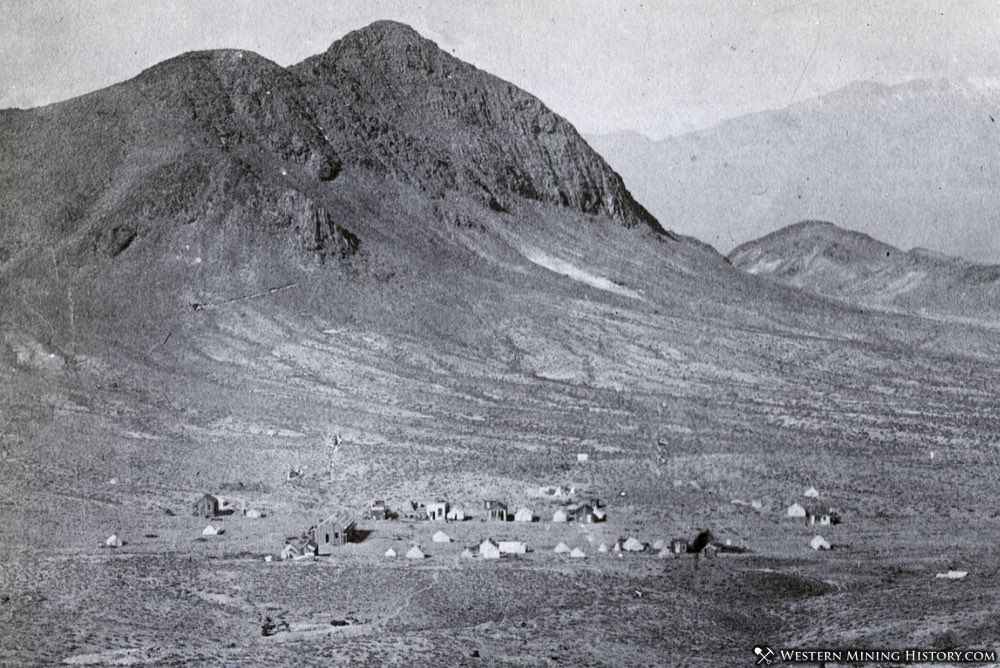 View of Tonopah, Nevada in 1901
There are so many tales of pack animals wandering off and being found at rich mineral discoveries that it would seem that the West was not opened by intrepid prospectors, but instead by their invaluable mules and burros who had a nose for gold and silver.
Assay results for the samples Butler brought back from his strike showed values from $50 to $600 per ton, primarily in silver but with significant gold, indicating a fabulously rich deposit.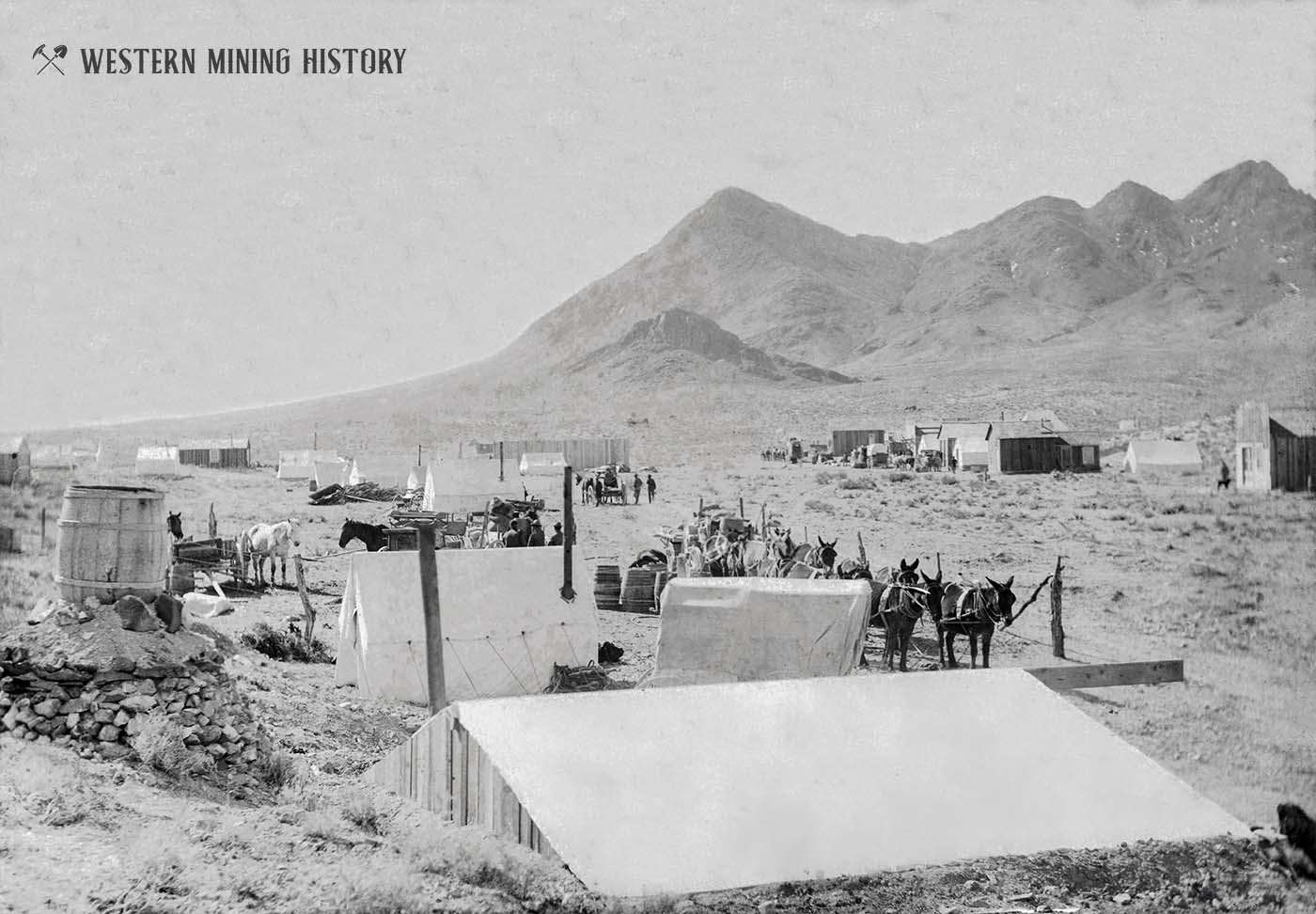 Camp Butler (Tonopah) January 1901
He almost lost his claim however as he was not at his ranch when the results were delivered, and in the meantime other miners heard about his discovery and set out to make their own claims before Butler had the chance. Fortunately the miners did not locate his strike and Butler was able to return and stake his claims.
One of those claims was called the Mizpah, and it became one of the West's richest silver mines that operated for over four decades.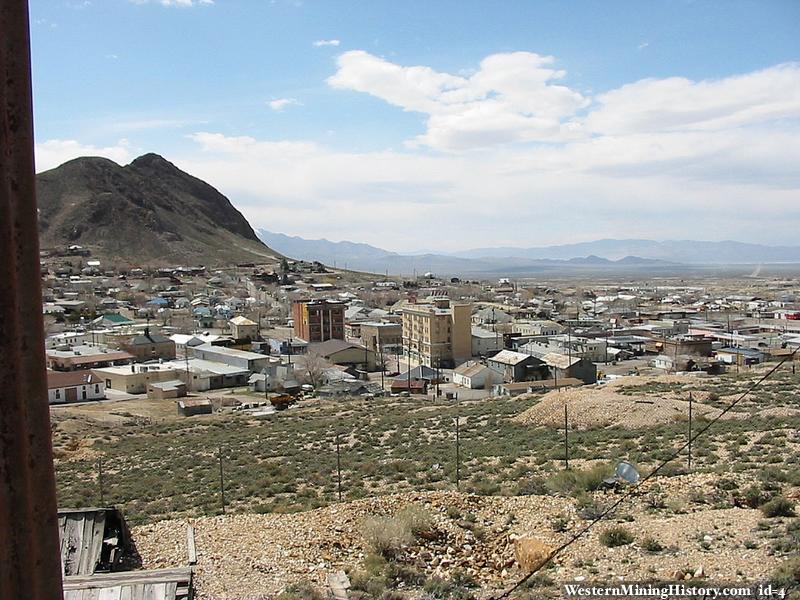 Modern view of Tonopah
Butler started leasing out his claims in early 1901, taking 25% of all ore mined. In July of that year he sold his claims to a Philadelphia Syndicate for $360,000, an incredible windfall for a man that could barely afford the cost of an assay just a year earlier.
A camp was formed at the mines and was initially called Butler. Postal records indicate that Butler established a post office in 1901 and in 1905 it was renamed Tonopah. Newspapers from the time indicated that despite the post office having the name "Butler", the town was still widely referred to as Tonopah as early as 1901.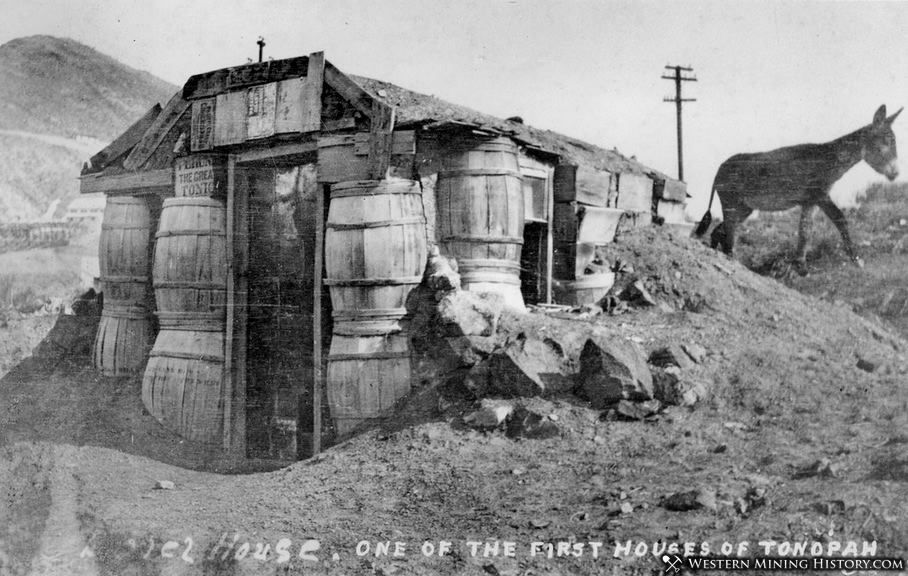 Tonopah Barrel House
Related: Miners Cabins: Bottles, Barrels, and Dugouts
A November, 1901 newspaper reported on the excitement at Tonopah: "The present large influx of people into Tonopah is only equaled by the influx of wealth in the shape of fat smelter returns for ore shipped from the camp."
By the fall of 1902, Tonopah was a mixture of tents and wood buildings that housed a population of over 3,000 people. The burgeoning city had 32 saloons, two newspapers, two dancehalls, two churches, and two daily stages.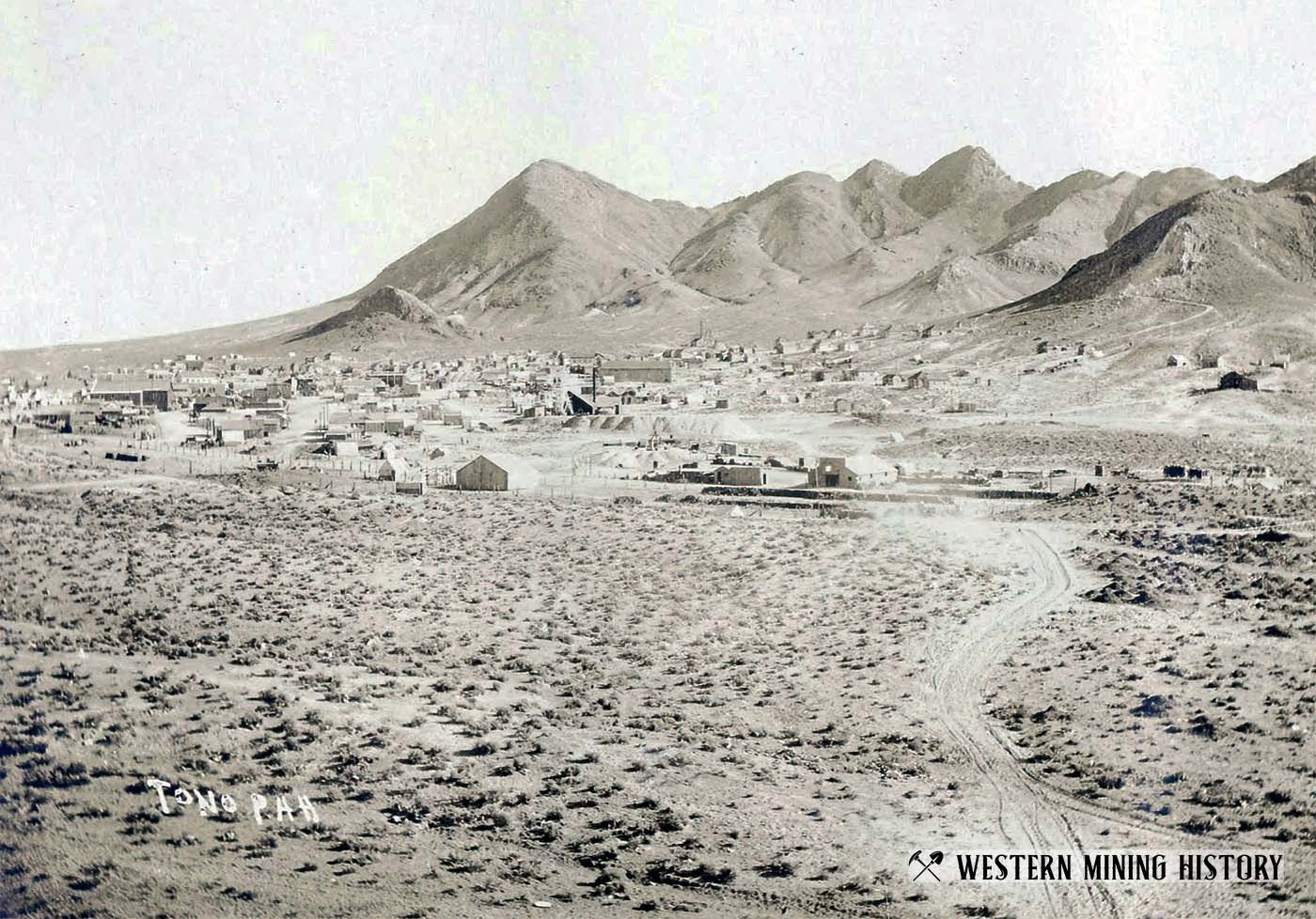 Tonopah, Nevada ca. 1902
By 1902 the mines of Tonopah were already rich and attracting international attention, but additional ore discoveries in the winter of 1902-03 further boosted the camp's fortunes. In april of 1903 Tonopah mining stocks were listed on the San Francisco stock exchange.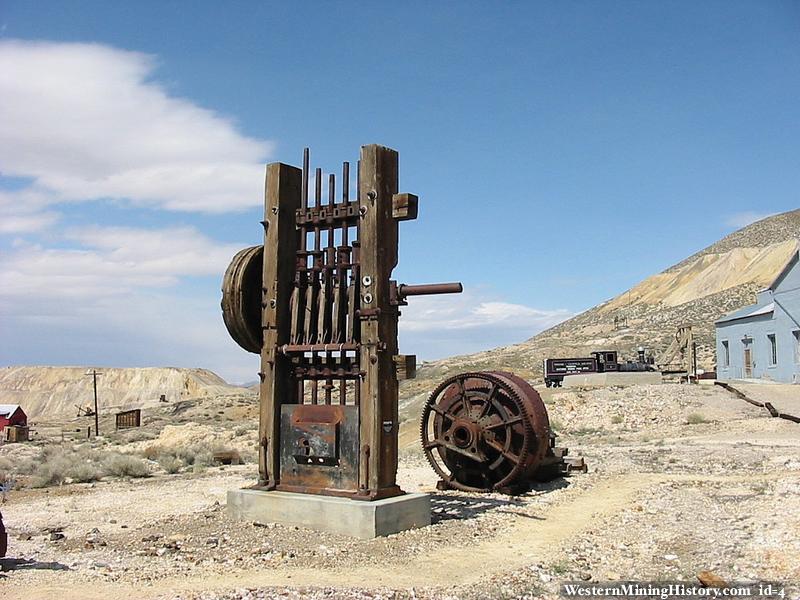 Tonopah Historic Mining Park
A narrow gauge railroad was completed to the town in July of 1905. Just a few months later the line was upgraded to standard gauge and renamed the Tonopah & Goldfield Railroad when the line was extended to Goldfield the fall of 1905.
By 1907 Tonopah had grown into one of the West's premier mining cities with five banks, numerous hotels, an opera house, electric and water companies, and several newspapers. The business district was rapidly developing with substantial buildings of brick and stone, some as tall as four and five stories.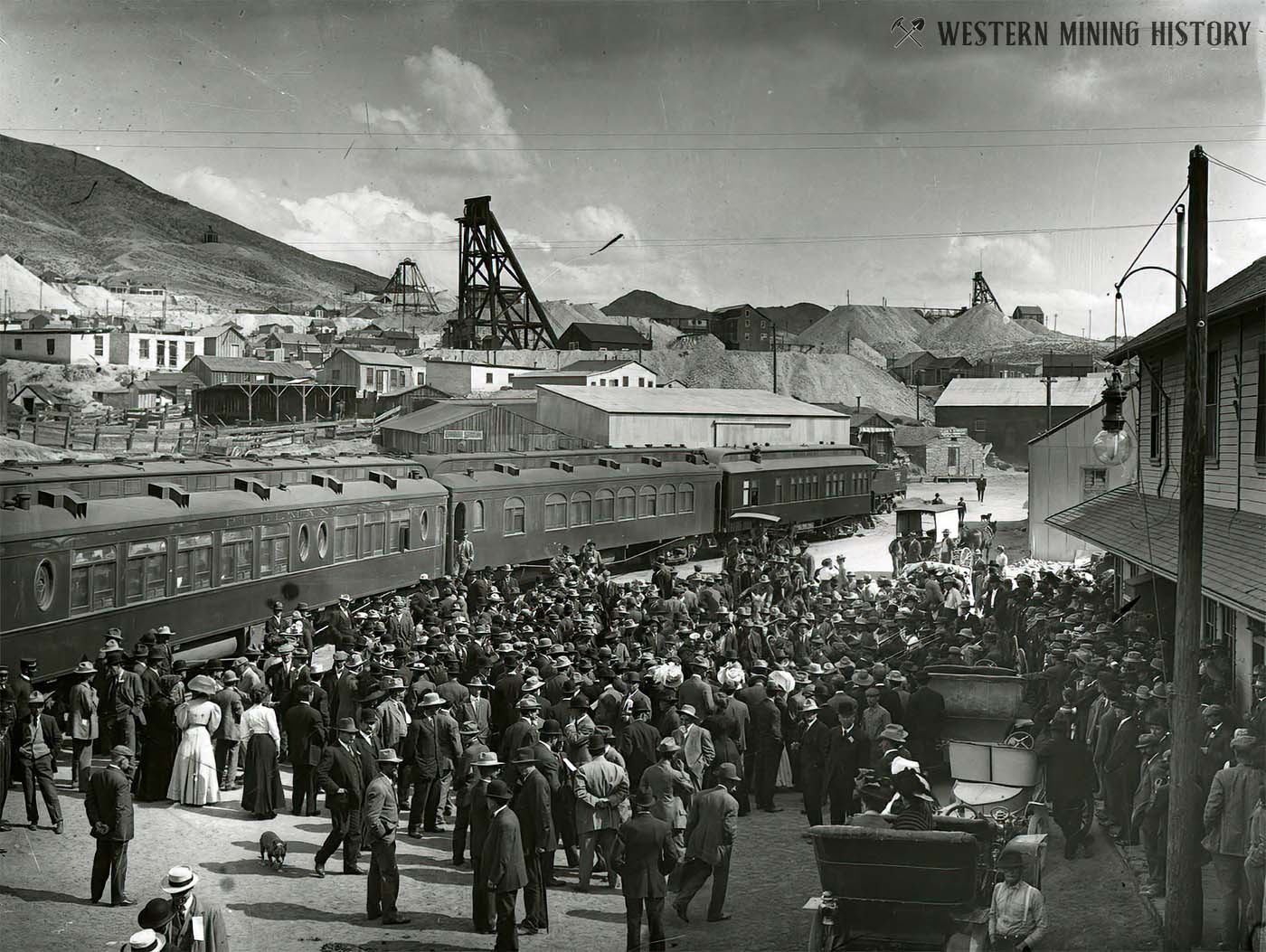 Tonopah rail depot in 1907
Tonopah became a major outpost in what had been remote Nevada desert, and the town became a supply and staging point for prospectors that were scouring the region. These prospectors discovered many new districts, including Goldfield. Bullfrog, Rawhide and others.
Tonopah peaked during the years 1910-1914 with over $8 million produced from the mines annually, making it one of the richest mining districts in the West.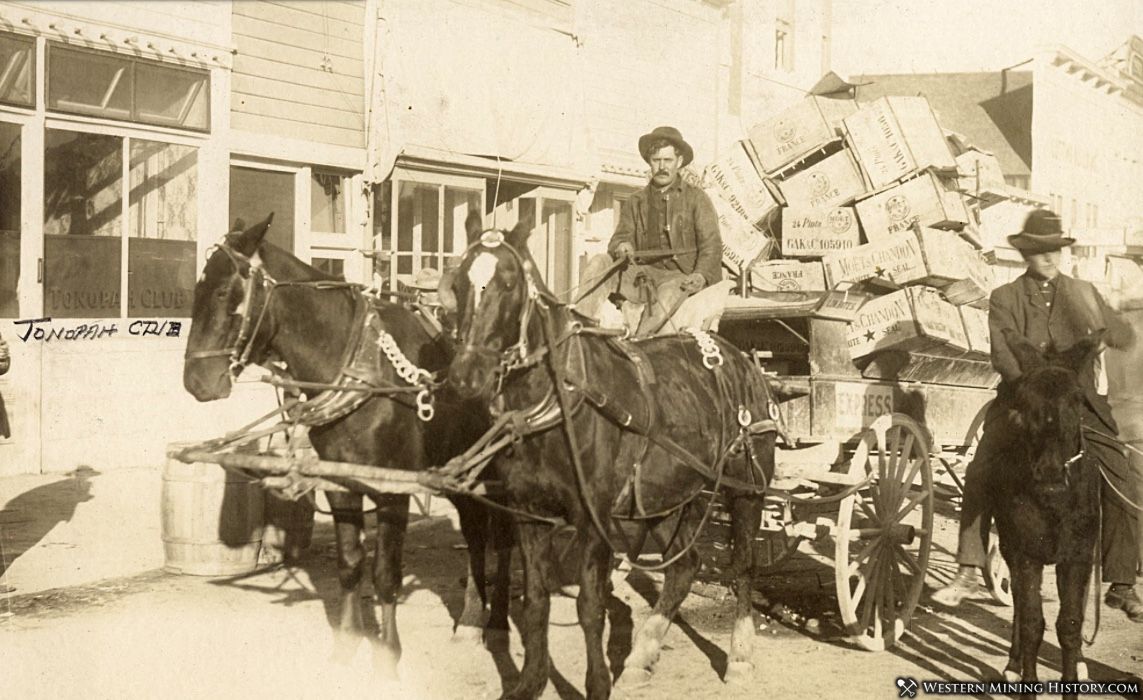 Moet & Chandon Champagne Delivery - Tonopah, Nevada ca. 1913
Tonopah`s boom years ended during the depression but many of the larger mines continue to be active until World War II. By 1947, all the major mines had closed and the local railroad folded. An estimated $150 million in silver and gold was mined at Tonpah.
Tonopah Today
Tonopah is still an active town of about 2,500 people and is the county seat of Nye County. Many historical buildings from the mining boom years remain intact.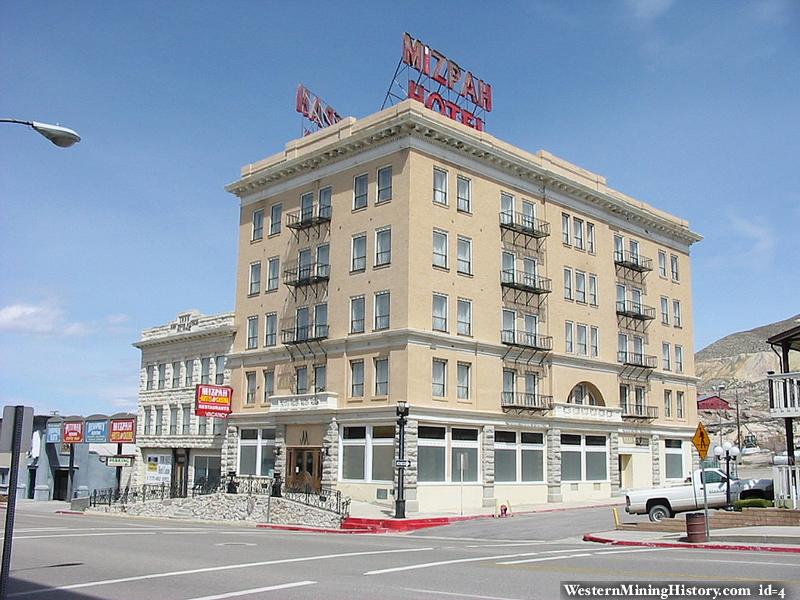 Mizpah Hotel in 2005
The Mizpah hotel was one of the West's premier luxury hotels when it was built in 1907 and is still open today after being renovated in 2011. The Hotel cost $200,000 to build, and astronomical sum at the time. The five-story building featured steam heat, brass chandeliers, stained glass, and one of the first electric elevators in the state.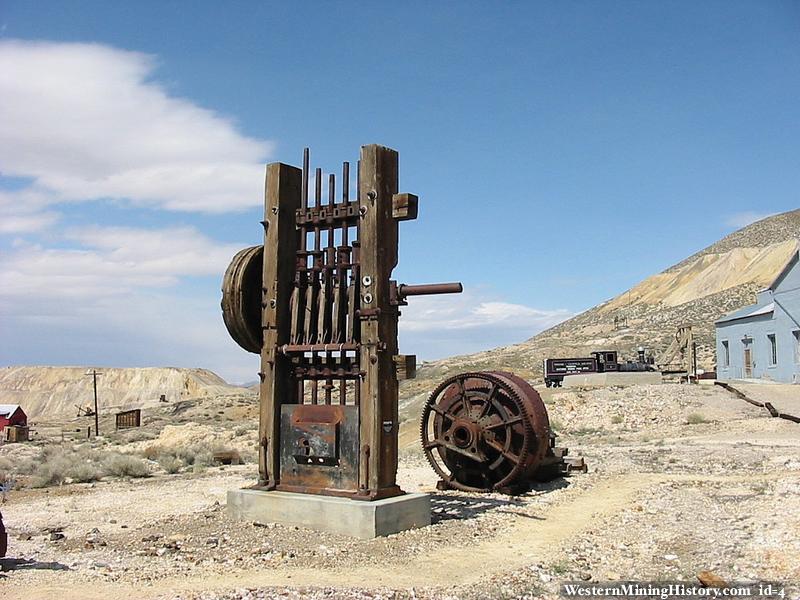 Tonopah Historic Mining Park
The Tonopah Historic Mining Park is a 100 acre outdoor museum that contains the mine buildings, headframes, and equipment from district's largest mines. This is the largest and most impressive museum of its type anywhere in the West.
Nevada Mining Photos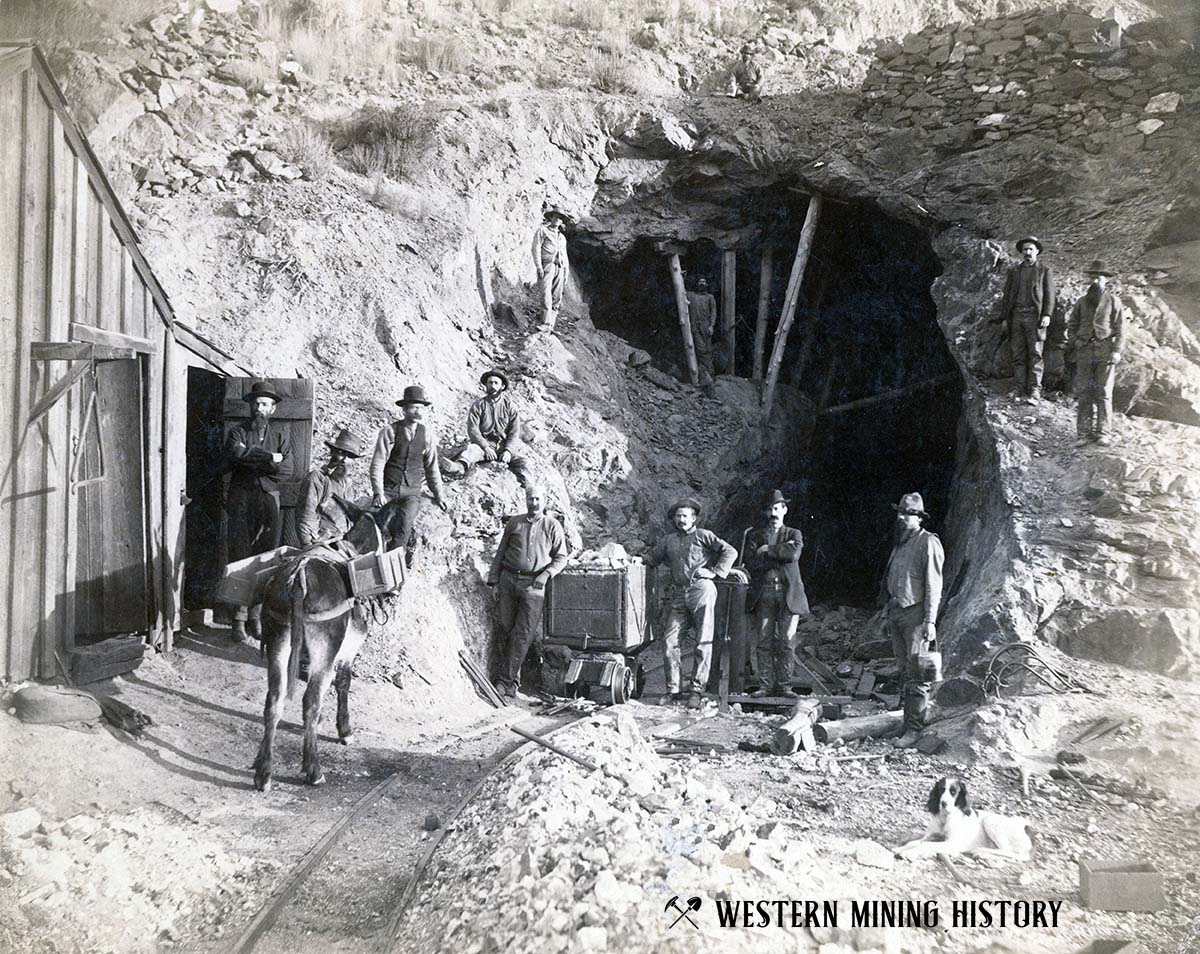 A Collection of Nevada Mining Photos
A Collection of Nevada Mining Photos contains numerous examples of Nevada's best historic mining scenes.