Wahmonie History
Wahmonie, Nevada was the site of Nevada's last gold rush. The rush started in February of 1928 and by summer over 1,000 people had arrived at the Wahmonie tent camp.
The rush, and the town, were short lived however as no significant ore discoveries were made. Wahmonie never amounted to more than a temporary tent camp.
The Wahmonie town site later became part of the Nevada Test Site, a secure government facility for testing nuclear weapons.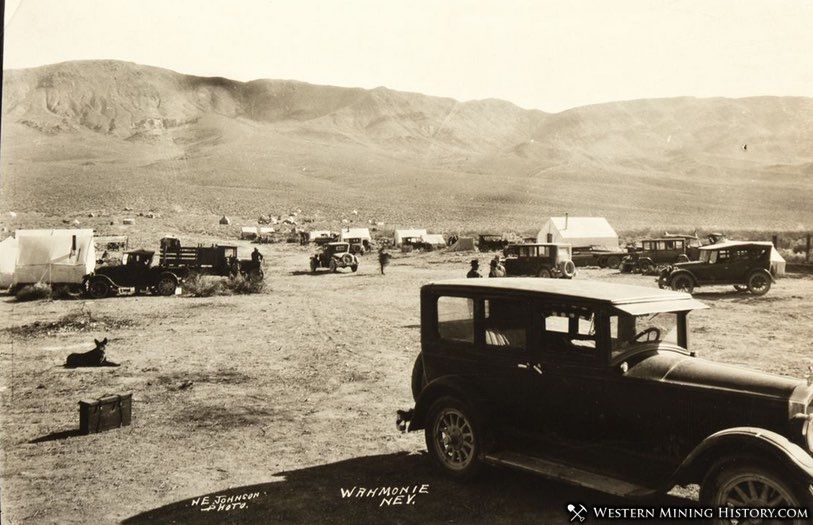 Wahmonie, Nevada 1928
A February, 1928 edition of the Healdsburg Tribune reports on the excitement at Wahmonie:
NEW TOWN STARTS ON NEVADA DESERT AFTER GOLD STRIKE SAMPLES SHOW VALUE OF $1,000 TON METAL CONTENT

Nevada awoke today to find a new city existing in its southern desert. Wahmonie, the Shoshone Indian word for gold, came into being almost over night, as a result of a new gold strike that bears the earmarks of developing an important and permanent camp.
The strike was reported by Ira MacFarland, former state engineer, Fred Gilbert and Logal Gilbert. The Gilberts made the discovery 32 miles of Tonopah three years ago that resulted in the town of Gilbert.
First two women in Wahmonie, Nevada March 2, 1928
The new strike is at the base of Skull Mountain, 53 miles from Beatty and 20 miles from the Tonopah-Las Vegas highway.
Mark Lefler, old, old Nevada desert rat, made the original discovery at Wahmonie. Lefler it was who discovered the Candy mine at Jarbridge in the far northern section of Nevada.
Samples from the Lefler strike returned assay values of approximately $1,000 metal content, principally gold.