By John H. McIntosh and Berton Braley
Technical World - December, 1909
When the Berkley mine broke out afire the other day in Butte, Montana, sending five hundred men to the surface and suspending operations for a month in one of the biggest producers of the greatest mining camp on earth -- the camp that gives to the world's market one-fourth of its copper production -- the sight of the flames and smoke didn't cause as much as a ripple of excitement on the surface of the busy population at the foot of the hill, for Butte is accustomed to a mine fire that is perpetual and which burns with intense heat in the ground under her very business district.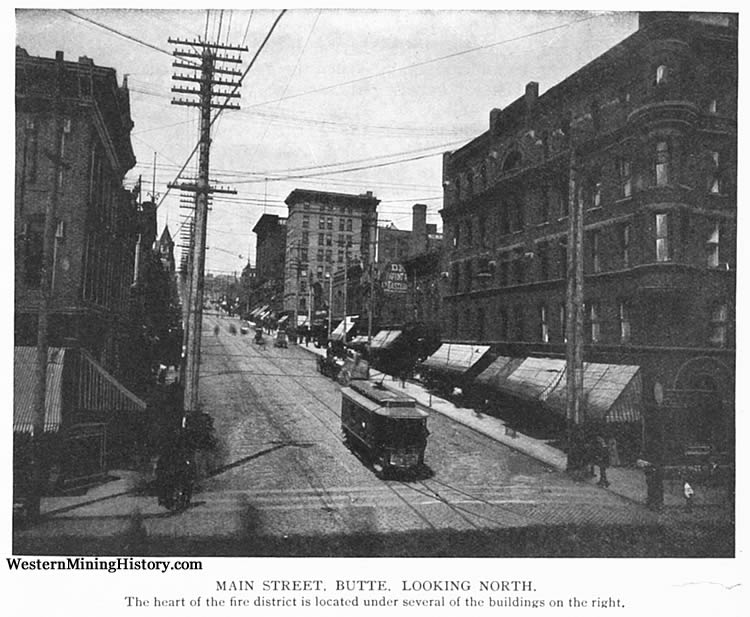 It is a startling fact but none the less true that in the seventeen years past. thousands of men have been engaged in keeping in check the deadly fire in the Butte hill. It is a fight against a hidden foe. Except for brief intervals when the hot flames find an outlet, the fire is kept subdued by the smothering method, the theory being that it cannot spread without air on which to feed.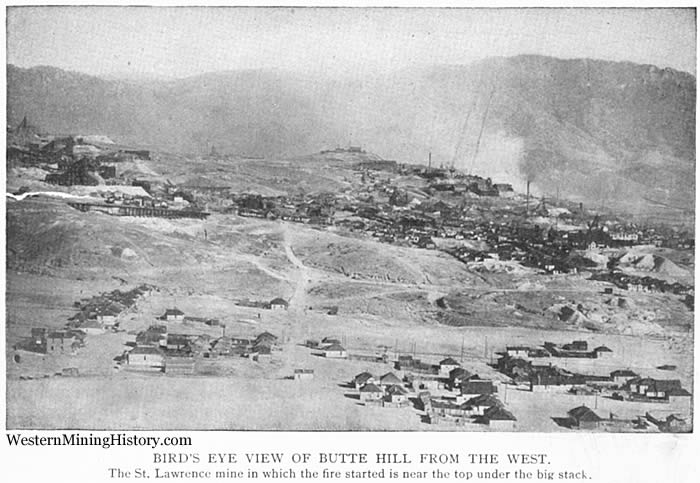 How it started and what keeps it alive is known to the copper miners of the northern Rockies, but the outside world has never been told, for the big companies controlling the mines have kept the talk of the wonderful fire fight down to a whisper.
When "Big Bill" Henshaw left his candle burning on a pine stull in a stope of the 1,800 level of the St. Lawrence mine seventeen years ago he little dreamed he was starting an underground conflagration that would last for generations and which would cost millions of dollars and thousands of lives to check.
Henshaw was coming off night shift in the early morning of September 6, 1892. The burly miner had reached the mouth of the man-way at the end of the stope when his attention was called to the dim light of the candle across the black hole in the ground.

"Goin' to leave the glim there, Bill?" his partner queried.

"Sure: what's the difference?"

"Oh, nothin', only today's Labor day and the next shift don't come on 'till tomorrow. I was just thinkin' if a fire started it might spread, bein' there's nobody around."

"To Hell with it; let's go!" was the short response.

They went out, but the fire didn't.
Page 1 of 6