Then the pumps were put to work again and the water taken out. To the dismay of all interested it was found that while the flooding had cooled many places that were hot before the experiment was tried, it had actually driven the fire deeper into the rock and ore, it had failed to quench the flames. And so the old smothering method has been in vogue since.
Only occasionally in recent years has any of the fire been seen. It is deep within the earth's bowels which makes it all the harder to fight. In the vicinity of the fire the rock walls are hot as stove lids and still nearer in the rock is at white heat.
The progress of the flames must have been rapid and sure after Henshaw's candle had burned down to the piece of wood to which it had been stuck with a molten drop of wax. Once on fire the pine stull was quick to communicate its condition to the nearby set of timbers and after that the flames crept up Aoor after floor. The fact that each piece of timber burned was tightly wedged in between tons of rock seemed to encourage the progress of the fire rather than to discourage it.
But if the fire had ceased with the burning of the timbers all would have been well. The heat became so intense that it melted the rock and copper are and all within touch became a liquid mass of white lava. It is this burning rock and copper and the gases formed by the action of the heat, which defies the efforts of man to extinguish it.
Not all the copper in the region of the fire is lost to the commercial world, however. Experiments were tried. Water was allowed to trickle through this region, the water coming out at a point near the foot of the great BlItte hill a mile to the south and far below the level of the fire. Here tin cans, pieces of iron and metal scraps are gathered in great heaps and on this mass of metal the water precipitates the copper it takes up in the burning district of the mine. This saves the company no less than a million dollars a year.
Tin cans are not really tin. They are steel, covered with the thinnest possible coating of tin. And that fact explains why tin cans never accumulate in alleys and yards in Butte, just as the "affinity" of iron for sulphur, explains Butte's ever ready market for scrap iron.
For Butte turns all its tin cans, and most of its scrap iron, into copper, and does it simply by pouring the water upon them. It's water that carries from two to five per cent copper, and that process saves to Butte every month more than 800,000 pounds of valuable copper which used to run to waste down Silver Bow Creek.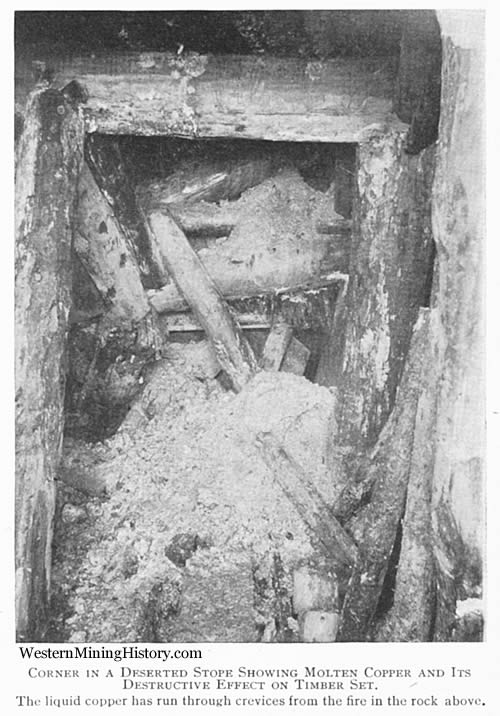 Page 4 of 6