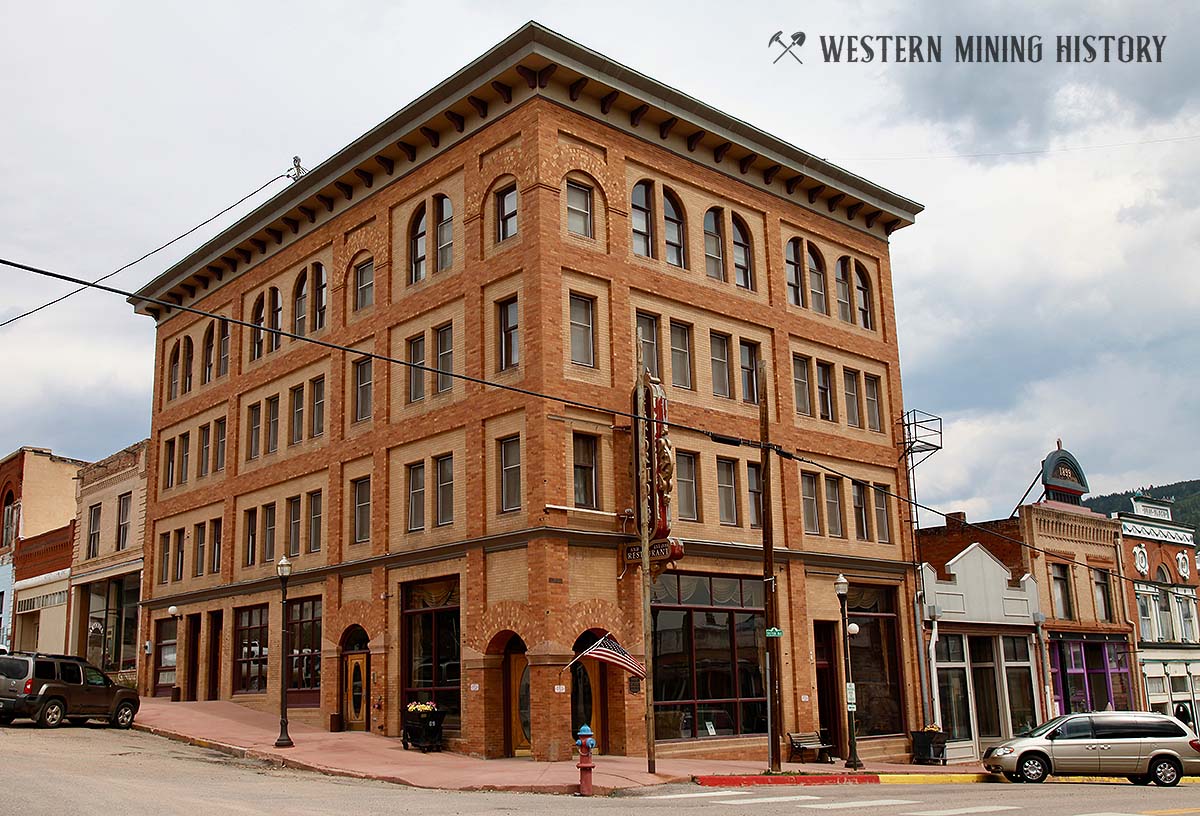 Victor Details
Date Settled: 1891
Current Population: 445
Peak Population: 8,000+
Primary Mineral: Gold
Map: View on Google Maps
Victor History
Victor was founded in 1891, shortly after Winfield Scott Stratton discovered gold nearby. The town boomed as the surrounding Cripple Creek mining district quickly became the most productive gold mining district in the United States. Although Victor's fame was overshadowed by that of its neighbor, Cripple Creek, many of the best gold mines of the Cripple Creek district were located at Victor, including Stratton's Independence Mine and Mill and the Portland mine.
The workforce became heavily unionized after the militant Western Federation of Miners (WFM) conducted a significant strike in 1894. A subsequent strike in 1903 had such an impact that it came to be called the Colorado Labor Wars. The WFM's union hall in Victor still stands, with telltale bullet holes left intact. The building has structural problems and needs renovation.
Many of the historic buildings date to 1899 (having been rebuilt then, after a fire in August of that year destroyed much of the community). Included among these are the St. Victor Roman Catholic church (now used only rarely), the First Baptist Church of Victor (once owned by the Woods brothers, Victor's founders), the Victor Hotel (which contains the oldest commercially operating elevator in the state), and several others.
The town declined steadily in the 1900s, as the gold mines became worked out, and the purchasing power of gold (the price was fixed at $20.67/troy ounce) declined. Gold mining increased in 1934 when the federal government raised the price of gold to $35/ounce, but gold mining was shut down during World War II as nonessential to the war effort. Some mines opened after the war, but all mines in the district closed by 1961.
The Cripple Creek & Victor Gold Mining Company formed in 1976 as a joint venture to restart mining in the district. From 1976 to 1989, the company produced 150,000 ounces of gold by reprocessing tailings and mining two small surface deposits. The Cripple Creek & Victor Gold Mining Company began the first large-scale open pit mining in the district in 1994. The Cresson mine open pits are located a few miles north of Victor. Mining continues today under the ownership of AngloGold Ashanti, producing about 330,000 troy ounces (10.3 tonnes) of gold annually.
-Wikipedia.org