Fairview History
Fairview was one of the first settlements in the Owyhee mountains. First settled in 1864 after the discovery of the Oro Fino mine, the town grew as lode mining replaced placer mining in the area. A post office was established in 1866.
The town was situated on the northeast slope of War Eagle Mountain, and had grand views of the plains below and the distant Boise mountains. The location was prone to heavy snow, which factored against the town when it made a bid for the county seat (the seat first went to Ruby City, then to Silver City).
The Oro Fino was a strong producer for many years, and later discoveries nearby of the Ida Elmore and Golden Chariot stimulated more growth of the town. A telegraph line reached the town in late 1874.
A May 19, 1874 edition of the Brooklyn Daily Eagle reported that "the Chinese houses at Fairview, Idaho were recently torn down by a white mob, and their occupants driven away."
Fairview made national news in October 1875 when miners revolted and took control of the key mines in the district, demanding back pay. Following the 1875 financial crisis, miners had been given promises that if they worked now, they would be paid later. The destitute miners took superintendent M. A. Baldwin captive, holding him prisoner for three weeks until assurances were made that they would be paid.
Most of the town burned in a devastating fire in October 1875, which was suspect timing given that the revolt at the mines was occurring at the same time. One newspaper article speculated that if the miners had not shut down the Ida Elmore, and it was still pumping water out of the mine, the fire at the town could have been controlled. While not many details of the town survive, articles about the fire state that 400 people were left homeless, which gives some indication as to the size of the town at its peak.
The town was partially rebuilt after the fire, but 1875 also marked a downturn in the mining industry due to a financial panic, and Fairview never fully recovered. The post office closed in 1878.
The nearby Oro Fino mine also had its own small settlement, complete with a school and a post office that operated from 1866-1899.
Idaho Gold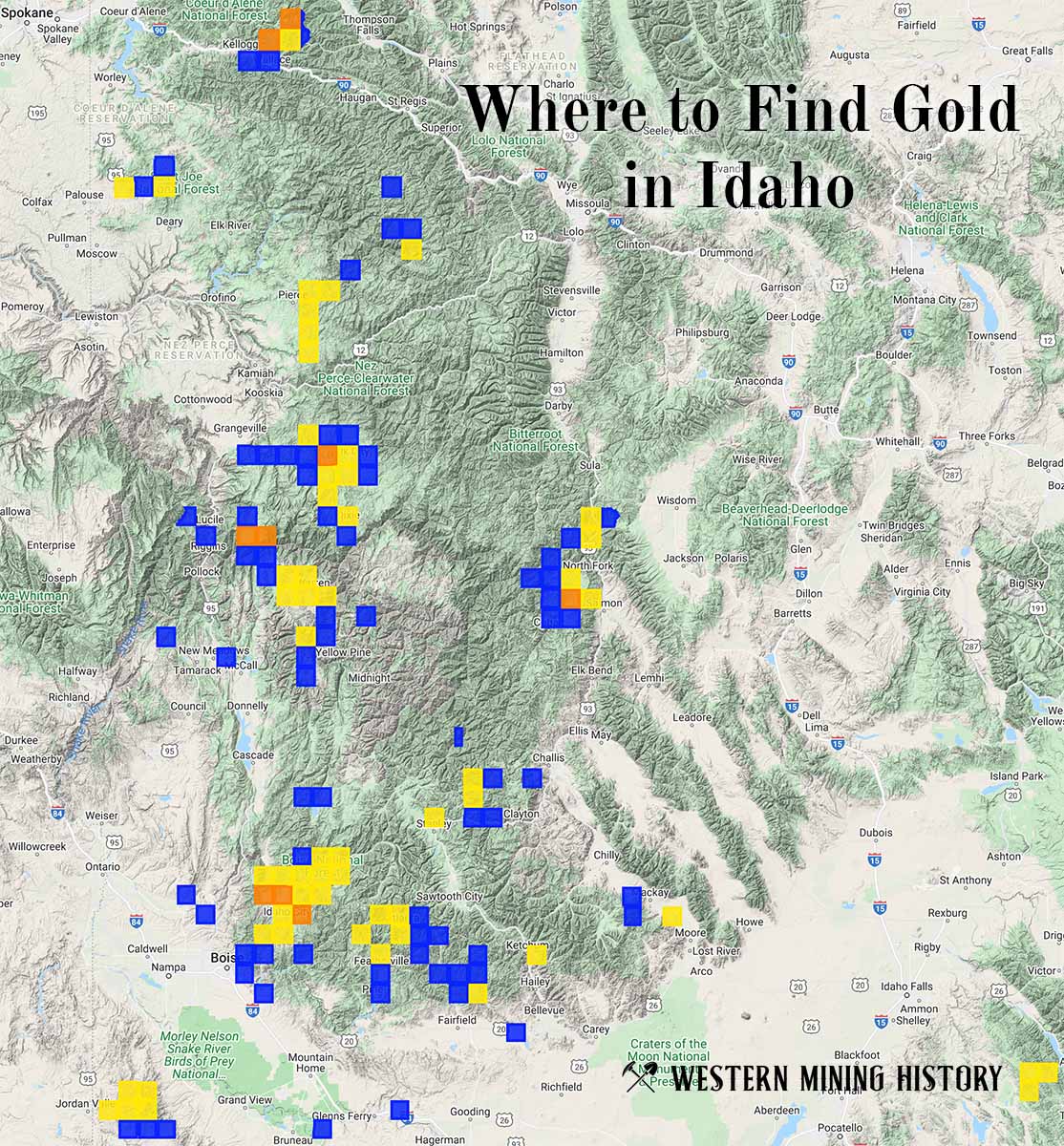 "Where to Find Gold in Idaho" looks at the density of modern placer mining claims along with historical gold mining locations and mining district descriptions to determine areas of high gold discovery potential in Idaho. Read more at Where to Find Gold in Idaho.