Carrara History
Marble deposits were first explored in the Carrara area in 1904. In 1911 the American Carrara Marble Company was formed and work begun on opening a quarry for commercial production.
The 1912 edition of the Nevada Annual Report of the State Inspector of Mines gives a glowing report of the potential of the Carrara marble deposit:
The latest new acquisition akin to mining is located at Carrara, ten miles south of Beatty in Nye County, known as the American Carrara Marble Company. The entire quarry is about 15,000 feet long and 2,500 feet wide and over 600 feet high, containing over 10,000,000,000 cubic feet of marble.
Quarries have shown to contain all of the varieties of marble known to the trade, as pure white, blue, blue and white, black, black and white, yellow, yellow and gray, and striped. They have also demonstrated by chemical analyses that the Nevada marble is equal in any and superior in most respects to the Colorado Yule quarries or the Carrara quarries of Italy.
Marble quarrying at Carrara, Nevada, promises to become quite an industry and add greatly to the State's possibilities, owing to its proximity to many of the large cities of the west coast.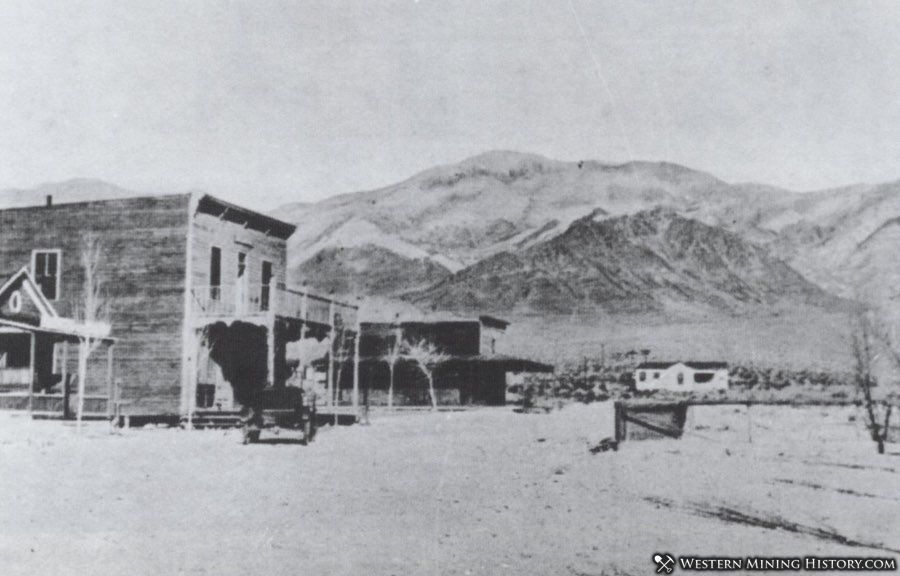 Carrara Nevada ca. 1916
The quarry went into operation in 1913, and the town of Carrara was established three miles from the quarry on Las Vegas and Tonopah Railroad line. A railroad spur line was completed in 1914 that linked the town of Carrara and the quarry in the mountains above the town.
Carrara peaked in 1915 and 1916 with around 150 residents and 40 buildings, including a hotel and a newspaper. The town had a park that included a fountain that flowed with water piped several miles from Gold Center. The concrete basin of the fountain is one of the few features of Carrara that survives today.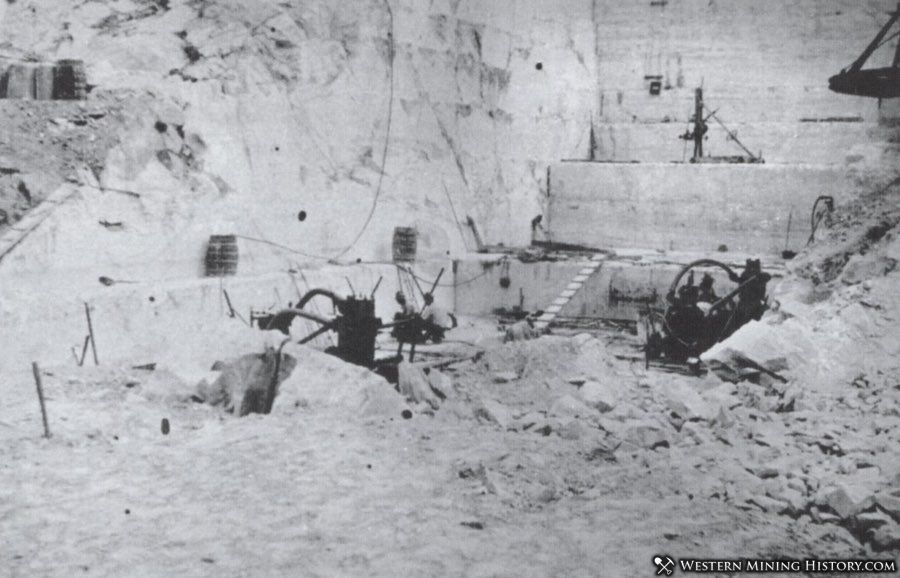 Carrara, Nevada marble quarry 1913
There was also a small settlement of shacks to house the stone cutters at the quarry, but it only amounted to a collection of crude shacks.
Much of the marble at the Carrara quarry was highly fractured and unusable. Ultimately the marble enterprise only lasted a few years. By 1917 the quarry was closed and power to the town was shut off. In 1918 the railroad line at Carrara was discontinued, and the town was abandoned.