La Belle History
La Belle (or Labelle) had a post office 1895-1901.
Although mineral deposits in the area had been discovered several decades prior, it wasn't until 1894 that there was any attempt to start mining. That year there was an excitement that resulted in the town of La Belle being hastily built, reportedly having 80 buildings by the end of the year, including three saloons, a hotel, a restaurant, among other businesses.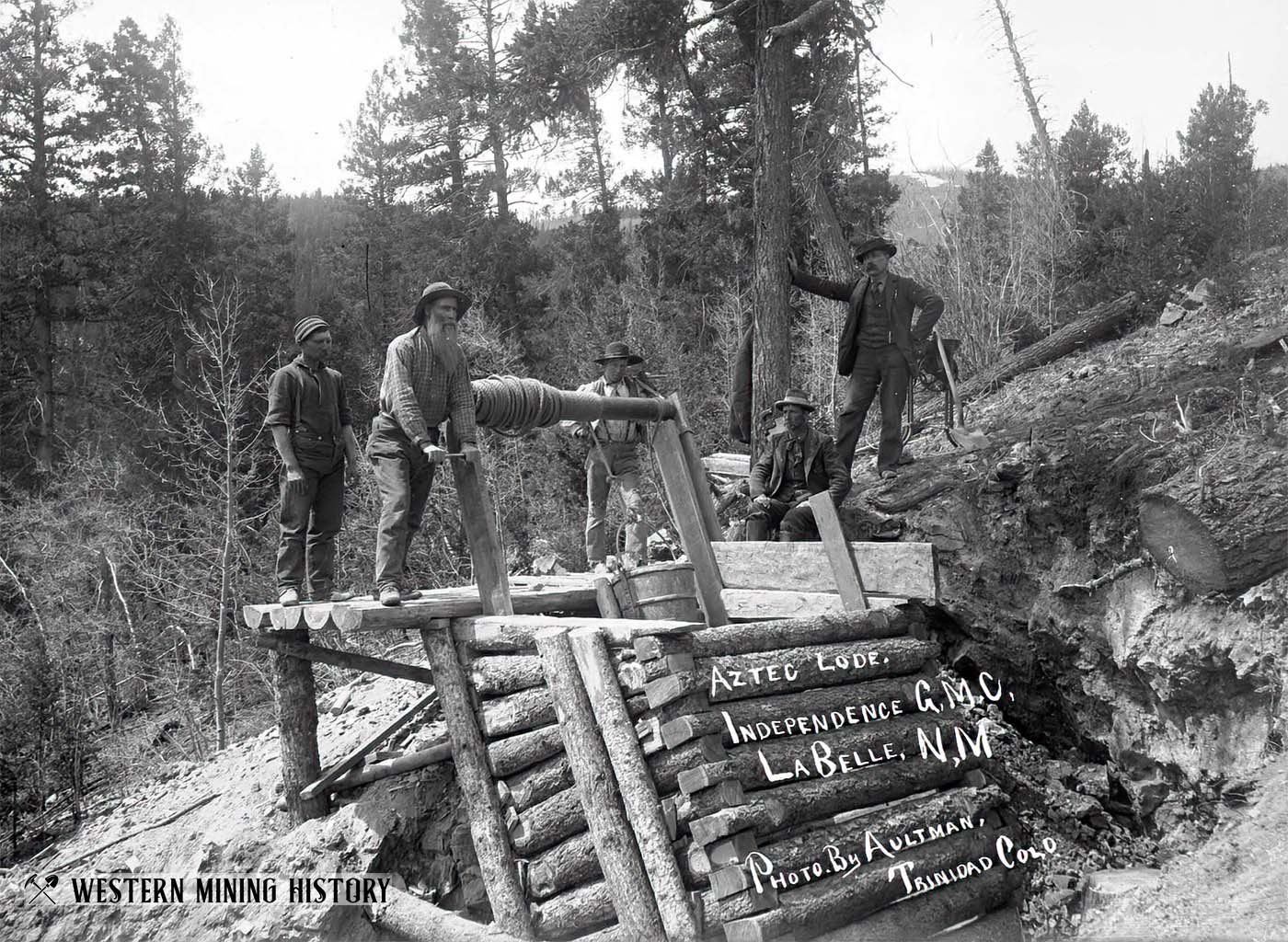 Aztec Lode at La Belle, New Mexico ca. 1894
An October, 1894 edition of the Boulder Daily Camera described La Belle: "The new camp has been named La Belle. It is about 45 miles west of Catskill on the Union Pacific, Denver, & Gulf Road, south from Pueblo, having daily connection with Catskill. The present population of the camp is about 700, with daily rivals numbering 75 to 100, many of whom are locating there permanently. The little camp presents all the bustling activity of Creede and Cripple Creek in their halcyon days - residents and business houses are going up rapidly, and on every had is promise of a brilliant future from La Belle."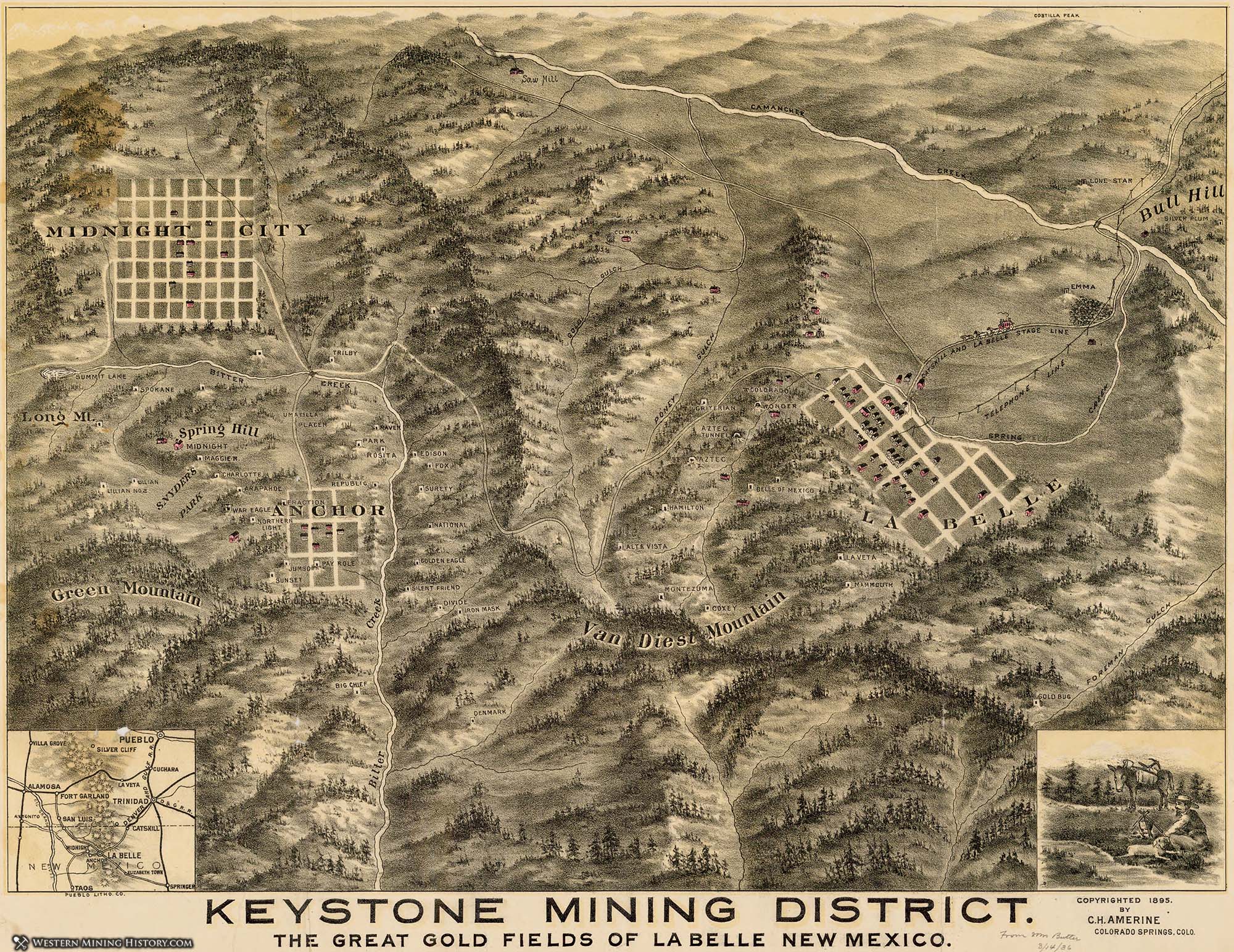 Keystone Mining District - Taos County, New Mexico 1895
La Belle and the Keystone gold district were largely the product of a great deal of promotion and misinformation, which was common at the time, but it seems the value of the mines here were particularly overstated. Professional photographs of the mines and town were commissioned (as seen on this page) and and illustrated district map was created. The La Belle Cresset was doing its best to promote the mines of the area to outside investors.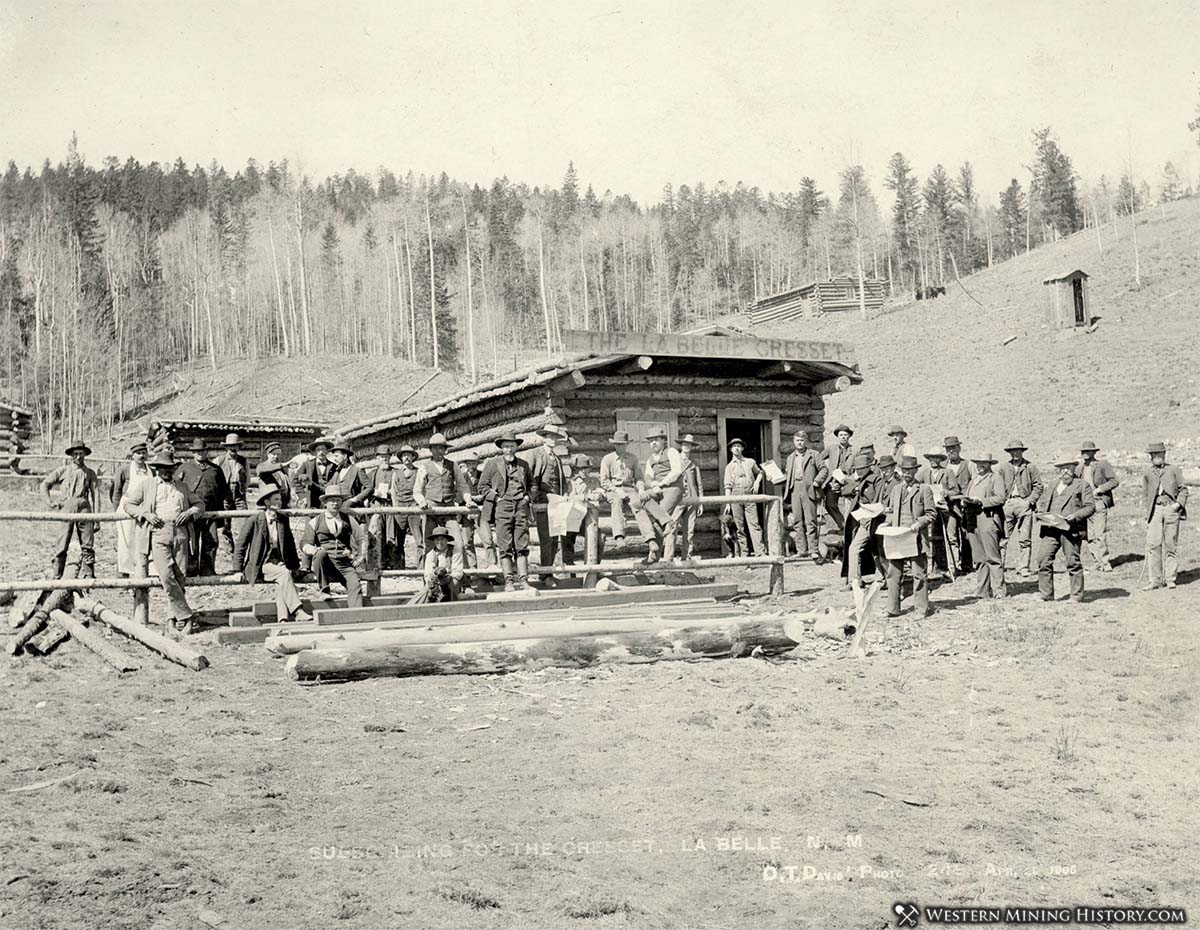 Subscribing to the Cresset newspaper at La Belle, New Mexico 1895
A June, 1895 article from a Colorado newspaper told a more believable story: "I have just returned from La Belle camp. All I can say in regard to that camp is to advise miners to keep away from there. The ore is so low grade and so far from a shipping stand point not a pound of ore has yet been shipped. It only runs from $1.50 to $5 per ton in gold, lead and silver."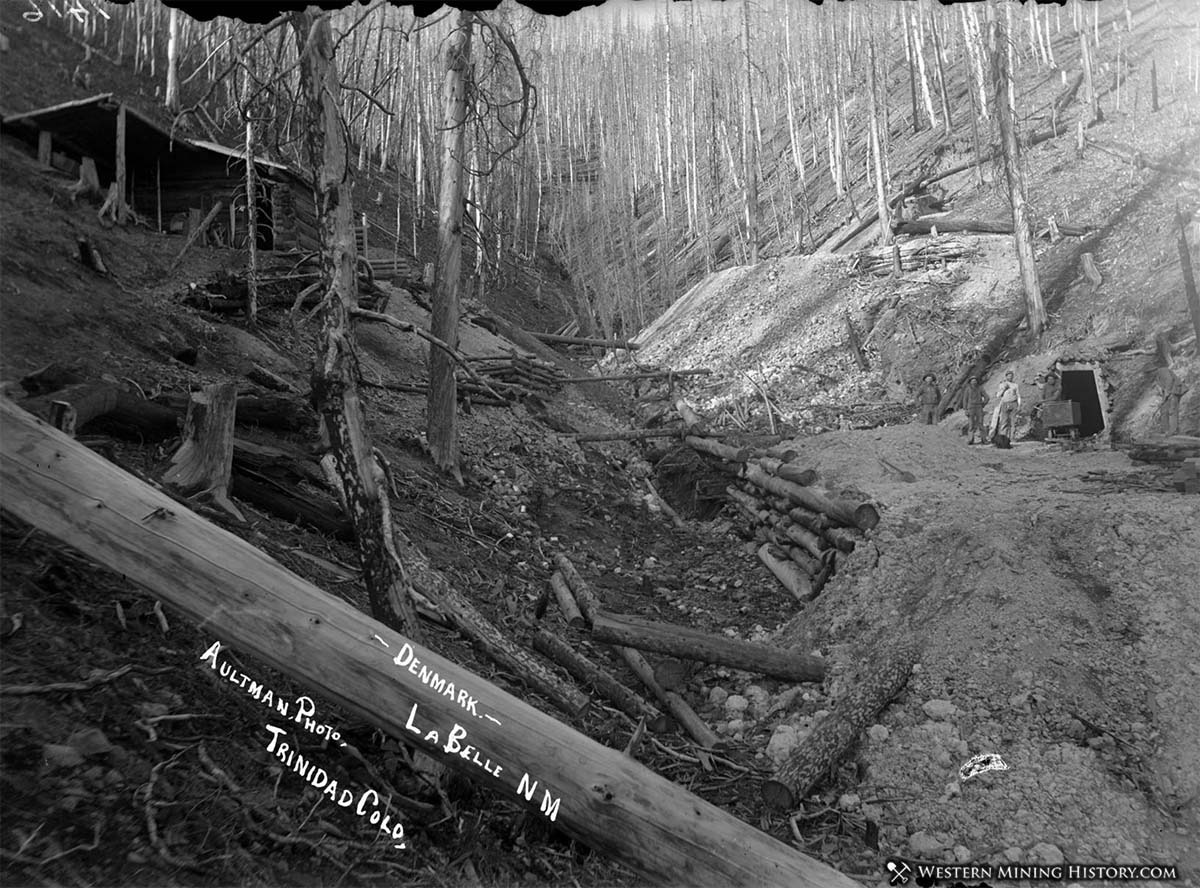 Denmark Mine at La Belle, New Mexico ca. 1894

A 1960 report by the New Mexico State Bureau of Mines illustrates the disappointing production at the mines of the district: "The Aztec gold prospect is located one-half mile northwest of the ghost town of LaBelle, along the north side of a south fork of Gold Creek. The Aztec Mining and Milling Co. began operations in the 1890's, sinking a 100-foot shaft and driving a 180-foot adit on the What Is It claim. Although this was considered one of the best properties in the LaBelle area, the ore proved to be of very low grade, and operations were soon stopped. Production, if any, was small."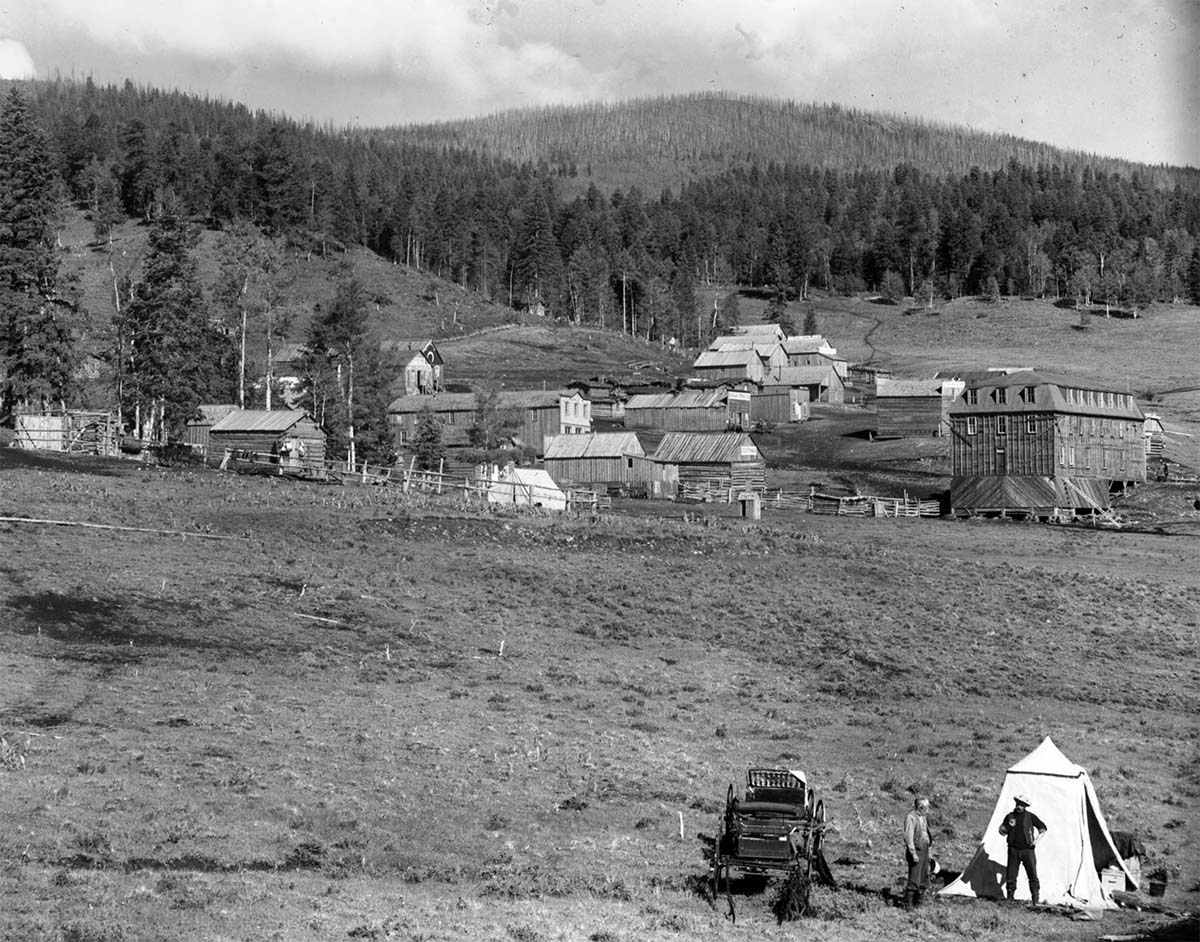 La Belle New Mexico ca. 1894
For the five years or so that La Belle was a viable town, it is said to have been a wild place for its size, with many saloons and a red light district. Notorious outlaw Black Jack Ketchum spent time in La Belle prior to being captured in 1899, and later hung.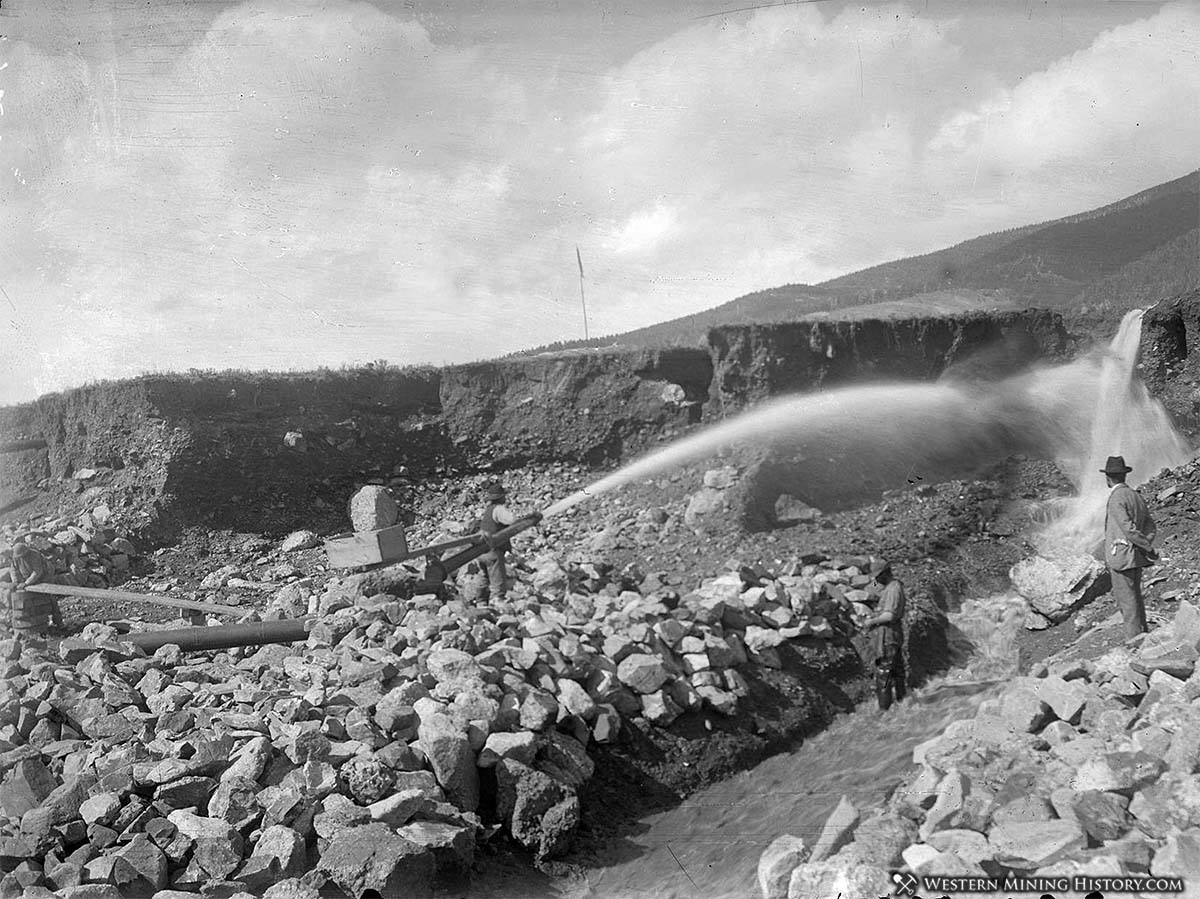 Hydraulic Mining at La Belle, New Mexico ca. 1894
La belle declined as quickly as it was established. The post office closed in 1901. A USGS report from 1910 states that just about a dozen people were left there. The town was soon abandoned.