Clarksville History
Clarksville had a post office from 1871 to 1884.
A historical marker at the town site states "Clarksville - 1862 pop. 200 - old placer mining town - end of operation of Burnt River - Clarks Creek Dredge 1924-1937".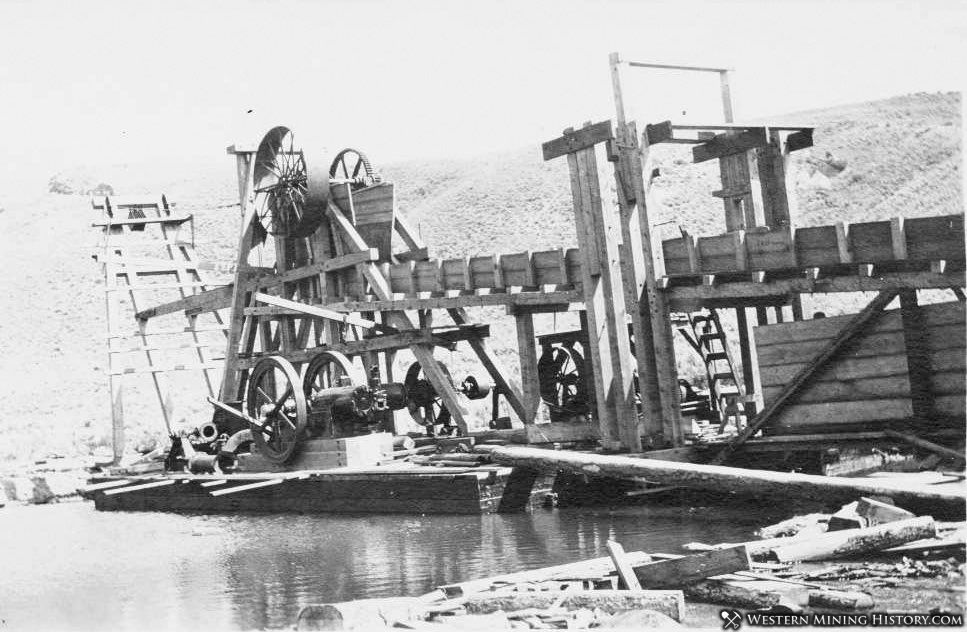 Clarksville dredge under construction ca. 1924
The town reportedly go its name from a miner named Clark, who accidently shot himself in 1862. Members of his party prospected while Clark was recovering, and gold was discovered at Clarks Creek. The settlement of Clarksville was established shortly after the discovery.
Not a lot is known about Clarksville over the years other than it had a population of 200 in its first year and maps indicate there was a Chinatown. A gold dredge operated in the area from 1924-1937, long after the town had been abandoned.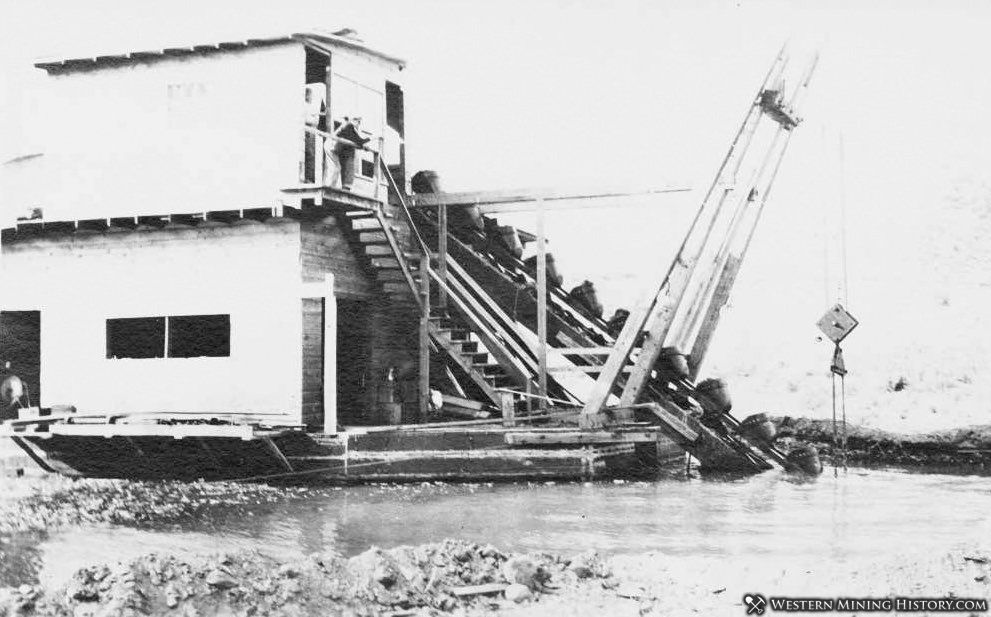 Clarksville dredge ca. 1924

Despite a lack of detailed history of the town, a diary written by a resident of the town describes some of the day-to-day goings on at Clarksville and the northeast Oregon mining scene in 1864, providing a rare glimpse into early pioneer life.

James W. Virtue appears to have arrived in Clarksville in late 1863, and starting on January 1st 1864 kept a daily diary of his time in the frontier mining town. The diary is fascinating both for the details of the daily life of a miner during a very early period of Oregon history, and also because it illustrates a year in the life of a man that would go on to be an important figure in both Oregon and on the national mining scene.

After living in Clarksville, Virtue had many notable titles including sheriff of Baker County, commissioner of mines for Oregon, and the 1876 U.S. centennial commissioner (appointed by President Ulysses S. Grant). He was also reportedly the richest man in eastern Oregon until the financial panic of 1893.

The following excerpts from his diary illustrate what life was at the time. Throughout the diary, Virtue talks about a life filled with alcohol, gambling, and often loneliness.
Excerpts from the 1864 Diary of James W. Virtue
Thursday January 14 - Cold chills last night. Laid Up. Friday - Some better today. Able to move around. Opium my principal medicine.
Wednesday January 20 - 7a.m. drink of rum for breakfast. Another drink. Got snow shoes fixed. Another drink. Far as store. Drink of brandy... finally made Juvels cabin. Dinner. Then for Clarkes Creek. Arrived 4p.m. all okay and sober as an Irish Judge.
Sunday March 6 - Sold interest in Vinton & Co. claim to Caststeel & Ecckels for $250. $40 & balance as it comes out over water & grub money. But in any event to be paid in full before 1st of June '64. This sale is clear profit. So much made I know of. Spent all day in cabin reading letters and thinking of the good advice received from dear mother....
Tuesday March 8. Another cold snap. No work forenoon. Bed rock frozen. Cleaned up 7 days work $80 = to $10.66 2/3 per day. Such is the life of a miner: one day making his pile, next running in debt.
Tuesday March 15. Indians stampeded a lot of horses. Started out in a company of 9 others after them. Struck for Willow Creek by way of Basin. Got on Willow Creek 5 miles below mouth of canyon & camped. Built no fire. Crackers and raw bacon for supper. Stood guard till 12 a.m. Steel & I had a bottle of gin to keep us warm & eyes open.
Saturday April 2 - Clean up head box. Got $34.50. Went up town. Played poker all night. Out $25. Also Sunday part of day. What will the end be? What a change from one year ago.....
Monday May 2 - Miners coming & leaving every day. Not work for half.... (water was scarce in this part of Oregon and lack of rain had idled most of the gold placer mines)
Friday May 20 - Still at poker. What a curse is cards. Why can't I at once quit. I will. I must.... (Virtue makes numerous references to playing cards "all night" or "until 2a.m.", and to large sums of money lost).
Friday July 15 - Breakfast 7a.m. Killed 6 rattlesnakes in less than 15 minutes.
Saturday October 12 - Cleaned up $112.75. Expenses $146. Miner's luck. Will pay better next time. Weather mild & warm.
Sunday November 20 - McClannahan moved into town with family. Clarksville can boast of one lady. Bully.
Tuesday December 13 - Drifting goes all ok. Wheeled out 80 buggies. This I find a much pleasanter (as well as profitable) way of spending the winter than sitting in the cabin or saloon playing cards and drinking whiskey as I did last winter.
Wednesday December 14 - Getting out high-yield dirt. Very hard work. Too tired to make much progress in my studies. Life is such a mixture of sunshine and clouds....