Cornucopia History
Cornucopia was hastily constructed when gold was discovered in 1880. Millions of dollars in gold came from this area where the steep mountains and deep canyons are honeycombed with miles of subterranean shafts or bridged with high tramways.
Cornucopia is unique among Oregon gold camps in that it sits in a rugged mountain valley that resembles some of the alpine camps in the Rocky Mountains. The steep terrain necessitated the use of elaborate aerial trams, much like the trams common in Colorado. Cornucopia endured extremely harsh winters with deep snows. Check out the photo gallery for numerous photos of the town almost completely buried in snow.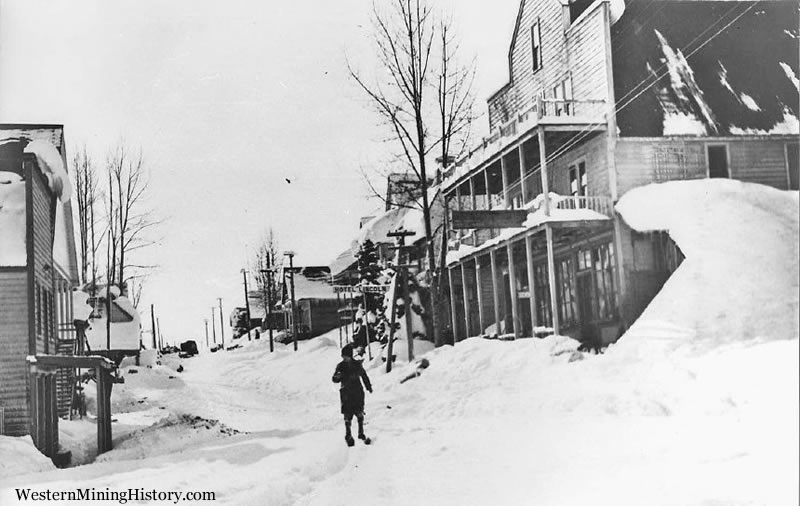 Skiing on Main Street - Cornucopia ca. 1910
A 1922 edition of the Oregonian newspaper that was promoting tourism to the area gives a brief description of Cornucopia:
Cornucopia is an old mining camp, covered deep with snow in winter but open and delightful in summer. It is the center of the richest gold section in Oregon. In its career of 40 years as a gold camp it has seen approximately $7,000,000 of gold taken out of the mines. It is rich in legends, stories of wonderful strikes, lost fortunes, destructive snowslides, feverish booms and all the other stories that hover around mining camps. The tourist who stops there can almost dream the stories from the surroundings.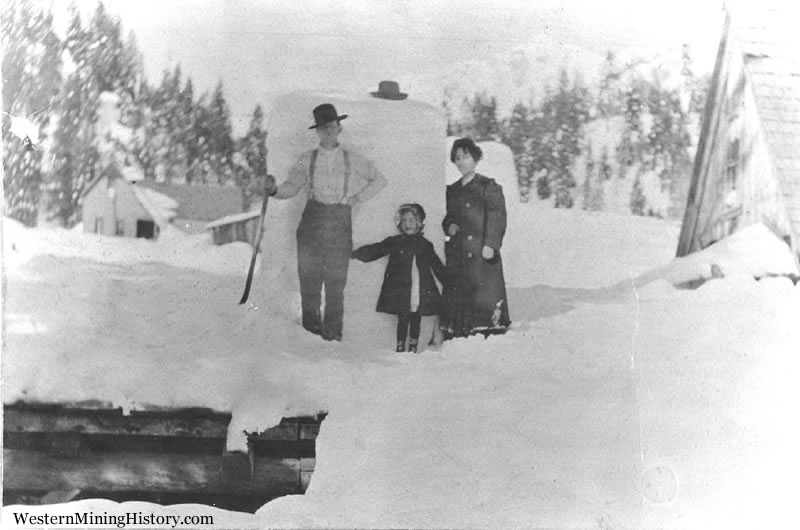 Residents of Cornucopia stand on the roof of their home in deep snow
The mines struck new rich gold ore in 1915 and again in 1921 which kept the town active for many years. The 1929 stock market crash ended good times at Cornucopia with the 1930 census counting just 10 residents.
The mines recovered by the mid-1930s and the 1940 census put the local population at 352. World War II brought the end to Cornucopia when gold mining was prohibited by the government. The town was abandoned and the mines remained silent.