Granite History
First established by miners after the discovery of gold July 4, 1862, the community was originally called Independence and was situated about a mile-and-half west-north-west of the present location. According to Oregon Geographic Names, the name Granite was chosen when its post office was established in 1878, the name "Independence" already being used by another Oregon town.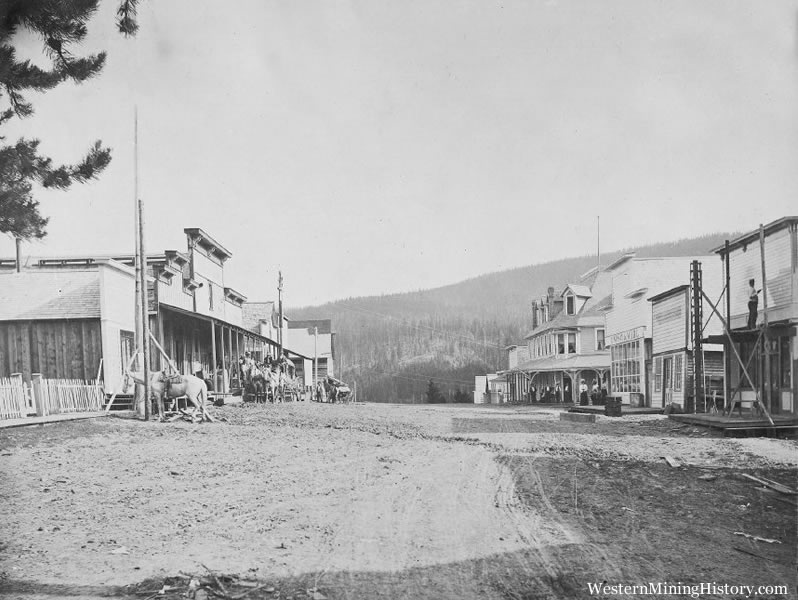 Main Street in Granite, Oregon 1899
A. G. Tabor, who had staked the first mining claim on Granite Creek (the Independence) and was the only merchant in town at the time, served as the first postmaster. The city of Granite was incorporated in April 1900 with Grant Thornburg as mayor.
The area saw a great boom starting in 1899 which was instrumental in the town finally being incorporated after decades as a small camp. A promotional flyer by the Oregon Railroad & Navigation Company of Portland, Oregon stated the following about Granite in 1900:
The young camp of Granite has risen from nothingness to rustling, incorporated cityhood, like a mushroom in a night. A few weeks ago, it was a rural crossroads. Now, it has a mayor and city council, six hotels and restaurants-one of the hotels having 65 rooms and another 25 stores carrying from $15,000 to $25,000 stocks; two wide-awake newspapers, The Boulder and The Gem; four saloons, four livery, grain and feed establishments, drug-stores, blacksmith and carpenter shops, and a gravity water system, affording protection from fire.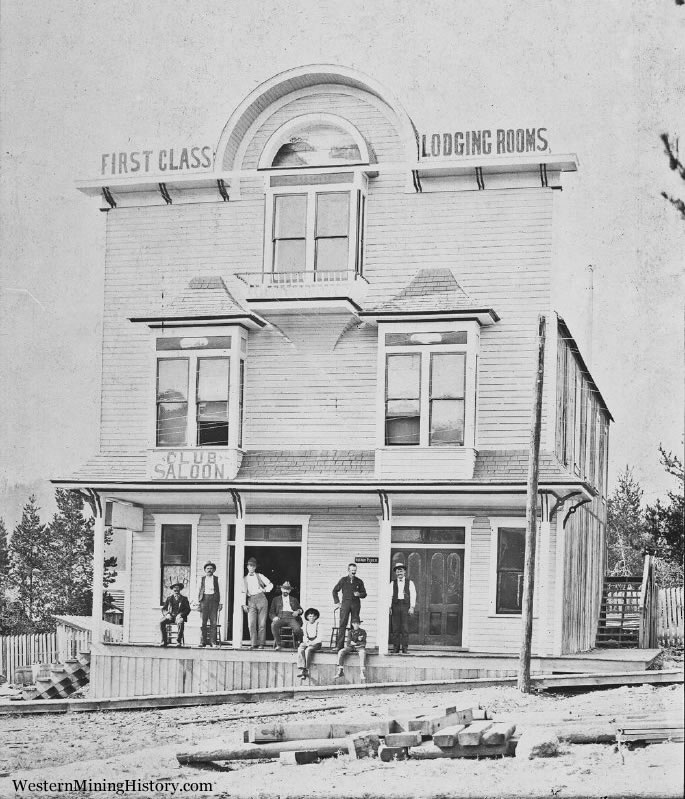 Club Saloon & Boarding House - Granite, Oregon ca. 1898
Among the improvements contemplated or in course of construction in Granite are a $20,000 sawmill, an electric light and power plant, two churches, a public school, and a cold-storage plant.
Granite has 12 producing mines immediately around the town, including the famous Red Boy, the May Queen, Cougar, Magnolia, Ajax, Quebec, Polar Star, Bellevue, Inter-Mountain, Tempest, Buffalo and Intrinsic. There are 2,122 mining locations recorded in the Granite district, and many of them give every promise of becoming producers.
Hundreds of tons of machinery are going in to the Granite mines, and Baker and Grant counties are now spending $6,000 in improving the road between Sumpter and the new town. Surveys for the Granite-Hilgard railway have been made, and depot grounds at Granite have been granted and accepted.
New and promising mines are constantly being discovered all over the region, and Granite bids fair to become an important center of golden activity.
With more than eighty percent of the men in the area directly employed in the mining industry, the viability of the area's economy practically collapsed when gold mining was made illegal during World War II. The city had a population of 45 in 1930, 86 in 1940, 40 in 1950, and two in 1960.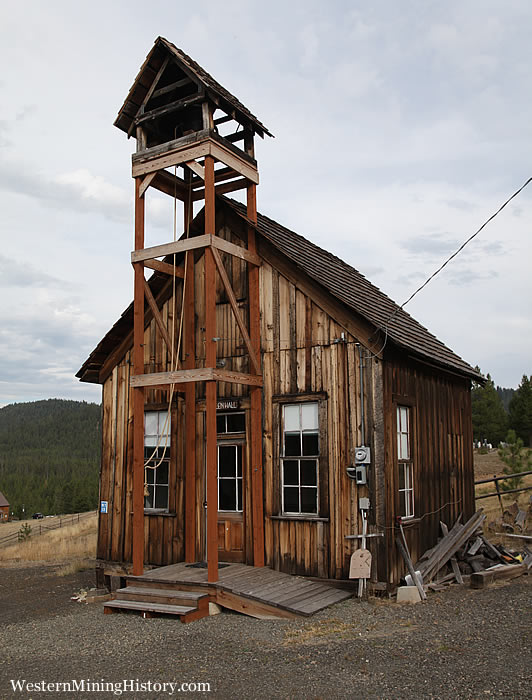 Granite town hall (formerly a school) 2010
Although electrical service, provided by a local power plant on Clear Creek, and telegraph and later telephone lines were operational in the early days, they fell out of use and were abandoned after World War II. Modern telephone service was extended to Granite in the year 2000.
As of the 2000 census, the city had a total population of 24, up from its population of 10 in 1990.