Foresthill History
Forest Hill was first settled when the Forest House hotel and trading post was built after gold discoveries in 1850. The post office was established in 1859 under the name "Forest Hill", but was changed to "Foresthill" in 1895 for reasons that are difficult to determine.
California State historical marker #399 summarizes the history of Foresthill: "Gold discovered here in 1850 in which year the first Forest House was built. In 1852 the Jenny Lind mine found which produced over a million dollars in gold while the mines in this immediate vicinity produced over ten million dollars up to 1868. Town an important trading post and famed for its beautiful forests."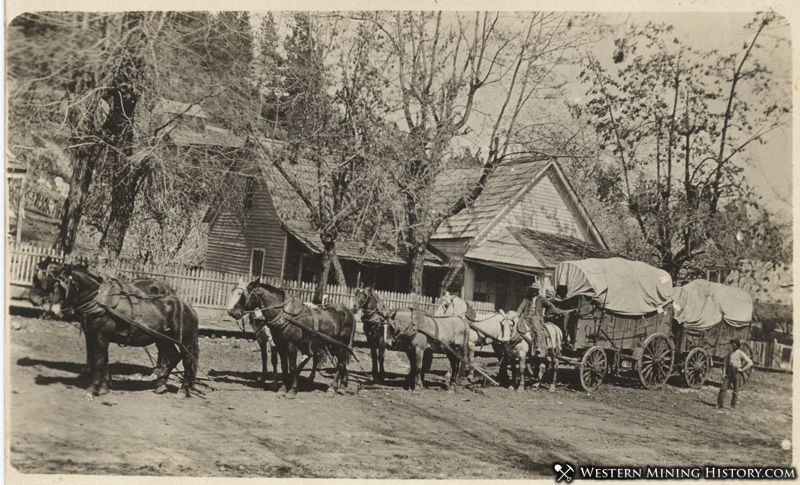 Freight team at Foresthill, California ca. 1910
Foresthill was one of the largest towns in Placer County. By the late 1850s it boasted hotels, stores, banks, saloons, and numerous homes and other structures. The productive hard-rock mines of the area would ensure that the town remained viable for many decades.
An October, 1859 edition of the Daily Alta California provided a glowing report of conditions at Foresthill at the time: "Forest Hill is, for its size and age, as fine a village as I met in my travels. Its citizens are highly favored with good prospects, in addition to the enormous amount of gold already obtained."
"The Jenny Lind Company are about opening a new tunnel sufficiently below their first to drain it of the water with which it is now nearly filled, at the distance of 2,000 feet. where further work in the main tunnel is suspended while they are drifting out on either side."
"The Independence Company, at an angle of about 45 degrees, have commenced running a shaft on the opposite side; of the hill and to meet their first one which is worked 1,700 feet and paying wall, but further progress is prevented at present on account of it filling with water."
It All Started With The Gold Rush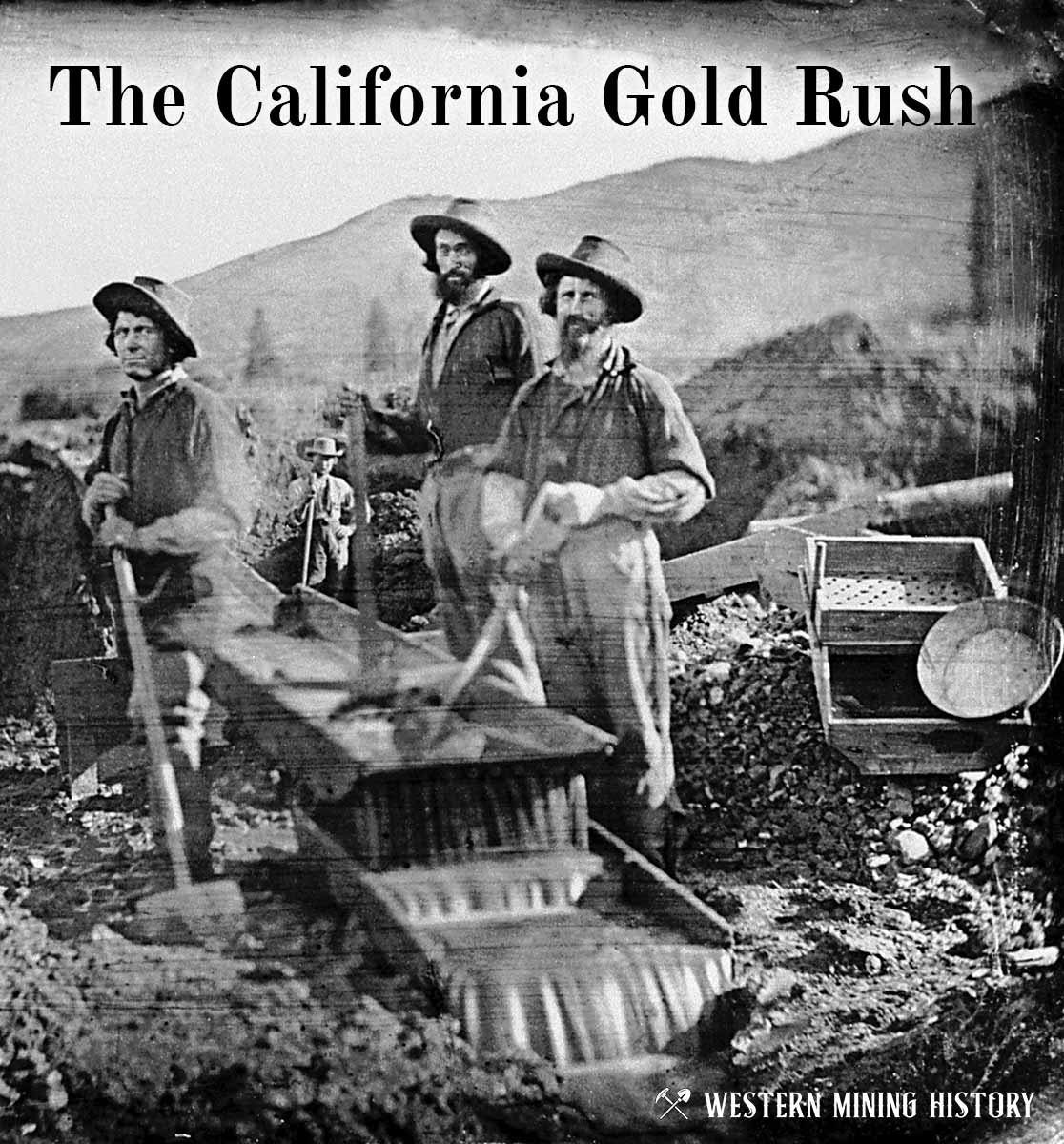 The great California Gold Rush kicked off the entire saga of western mining. Read about it at The California Gold Rush.
California Gold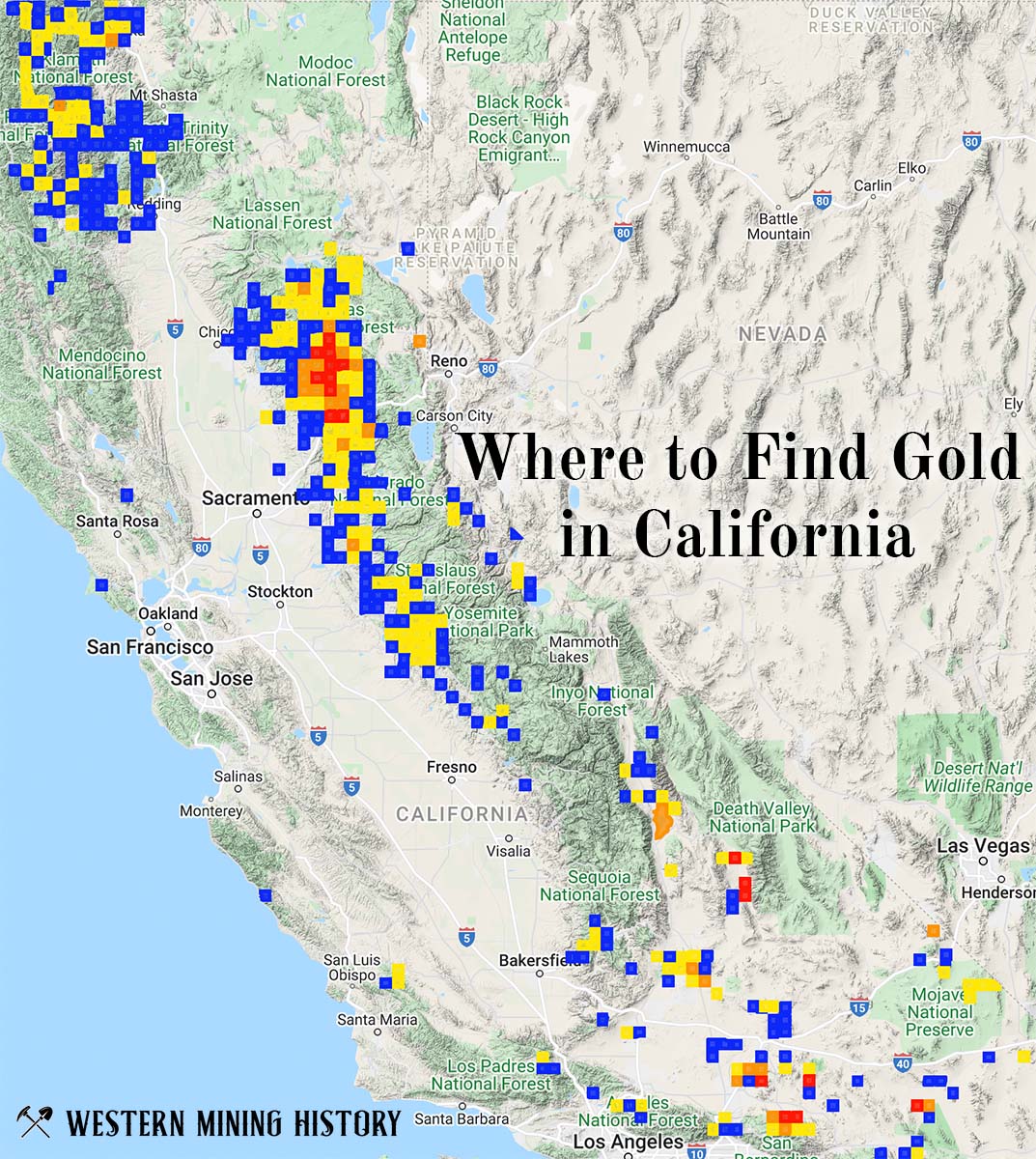 "Where to Find Gold in California" looks at the density of modern placer mining claims along with historical gold mining locations and mining district descriptions to determine areas of high gold discovery potential in California. Read more at Where to Find Gold in California.