Trinity Center History
The Trinity Valley was the site of the primary transportation route between Oregon and California during the 1850s. In 1851 Moses Chadbourne started a ranch and trading post on the trail that would later grow into the settlement of Trinity Center.
During the 1850s the Trinity Valley, and most of northern California, was a vast wilderness with almost no settlements or established transportation routes. The route through Trinity Center was nothing but a trail until it was improved into a wagon road by 1860, yet it was still the only overland route between Oregon and California.
Trinity Center remained one of the most isolated locations in the frontier West for many years, only linked to the mining camps of California and Southern Oregon by hundreds of miles of trail on each side.
Trinity center would prosper as a trading post, a stage stop, and as the center of an area with rich mines and good land for farming and ranching.
Wagons in front of Trinity Center Hotel ca. 1915 (colorized)
An April 1857 of the Marysville Daily Herald mentions conditions at the local mines: "At Trinity Center, there are about fifty men at work. The diggings are from five to sixty feet in depth, and no claims have been opened that do not pay good wages. Some of the best claims pay from $15 to $20 per day to the hand."
A post office was established at Trinity Center in 1855 under the name "Trinity Centre". In 1894 the post office name was updated to the current "Trinity Center". Newspaper articles from the 1800s use both variations of the name.
In 1962, after the completion of Trinity Dam, the rising waters of Trinity Lake submerged the Trinity Center town site. Several of the historic buildings were moved to higher ground and the community was reestablished on the shore of the new lake.
Today Trinity Center is a popular resort community serving campers, boaters, and outdoor enthusiasts enjoying Trinity Lake.
Trinity Center Events from Historical News Articles
Spoliation of a Man of Letters
From the Daily Alta California December 1, 1858
We are advised that George Washington Newton Reinhart was robbed, three days ago, between this place and Trinity Centre. The robbers tied the Professor's hands and thereafter extracted fifteen dollars, several copies of the Telegram, and numerous unfinished manuscripts, all of which they generously returned — except the money.
Mining Partners Found Dead
From the Sacramento Daily Union May 11, 1859
On the first of February, two mining partners, one named Norton, left Trinity Center for their cabin, on Coffee creek, about twelve miles distant, during a heavy snow storm. They were advised by Kreider, of the Trinity Center Hotel, not to go, but believed they could reach home safely, and started. Two weeks afterwards it was discovered that they had never reached their cabin, and search commenced, but without success.
Last week, the snow having nearly disappeared, a party again went out to search for the bodies, which were found about a mile and a half from their cabin. They were lying about twelve feet apart, having evidently become exhausted and laid down to die. A keg of whisky, which they bad purchased at Trinity Center, was found near them, and about one-third of the liquor gone. Their remains were buried by the Coffee Creek miners.
Rich Quicksilver Mines
From the Daily Alta California January 8, 1875
From Jas. E. Carr we learn that there is a most Jubilant feeling in relation to the quicksilver mines near Trinity Centre. The ore, he says, exists in large quantities, and is of almost unparalleled richness. For the Lytle & Co. claim $100,000 have been offered and refused. Mr. Carr says that from 36 pounds of ore 24 pounds of quicksilver was taken.
It All Started With The Gold Rush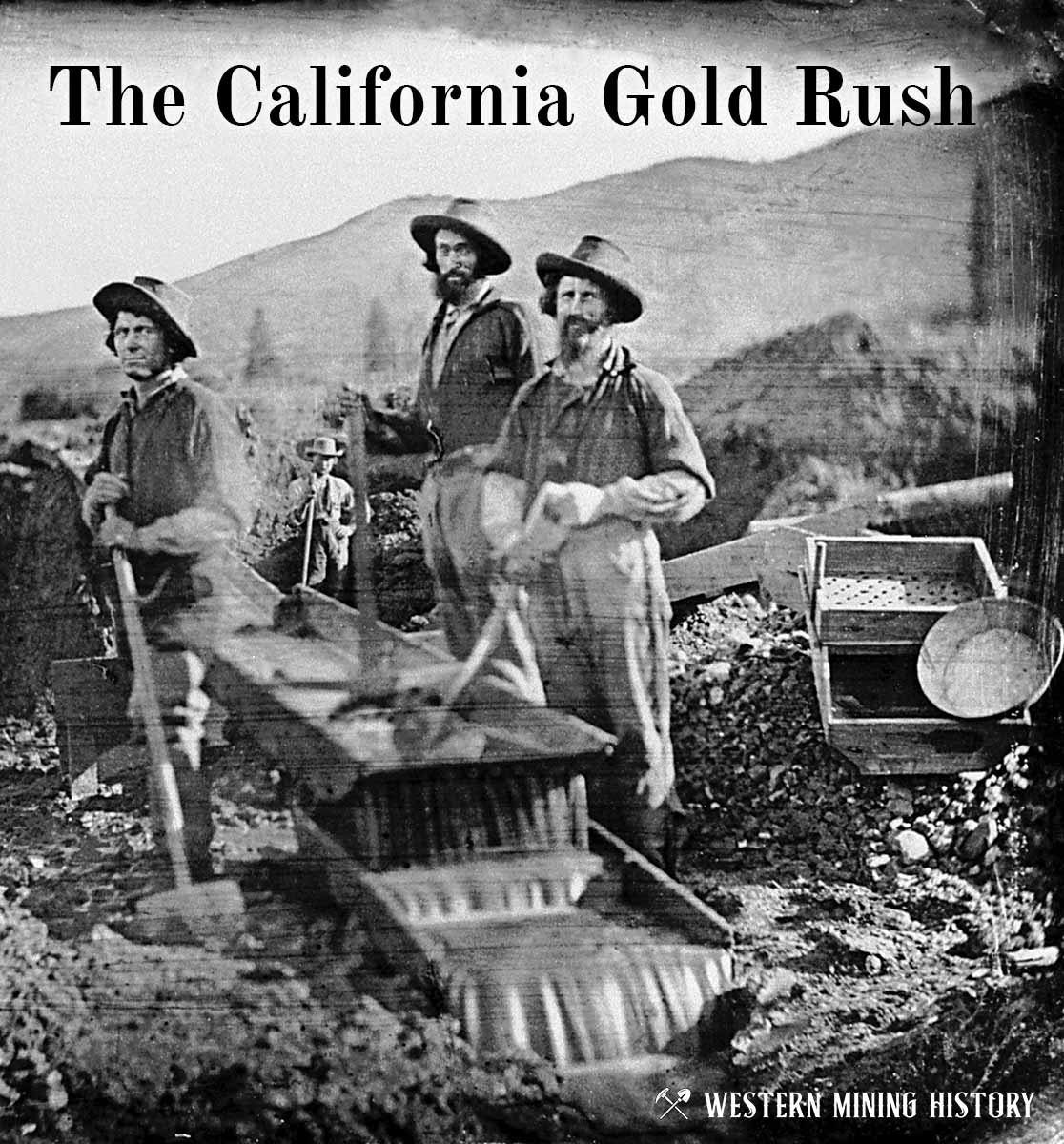 The great California Gold Rush kicked off the entire saga of western mining. Read about it at The California Gold Rush.
California Gold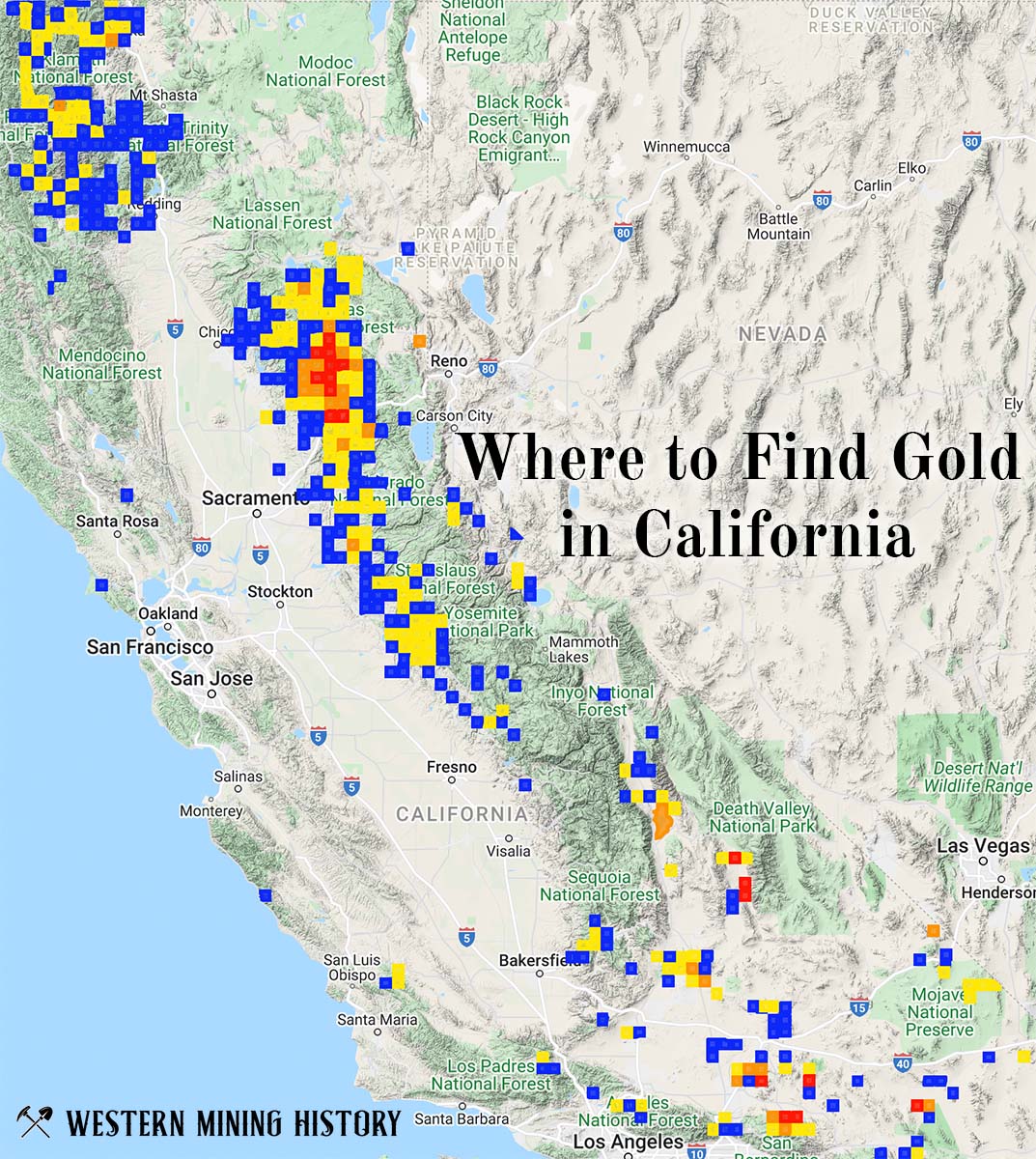 "Where to Find Gold in California" looks at the density of modern placer mining claims along with historical gold mining locations and mining district descriptions to determine areas of high gold discovery potential in California. Read more at Where to Find Gold in California.