Belmont History
Belmont was established after silver discoveries in 1865 in what was known as the Silver Bend or Philadelphia district. News of high-grade surface ores with values up to $3,000 a ton started a rush to Belmont in 1866, drawing many miners away from Austin and other early Nevada mining camps.
By 1867 Belmont had risen to prominence among mining towns in central Nevada, and that year it became the Nye County seat. The young town was a mining and milling center, a trading hub, and the seat of government for what was a vast mining frontier.
The town had four stores, two saloons, five restaurants, livery stable, post office, assay office, bank, school, telegraph office, two newspapers, and a blacksmith shop.
Combination Mill at Belmont, Nevada 1872
With local mines producing lower grade ore, and a new rush on to the White Pine district, Belmont declined in 1868 and 1869. New discoveries once again put the focus on Belmont and by 1873 another boom period had taken hold.
The bulk of production from the district, valued at an estimated $15 million, occurred between 1866 and 1887. By the late 1880s most of the mines had shut down. Belmont held on as a town for a number of years, but by 1900 only a few businesses were left. In 1905, the county seat of Nye County was relocated from Belmont to Tonopah.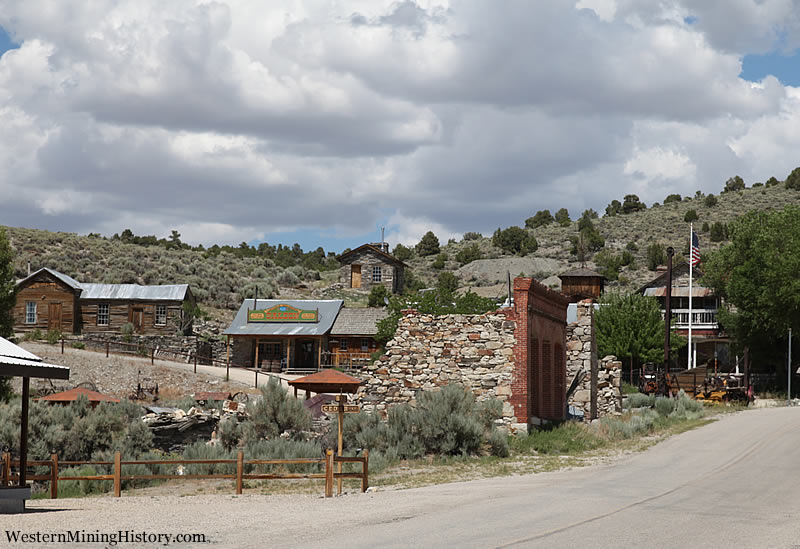 Belmont, Nevada Today
Tailing piles from local mills were reworked during 1907-08. The post office closed in 1911, but Belmont was never completely abandoned. New mining activity during World War I brought the town back to life to a degree, and in 1915 the post office reopened. A new mill - the Highbridge - was constructed during this time.
The Belmont post office closed for good in 1922. Unlike other remote Nevada mining boom towns, Belmont was never completely abandoned. A small population has kept the town from being vandalized or salvaged, and today it is one of Nevada's most interesting ghost towns.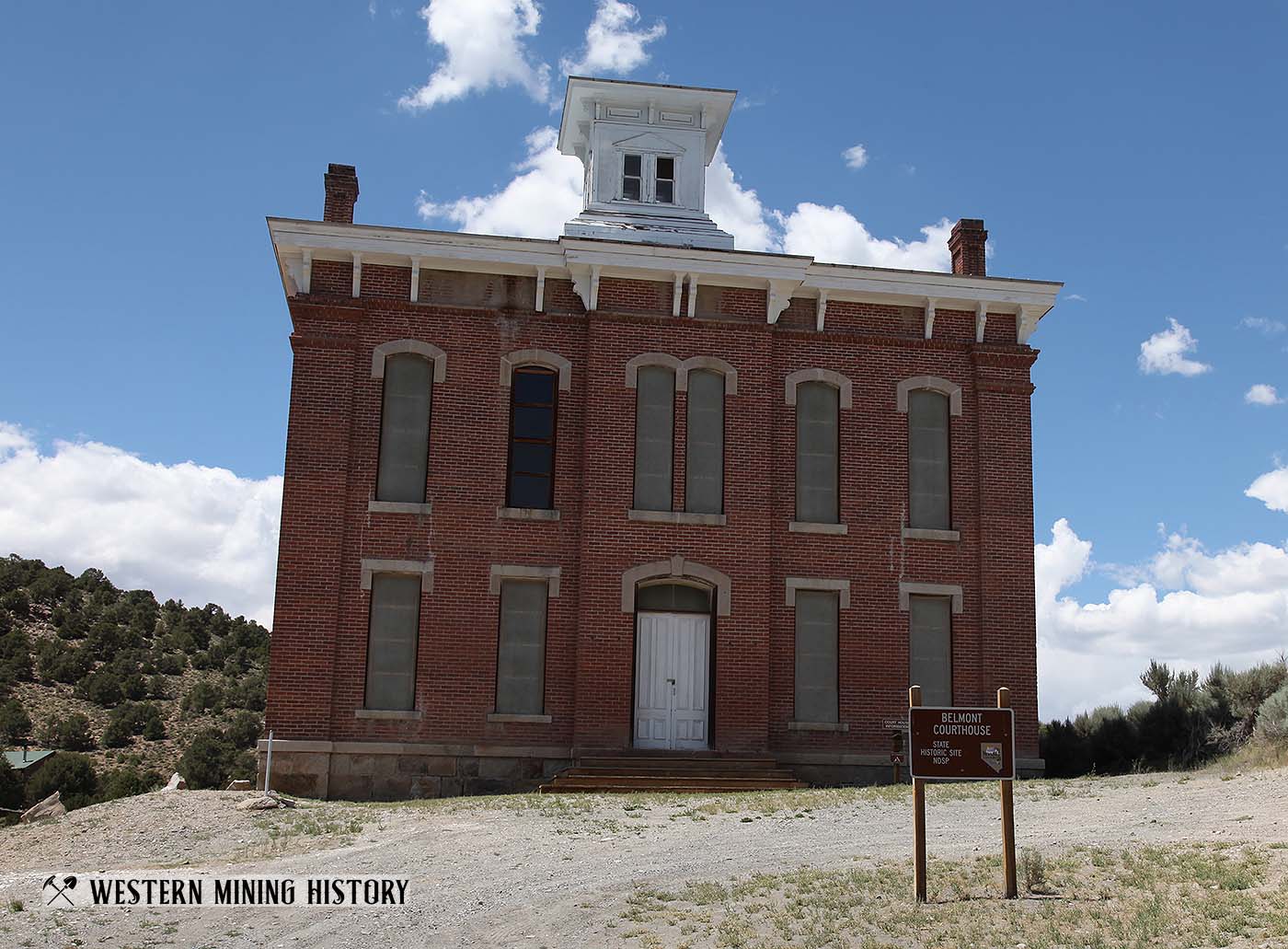 Original Nye County courthouse at Belmont
The original Nye County courthouse, built in 1876, still stands and has been preserved. Historic buildings, some preserved and others in various states of ruin, still line the town's streets. The ruins of the Monitor-Belmont mill and the Combination mill remain as reminders of Belmont's boom years.
Riot at Belmont, Nevada
While Belmont had a reputation as a regional trade hub and seat of government, it did not escape the lawlessness that plagued many mining camps in the West. The following account from an April 1867 newspaper details a particularly violent episode in the town's early history.
The Reveille gives the following account of a terrible riot and affray at Belmont, Nye county, Nevada, on the 18th instant;
A shocking scene of ruffianism, which terminated in the killing and wounding of two men, occurred in the town of Belmont, at half past one o'clock, on the morning of Thursday, the 18th instant. A correspondent furnishes us with the following particulars: Work on the mine of the Silver Bend Company, generally known as the Child & Canfield location, was suspended about a week ago, which produced great dissatisfaction among the bands.
It was said the mine was closed by order of the Trustees in the East, while the report was rife among the workmen that they bad been discharged by the officers of the company to make place for Cornish miners.
During last night the mob seized the person of Mr. Canfield and put him astride of a rail and carried him around town. They entered the saloons which lay in their route, retaining Canfield in his disagreeable position, drinking and amusing themselves at his expense. The mob of ruffians finally brought up at the Higbbridge Saloon, in which Lewis M. Bodrow, formerly City Marshal of Austin, and others were sitting.
It appears that Canfield was permitted to get off of the rail while his persecutors drank. As they prepared to resume their march with Canfield, Bodrow remarked that if be did not choose to get on the rail he need not. The remark gave offense to a ruffian named Patrick Dignen, and words ensued between them.
Digitally enhanced image of Belmont, Nevada ca. 1890
Dignen is reported to have struck Bodrow in the face; one or the other of them opened the door of the saloon and stepped out and fired his pistol, whereupon, almost in a second of time, from fifteen to twenty shots were fired apparently at Bodrow, as it was found there were but two shots out of his pistol.
The poor fellow received a number of fatal wounds. One pistol shot entered his right side and passed through bis body; another entered his back below the point of the right shoulder. He received also two frightful wounds from a knife, one of which penetrated the groin to a depth of four or five inches.
Dignen is shot through the right lung and in the right arm, and it is very doubtful whether he can survive.
Bodrow was conscious until within a few minutes of his death, which occurred at half-past four, three hours after he was wounded. We have not yet examined his body, and don't know but that more wounds may be found, There are eight bullet holes through his coat, besides a knife cut behind.
In the midst of the shooting, Mr. Canfield was taken off to a secure place by some friends.
Bodrow was of Marlborough, Massachusetts, and leaves brothers living somewhere. He was unmarried. Bodrow met his death in defense of the right, and while protesting against cowardly ruffianism, and his memory will he cherished by brave, fearless men everywhere.
We will receive full particulars of the savage affair in Ihe Silver Bend Reporter, which should come to hand on Saturday night. Confidence Engine Company and Pioneer Hook and Ladder Company have their flags at half mast, the former from the City Hall, and the latter from their truck house, out of respect to the memory of L. M. Bodrow, who had been a member of both companies.
A special meeting of Confidence Engine Company will be held in the City Hall this evening, at eight o'clock, for the purpose of taking steps to bring the remains of L. M. Bodrow to Austin for burial.
A follow-up article states that Dignen also died of his wounds.