Blair History
Blair was located three miles north of Silver Peak and was founded in 1906 by the Pittsburgh Silver Peak Gold Mining Company whose 120 stamp mill (under construction in the image below) overlooked the town. Ore from the Mary Tunnel reached the mill via a 14,000 foot aerial tramway.
The town's population was 700 and Blair was served by the mining company's Silver Peak Railroad. Blair prospered until 1917 when the mine and mill were closed. The mill processed over $6,000,000 worth of gold ore. (text above accompanied the photo below from the UNLV digital archives).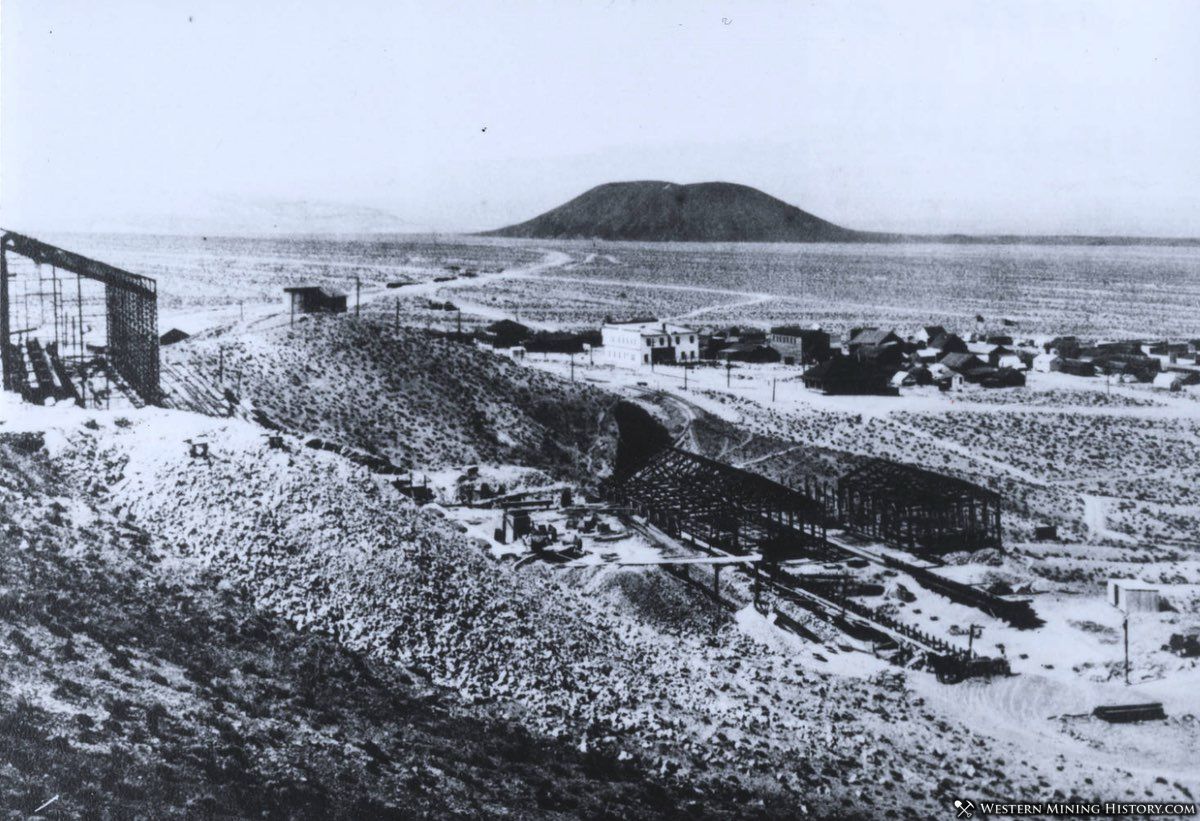 The Pittsburgh Silver Peak mill under construction at Blair, Nevada ca. 1907
The story of how Blair was established is unusual. In 1906 the hysteria around the Tonopah mining boom was spreading to nearby mining towns. When speculators learned that the Pittsburgh Silver Peak Gold Mining Co. was buying significant gold mines near Silver Peak, they rushed in and bought all the good property in and around the town, driving up property prices to outrageous levels.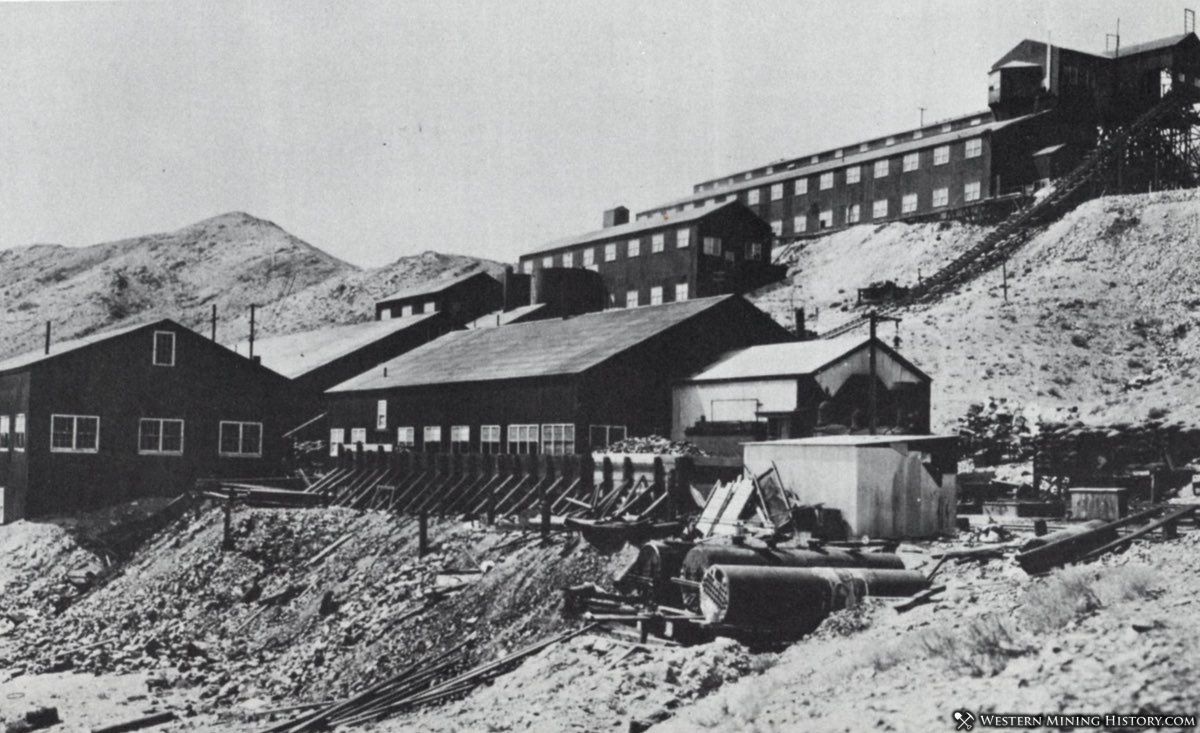 Pittsburgh Silver Peak mill at Blair, Nevada ca. 1914
In secret, the company surveyed a new townsite near its gold mines, about three miles north of Silver Peak. The town was called Blair, and within a year a 100-stamp (some reports say 120 stamp) mill was operating there. The company also built a rail spur to serve the town and mill.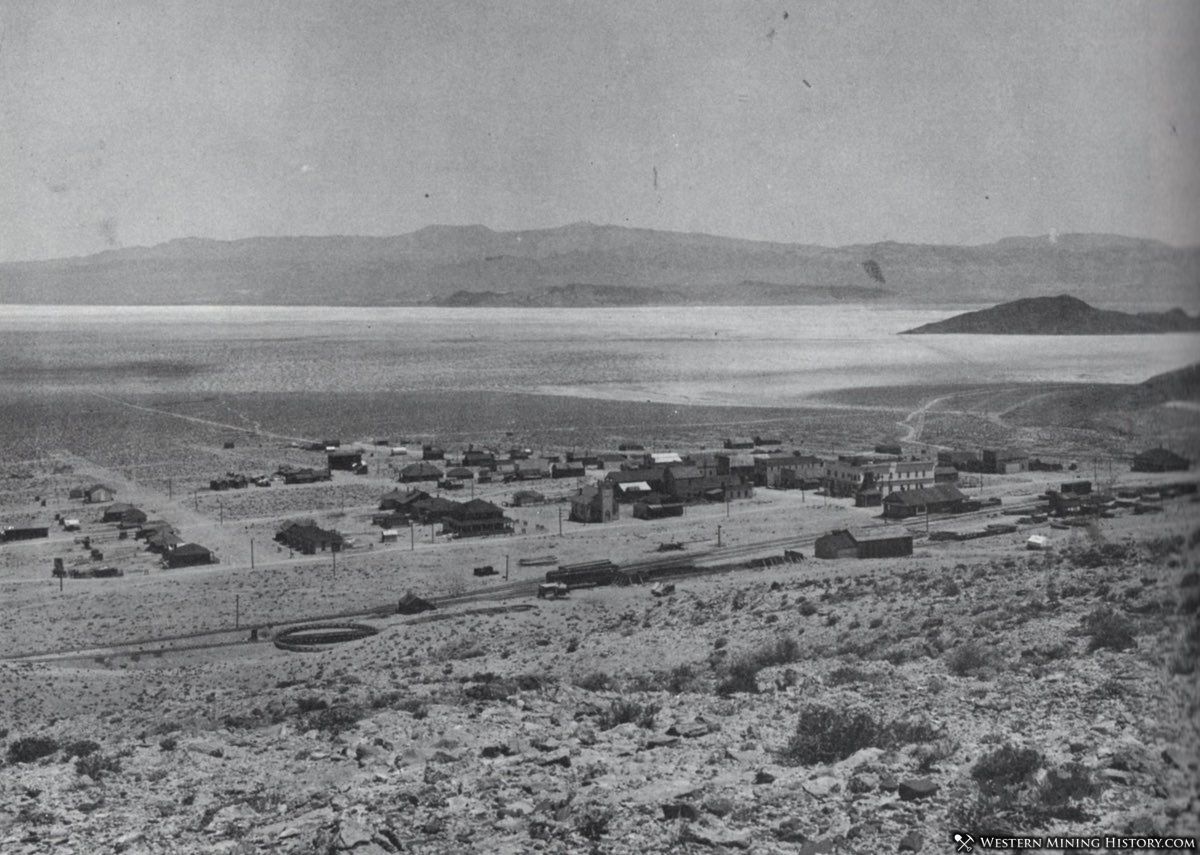 Blair, Nevada ca. 1907
In 1906 both a post office and a newspaper were established. A two-story hotel was built, and of course several saloons catered to local mill workers and miners. The dominant building in the center of town is Patty Flannery's saloon and hotel, which is said to have had a brewery in the basement. Newspaper articles indicate Blair had a Chinese laundry.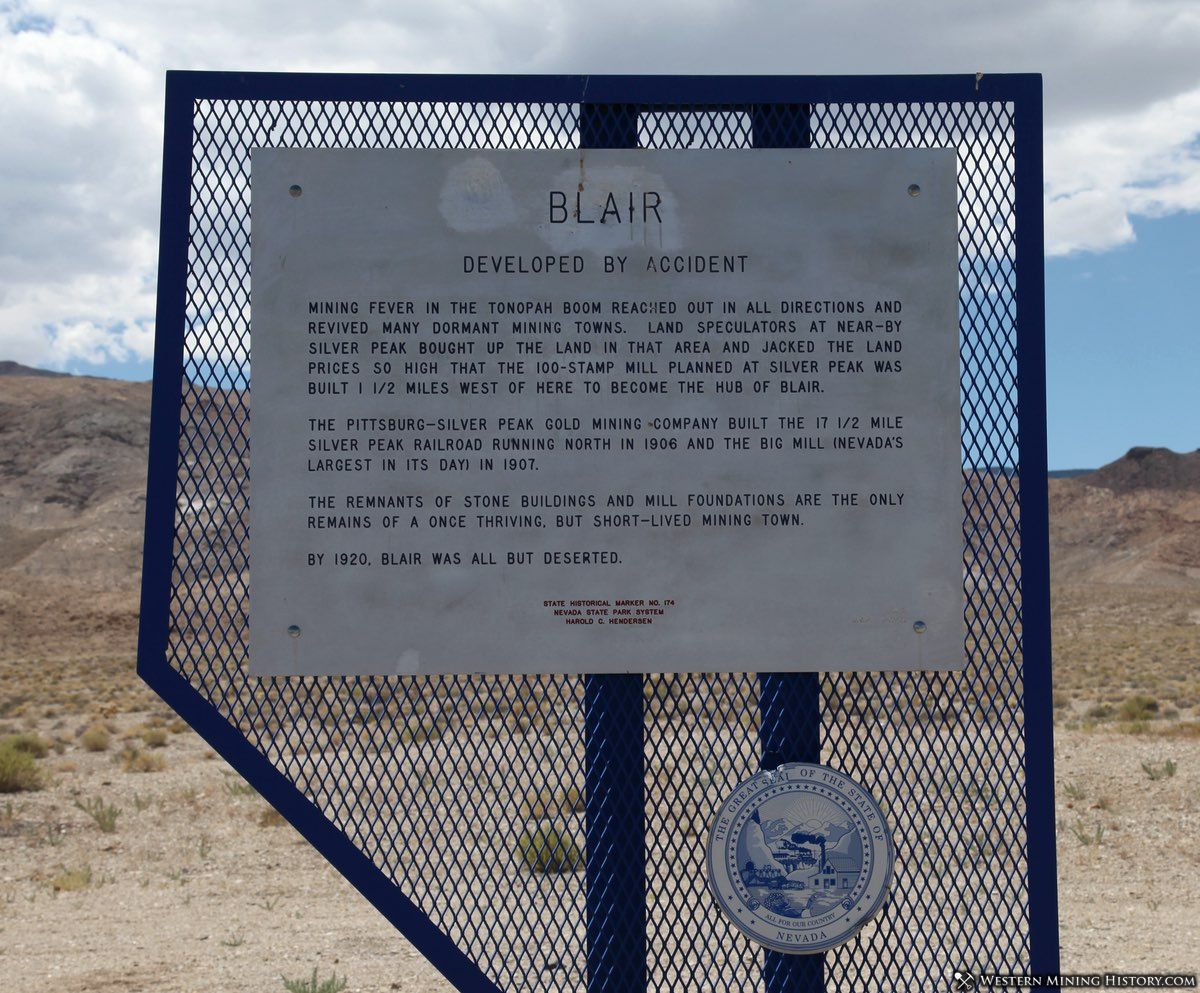 Blair Nevada Historical Marker
Mining continued until around 1916 (reports on when the mill closed vary), when the low-grade ore could no longer be mined profitably. The mill machinery was removed and shipped to California.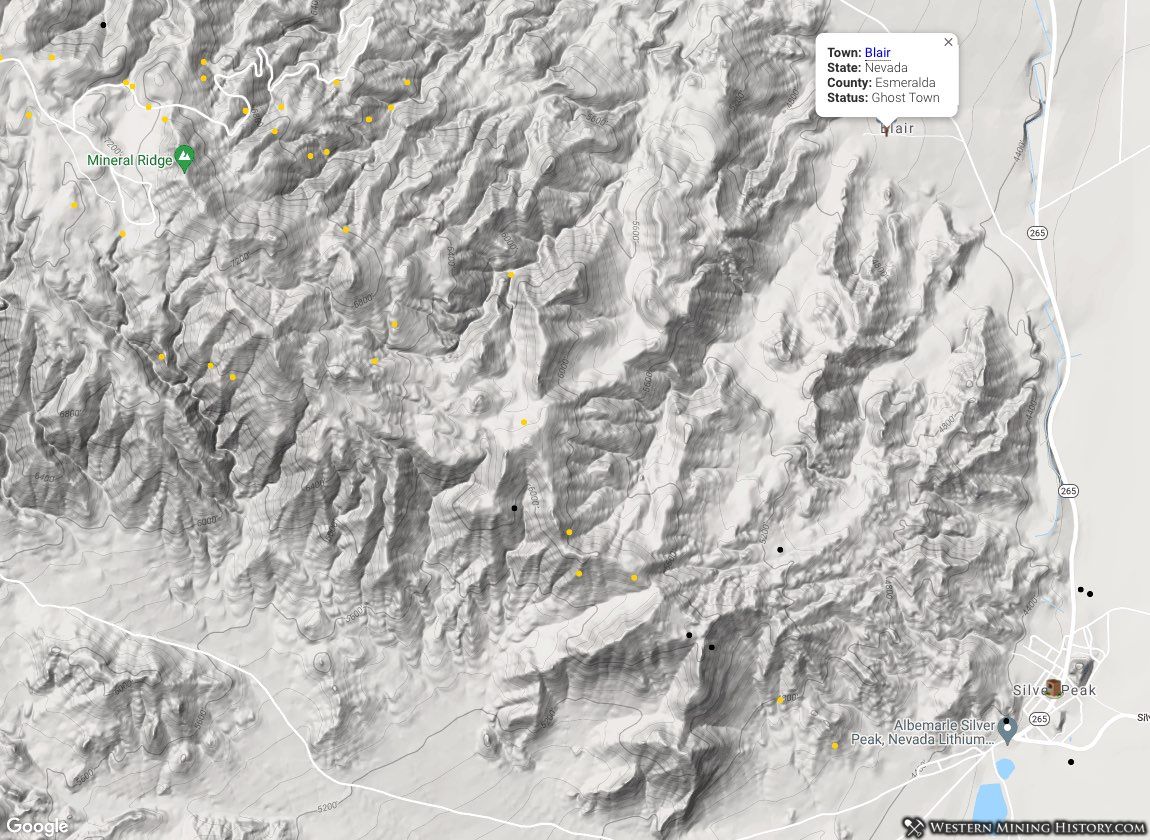 Location of Blair in relation to Silver Peak. Yellow dots are gold mines, black dots are non-gold mines
By 1920 the town was mostly deserted. The remnants of stone buildings and mill foundations are all that is left of Blair.
Nevada Mining Photos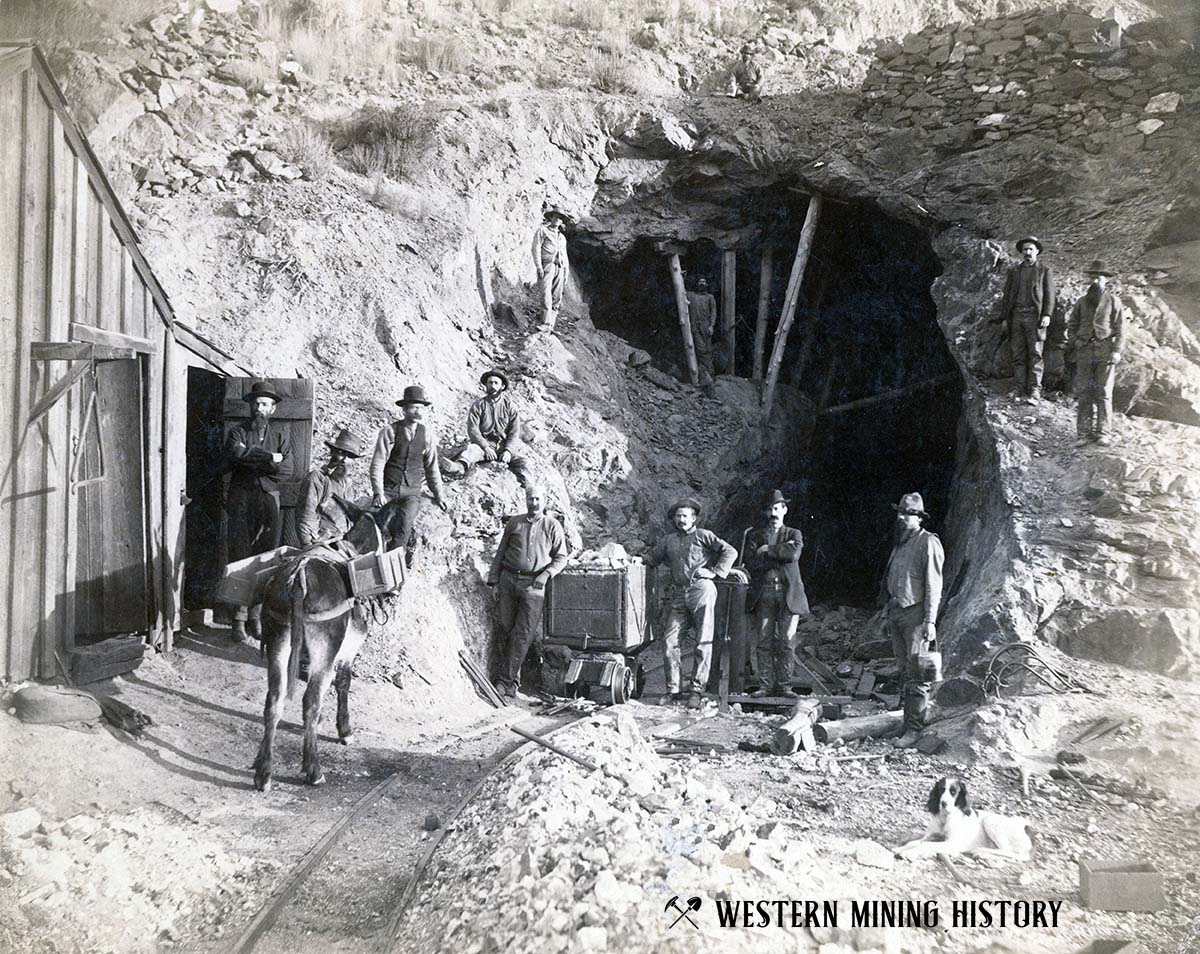 A Collection of Nevada Mining Photos
A Collection of Nevada Mining Photos contains numerous examples of Nevada's best historic mining scenes.