Northumberland History
The 1951 publication Mineral Resources of Nye County, Nevada by the Nevada State Bureau of Mines gives the following history of the Northunberland district:
The Northumberland mining district includes that part of the Toquima Range in the vicinity of Northumberland Canyon on the east side of the range. The principal activity has been near the crest of the range at the head of the canyon. The district is 25 miles north of Belmont and 76 miles by road northeast of Tonopah. Of this distance, 19 miles is pavement and the balance is county road in good condition. Water for both domestic and milling use is abundant in the area.
Thompson and West state that the district was discovered in 1866 by a prospector named Logan. The town was started in 1879 and by 1881 was deserted. They state that a 10-stamp mill was built in 1879, but only operated 3 months. The Monitor and Blue Bell were the principal mines at that time. Activity at the silver mines was intermittent until about 1891, when it apparently ceased. Gold was discovered in 1936 and by 1939 the Northumberland Mining Company began production. This company continued operations until the latter part of 1942.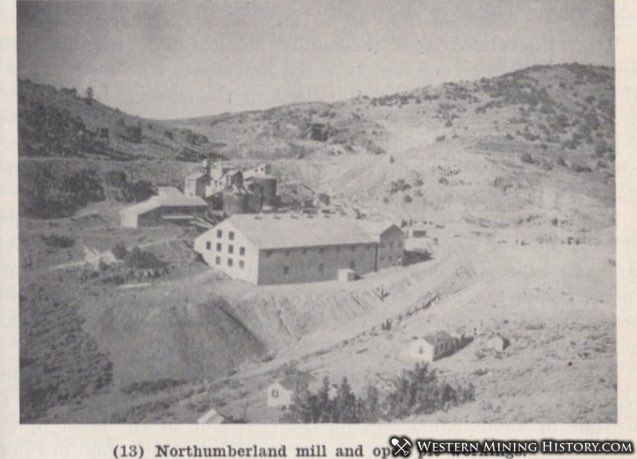 Northumberland Mill ca. 1940