Round Mountain History
Round Mountain got its start after gold discoveries in 1906. The early mining operations were both hard-rock and placer, with enough water available to support limited hydraulic operations. A 1909 edition of Mining and Scientific Press describes the discovery of development of Round Mountain during the first few years:
"Gold was first discovered at this point in February, 1906, on ground owned by Louis D. Gordon. So sensational was the find that Goldfield men treked hurriedly across the unknown wastes and mountains and a new camp was born. This was the beginning, and for a few months, Round Mountain showed greater promise of golden wealth than even Goldfield at its best."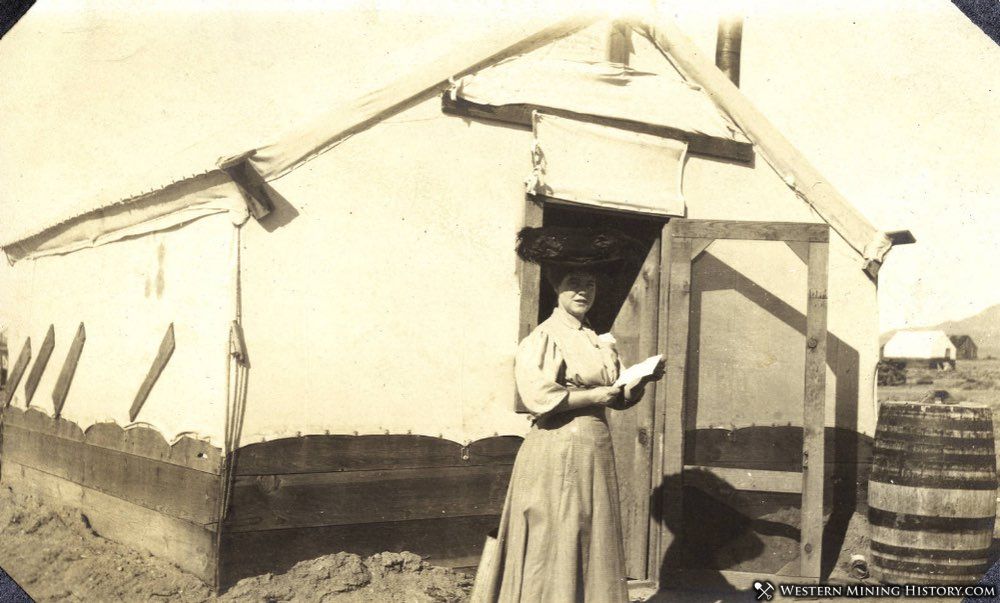 Early settler at Round Mountain
"Slabs of virgin metal were almost daily found. Organizations by the dozen sprang into existence over night: for a time money poured in for development. The mine is now developed to a depth of 800 ft., equipped with a 100-ton mill, and has produced to date, in a period of two years, $709,184 in gold bullion, and has paid $192.184 in dividends."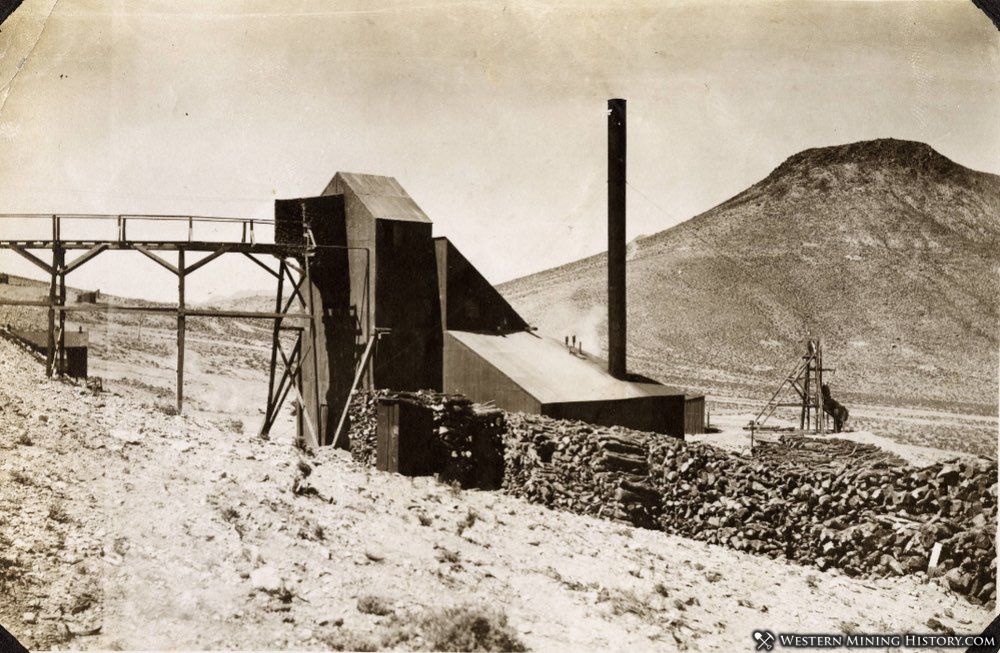 Mine at Round Mountain, Nevada ca. 1910
"On a bleak morning in February. 1906, sitting among the rocks, viewing a trench scarce a foot deep and ten in length, Louis Gordon agreed with J. R. Davis, for a consideration of $87,000 to sell the control - and the hole not two feet deep! Inside of 11 months that ground was pouring out gold: in 18 months the first quarterly dividend was declared. Ore is now blocked out in the mine and cash in its treasury to a value approximating $900,000."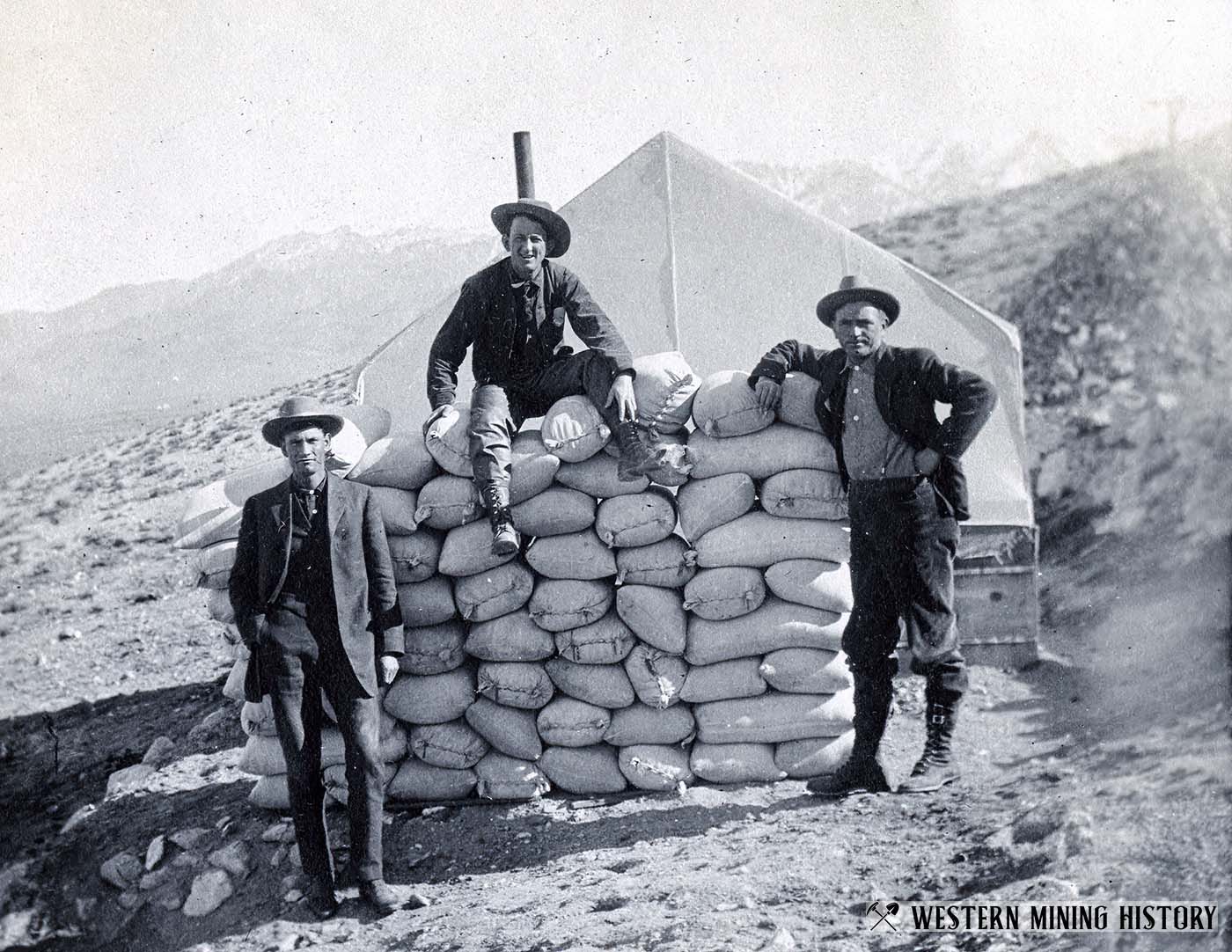 Miners with sacked ore at Round Mountain, Nevada ca. 1910
The article goes on to note conditions at the camp during a 1908 inspection:
"A few hours were spent at Round Mountain. Nevada, on June 29, 1908, and the following notes are based upon the necessarily hasty examination possible in so short a visit."
"The town of Round Mountain, which contains from 500 to 600 people, is in Nye county, 45 miles (about 70 miles by road), north of Tonopah and nearly the same distance south of Austin. It lies on the east side of Big Smoky valley, at the base of the Toquima range, being 12 miles north of Manhattan and three miles southwest of the abandoned mining camp of Jefferson."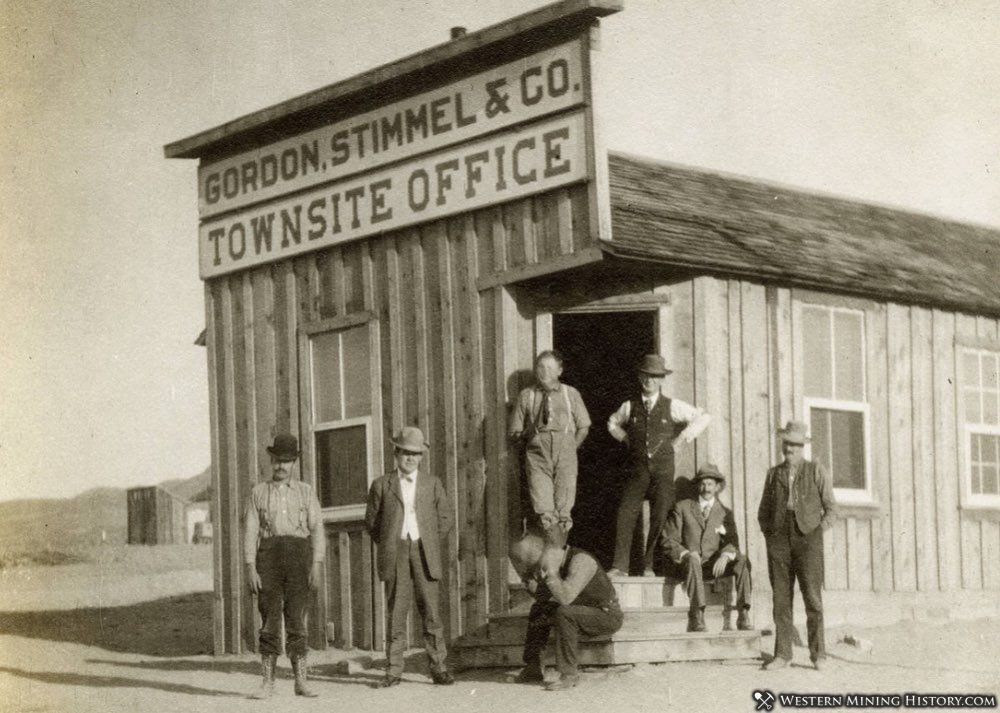 Round Mountain Townsite Office
"The town takes its name from a small oval hill of rhyolite which rises about 400 ft. above the alluvial slope of the valley's edge. There is abundant water for all ordinary purposes, a supply from Shoshone creek, east of town, having been made available by an outlay of $65,000."
Regarding the hydraulic operation, the following note was made: "Two monitors were playing in June of 1908, and washing, according to Mr. Loftus, was yielding about $20,000 a month. The water, however, was getting rather low and it was not possible to keep both streams in operation. Prior to the use of water, gold to the value of $29,128 was obtained with two dry-washing machines."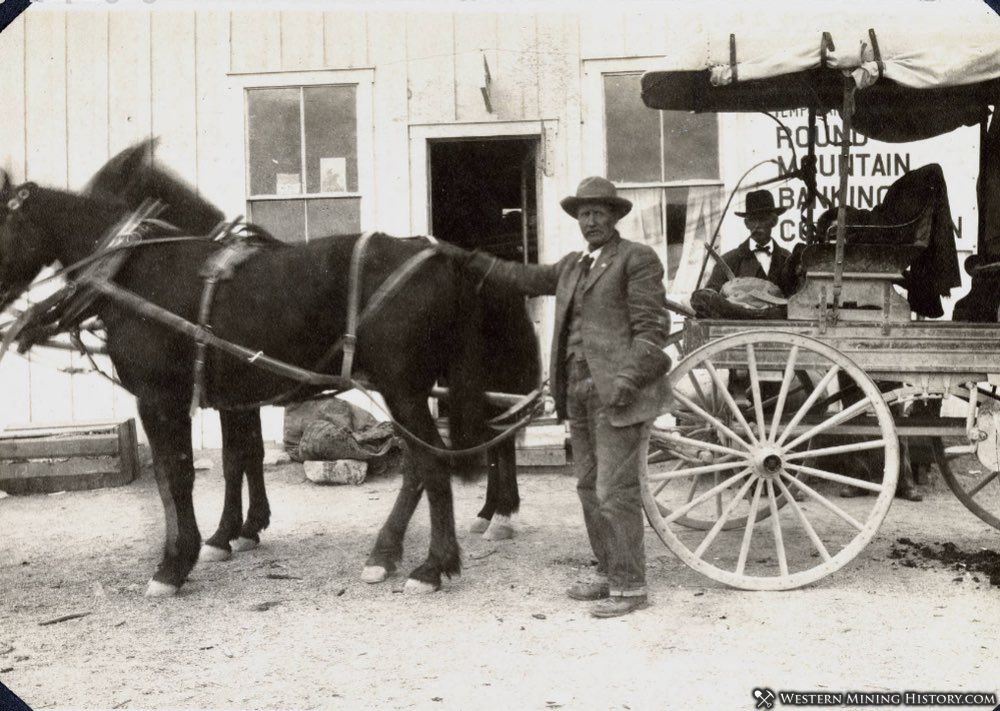 Horse-drawn wagon at Round Mountain, Nevada ca. 1906
Gold mining continues at Round Mountain today at Kinross Gold Corporation's Round Mountain Gold Mine, a large open pit heap-leach operation. Over 10 million ounces of gold have been mines at Round Mountain since 1906.
Nevada Mining Photos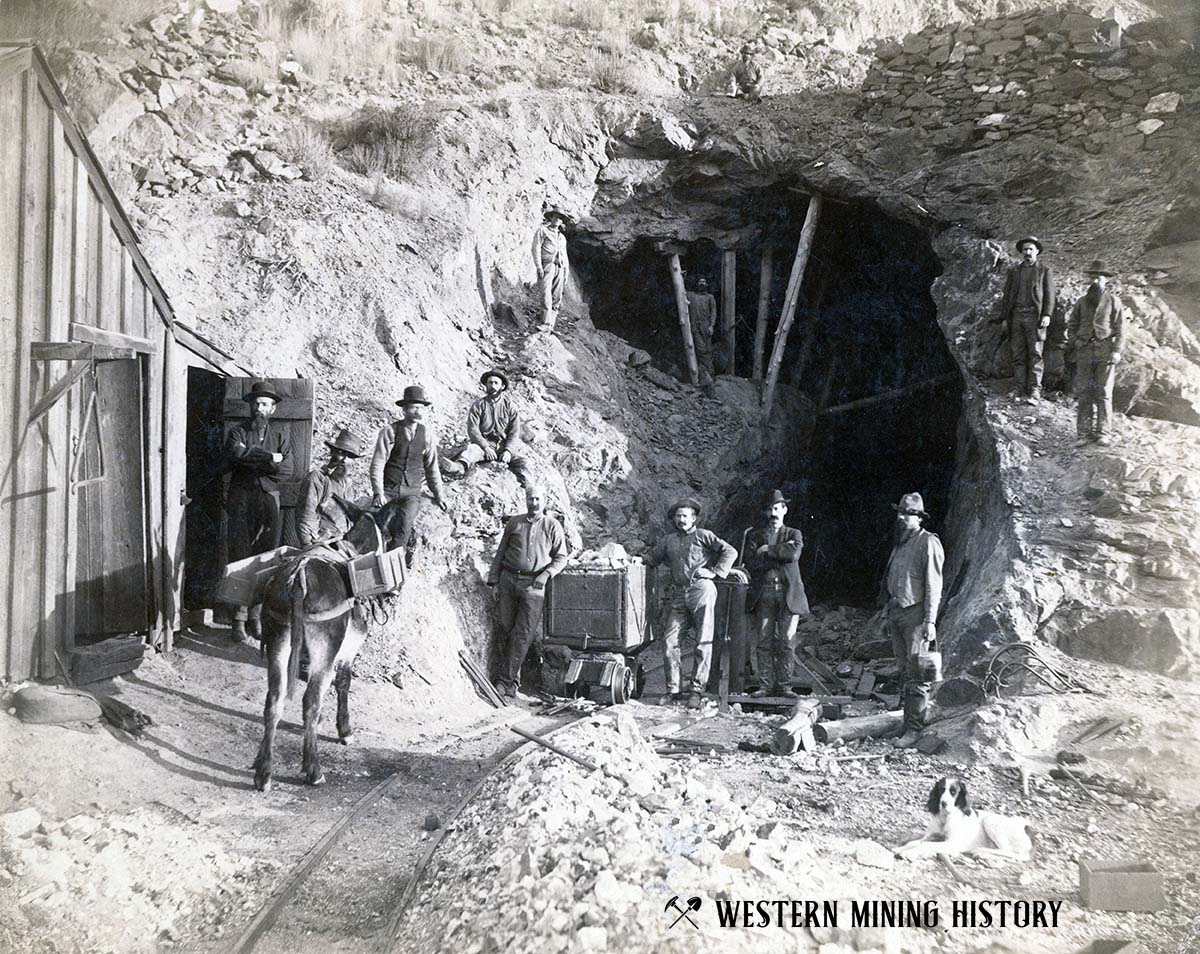 A Collection of Nevada Mining Photos
A Collection of Nevada Mining Photos contains numerous examples of Nevada's best historic mining scenes.