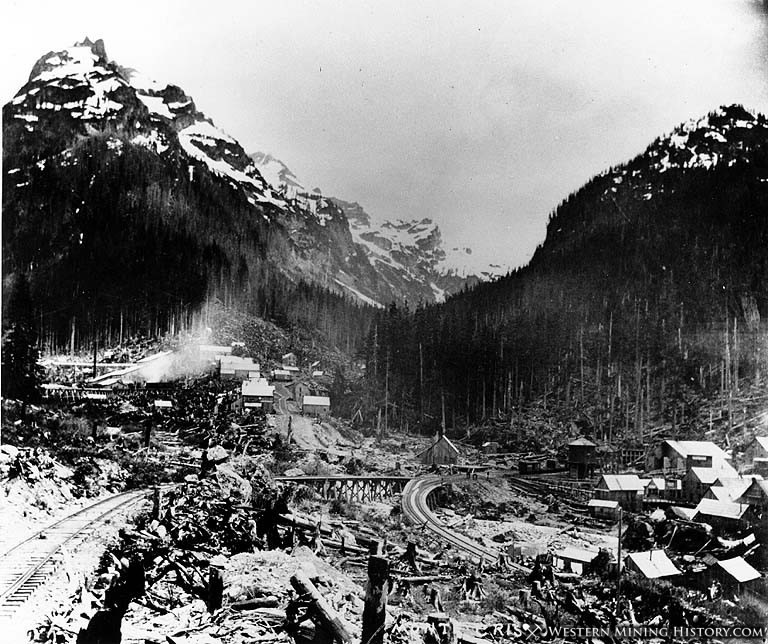 Monte Cristo Details
Date Settled: 1891
Current Population: none
Peak Population: 1,000+
Primary Mineral: Silver, Lead
Map: View on Google Maps
Monte Cristo History
In 1889 silver ore was discovered at in a remote valley of the Northern Cascade Mountains in the state of Washington. Access to the area was very difficult and it wasn't until 1891 that the first wagon roads penetrated the valley and mining could begin in earnest. The town of Monte Cristo was born of the rush and by the peak year of 1894 over 1,000 people inhabited the town.
A railroad finally reached Monte Cristo in 1893. Despite improvements in transporation, the rugged terrain continued to make access to the area difficult. In 1900, visiting USGS geologist J.E. Spurr wrote the following about his trip to Monte Cristo:
The mining camp of Monte Cristo is situated in the heart of the Cascade Range, but on its western slope. It lies nearly due east of the city of Everett and about 40 miles distant. It can be comfortably reached only by the Everett and Monte Cristo Railroad, which starts at Everett and terminates at Monte Cristo. Somewhat strangely, there is not even a good wagon road by which the camp may be attained. Aside from the railroad, only trails connect it with other parts of the country......... The journey by rail from Everett to Monte Cristo is a tedious one, requiring from twelve to twenty-four hours.
The ore bodies at Monte Cristo proved to be erratic in size and grade. The steep terrain also caused difficulties with avalanches frequently shutting down operations during the winter. A major flood did heavy damage to the town and the railroad in 1897, causing most residents to leave the town. The original mine and railroad owners had mostly sold out by 1899. New owners attempted to revive the district in 1900 but work was sporadic and continued to decline until finally in 1920, an avalanche ended Monte Cristo's last mining operation.