The WMH Nevada Mining Atlas is designed for use with Google Earth Pro. Included are over 450 metallic mining district location polygons (compiled by the Nevada Bureau of Mines and Geology), divided into views by mined commodity. The package also includes mine locations from the USGS MRDS database, divided into views by primary commodity value.
The Nevada Mining Atlas is available to Gold level premium members.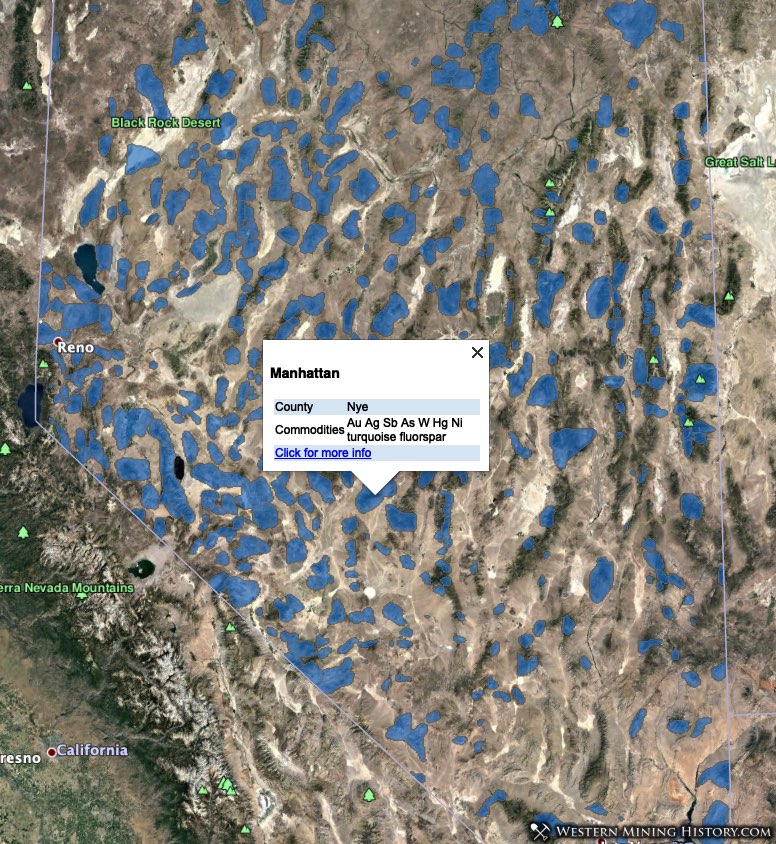 All districts and mines can be viewed at the same time although this will likely cause performance problems in Google Earth Pro. The All Mines folder is subdivided by county so that mines can be viewed on a county by county basis for improved performance. The gold mines folder is also subdivided by county.
Further classification by commodity is included for mines and districts. The following views are available: All mines and districts, Gold, Beryllium, Cobalt-Nickel, Copper, Iron, Lead, Manganese, Mercury, Molybdenum, Platinum, Silver, Tin, Titanium, Tungsten, Uranium-Thorium, Vanadium, Zinc.
Mine and district info windows can be clicked to provide additional details at Western Mining History.
Gold Mines and Districts
Special consideration is given to Nevada's numerous gold districts and mines. Gold districts are divided by total reported production. Placer districts are classified by information from the 1973 USGS publication Placer Gold Deposits of Nevada. Those placer districts that the book identifies as having significant production have their own view "Top Placer Gold Districts".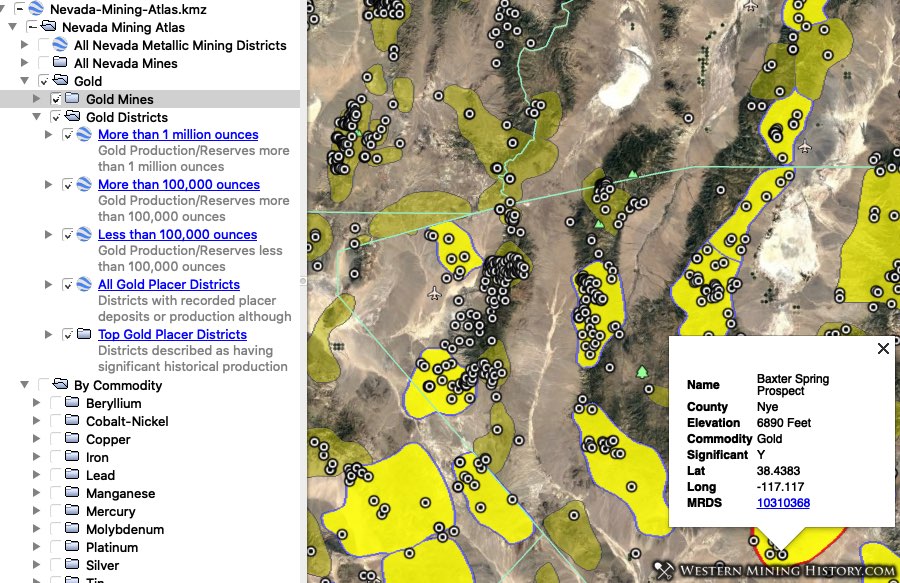 Gold mines are categorized into counties and into a separate view for all gold mines in the state that the USGS considers significant.
Nevada Mines and Districts by Commodity Examples
The following images demonstrate some of the commodity-specific views available in the Nevada Mining Atlas.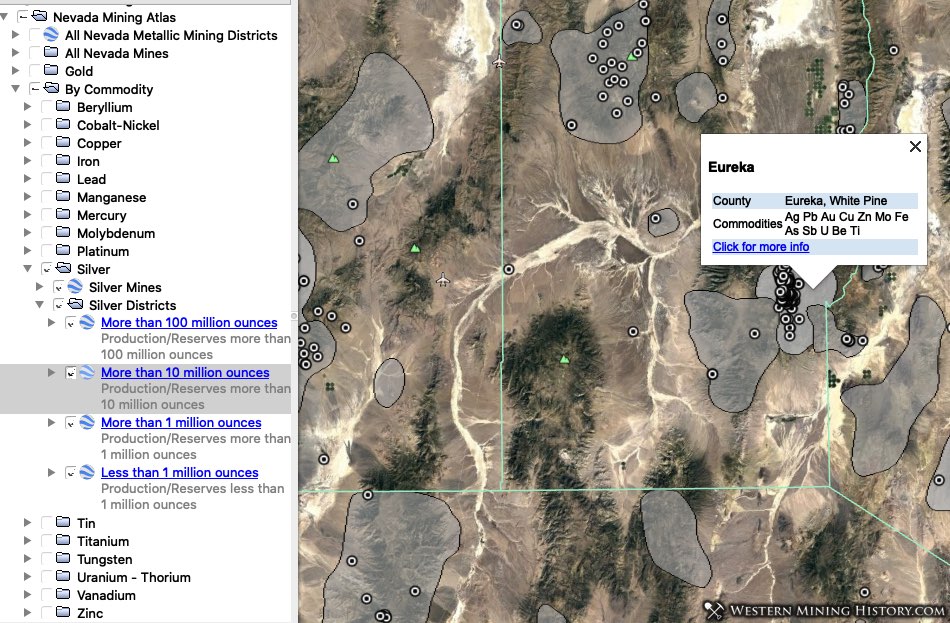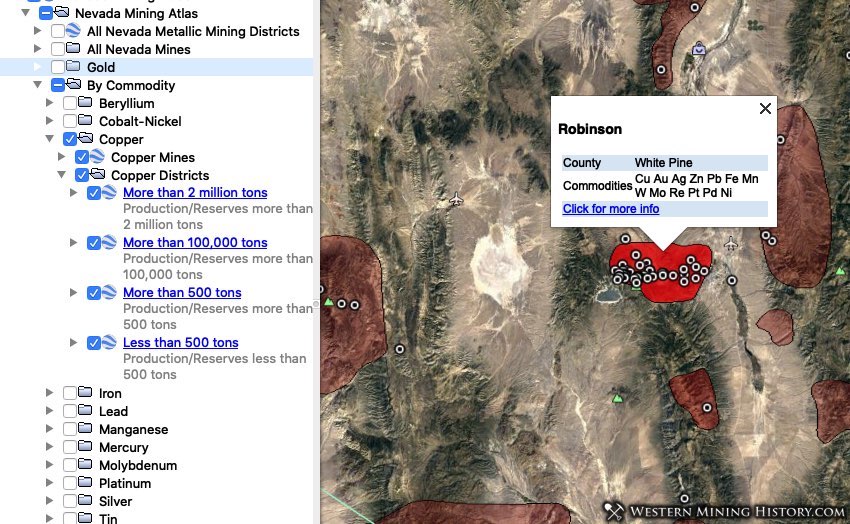 Mining Claim Research
When combined with the WMH Mining Claims Research Tools, modern mining interest can be viewed in relation to historical districts and mines.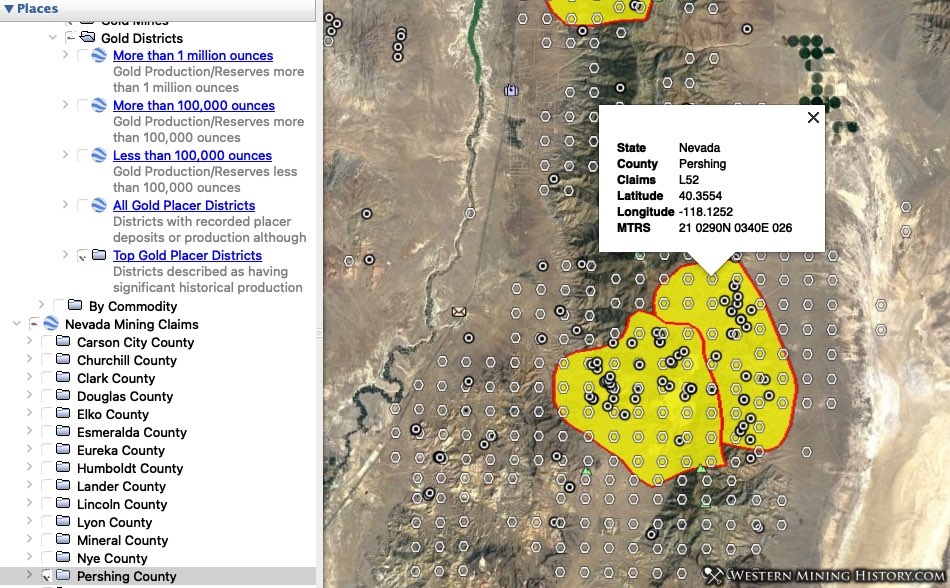 The Nevada Mining Atlas is available to Gold level premium members.