Capitol City History
Capitol City had a post office from 1877 to 1920.
Capitol City was originally established with the name Galena in the fall of 1876. The name was changed to Capitol City in 1877 as part of George S. Lee's grand scheme to transform the young camp into the state capitol.
Lee had money to invest and boundless optimism in his new home. He had a lavish brick house built at great expense, purportedly to serve as the governors mansion, all part of his plan to become the future governor of Colorado at his new capitol city.
He invested in numerous ventures that would guarantee the success of Capitol City, including a smelter, sawmill, and lime kiln. According to an 1881 newspaper Lee even had his own field of oats that "will yield three and one-half tons to the acre."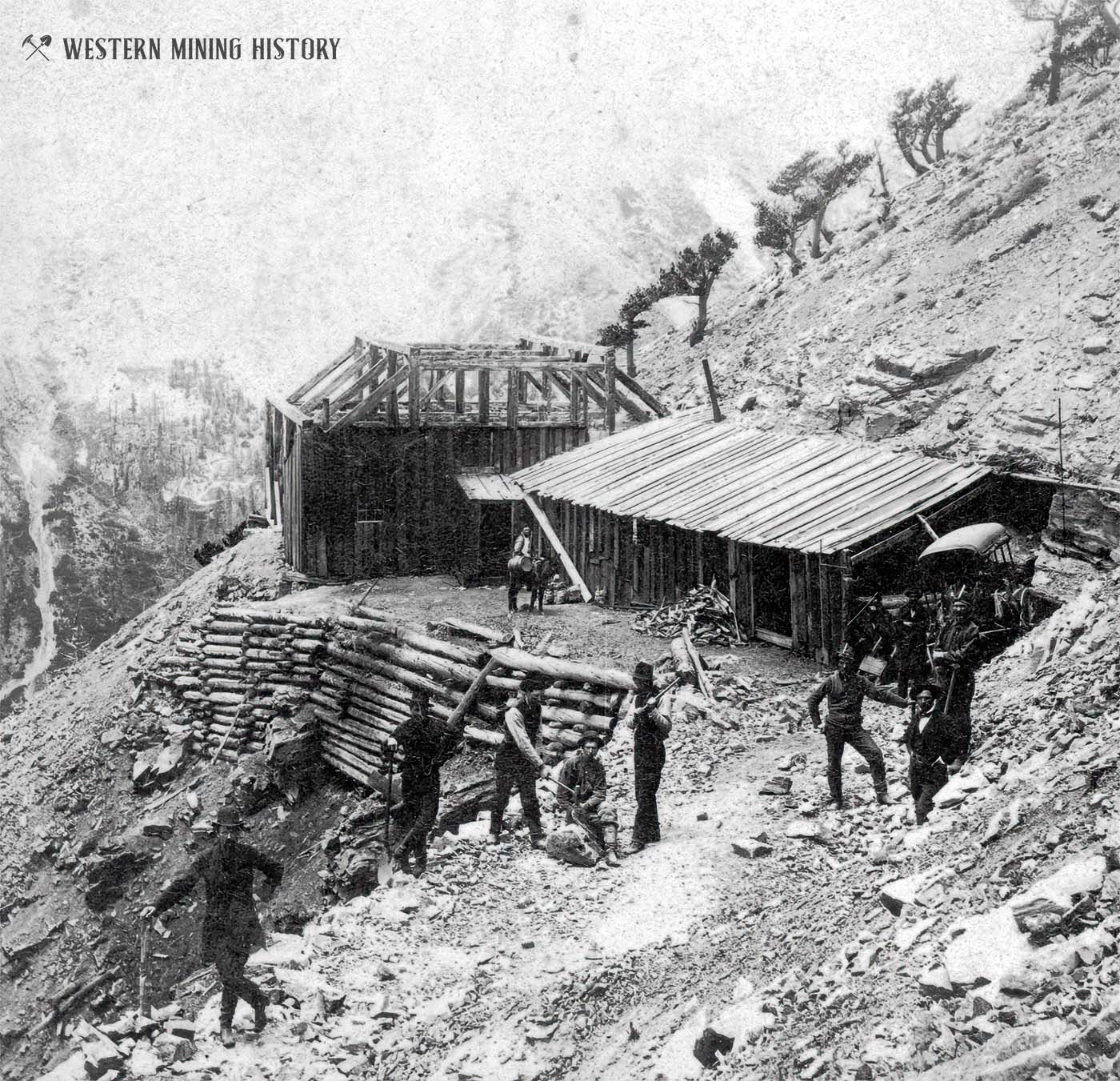 Excelsior Mine near Capitol City, Colorado ca. 1880
The Capitol City townsite was a ridiculously oversized 200 acres, plenty of room for a bustling state capitol that would never materialize. While the vision of a state capitol was never realized, the town did have some prosperous years during the late 1870s and into the 1880s as a result of strong production from the local mines. The peak population is said to be around 800.
During its peak years, the town had hotels, restaurants, saloons, a post office, and a schoolhouse. Unusual among the high alpine mining camps of the time was how many of these buildings were built of brick from an early date, a result of George S. Lee's early investments in the community.
Early mines of the area were primarily silver producers, and like most silver towns in Colorado the silver crash of 1893 resulted in the end of prosperity. Capital City was much diminished by the late 1890s but new gold discoveries around 1900 gave new life to the town.
Capital City endured until the early 1920s but ultimately faded and died. Today it is a ghost town with nothing standing but the historic post office and the stack from a smelter.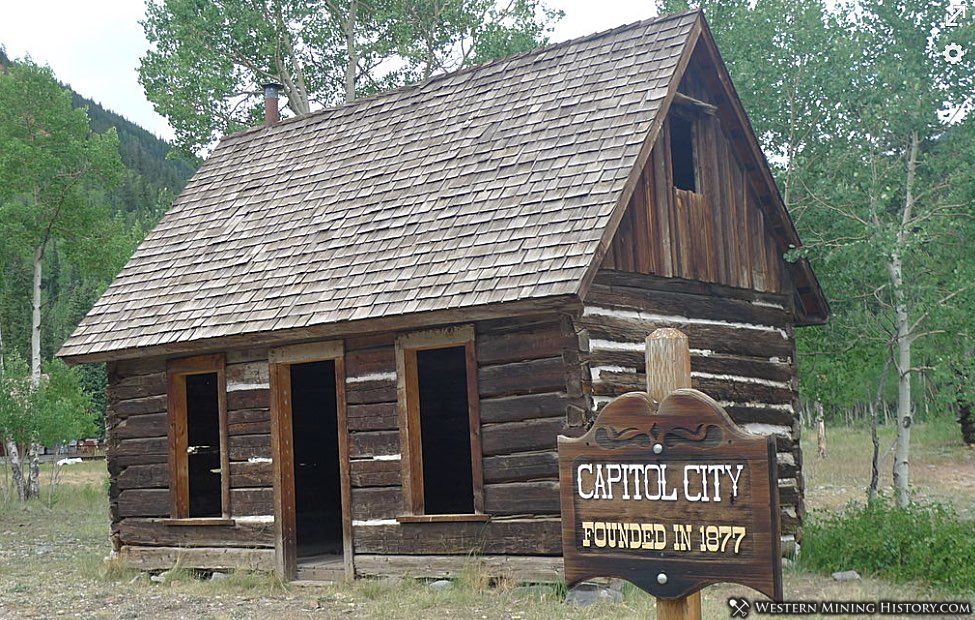 The old post office at Capitol City, Colorado - Wikipedia image
Unfortunately I have been unable to locate not even one historical photo of Capitol City during its peak years, which is odd given its relative importance in the area, unusual history as an aspiring state capitol, and long history of production compared to other camps in the San Juans.
Without photos, we must rely on historical descriptions in order to imagine what this colorful camp was like. A January, 1880 edition of the Colorado Daily Chieftain described the progress at Capitol City (the rest of the text of this page is from the article):
Capitol City, Colorado Described in 1880
Capitol City is situated ten miles above Lake City, on the Lake City and Uncompahgre toll road in a beautiful little park in the center of Galena mining district.
The town dates back to the fall of 1876 and spring of 1877. when George B. Green, one of Denver's great frauds and swindlers, commenced the erection of a smelter. He swindled the people of this place and vicinity out of about $14,000. and left the town under the cover of night, after receiving severe punishment at the hands of one of his victims. $14,000 thus stolen from a poor mining community was a great drawback and misfortune to a new town. However she survived the shock, and today is a place of considerable importance, especially about election times.
This is the town, you remember, three years ago gave three majority for woman suffrage, a thing that speaks well for the intelligence of her citizens.
The old Green smelter above town, which has been in litigation for three years, at last has passed into other hands, and will lie completed and put in operation the coming spring. Below town are situated the Lee Mining and Smelting company's works and saw-mill. This is a Chicago company. The works were completed late last fall and made a short and successful run under the supervision of N.A. Foss, metallurgist in charge. The works were compelled to close with about seventy tons of ore on hand for the want of water, owing to the extreme dry season.
We have two hotels, the large brick which I shall describe more fully presently, and the Garbutt House. The latter is in the business center of town and one of the most popular hotels in San Juan. The house was kept the last season by Mrs. Flora, a landlady noted for her good nature and always setting a square meal. Mrs. Flora and her daughter Maggie are now visiting friends in the east. The house is now presided over by Mrs. Whitaker, a landlady equally popular.
Callaway Bros., late of Pueblo, are the principal merchants. They carry a large stock of groceries and general merchandise, being very popular young men, They are doing a large, safe and increasing trade.
Frank Silence and Bill Taylor each carry quite a stock of miners supplies.
The last eighteen months has marked an era of unparalleled prosperity. The carbonate excitement, which has taken so many from other mining districts of San Juan to different camps in Colorado, has had little or no effect upon us. A few, of course went, saw, and came back satisfied that the Galena mining district wants only capital and energy to develop her mineral wealth.
No one has come to our camp with willing hands that has not found ready employment. The miners' cabin has given way to more substantial and comfortable dwellings.
We boast of having the finest residence this side of Pueblo, the suburban residence of George S. Lee, a large two story brick, erected after the Dormer style of architecture, with all the modern conveniences, hot and cold baths, and so this house (or hotel rather), with its furniture, cost over $7,000.
A.P. Cook has built himself a neat and comfortable residence, at a cost of $1,500 or $2,000.
Mr. Alexander Mesler and Thos. Gregory have improved and enlarged their residences. Thus, gradually, year after year, we are drawing about us the coin forts of life we left behind when we came to seek our fortunes in the New El Dorado.
Five miles above Capitol at the foot of the range is Mineral Junction, better known as Rose's Cabin, a town of considerable importance, since from this place freight is packed to and from points over the range. During the last season over 900,000 pounds of merchandise and 360 tons of ore has been transferred at this place.
Boot & Co. and Chas. Schafer run during the summer a fast freight between this point and Lake City; Mr. Gardner of Lake a tri-weekly stage. The traveling public will find two hotels at this town with good accommodations.
Galena mining district includes that part of Hinsdale county drained by Henson Creek and its tributaries. The district dates back to the discovery or the Ute and Ule mines in the fall of 1871. In the spring of 1874 and 1875, a large number of prospectors flocked into the district, and made a number of locations.
A Tour of Colorado Mining Towns
Check out many more Colorado mining towns at A tour of Colorado Mining Towns.
Colorado Mining Photos
Check out this collection of Colorado's best historic mining photos: Incredible Photos of Colorado Mining Scenes.